Pain is the most common reason for seeking medical attention in the United States. One in three Americans suffers from chronic pain every year. The currently accepted treatments consist of anti-inflammatory drugs, steroid injections, opiate pain relievers, and surgery, each with its risk profile.
For more than forty years, low-level laser therapy (LLLT) and LED (light-emitting diode) therapy have been shown to reduce inflammation and edema, induce pain relief, and promote healing of a range of musculoskeletal pathologies.
In this article, we'll take a look at one of the most popular pain relief devices, LightStim, its features, and treatment. But is it as effective as it is described?
LightStim for pain relief
What is LightStim?

LightStim manufacturer offers a wide range of specialized light therapy resources in the cosmetic and pain relief industries. The range varies from small handheld devices for home use to tabletop panel devices and professional full-size LED beds containing 18,000 LEDs.
Lightstim therapeutic light energy, FDA approved, is a multi-wavelength patented technology, professional strength treatments, and targeted non-UV LED light therapy that is ideal for home treatments.
LightStim for pain relief
LightStim for pain relief
LightStim's patented LED light therapy is a natural way to relieve pain and reduce inflammation, accelerating the body's healing process. The device emits warm and soothing light energy that has been proven to relieve arthritis pain, muscle and joint pain, and stiffness.
A feature of the device is that it does not try to perform several tasks at the same time. Manufacturers target each of their devices for a specific treatment.
LightStim for pain relief has 72 LEDs. They are evenly distributed between the most important red and infrared light frequencies for speeding up the body's healing processes.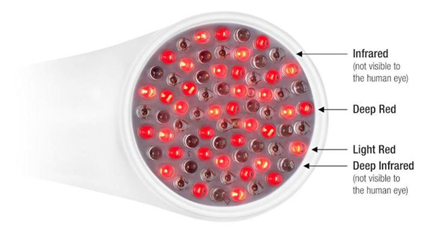 | 🔴 Effects of red light | ⭕ Effects of infrared light |
| --- | --- |
| As red light becomes more intense, its ability to penetrate skin and tissues increases. This is why LightStim for pain relief uses two frequencies of red light to penetrate different depths. These wavelengths (630-660 nm) are intended for the treatment of small tissues, joints (such as wrists and fingers), and tendons. These red waves do not generate noticeable heat. | The infrared light (855-940 nm) produced by LightStim for pain relief effectively penetrates deeper into tissues and joints. It is invisible and perceived as heat, unlike red light. With its penetrating power, infrared light warms tissue from the inside and improves blood circulation. It is an effective treatment for arthritis, arthrosis, and other conditions that cause joint pain. |
How it works
The infrared and red wavelength light energy in LightStim for pain relief boosts the production of nitric oxide, which improves blood circulation. This promotes rapid pain relief and improved sensitivity. It also helps in the regeneration of damaged tissues.
Nitric oxide, a short-lived gas, is naturally produced by the body. It dilates and relaxes blood vessels, especially in large veins and arteries. Thus, after a short time, blood flow increases to the nerves and other tissues. This increase is one of the main reasons for pain relief and faster tissue regeneration. The body's healing process is accelerated by delivering oxygen and nutrients to tissues and reducing inflammation, which naturally relieves pain.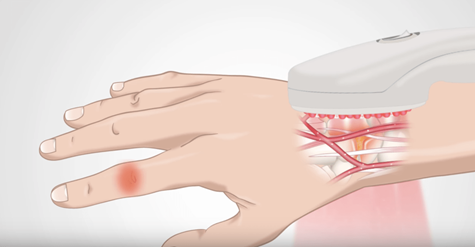 How effective is the LightStim for pain relief? Based on scientific research
Red and infrared light for pain and light therapy, in general, are fairly new concepts in the health and wellness community. Research on their effects is still at an early stage. However, the amount of evidence to support the effectiveness of light therapy is growing.
Here are some of the promising research findings from red and infrared light therapy.
A study [1] was involving 47 football players with ankle sprains. Patients were randomly divided into the following groups: the first group (16 people) received conventional therapy (rest, ice, compression), the second group (16 people) was treated with placebo laser and conventional therapy, and the third group (15 people) was treated with therapy plus an 820nm laser. The result showed that in the group receiving the diode laser and conventional therapy, there was a statistically significant decrease in the volume of edema already after 24 hours and a decrease in pain, in contrast to other methods.
The following study [2] demonstrates the clinical effects of low-level laser therapy (LLLT) in patients with acute neck pain with radiculopathy. 60 patients underwent a course of 15 treatments over 3 weeks with an active or inactivated laser as a placebo treatment. As a result, patients reported significant changes in arm pain intensity and neck extension.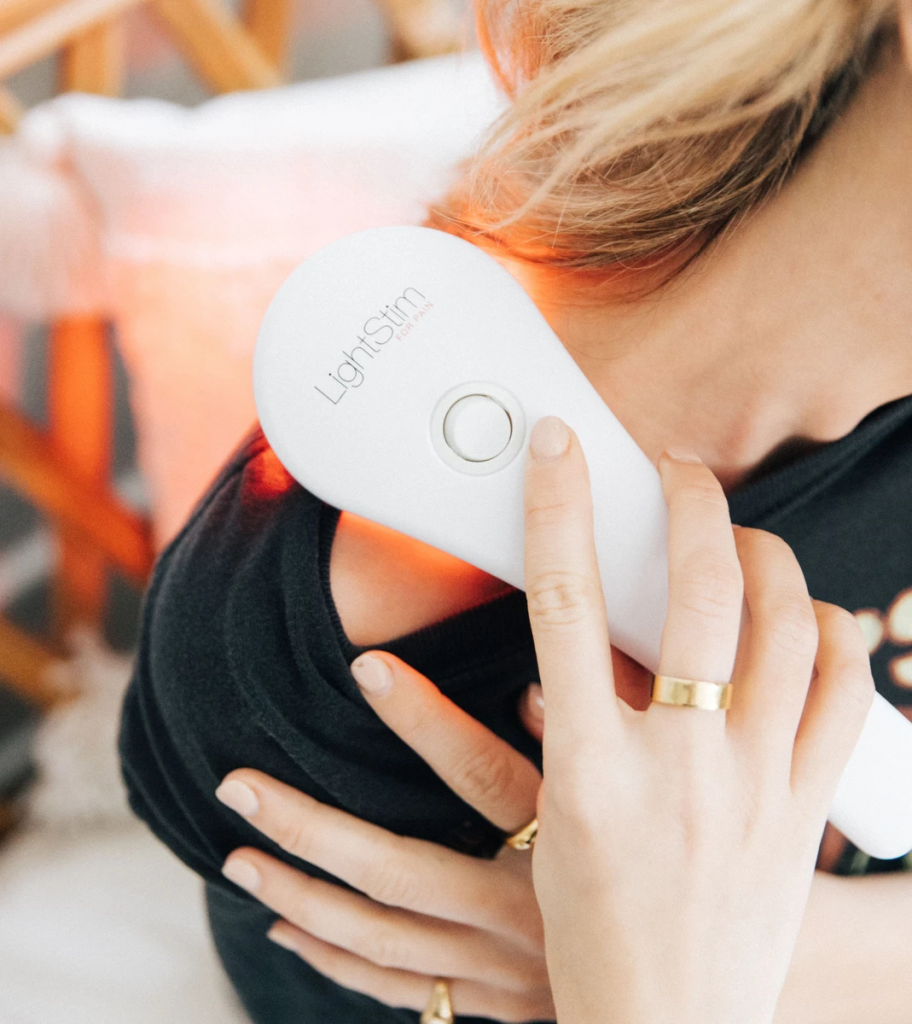 The next study [3] confirms the effectiveness of light therapy in patients with chronic neck pain. 820 patients were randomly divided into two groups: the first — treatment with LLLT, the second — placebo treatment for 22 weeks. As a result, the group that received light therapy reported a reduction in pain intensity while maintaining pain relief, in contrast to the second group. The side effects of LLLT were mild and did not differ from those of placebo.
LLLT is also used for chronic pain in the joints of the hand (elbow, wrist, and fingers).
The study [4] included 9 male and 15 female patients with chronic pain in the joints of the elbow, wrist, or fingers, who were irradiated with laser energy twice a week for 4 weeks. As a result, the pain was reduced by 42%, which indicates a significant improvement after treatment.
In this randomized clinical trial [5], 54 patients who were candidates for surgery for a tibial fracture were randomly divided into two groups: control and laser therapy. Both groups had the same operations. However, the patients in the laser group were treated with light therapy at the end of the operation, while the placebo group received a laser in the off mode. As a result, the laser group experienced less pain intensity compared to the placebo group. In addition, the number of opioids (pain relievers) consumed in the laser group was 2 times less than in the other group.
Research has shown that LED therapy reduces inflammation. It has been shown to stimulate cellular function and repair structures and tissues in the body.
Customer reviews about LightStim
I was skeptical at first
"I used to be skeptical about light therapy, but after looking at a lot of reviews, I decided to give it a try. I have been using this device for about 2 weeks now, and I notice the result of the treatment. I have chronic back pain that runs up from my shoulder blades, past my neck, and into the back of my head. After using LightStim, my body became less tense and my pain became less painful."
— Brian, CO
It works!
"I have an old shoulder injury that severely restricts my range of motion. My doctor told me that I needed surgery to replace my shoulder. In the past, I have had unsatisfactory results from surgeries and many side effects from medication. After reading enough reviews, I decided to give LightStim a try. Although the device did not completely cure my injury, it did help improve my range of motion and significantly reduce pain so that I can go about my daily activities and even exercise."
— Sally, AZ
Definitely recommend!
"I'm relatively new to red light therapy and infrared rays, but it's worth saying that it works. Every day for many years I suffered from severe pain in the sciatic nerve, which has already become a common occurrence. I also have tendonitis and arthritis. I decided to use the device in these areas. I was very surprised by how quickly it worked. I have suffered from chronic pain associated with work-related injuries over the years and it works as advertised. Plus, LightStim is safe and has a shutdown timer after 30 minutes. It is very easy to use and transport as it takes up little space. This is a great tool worth every penny. "
— Laura, WA
Summary
For home procedures for many ailments, doctors recommend using red and infrared light. They launch the process of healing reactions through local thermal exposure. The device generates intense light that penetrates the deep layers of the skin, promotes vasodilation, improves blood flow, and eliminates the focus of inflammation.
LightStim has produced an essential pain relief device that has been conceived and engineered with reliable, scientifically proven principles. The combination of red and infrared light is key to successful pain management, and LightStim includes a wide range of both.
Unlike many medications, light therapy does not produce diminishing returns requiring an increase in dosage. The pain relief effect remains constant and consistent with the device.
FAQ
🔴 Does LightStim really help with pain?
Yes, the light energy emitted by LightStim improves blood circulation and reduces pain. In addition, it speeds up the healing process of the skin, relieves muscle aches, stiffness, and joint pain.
🔎 How does LightStim for pain relief work?
LightStim for pain relief works by increasing local blood circulation and increasing the temperature of body tissues, thereby triggering the pain relief process.
🥵 Can the red light therapy used in LightStim cause sunburn?
No, red light therapy does not cause sunburn. It uses low levels of heat that will not harm your skin. This is in no way like the red light in tanning beds, which damages your skin with ultraviolet radiation.
💪 What part of the body can I use LightStim for pain relief?
Use LightStim for pain relief for 5-30 minutes on any part of your body where you are in pain, soreness, or stiffness.
Sources
Apostolos Stergioulas. Low-level laser treatment can reduce edema in second-degree ankle sprains. – J Clin Laser Med Surg. 2004 Apr;22(2):125-8. DOI: 10.1089/104454704774076181.
Ljubica M. Konstantinovic, Milisav R. Cutovic, Aleksandar N. Milovanovic, Stevan J. Jovic, Aleksandra S. Dragin, Milica Dj Letic, Vera M. Miler. Low-level laser therapy for acute neck pain with radiculopathy: a double-blind placebo-controlled randomized study. – Pain Med. 2010 Aug;11(8):1169-78. DOI: 10.1111/j.1526-4637.2010.00907.x.
Roberta T. Chow, Mark I. Johnson, Rodrigo A. B. Lopes-Martins, Jan M. Bjordal. Efficacy of low-level laser therapy in neck pain management: a systematic review and meta-analysis of randomized placebo or active-treatment controlled trials. – Lancet. 2009 Dec 5;374(9705):1897-908. DOI: 10.1016/S0140-6736(09)61522-1. E-pub 2009 Nov 13.
Ikuko Okuni, Nobuyuki Ushigome, Takashi Harada, Toshio Ohshiro, Yoshiro Musya, Masayuki Sekiguchi. Low-level laser therapy (LLLT) for chronic joint pain of the elbow, wrist, and fingers. – Laser Ther. 2012 Mar 28;21(1):15-4. DOI: 10.5978/islsm.12-OR-04.
Sholeh Nesioonpour, Soheila Mokmeli, Salman Vojdani, Ahmadreza Mohtadi, Reza Akhondzadeh, Kaveh Behaeen, Shahnam Moosavi, Sarah Hojjati. The effect of low-level laser on postoperative pain after tibial fracture surgery: a double-blind controlled randomized clinical trial. – Anesth Pain Med. 2014 Jun 21;4(3):e17350. DOI: 10.5812/aapm.17350. eCollection 2014 Aug.