Injured your back or recovering from a hard workout at the gym? Heat therapy is just what you need to relieve muscle stress and tension. It is an effective remedy for spasms, joint pain, and back stiffness.
In this article, we will look at Sunbeam, the most popular brand that provides products with heat therapy. We will also present you with the top 4 devices that will suit your needs. In addition, we have prepared heating pad care tips so that you can fully enjoy the process of therapy.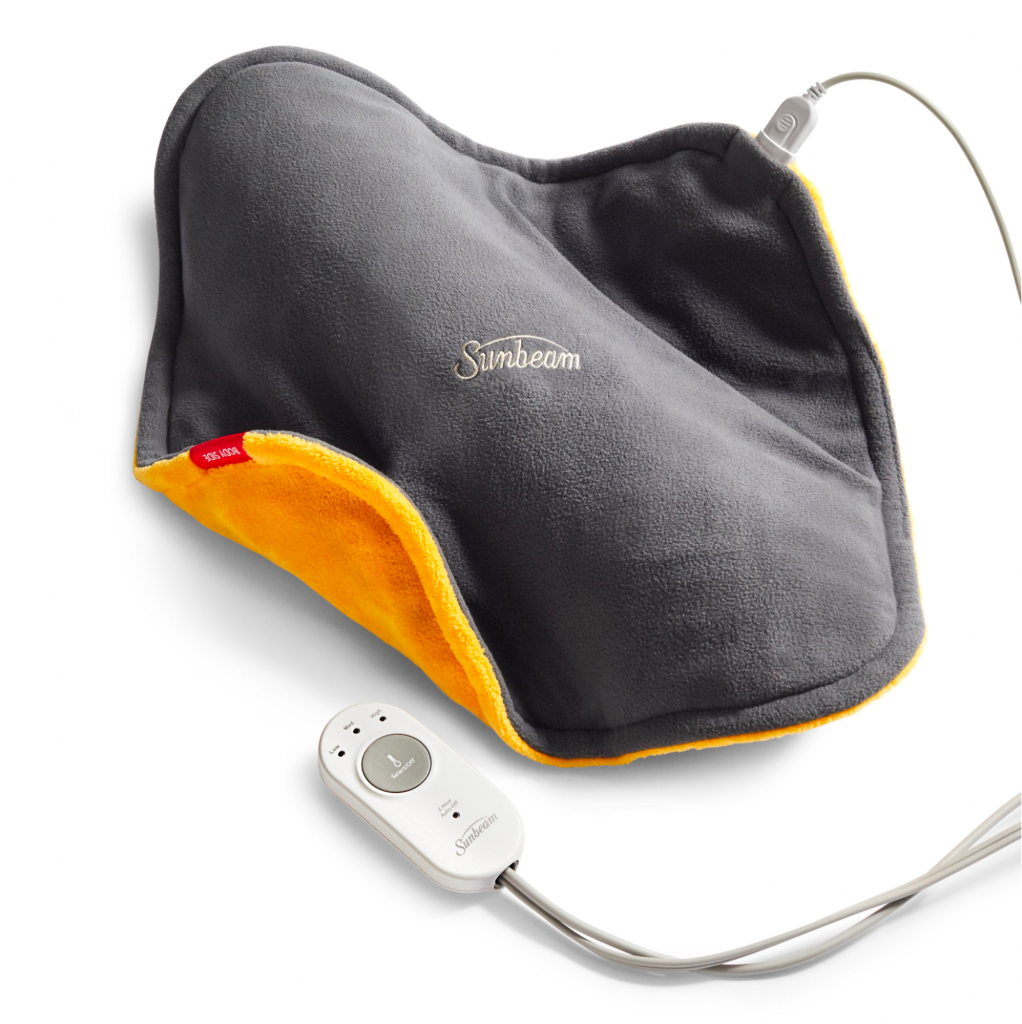 Winner category:
Best device for targeted pain relief

– The most effective for hard-to-reach places of pain relief (neck, shoulders, knee), due to the universal flexion of the device;
– The layer of beads helps the heating pad stay in the treated area and not slip off.

More info
Winner category:
Best for joint pain relief

– The most effective method of treating joint pain due to the ease of wrapping of the device and tight fit;
– The possibility of using moist therapy, which provides even deeper and more penetrating pain relief.

More info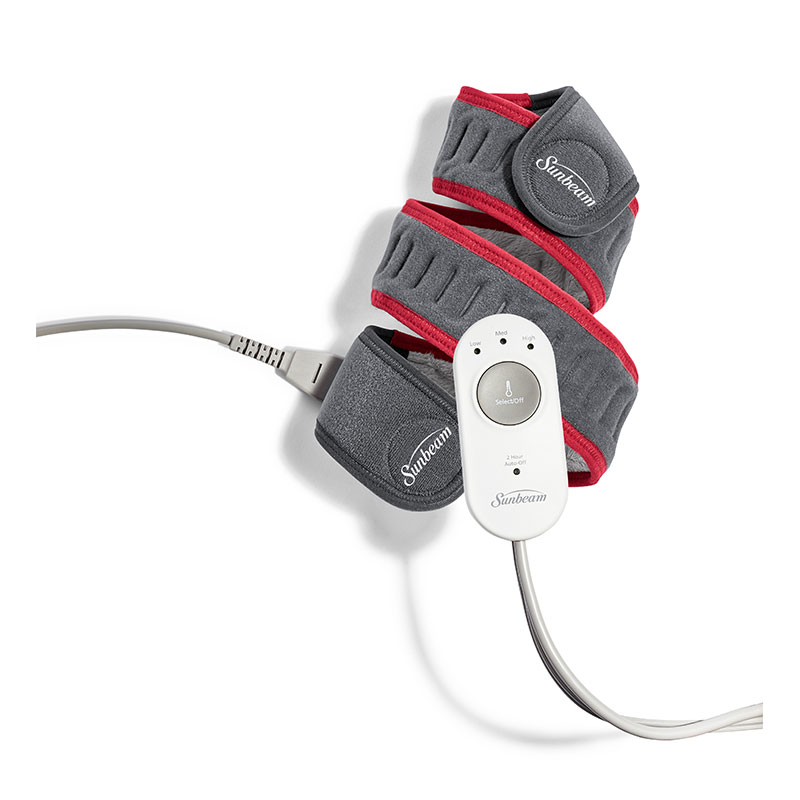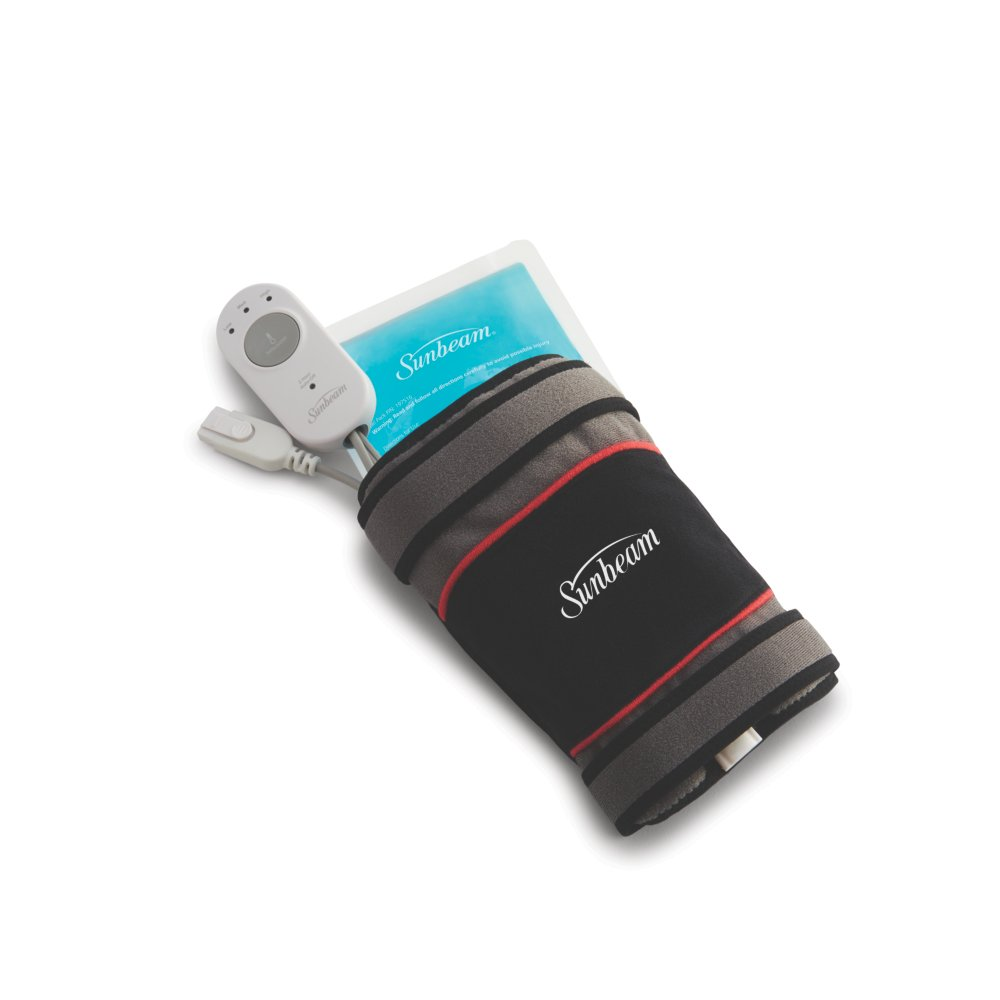 Winner category:
Most versatile device

– The combination of heat therapy and cold ones helps to cope with various types of pain, as well as sprains and bruises;
– Particularly effective for treating pain in the elbow or knee, as it follows their shape.

More info
Winner category:
Best to use on the go

– The most portable pain relief device due to the USB port that allows you to choose a power source and use the heating pad on the go;
– The adjustable strap secures the device to your back, arms, legs, or shoulders, and can be used hands-free.

More info
Overview: Sunbeam heated pads
Sunbeam is a company that mainly manufactures heated devices such as blankets and pads. They are intended to temporarily relieve muscle pain as well as improve overall well-being.
Sunbeam heating pads are a popular choice for those who want to get rid of muscle, joint or other types of pain. They are available in a variety of sizes and come with features that cover the entire spectrum of needs.
In order to understand which device is right for you, below we have presented the most common conditions and products that are suitable for treatment:
Pain in the back and spine
This is the most popular type of pain and is increasingly reported in doctor's appointments.
For upper back pain, use ConformHeat Heating Pad, which you can wrap around the neck and shoulders and is sized to relieve discomfort. For lower back pain relief, try GoHeat Heating Pad that conforms to the shape of your back.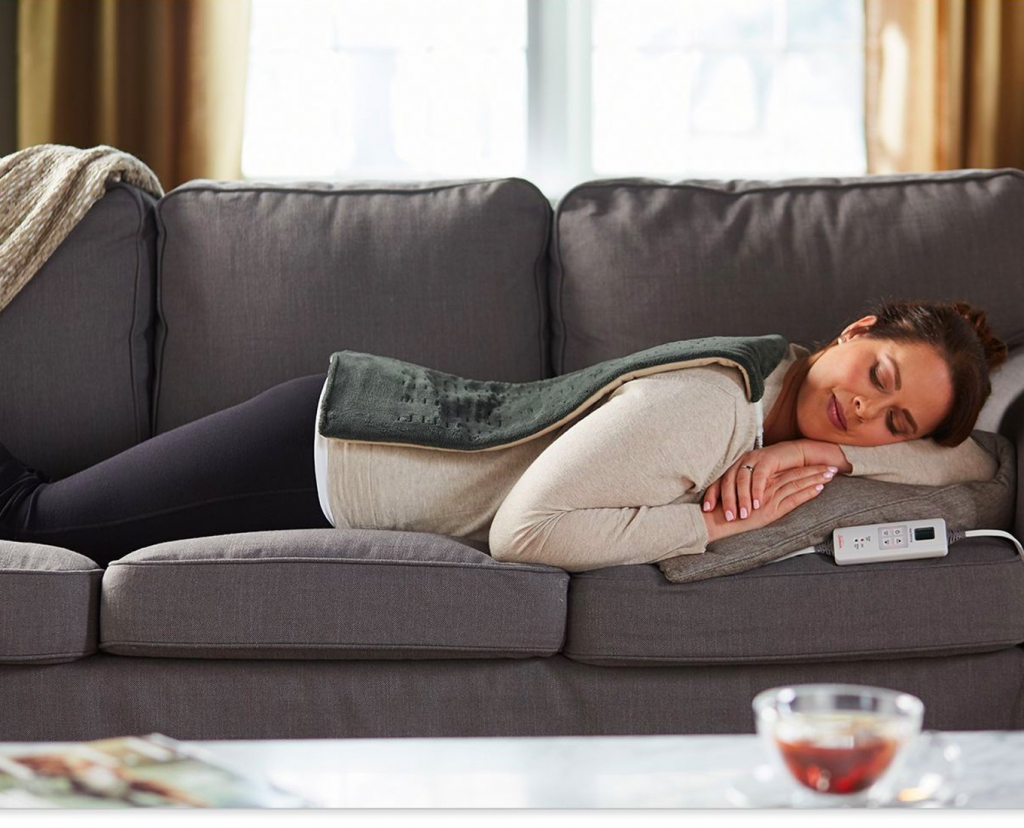 The state of the joints directly affects the mobility of a person: if everything is in order with them, we move freely, have the opportunity to play sports, etc. But the quality of life deteriorates noticeably if we experience some kind of discomfort associated with joint pain.
FlexFit Heated Wrap provides targeted pain relief for your ankles, knees, and elbows by wrapping them around so you directly feel the warmth and pain relief.
The blood vessels in the skin are easily damaged by bruising, strong pressure, or other causes and form a bruise.
FlexTemp Hot + Cold Wrap offers a cold therapy option with a freeze gel ice pack to relieve pain from sprains or bruises. Cold temperatures constrict blood vessels, which help reduce inflammation.
Also check out
Sunbeam blankets
, devices that can help you stay warm on cold days (some models can run up to 12 hours) and ease the muscle pain.
How do the Sunbeam heated pads work
The Sunbeam heated pads work by using a special heating element that is embedded into the pad. This element heats up when it comes into contact with a power source, such as an electrical outlet. Sunbeam heated pads provide a consistent and reliable source of heat, which can be used to relieve pain.
Heat therapy works by improving blood circulation and blood flow to a specific area due to the rise in temperature. Even a slight increase in the temperature of the affected area can reduce discomfort and increase flexibility. Heat therapy also can relax and soothe muscles and heal damaged tissues.
Additionally, the pads have a special safety feature that prevents them from overheating, so you can always feel confident and comfortable when using them.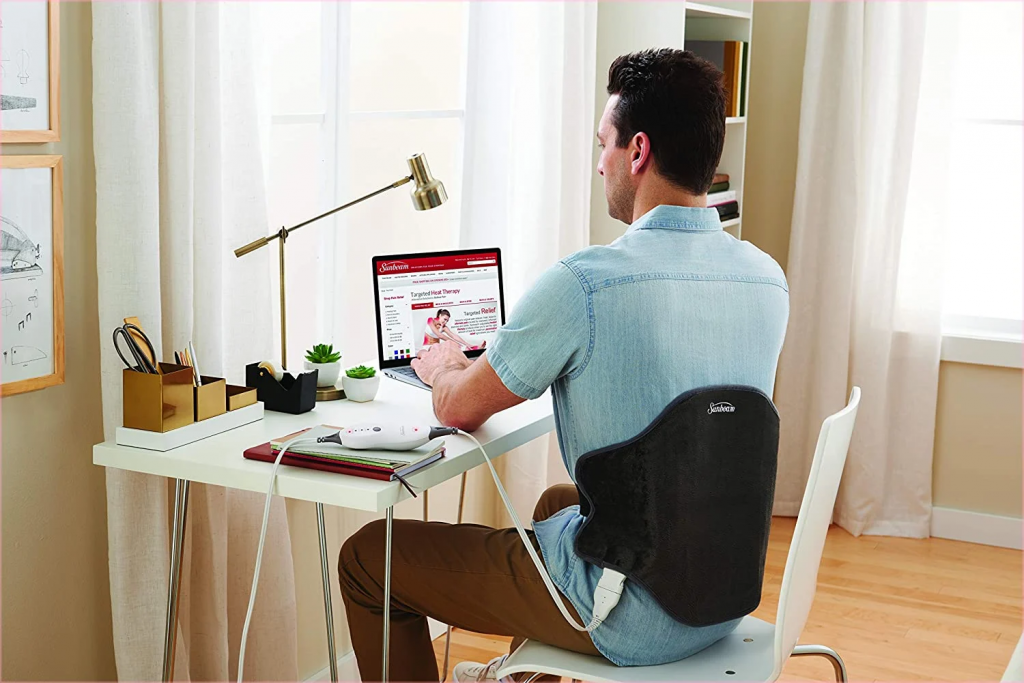 Top devices for pain relief
ConformHeat Heating Pad
The ConformHeat heating pad is one of the best devices for treating targeted pain.
Due to the ease of bending of the device, you can place it in hard-to-reach places for relief. For example, it fits easily between the neck and shoulders (the most common part of the body for tension and pain) and evenly distributes heat. And beaded weighting helps the heating pad stay in place in areas like the back, shoulder, neck, arm, leg, or knee.
The heating pad has three settings so you can find the perfect heat level for your needs. And the 2-hour timer will help you not to overdo it with therapy. Users also note the LED heat-stabilizing backlight for visibility in the dark and a long 9-foot cord, which simplifies the use of the device.
Customer Reviews
"The heat delivery of this product is impressive, but it can be a bit too intense on the highest setting, so be aware. I prefer to use it on my lower back before sleep, particularly after a tiring day of physical work. It effectively soothes my muscles, but I do feel that it would be more beneficial if it were bigger in size."

— Paul, AZ
"This device is undoubtedly the ideal choice for anyone seeking a top-of-the-line heating pad. Its outer layer is luxuriously plush and gentle enough to use directly on the skin. What sets it apart from other heating pads is its multiple heat settings, which allow for precise temperature control. Additionally, the vibrant yellow color is sure to brighten up my day, especially when I'm feeling sore or achy. Flawless product!"

— Brittany, CA
FlexFit Heated Wrap
FlexFit Heated Wrap is a wearable device that provides targeted pain relief, muscle relaxation and is the most effective treatment for joint pain.
Due to its size (2.5 x 42 inches), the heating pad easily wraps various areas of the body, such as the arm, elbow, wrist, and ankle, helping to relax sore muscles, as well as relieve pain. Also, with elastic ends, the device fits snugly on the treatment area and users do not need to constantly hold the wrap when wearing it.
For greater effect, manufacturers offer moist heat therapy — just sprinkle the fabric with water. Users who have used this method report deeper, penetrating pain relief.
In addition, it has a built-in timer so you can set it for the desired amount of time.
Customer Reviews
"After using FlexFit, I can say that it has been a great help in my recovery from a broken ankle. It's just what I needed to get back on my feet and regain my mobility. However, I did experience some discomfort from the Velcro closure. If not attached with care, the rough side can irritate the skin, so it's important to take extra caution when applying it.

Aside from that, the product has met all my expectations. The material is durable and breathable, which is great for long periods of wear. It's also adjustable, making it easy to find the perfect fit for my ankle."

— Carla, FL
"Arthritis in fingers and hand is painful, but I've discovered a remedy that helps me cope. I rely on a FlexFit wrap that fits snugly over the affected area and effectively alleviates the discomfort. It quickly warms up and sustains the heat for an extended period, providing consistent relief.

The device is made of soft and comfortable materials that don't irritate my skin. It's easy to wear and can be adjusted to fit my hand and fingers precisely. I like this product!"

— Kellie, CA
FlexTemp Hot + Cold Wrap
FlexTemp Hot + Cold Wrap is a therapeutic wrap that can be used for both hot and cold therapies. The wrap is specifically designed to provide relief for sore muscles, joint pain, and inflammation. It will be most effective for treating pain in the elbow or knee, as it follows their shape.
The device contains a gel pack that can be frozen or you can use only a heated pad, depending on the desired therapy.
🔥 Hot therapy: tissue healing and relaxation of sore muscles associated with tension;
❄ Cold therapy: reduce inflammation from acute injuries such as sprains, bumps, and bruises.
Do not apply ice for longer than 20 minutes, and do not use it directly on the skin (there should be a fabric layer between the treating area and the ice).
Customer Reviews
"During my knee surgery recovery, I found the FlexTemp to be incredibly helpful. Its heating and cooling options provided targeted therapy that was just what I needed. I have an average knee size, so the device fits comfortably for me. However, if you have larger knees, keep this in mind before purchasing.

I was especially impressed with the gel pack, which offered powerful cooling therapy that helped alleviate my knee pain and reduce swelling. Meanwhile, the electric heating element was easy to adjust to different levels of heat, which made it easy to customize treatment to own preferences."

— Tom, AZ
"As someone who prioritizes physical fitness, I like to incorporate walking into my exercise routine. However, there are days when my knees ache, and it becomes difficult to maintain my pace. Thankfully, I have discovered a versatile joint wrap that offers both heat and cold therapy, depending on my needs. This means that I can choose the therapy that works best for my knee pain.

What I appreciate about this device is that it's very user-friendly. Unlike leaky ice packs or complicated heating pads, this wrap is simple to use. Whether I'm at home or on the go, I can quickly wrap it around my knee and continue with my day."

— David, TN
GoHeat Heating Pad
GoHeat Heating Pad is an electric heating pad that can be used for various purposes such as pain relief, muscle relaxation, stress relief, and so on.
However, its feature, unlike other devices, is the USB port that allows you to select a power source and use the heating pad on the go. The type A connector that the heating pad has is compatible with a power bank, computer, car USB port, or wall adapter, so you don't have to worry about sudden pain. And the comfortable size provides targeted heat therapy for your back, arms, legs, or shoulders.
After use, the flexible pad rolls up neatly to fit into a small bag.
Customer Reviews
"This is amazing! As someone who suffers from endometriosis and experiences excruciating pelvic and back cramps, I find this product to be an absolute game-changer. Unlike pain medication, which doesn't usually work for me, heat is the only thing that provides relief. As someone who is always on the go, this product works wonders!"

— Zoe, WI
"As someone who frequently suffers from lumbar spasms during long trips, I was thrilled to find the GoHeat. I had tried using a regular heating pad with a power inverter in my car, but it just didn't work well for me.

I love that this heating pad is designed specifically for travel, with features like a compact size and adjustable temperature settings. It's so easy to use while on the go! But what really impressed me was how effective it is at delivering heat therapy. It helps me to relax my muscles and reduce spasms, which is such a relief."

— Adam, CO
How to care for the heated pad
After you have chosen a heating pad, you have a question about how to care for it. Can it be washed or dried as you are literally dealing with electricity and power cords?
Below we have answered a few questions about it and also provided some tips for proper care of heating pads.
❓ Can the heating pads be washed?
Sunbeam heating pads can be immersed in water and washed under certain conditions.
Make sure the device is turned off, then pull the control plug out of the panel to disconnect the cord.
Remove the fabric from the pad and wash the product in warm water on a gentle cycle.
After washing, you can either tumble dry the rug or lay it out on a clothesline.
Do not plug the heating pad in again until it is completely dry.
❓ Is dry cleaning suitable for heating pads?
Many are convinced that dry cleaning is more gentle and it is more convenient for a washable heating pad.
In fact, dry cleaning involves the use of chemicals that can destroy wire insulation and hot parts of an object. So it is strictly forbidden to dry-clean the heating pads.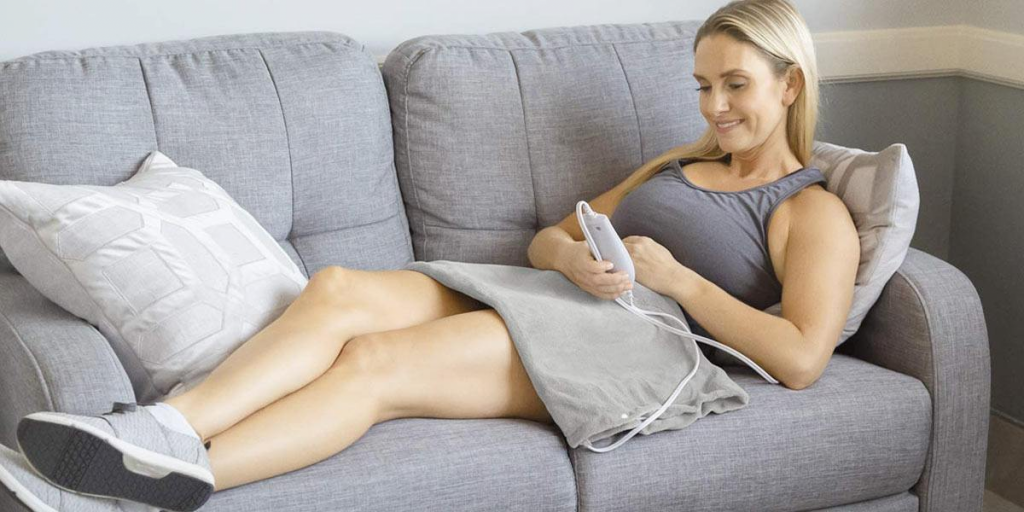 Care tips
Preparation for washing the heating pad
Improper preparation can ruin your heating pad, so be sure to wash it when it's completely unplugged. Also, don't use bleach or spin, as both can be harmful.
Use a vacuum container for storage
This is a great idea for pad storage, as the vacuum container will keep odors, dust, and insects out.
When folding the heating pad, make sure none of the wires are too bent. Always check all cables for damage.
Know when to replace your heating pad
As with most products, the lifespan of your heating pad depends on a variety of factors. Regular cleaning can prolong the life, but if your heating pad is more than 5 years old, it is recommended that you replace it with a newer device.
Also check out the
infrared heating pads
, which, due to their technology, can reduce pain, help relax, and improve sleep.
The science behind heat therapy
Heat therapy is a common home treatment. From heating pads to warm baths, people have been using heat for decades to soothe sore spots. While much of the talk about heat therapy is based on word of mouth, some scientific studies support the benefits of this method.
Nine trials [1] involving 1117 people were studied. Patients reported acute back pain. As a method of treatment, they used heat therapy (wrap). As a result, this treatment significantly reduced pain after an average of 5 days compared to a placebo.
The following study [2] included 100 people with low back pain lasting less than 3 months. Participants were randomized into one of four groups: heat wrap only; only directed exercises based on preferences; a combination of wrap and exercise; or control. Treatment was carried out for five days in a row. As a result, the wrap and exercise + heat therapy groups showed the most impressive results. Patients noted muscle relaxation, increased mobility, and general improvement in their condition.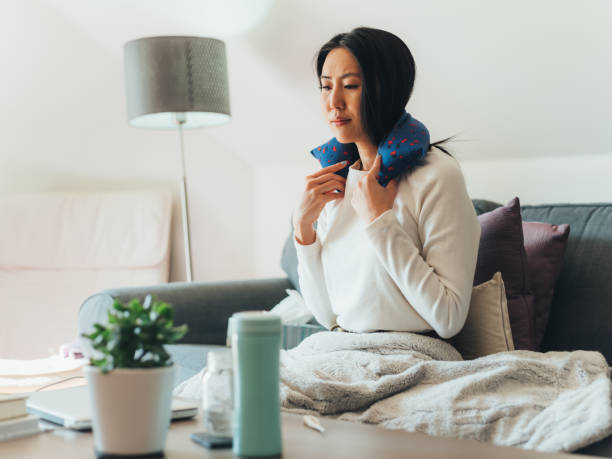 In the study [3], 176 patients with chronic low back pain were treated with or without heat therapy for 12 weeks. Range of motion, as well as strength parameters of the body, improved with warming treatment. Also, in patients receiving additional therapy, there was progress in the indicators in relation to unbending.
The latest study [4] included 34 patients with chronic low back pain. They were given a device that administered a high-temperature pulsed heat treatment up to 45°C and was followed up for eight weeks. Subjects were allowed to use the device as needed.
Pain levels were 5.81 at baseline, 2.79 at four weeks, and 2.25 at eight weeks. Also, about 72% of the patients reported that one 30-minute treatment session resulted in pain relief for more than 3 hours.
In conclusion, heat therapy reduces joint stiffness, muscle tension, and spasms, further reducing the risk of injury. It also relieves back and joint pain.
Summary
Everyone is familiar with back and neck pain or muscle stiffness after a workout. Luckily, a good heating pad can ease your pain by relaxing your body and even optimizing muscle recovery.
Sunbeam heating pads are a great way to get relief from pain or to keep an area warm. They are easy to use and come in a variety of sizes and shapes to fit your needs. If you are looking for a reliable and consistent source of heat, then the Sunbeam heating pads are a great option.
FAQ
😴 Can I fall asleep using a heating pad?
Falling asleep while using a heating pad should always be avoided. Whether it's heat or ice, there's no need to go to sleep with either on your skin, as both can cause severe burns.
🦵 I have joint pain, which heating pad should I choose?
Pay attention to FlexFit Heated Wrap. It provides targeted pain relief for your knees and elbows by wrapping them around so you directly feel the warmth and pain relief.
⏳ How long is the best time to apply a heating pad to the body?
While there are no specific guidelines for how long a heating pad should be used, it must remain on for 10-30 minutes to be effective.
🫧 Can the heating pad be washed?
The heating pad can be washed in the washing machine at a maximum temperature of 30°C after removing the electrical cable. Keep in mind: don't use it if it is wet or damp, wait until it is completely dry.
Sources
French SD, Cameron M, Walker BF, Reggars JW, Esterman AJ. A Cochrane review of superficial heat or cold for low back pain. Spine (Phila Pa 1976) 2006;31(9):998–1006.
John M Mayer, Lee Ralph, Michele Look, Geetha N Erasala, Joe L Verna, Leonard N Matheson, Vert Mooney. Treating acute low back pain with continuous low-level heat wrap therapy and/or exercise – a randomized controlled trial. — Spine J. 2005 Jul-Aug;5(4):395-403. doi: 10.1016/j.spinee.2005.03.009.
Jürgen Freiwald, Matthias Wilhelm Hoppe, Wilhelm Beermann, Jarek Krajewski, Christian Baumgart. Effects of supplemental heat therapy in multimodal treated chronic low back pain patients on strength and flexibility. — Clin Biomech (Bristol, Avon). 2018 Aug;57:107-113. doi: 10.1016/j.clinbiomech.2018.06.008. Epub 2018 Jun 19.
Jenny E Hapgood, Charles Chabal, Peter J Dunbar. The Effectiveness of Thermal Neuromodulation Using Precise Heat in the Treatment of Chronic Low Back Pain Over 60 Days: An In-Home User Trial. — J Pain Res. 2021 Sep 7;14:2793-2806. doi: 10.2147/JPR.S316865. eCollection 2021.