Facial microneedling has been known for over 50 years. However, the procedure did not become widespread all at once. In March 2013, Kim Kardashian, an American reality show participant, posted a photo of her microneedling session on her Instagram page. Since then, many girls want beautiful skin like Kim's, and microneedling of the face and body can increasingly be found in the list of services of cosmetology centers and studios. But microneedling costs a fortune, so not everyone can afford it. And what to do?
There is an alternative! Many companies make microneedling pens that you can use at home (and some estheticians even use them in salons), and it will save you a fortune. We researched to figure out which microneedling pens are worth buying and what to look out for.
Comparison Table
If you don't have time to go into detail about the features of microneedling pens for home use, we have prepared a simple table for you with our top.
And if you do decide to delve deeper into comparing these models, you can jump straight to the detailed reviews.
Model

Key benefits

Dr. Pen Ultima A7

Winner category:
The best overall with a lot of extra cartridges
✓ The largest number of additional cartridges in case you lose or broke some
✓ Simplest yet useful instructions
✓ The least painful sensations
✓ It has a cord in case don't like to charge devices
✓ 6-month guarantee included

Dr. Pen Ultima A6

Winner category:
The most comfortable & simplest using
✓ The easiest in use
✓ The most versatile: treats both wrinkles, stretch marks, and hair growth
✓ Comes with two rechargeable batteries
✓ May be used as a corded or cordless device


Sergand Microneedling Pen

Winner category:
The best in improving skin texture and quality

✓ The best skin texture enhancer
✓ The most affordable solution on our list
✓ Keeps it charged the longest (one charge per two uses)
✓ Each needle tip is individually packaged and sterile
✓ Has 6 different modes to treat all skin issues from wrinkles and fine lines to acne scars and hair loss

Angel Kiss A9 Microneedling Pen

Winner category:
The most helpful with different scars and reducing wrinkles
✓ Best for the elimination of various scars (including acne)
✓ Most efficient for diminishing fine lines and wrinkles
✓ Can be a brilliant alternative to procedures in clinics
✓ Comes with a beautiful storage box
✓ Needle length changes quickly and smoothly

How to choose the best microneedling pen for home use
Most microneedling pens are similar in design, features, and functions, despite the different brands. The question arises: how to choose the right dermapen out of all the variety? We did our research and found out what customers are most concerned about and what they should pay attention to.
Top 5 important points:
The pen should improve the texture of the skin
Of course, this makes sense because the main function of microneedling in general is to improve the condition of the skin. However, not all pens work as they should, and what's worse, some users simply use them incorrectly and don't get the results they expected. How do you know if they work correctly? You can read hundreds of reviews yourself or you can read our deep overview because we've already done that for you.
By the way, our winner for this category is Sergand Microneedling Pen (review). And below we will tell you how to use worthy models of pens correctly, so as not to harm, but to improve your skin at home.
Sturdy handle design, needles should not fall out
You can't know how durable your device is until you try it out for yourself, but you can read our review on the model you're interested in to see if anyone has had problems with the case. How do we know it? We've already studied hundreds of reviews to find it out so you don't have to.
No one likes a complicated device that they don't know how to operate. At first glance, it doesn't seem like such a problem with a microneedle pen for home use, but some users would disagree. The fact is that most pens have different needle modes that need to be used on different parts of the body. So the instructions for the device have to be detailed and clear so that you don't mix things up and get it right. You can usually check it online on the marketplace where you buy the pen, from reviews, or in our article where we did it all for you. If you are worried about this point, we advise you to take a look at Dr. Pen Ultima A6 (review) which is the most comfortable and easy to use on our list.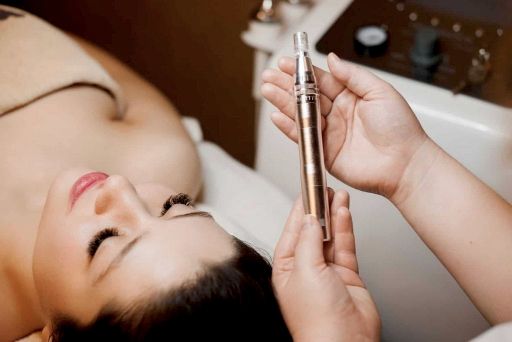 Pain is subjective because everyone has a different pain threshold. If you have a high threshold, I can only congratulate you and envy you a little bit; if you have a low threshold, believe me, I understand. With the best dermapens it's pretty simple — some are more gentle, and some are more uncomfortable. This is quite subjective and difficult to check except to try it on yourself or trust reviews. Also, deeper and larger needles will cause more discomfort than thinner needles (logical, yes).
And yet, in most cases, the pain can be significantly reduced or even eliminated with serums, which should be applied before the microneedling sessions. We will talk about them in more detail next.
A pen should work no worse than professional treatments
Some microneedling pens have proven so well that even aestheticians use them in their salons. In other cases, patients have tried both salon procedures and home devices and realized that the difference is minimal. It is about such pens that we will tell you about today.
Detailed review
Dr. Pen Ultima A7
Pros
The largest number of extra cartridges
It's easy to follow instructions
It's the one with the least painful feelings
It has a cord for people who don't like to charge devices
Comes with a 6-month warranty
Cons
It's a little pricey compared to others on our list
If you are looking for a light but powerful device with lots of extra cartridges that will last you the rest of your life (maybe), check out Dr. Pen Ultima A7.
This model runs only from the mains, which gives a stable speed at all times when operating the device. The device is made in a housing made of durable aircraft metal and has a powerful motor.
You can quickly and smoothly increase or decrease the speed of the device at any time thanks to the adjustment wheel. Earlier Dr. Pen's models do not have this feature.
If we talk about the procedure itself, it is worth using anesthetic cream to avoid unpleasant sensations. This dermapen is not used for the head, but it is excellent for the face and neck. Choose this option if you want to even out skin tone or reduce wrinkles and fine lines.
Customer reviews:
"I bought this pen a month ago and I think it is the best value for money. It is lightweight, durable, and painless for me. After a month I can already see improvements in my skin, it looks refreshed and radiant."
Helen, CA
"It's a great device, and with the extra cartridges, it's also a bargain. The instructions are clear and easy to follow. I use numbing cream for pain relief and feel great."
Kate, NJ
Dr. Pen Ultima A6
Pros
The simplest in use
Fits a variety of issues, from stretch marks to hair growth
Has two rechargeable batteries for the best experience
Can be used as a wired or wireless device
Cons
On the highest mode, the pen may shake a little
If used improperly, it can leave scratches
If you're looking for a microneedling pen that's as comfortable and easy to use as possible for a variety of purposes, from hair growth to stretch marks reduction, then our favorite for that is Dr. Pen Ultima A6.
This microneedling pen can be called a universal pen because it is suitable for almost any problem. But one of its main differences from the same Ultima A7 model is that it is suitable for the scalp.
This model has five different speeds, the needle depth is adjustable from 0.25mm to 2.5mm (classic), and it comes with four spare cartridges (two on 12-pin and two on 36-pin). Precisely because of the different settings, this pen has a wide range of applications. Read the instructions carefully to find the right mode. However, we warn you that the 2-2.5mm depth can only be used safely by professionals, don't take the risk of doing it yourself.
Thanks to the two spare batteries you can always use the device autonomously — when one battery is low, you put it on charge and use the second one. However, do not think that the microneedle pen is designed for very frequent use. One session every 3-4 weeks is the optimal time for your skin to have time to recover. Do not do the procedure more often so as not to harm yourself.
Customer reviews:
"I bought a pen from Dr. Pen to try it on my stretch marks (not from pregnancy). Even after the first use, I saw a slight change, so I continued. Now, after 5 sessions I can say that the stretch marks are much less noticeable, and this purchase was worth it."
Jane, NC
"This is my first microneedling pen and I'm glad I chose this model. It's sturdy, has a nice design, and works great for my hair. My wife uses it for fine lines and overall facial skin and is happy with it too. We had a problem once and contacted customer service, they were very quick to help us and now we are sure to stay with Dr. Pen for a long time."
Mike, LA
Sergand Microneedling Pen
Pros
The best in improving skin texture
The most affordable option on our list
Stays charged for the longest time (one charge per two uses)
Each needle tip is individually wrapped and sterile
Has 6 different modes
Cons
Cartridges are disposable and you can't buy them separately
Doesn't fit well for men as they have thicker skin
For people looking for a device that perfectly evens out their skin tone with high autonomy and complete sterility, we suggest looking at Sergand Microneedling Pen. This is a fairly new model, but its popularity is growing every day. Some estheticians use it on a par with professional devices and believe that it is as good as they are.
Another good thing about this device is that, like the Ultima A6, it is suitable for the head (hair growth). It is also good for scars (acne and ordinary scars). In addition, users have noted that it is comfortable and easy to hold. Of course, for maximum comfort and benefit of the procedures, it is recommended to use a serum with hyaluronic acid, as well as a numbing cream.
The main disadvantage of this model is the disposable cartridges. Unfortunately, there is no way to buy them separately from the pen. But the plus side is that the kit comes with 20 disposable cartridges, which will last you for quite a long time. Perhaps the company will soon start releasing the cartridges separately.
Customer reviews:
"I was a little nervous before buying a microneedling pen, so I researched the subject for a long time and looked for a decent model. Also, I watched a lot of videos on YouTube on how to use these pens properly (and I advise you), so I was already prepared for anything when I received them. It was easier than I thought, and so far I am very happy with this purchase. My skin is smoother, my pores are smaller, and my fine lines are less noticeable. Definitely a 10/10."
Lily, NC
"I bought this pen mainly for my thinning hairline. This device turned out to be much more professional than I thought (even my doctor noticed the changes after a few months). The charge lasts two times, which is very good because other pens like this need to be charged all the time. You can even take this one with you on business trips or travels."
Luke, NY
Angel Kiss A9 Microneedling Pen
Pros
The best for fading different scars (including acne ones)
The most effective for reducing fine lines and wrinkles
Can be an excellent alternative to professional treatments
It comes with a nice box for storage
The length of needles changes fast and smooth 
Cons
Doesn't work for hair growth
Might feel painful without a numbing cream
If you're looking for a device that will best fight scars and do a great job with fine lines and wrinkles, then you've been looking for Angel Kiss A9 Microneedling Pen.
This pen was released in 2020 and was a real hit, given the pandemic and the need for home devices. Even now, however, it has lost none of its appeal among ordinary people and aestheticians.
It is not suitable for the scalp, but if your goal is wrinkles, scars, and pore reduction, this is what you need. However, be prepared that you will have to wait 3-6 months for significant results, as it is not a quick process. And don't try to speed it up by using the pen more often — the skin must have time to recover.
Customer reviews:
"I'm usually too lazy to write reviews, but this pen deserves it. My skin hasn't been as smooth and glowing as it is now for years. And I have only had three treatments. I've always struggled with acne and acne scars, and now I'm finally winning that war. No more needing a ton of makeup to make my face more attractive is pure bliss."
Sandra, NM
I am a skin-care junkie, and I have at home a dozen different devices for skin (their number is constantly growing…). Many devices are in the $200-500 range, and to my surprise, the microneedling pen has surpassed some of them. I'm putting it in my top 3, as my skin has already told me thanks. If you follow the instructions, it's simple, straightforward, and painless (with numbing cream).
Elizabeth, MD
Microneedling at home vs. professional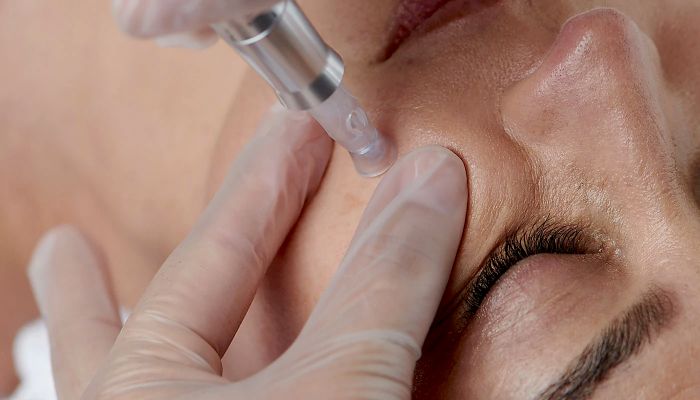 Even though we talk about microneedling pens as an alternative to professional treatments, you should understand that there is a difference. Each option has its pros and cons, and we decided to describe them in more detail for your convenience.
Microneedling at home:
Pros
💯It is more practical to do microneedling sessions at home, especially if you use shallow needles, and do sessions more often (with deep needles, the distance between treatments should be about a month or even more).
💸 It is more economical to conduct sessions at home, as the purchase of a microneedling pen is quite affordable and will pay for itself right after the first session.
😌 More comfortable treatment at your own pace. Cosmetologists may rush you or schedule sessions at times you don't feel comfortable with. With your device, you can work when it suits you.
🪡 Less aggressive treatment. You can start at home with shallow needles, whereas professionals often use deep needles.
Cons
⏳ Most likely, you will get less significant results at home than you would at the clinic (or spend more time achieving what you are striving for).
🤒 There is a risk of infection at home. You need to be very careful and serious about sterilization to avoid infection.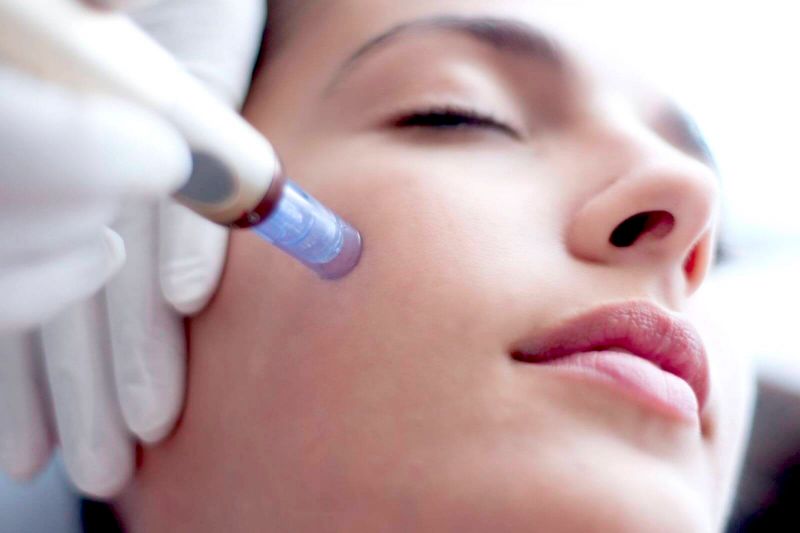 Professional microneedling:
Pros
🎓 The procedure is performed by professionals. They can easily determine which pen is best for your problem and skin type, which needle is right for you, and its depth for the best result.
💉 There is little chance of infection, as clinics are sterile and more professional than home procedures.
🏥 Deeper microneedling punctures. At home, it is not recommended to make punctures of 2-2.5 mm on your own, and for some problems such as stretch marks, loose skin, and facial wrinkles, deeper penetration is required. Clinics are safer than doing it yourself.
🧑‍⚕️ Doctors can advise on skin care after microneedling. The skin may be sensitive for a while after the procedure, and professionals will advise you on products that will quickly restore it.
Cons
💰 One procedure at the clinic costs more than buying the device at home. For comparison, a professional microneedling (one time) will cost you about $200-700 depending on the clinic and the problem, and you can buy a quality microneedling pen for $90-180, and it will last you a very long time.
🕐 Going to the clinic can be inconvenient in terms of time and scheduling sessions, and in microneedling, consistency is significant.
How to properly use a microneedle pen at home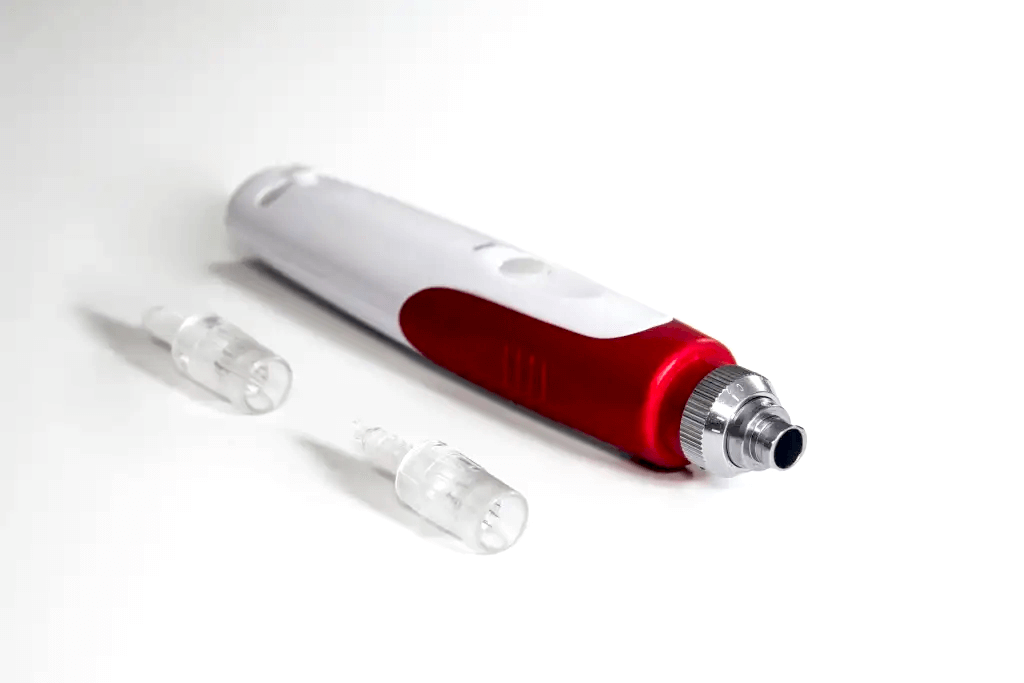 The microneedling procedure consists of several steps:
Thorough cleansing of the skin.
Application of numbing cream and active serum.
Choose the right needle (read instructions).
Adjust the needle length (again, explained in the user manual).
Select the appropriate working intensity.
Gently treat the skin with a pen (2-3 circles on every desired area).
Apply a skincare mask for 10-20 mins.
Apply a suitable moisturizing serum or cream.
❗
Always consult a dermatologist before using the pen at home. Microneedling can make things worse if you have eczema, rosacea, acne, or other inflammation of the skin.
Remember to disinfect your dermapen before and after the procedure to prevent infection, or use disposable cartridges.
Summary
Microneedling is in considerable demand among people who want to rejuvenate their skin and get rid of age-related changes without resorting to Botox injections or cosmetic surgery. Thanks to home devices, this procedure can be accessible to most people.
Microneedling pens are simple enough to use, and most importantly, they are effective if you follow the instructions. We looked at the best devices that are on the market and determined what is suitable and for what purpose:
FAQ
🤨Do microneedling pens work?
Yes. A microneedling pen eliminates congestion and stimulates epidermal cell activity, which increases the skin's ability to regenerate. Within a week of the session, the condition of the skin improves noticeably.
💯Which microneedle pen is best?
📌Are 12 or 36 needles better for microneedling?
They both are good, but 12-pin is recommended for the face, while 36-pin is better for the body.
🏠Is at-home Microneedling effective?
Microneedling at home is effective, but it is gentler than in clinics, and you have to wait a little longer for the effect.