As we age, our skin begins to lose its elasticity and firmness. This is due to a number of factors, including sun exposure, bad habits, and the natural aging process. If you are looking for a non-surgical way to restore the youthful look of your skin, then you may want to consider laser skin tightening, which can be used even at home.
In this article, we'll take a look at the science behind skin tightening lasers, how they work, and what benefits offer. We will also discuss the side effects to make your treatment as safe and effective as possible.
How Does Skin Tightening Laser Works?
As we age, the skin loses its elasticity and becomes less firm. This process involves changing the properties of certain cells in the skin known as collagen.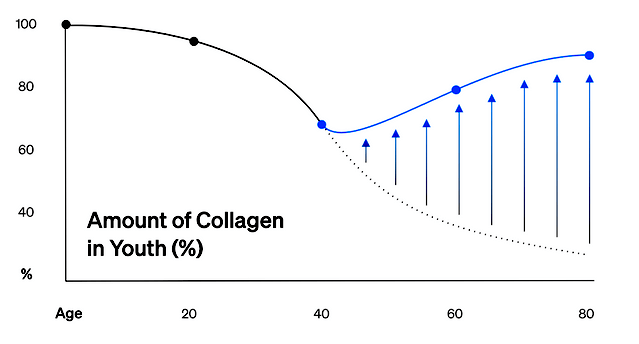 This technology uses focused beams of light that affect the external layers of the skin. It is a highly precise method of removing damaged skin while preserving and stimulating the underlying healthy layers of skin. The end result stimulates the production of new collagen, resulting in smoother, firmer, and younger-looking skin.
Parts of the body that are most often targeted with laser skin tightening include:
Face
Neck
Décolleté
Stomach
Thighs.
This procedure can be carried out both in the spa and at home. The duration of treatment will depend on the size of the treated area. Most treatments take 15 to 30 minutes.
Find out how light therapy can help tighten the skin and make it firmer as well as the best
body contouring machines
— in our article.
Benefits Of Laser Skin Tightening At Home
Laser skin tightening can help improve the appearance of your skin and make you look younger. It can also help reduce wrinkles, fine lines, and other signs of aging. And all this in the comfort of home.
Below, we will discuss some specific benefits you can get from laser skin tightening.
Reduce the appearance of wrinkles and fine lines
One of the main benefits of laser skin tightening is that it can help reduce the appearance of wrinkles and fine lines. This can be achieved by stimulating the production of collagen in the skin.
Laser skin tightening can also help improve skin elasticity. This is achieved through the production of collagen. This treatment is effective both on the face and on parts of the body, in particular the abdomen and thighs.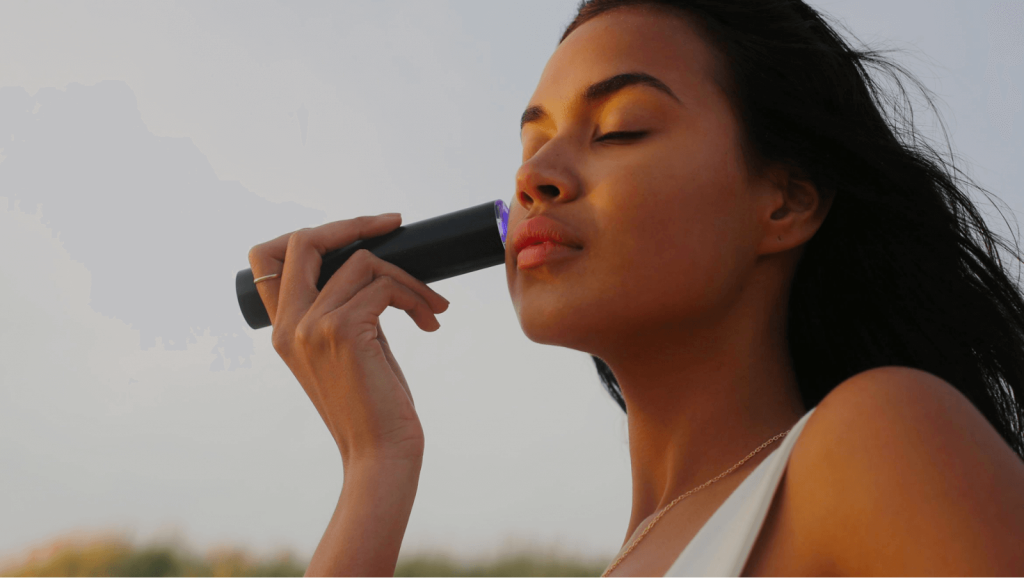 When you have large pores, your skin is more prone to acne and other problems. The reasons for this can be both genetics and age. Regardless of the cause, laser treatment can help shrink pores and give you a healthier complexion.
Lasers tend to peel off the top few layers of the skin. This leaves behind younger and fresher skin. After a few treatments, you will notice that your scars are less pronounced and blend better with the surrounding skin.
Scars and stretch marks can make us feel insecure. The effective solution is
cold laser treatment
. Read our article and decide which type of laser is right for you.
Before and after results
Skin tightening laser can provide a noticeable lift to sagging skin on the face, neck, and body.
Below are some examples of before and after results achieved through the use of skin tightening lasers at home.
As you can see, the results can be quite dramatic. If you are considering a skin tightening treatment, be sure to consult with a qualified physician to ensure that the treatment is right for you.
How Effective Is Laser Tightening? Based On Scientific Research
While there is still some controversy surrounding the efficacy of laser tightening, scientific research has shown that it can be an effective way to improve the appearance of wrinkles and sagging skin.
Below, we've outlined some of the scientific studies that have been conducted on laser skin tightening.
A study [1] was conducted that evaluated the efficacy and safety of 810-940 nm diode lasers for the treatment of laxity. 30 patients underwent four treatment sessions with an interval of 3 weeks. As a result, the researchers noted a significant reduction in sagging and an overall improvement in facial skin. Approximately 10% of patients reported mild pain or minor side effects.
The following study [2] is evaluating the safety, efficacy, and pain profile of using infrared light to treat facial and neck laxity. It included 22 women with excessive facial laxity who received 1 to 3 infrared treatments (1100-1800 nm) spaced 2 to 4 weeks apart. As a result, an average percentage improvement in laxity scores of 14% was demonstrated. A survey of patients was also conducted on the sensations during treatment. None of them reported frequent or constant pain during treatment. Side effects included minimal erythema that resolved within 1-3 hours.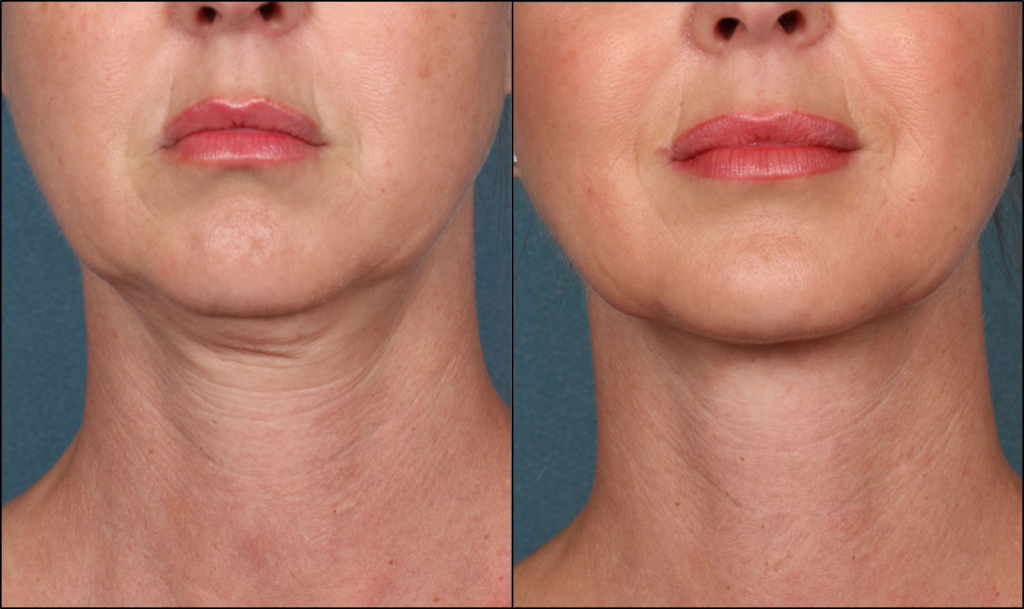 As the need for non-invasive skin rejuvenation procedures grows, diode lasers with radio frequency and combined infrared with radio frequency devices have recently become available.
The purpose of the following study [3] was to compare technologies in terms of the safety and effectiveness of skin rejuvenation. 14 patients with facial laxity and wrinkles underwent three treatments at 3-week intervals using diode laser and bipolar radiofrequency on the right half of their faces and combined infrared light and RF on the left half.
There is no statistically significant difference in overall outcome between the two treatments. However, the density of collagen fibers was more increased in the area of ​​the face treated with a diode laser and radiofrequency. The treatment was generally well tolerated, with no serious side effects.
Another study [4] was also conducted to evaluate the effectiveness of the combined skin tightening method. Twenty-six patients with sagging skin got 4 treatments 1 month apart with a device that included bipolar radio frequency (RF), intense pulsed light (IPL), and an infrared diode laser. Overall, the researchers noted an effect in reducing skin laxity; however, its ability to reduce wrinkles was limited. The overall level of satisfaction was 88%.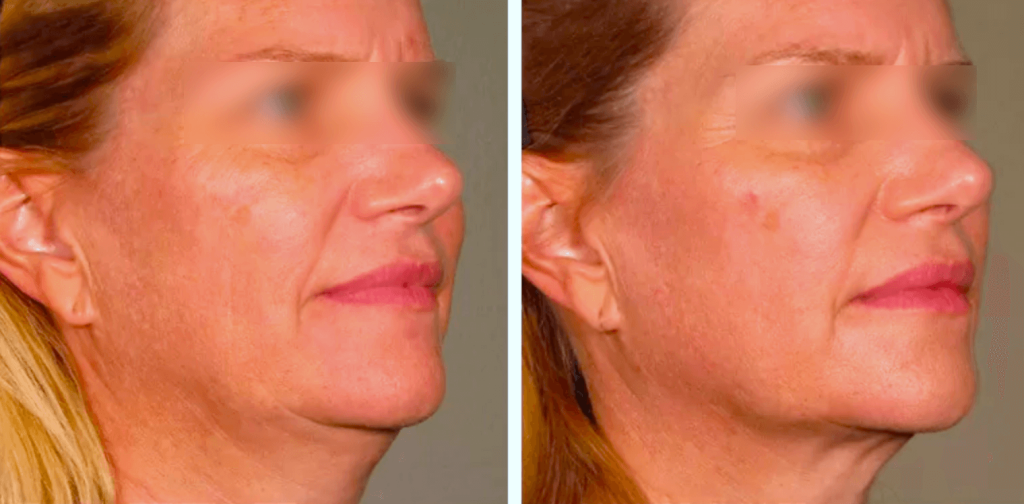 What Are The Side Effects Of Laser Skin Tightening?
The side effects of laser skin tightening are usually mild and temporary. The most common include:
Redness is the most common side effect of laser skin tightening because the procedure involves heating the skin, albeit slightly. The redness should subside within a few hours after the procedure. If you have certain skin conditions, such as rosacea, this can make things worse.
If the skin is damaged during treatment, a crust may form. It can lead to scarring if not properly cared for. The use of moisturizers and sun protection is a must to prevent the situation from getting worse.
Hyperpigmentation is a rare side effect that can occur when a laser is applied to the skin, including darkening or lightening of the area. It is more commonly seen in people with darker skin tones. Hyperpigmentation should disappear within a few months.
❗
While using laser skin tightening devices at home, it's important to be careful and follow the instructions.
If you experience any of the side effects described above, contact your doctor or dermatologist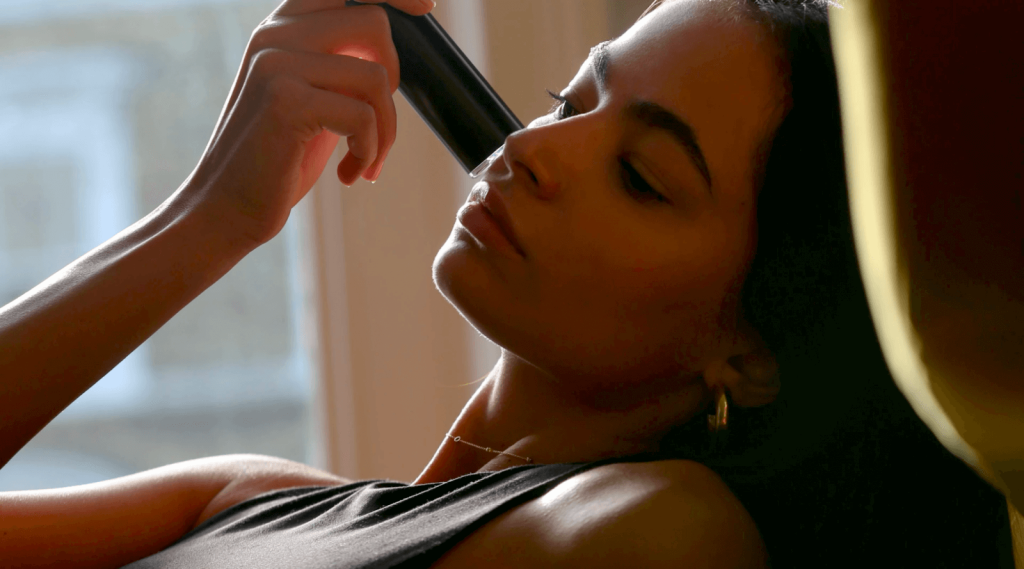 The Verdict
Laser skin tightening is a great way to rejuvenate the skin, correct minor defects in the face and body, and restore a healthy, youthful complexion.
This technology uses certain beams of light that affect the layers of the skin. The light energy stimulates the production of new collagen, resulting in smoother, firmer, and younger-looking skin.
Laser skin tightening is generally a safe and effective procedure with minimal risks and can be performed at home. However, it's crucial to consider personal factors when selecting a device. For example, individuals with sensitive skin should opt for a model specifically designed for their type, such as the Silk'n Titan. But if your primary concern is cellulite, it would be more beneficial to select a tool tailored for that purpose, like the ANJOU machine.
Also, as with any cosmetic procedure, consult with a dermatologist to see if laser skin tightening is right for you.
FAQ
👀 What can I expect during a laser skin tightening treatment at home?
During your treatment, you will be exposed to laser energy. This energy will be absorbed by the skin cells, which causes the collagen fibers to contract. This process will help to tighten the skin and give it a more youthful appearance.
🔍 How many at-home laser skin tightening treatments will I need?
The number of treatments you will need will depend on your goals and the condition of your skin. Most people will need 3-5 treatments per week during 2-3 months, in order to achieve optimal results.
❓ Is laser skin tightening safe for use at home?
Yes, laser skin tightening is considered a safe and effective treatment for improving the appearance of aging skin. However, as with any treatment, there are some risks and side effects associated with laser skin tightening. These include temporary redness, swelling, and bruising. More rare side effects include blistering, crusting, and changes in skin color.
🤔 How long does at-home laser skin tightening treatment take?
Most laser skin tightening treatments will take 15-30 minutes, depending on the size and condition of the area being treated.
References
Nataya Voravutinon, Kanikar Seawthaweesin, Apron Bureethan, Anchisa Srivipatana, Patnapa Vejanurug. Efficacy of diode laser (810 and 940 nm) for facial skin tightening. — J Cosmet Dermatol. 2015 Dec;14(4):E7-14. doi: 10.1111/jocd.12165. Epub 2015 Jul 15.
Macrene Alexiades-Armenakas. Assessment of the mobile delivery of infrared light (1100-1800 nm) for the treatment of facial and neck skin laxity. — J Drugs Dermatol. 2009 Mar;8(3):221-6.
Yeon Jin Choi, Jung Yeon Lee, Ji Young Ahn, Myeung Nam Kim, Mi Youn Park. The safety and efficacy of a combined diode laser and bipolar radiofrequency compared with combined infrared light and bipolar radiofrequency for skin rejuvenation. — Indian J Dermatol Venereol Leprol. 2012 Mar-Apr;78(2):146-52. doi: 10.4103/0378-6323.93630.
Min Jiang, Fang Yan, Mathew Avram, Zhong Lu. A prospective study of the safety and efficacy of a combined bipolar radiofrequency, intense pulsed light, and infrared diode laser treatment for global facial photoaging. — Lasers Med Sci. 2017 Jul;32(5):1051-1061. doi: 10.1007/s10103-017-2207-9. Epub 2017 Apr 23.