Are you looking for a way to get rid of stubborn fat that just doesn't seem to go away, no matter how much you diet or exercise? If so, then CoolSculpting may be the solution for you.
We will discuss what CoolSculpting is, how it works, and the clinical evidence supporting its effectiveness. We will also show some before and after photos of patients who have had the procedure done.
What is CoolSculpting?
CoolSculpting (cryolipolysis) is a non-invasive, body contouring procedure that uses special technology to freeze and eliminate stubborn fat cells from the body. The treated fat cells are then flushed out of the body through the lymphatic system.
CoolSculpting is FDA FDA is a Food and Drug Administration standard that guarantees the quality and safety of the presented device. -cleared for the abdomen, flanks, thighs, and upper arms. Also, it is the only non-invasive fat reduction treatment that is FDA-cleared for double chin.
CoolSculpting is a great option for people who are looking to reduce their stubborn fat without surgery or downtime. The CoolSculpting procedure is comfortable, and most patients see noticeable results in as little as one treatment.
How does CoolSculpting work?
CoolSculpting is a non-invasive fat-reduction procedure that uses cooling technology to eliminate stubborn fat cells, sculpting a slimmer and more toned physique. The CoolSculpting device gently cools targeted fat cells in the body, freezing them to the point of destruction. Once frozen, the fat cells are then naturally flushed out of the body over time, resulting in a slimmer, more sculpted appearance.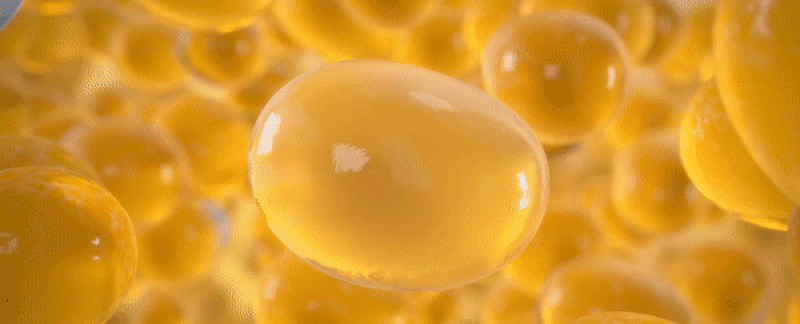 CoolSculpting is most effective in treating areas of stubborn fat that are resistant to diet and exercise, such as the abdomen, love handles, inner thighs, outer thighs, back fat, under the chin, and upper arms.
During your CoolSculpting procedure, you may feel pressure and intense cold as the cooling device is applied to your skin. However, this is normal and should subside as the area numbs. Some patients also experience mild discomfort, bruising, and swelling after their CoolSculpting treatment, but these side effects are temporary and typically resolve within a few days.
Read also about
fat burning machines
— a painless, non-invasive method that uses light therapy as well as radio waves for effective weight loss.
The effectiveness of CoolSculpting based on clinical trials
Nowadays, there are many methods for reducing body fat, but CoolSculpting is one of the most popular and effective. Below, we will analyze the clinical trials that have been conducted to study the efficacy of this treatment.
One study [1] included 28 patients who treated various body parts, in particular the abdomen, flanks, double chin, arms. On average, 4 procedures were performed with an interval of 4 weeks. As a result of the treatment, patient satisfaction was high. The average change in body fat was 40%.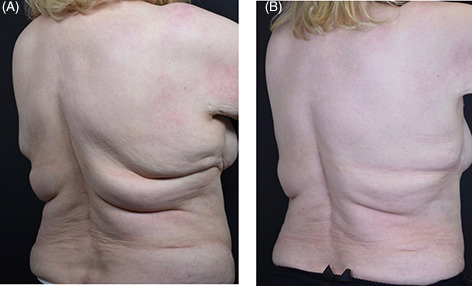 The following study [2] was conducted over several years and included a total of 518 patients. The procedure was well tolerated: 89% of respondents rated the duration of treatment positively. Measurements showed a 23% reduction in fat layer thickness after 3 months. The most effective were the areas of treatment of the abdomen, back, and sides.
Another study [3] included 85 patients who treated cryolipolysis. As a result, after 6 months, patients showed an average fat reduction of 21.5%. Overall scores were highest for the abdomen, thighs, and bra bolsters. Minimal side effects were observed, but patients did not experience significant downtime.

The next study [5] included 30 patients who underwent one cycle of cryolipolysis followed by ultrasonic therapy. As a result of the treatment, a high level of satisfaction was found in the majority of patients — 76.7%. Most patients described treatment-related discomfort as minimal or tolerable.
Learn more about ultrasonic cavitation and its impact on weight loss
in our article
.
The latest study [4] included 20 patients treated with CoolSculpting. Two cycles were carried out on the sides and back (each for 60 minutes). The result was an improvement of an average of 43%. Side effects were limited to erythema, edema, bruising, numbness, or tingling at the treatment site and disappeared without treatment.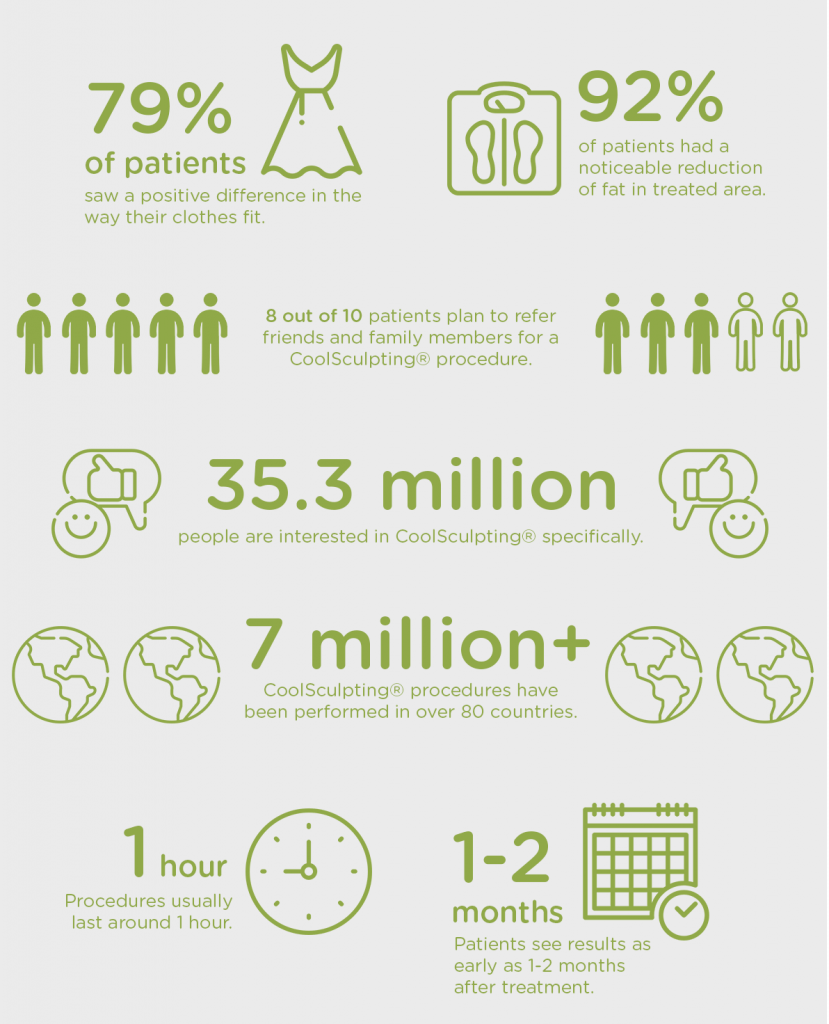 As a result of the research, it can be concluded that CoolSculpting is an effective non-invasive fat reduction treatment. In the clinical trials, a high percentage of patients were satisfied with the results and would recommend the treatment to others. Additionally, there was a significant decrease in the fat thickness measurement after treatment. These findings support the use of CoolSculpting as a safe and effective treatment for reducing stubborn fat.
Before & after results of CoolSculpting
CoolSculpting is a popular non-invasive fat reduction treatment. Below are some before and after pictures of people who have undergone CoolSculpting.





According to the results, the CoolSculpting treatment can help you achieve a more sculpted body. But keep in mind that it is not a replacement for diet and exercise – it's meant to compliment them. So be sure to stick to a healthy diet and exercise routine even after your treatment is complete for the best possible results.
Find out about laser lipo machines — an effective method of dealing with overweight and cellulite
in our article
.
How to prepare for CoolSculpting
Preparing for CoolSculpting treatment is important to help ensure a successful treatment. By following these simple tips, you can help ensure that your CoolSculpting treatment goes smoothly.
Avoid taking any medications or supplements that can thin your blood, such as aspirin or ibuprofen
It is important to avoid these medications because they can increase the risk of bruising. Also, be sure to let your CoolSculpting provider know if you are taking any blood thinners.
Arrive at your treatment with clean skin
Be sure to shower and wash the area that will be treated before your appointment. This will help the applicator adhere better to your skin.
Wear loose, comfortable clothing on the day of your treatment
You will be able to go about your day after your treatment, but you may want to wear something that is comfortable and does not constrict the treated area.
Stay hydrated in the days leading up to your treatment
Drinking plenty of water will help your body flush out the fat cells that will be removed during treatment.
Eat a healthy meal before your treatment
You want to make sure you have plenty of energy for your treatment day. Eating a healthy meal will help you feel your best.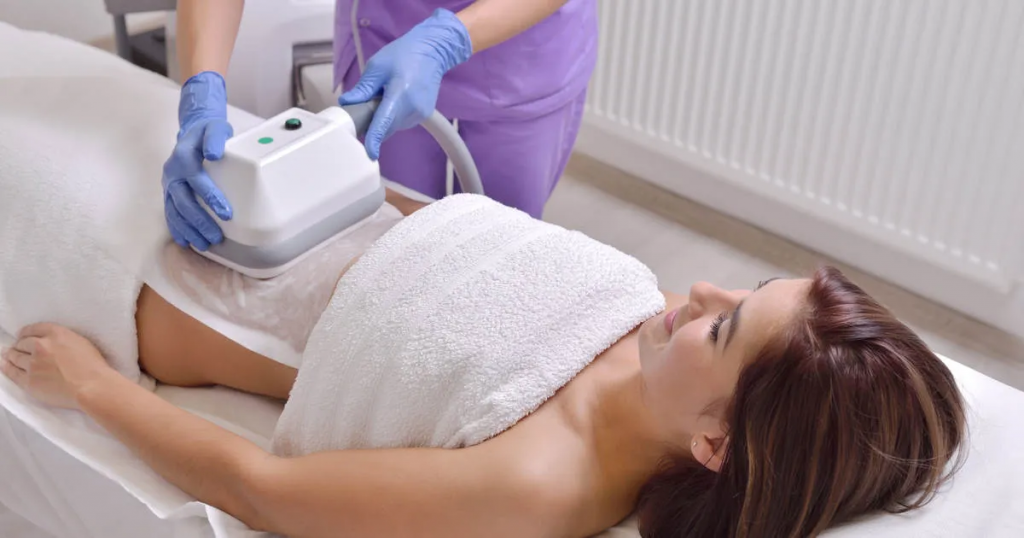 What are the risks and side effects of CoolSculpting?
CoolSculpting is generally safe, but you may experience some side effects, just like with any other treatment.
Some common side effects of CoolSculpting include:
After the CoolSculpting procedure, you may experience mild pain, tingling, or aching at the treatment site. This may be due to the intense cold temperatures used in the treatment. This side effect usually lasts 3-11 days and disappears on its own.
Exposure to cold from Coolsculpting can cause skin irritation. This in turn provokes the appearance of swelling, bruising, as well as a temporary change in the skin. This goes away after a few weeks.
In some cases, patients may feel numbness in the treated area. It is because of the nerve endings getting irritated by the extreme cold. This numbness usually goes away within a few weeks.
The skin at the treatment site may become red or swollen immediately after the procedure. This side effect usually goes away within a day or two.
If you experience any of these side effects, don't hesitate to call your doctor. CoolSculpting is generally safe, but it's always best to consult with a medical professional before undergoing any treatment.
Summary
CoolSculpting is a breakthrough technology that freezes and destroys fat cells without surgery. It is a safe, effective treatment that can be used on all areas of the body, including the abdomen, hips, thighs, and arms.
One of the benefits of CoolSculpting is that it is a non-invasive procedure. This means that there is no need for anesthesia or incisions, and there is no recovery time. CoolSculpting is also FDA FDA is a Food and Drug Administration standard that guarantees the quality and safety of the presented device. -cleared, which means that it has been proven to be safe and effective.
If you are looking for a way to improve your appearance and confidence, CoolSculpting may be the right choice for you.
FAQ
❄ What is CoolSculpting?
CoolSculpting is a non-invasive body contouring procedure that freezes and eliminates fat cells. It is FDA-cleared, safe, and effective.
🤔 How does CoolSculpting work?
The CoolSculpting device uses a process called cryolipolysis to freeze and destroy fat cells. Fat cells are exposed to extremely cold temperatures, which causes them to die. Over time, the dead fat cells are eliminated from the body through the lymphatic system.
✔ What are the benefits of CoolSculpting?
Some of the benefits of CoolSculpting include non-invasive fat removal, minimal downtime, and no surgery or scarring. CoolSculpting can also be customized to target specific areas of the body.
🦵 What areas can be treated with CoolSculpting?
The most common areas treated are the abdomen, flanks (love handles), and thighs. However, CoolSculpting can be used on any area of the body where there is unwanted fat.
🔍 How many CoolSculpting treatments will I need?
The number of treatments needed depends on the goals of the patient. Most patients see results after 1-3 treatments.
👀 When will I see results after CoolSculpting treatment?
Results from CoolSculpting can be seen as early as 3 weeks after treatment and continue to improve for up to 6 months.
Sources
Darren J McKeown, Joanne Payne. Significant improvement in body contour with multiple cycles of CoolSculpting: Results of a prospective study. – Dermatol Ther. 2021 Mar;34(2):e14850. DOI: 10.1111/dth.14850. E-pub 2021 Feb 21.
Christine C Dierickx, Jean-Michel Mazer, Mila Sand, Sylvie Koenig, Valerie Arigon. Safety, tolerance, and patient satisfaction with noninvasive cryolipolysis. – Dermatol Surg. 2013 Aug;39(8):1209-16. DOI: 10.1111/dsu.12238. E-pub 2013 May 2.
Gordon H Sasaki, Natalie Abelev, Ana Tevez-Ortiz. Noninvasive selective cryolipolysis and reperfusion recovery for localized natural fat reduction and contouring. – Aesthet Surg J. 2014 Mar;34(3):420-31. DOI: 10.1177/1090820X13520320. E-pub 2014 Mar 5.
Eric F Bernstein, Jason D Bloom, Lisa D Basilavecchio, Jessica M Plugis. Non-invasive fat reduction of the flanks using a new cryolipolysis applicator and overlapping, two-cycle treatments. – Lasers Surg Med. 2014 Dec;46(10):731-5. DOI: 10.1002/lsm.22302. E-pub 2014 Nov 13.
Alain Michon. A Prospective Study Determining Patient Satisfaction with Combined Cryolipolysis and Shockwave Therapy Treatment for Noninvasive Body Contouring. – Aesthetic Plast Surg. 2021 Oct;45(5):2317-2325. DOI: 10.1007/s00266-021-02139-0. E-pub 2021 Jan 29.