Looking to get rid of unwanted hair? Diode laser hair removal might be the right choice for you. This procedure has been growing in popularity in recent years, and for good reason — it is highly effective and most importantly, it's a good decision for both men and women.
In this article, we will discuss how diode laser hair removal works, what you need to do to prepare for the procedure, and any potential side effects. Also, we will look at the scientific research on this treatment method to see how effective it really is.
📌 Note:
Diode laser hair removal can only be used by professionals in a beauty salon
. If you don't have time to visit or want to control this process yourself, pay attention to
JOVS hair removal devices
, which will surprise you with their characteristics and variety of models.
What is diode laser hair removal and how does it work?
Diode laser is the most popular hair removal technology. It uses a light beam to target specific areas of the skin with unwanted hair.
The hair follicle and the melanin pigments contained in them are chromophores, i.e. absorb light energy. The laser emits a beam of light that passes through the epidermis and is swallowed by melanin. When this happens, follicles get very hot. This heat damages them from the first session. After sufficiently repeated exposure (from 4 to 7 procedures), most of the hair follicles contained in the skin are completely destroyed.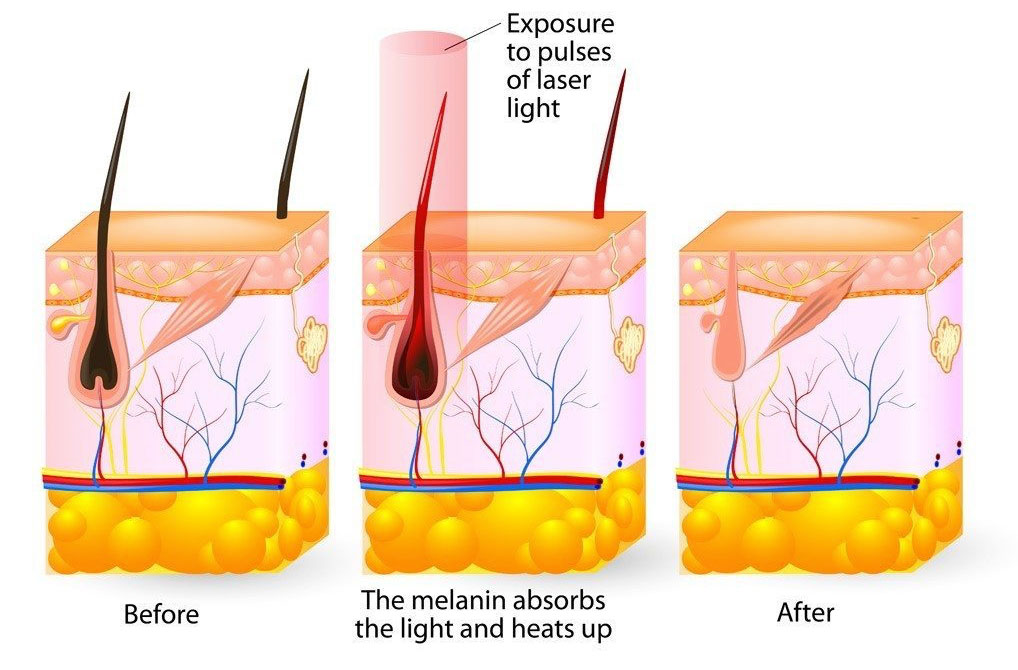 Diode laser hair removal has many benefits including:
The accuracy of the impact due to which it can affect certain parts of the body;
Painless and low risk of side effects;
Safe and effective method for both men and women.
What is the difference between a diode laser and IPL?
With so many hair removal methods available, it can be difficult to understand their differences, advantages, and disadvantages. Below we will consider the features of the diode laser and intense pulsed light (IPL) for hair removal.
〰 Wavelength
Lasers have concentrated beams of light with a specific wavelength. The diode laser uses 800 nm to 810 nm for hair removal. IPL, on the other hand, does not have a specific wavelength and instead emits light in the 550 nm and 1200 nm range. This means that diode lasers are more targeted and can remove hair more effectively.
🦳 Hair color
The diode laser has a deep level of penetration and can work on even the roughest or most stubborn hair. It has excellent melanin absorption, making it a safe hair removal method for all skin types. IPL also has a positive effect on coarse and dark hair, as opposed to light and thin ones, which makes this method not ideal for the latter type of client.
❗Side effects
Side effects of the diode laser are usually redness and swelling of the skin, which disappear within a few hours. However, if built-in cooling is used, then they are minimized. IPL also has these side effects, but besides, leads to blistering and bruising in some cases.
🏠 Ability to use at homeThe diode laser should only be used by professionals in a specialized clinic or beauty salon so that treatment can be monitored and possible side effects can be avoided. IPL technology, on contrary, is embedded in various hair removal devices that you can easily use at home, thus saving time and money.
The verdict:
IPL was popular in the past because it was a cheaper technology, so it has power and cooling limitations. Because of this, the treatment may be less effective and also carry a higher potential for side effects than the latest diode laser technology.
The laser can deliver each pulse very quickly, making it just as effective on lighter, finer hair (unlike IPL) as it is on darker, thicker hair, so you get maximum results with fewer treatments.
However, if you are looking for a laser hair removal treatment at home that is both effective and affordable, then IPL could be the right choice for you.
📌 There are many laser hair removal devices on the market. In order not to mistake with the choice, we have created a guide, where you can find out the main points that you should pay attention to when choosing a device, as well as options that do really work.
Before and after results
Diode laser hair removal is a safe and effective treatment for unwanted hair. Below are some before and after photos of patients who have undergone diode laser hair removal.
Laser hair removal is a long-term solution. If you are looking for a device that will suit all your needs — pay attention to
JOVS hair removers
, which surprise you with their efficiency and versatility.
Diode laser hair removal process
Diode laser is considered a "gold standard" for hair removal, as it is effective for all skin types, including dark skin. Treatments are usually spaced four to six weeks apart. The number of sessions required depends on the individual's hair growth cycle and the area being treated. Most people need five to seven treatments for optimal results.
Below, we will discuss how to prepare for the diode laser hair removal, what to expect during the procedure, and share some recovery tips to make sure the session goes well for you.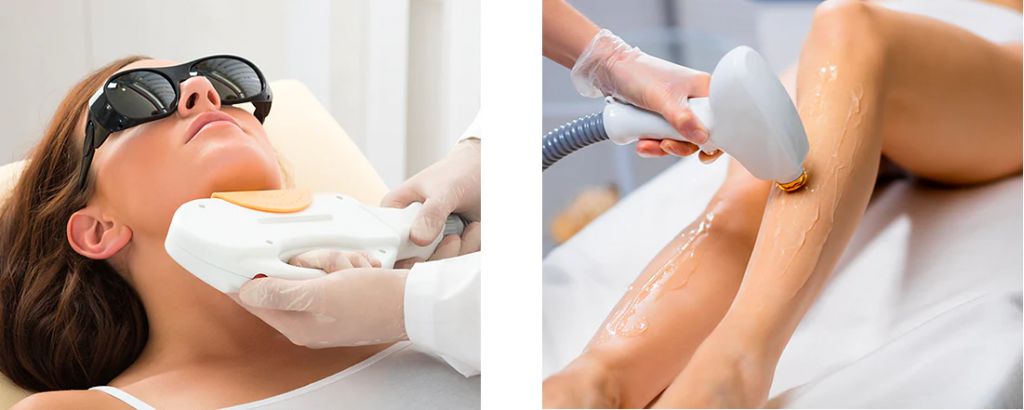 Preparation
These guidelines will help you get the most out of your treatment.
✓ Avoid the sun
Laser hair removal should not be performed on tanned skin to avoid side effects such as hyperpigmentation. Therefore, be sure to refrain from sunbathing at least two weeks before the session.
✓ Don't pinch or wax
This is an especially important rule for the use of laser hair removal. Since it targets the pigment in the hair, so if you have damaged the follicle by plucking or waxing, the treatment will not work.
📌 Wait at least 4 weeks after your last waxing session before starting the laser session, otherwise the treatment will not be effective (the laser couldn't work on the hair).
✓ Shave the area to be treated with the laser
You will need to shave the area within 24 hours prior to laser treatment. This manipulation significantly reduces the likelihood of burns when the hair is below the surface of the skin.
✓ Be careful with skin products
Some common skin products (anti-inflammatory drugs, retinol, citrus oils, etc.) rise skin photosensitivity. Because laser hair removal uses light to target hair follicles, increased light sensitivity can enhance the risk of skin burns.
📌 Stop using products that cause photosensitivity 2-3 days before treatment and wait another 2-3 days after the session before using them again to avoid causing a rash, redness, or pigment spots.
✓ Come with clean skin
Come to your appointment with clear skin. Do not use cream, oil, sunscreen, deodorant, or cosmetics. If you really can't avoid these products, ask for a tissue upon arrival so you can clean your skin before the procedure.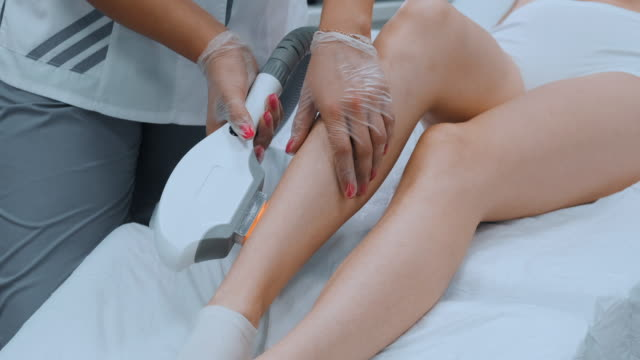 What to expect during the procedure
Some skin types can experience pigmentation issues, discoloration, and scarring with cosmetic laser treatments. Therefore, before the treatment, the specialist will make a trial session to make sure that your skin accepts the treatment.
After a positive skin response to treatment, you will be provided with eye protection to avoid radiation exposure. Then the doctor will treat each area with a laser.
Diode laser hair removal usually causes some discomfort, but this is usually tolerable. To reduce it during treatment, a coolant can be used.
Recovery process
After the procedure, the treated area may be red and swollen. Ice packs or cool compresses can be used to reduce swelling.
Most people can return to their normal activities immediately after the procedure. However, it is important to avoid sun exposure and use sunscreen with an SPF30 or higher for several weeks after your procedure.
It's also worth considering that the heat from the laser stays on your skin throughout the day, so don't go to the gym or sauna to create a breeding ground for bacteria.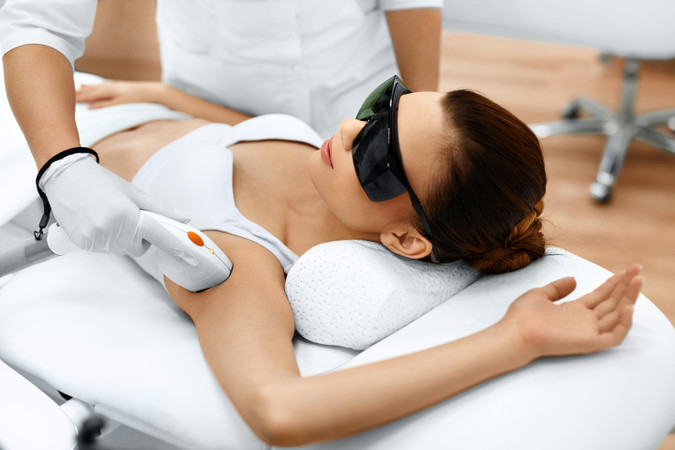 The effectiveness of diode laser hair removal based on scientific research
Diode lasers are often considered the gold standard for hair removal due to their deep penetration and effective targeting of the hair follicle. Below is an overview of the effectiveness of this method of hair removal, based on scientific research.
In the study [1], 36 patients with different shades of hair were treated with a diode laser with a wavelength of 800 nm. In total there were three different energy flux densities — 24, 38, or 48 J/cm2 which affected the skin area. During the study, patients received one to four treatments.
As a result, a significant reduction in the number of hairs was demonstrated, depending on the energy flux density. At the maximum dose of 48 J/cm2, an average hair reduction of 43% was achieved 30 days after the last treatment. It is also worth noting that dark hair was processed more efficiently than lighter ones.
The following study [2] looks at an 810 nm diode laser that was used to remove underarm hair in 14 patients. They received 3 treatments 4-6 weeks apart. As a result, an average hair reduction of 72.8% at 3 months and 67.6% at 6 months after the last treatment was demonstrated.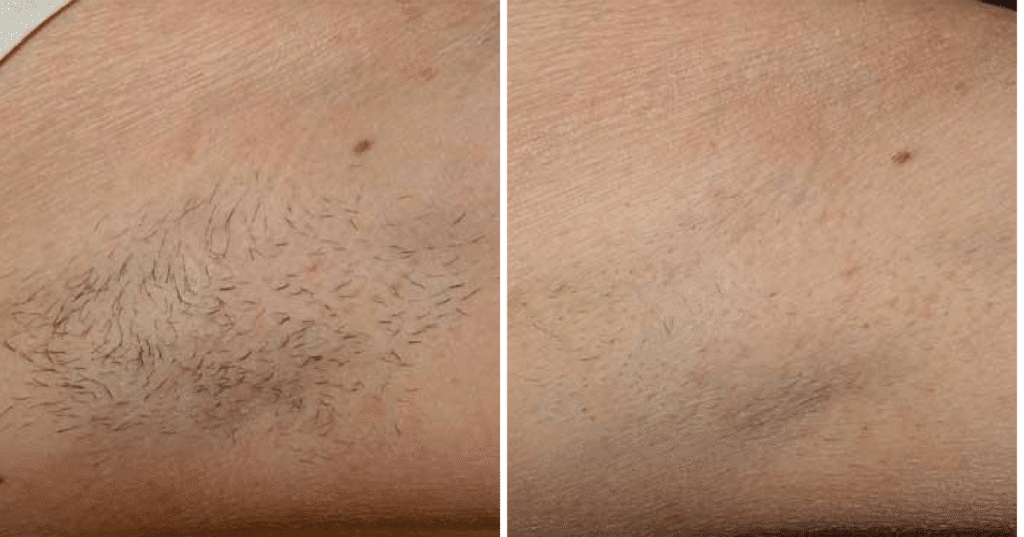 Diode laser (DL) devices and intense pulsed light (IPL) machines are the most commonly used hair removal methods. The next study [3] compares the safety and long-term efficacy of these devices.
30 participants with unwanted underarm hair growth received 6 treatments with each device 4 weeks apart. As a result, both devices significantly reduced the amount of hair. The mean reduction (3 and 12 months after the last treatment) was 59.7% and 69.2% for the diode laser and 42.4% and 52.7% for the IPL treatment. However, it is worth noting that the DL treatment caused significantly more pain against pulsed light, but it can be done more frequently. No serious side effects were observed for any of the therapies.
To evaluate the side effects of laser therapy, the following study [4] was conducted on patients of different ethnic backgrounds. 32 participants with different Fitzpatrick skin types received a course of 6 treatments using an 805 nm diode laser. The result showed over 80% hair reduction.
Among mixed-race participants were noted side effects such as burns — 15.63%, hyperpigmentation — 6.25%, and skin irritation — 9.38%. However, these indicators, according to observers, are mostly caused by operator actions or incorrect settings. If the treatment parameters are adjusted to the individual response of the participants, then this procedure can be completely safe for patients.
Side effects of diode laser removal
A few side effects can appear after laser hair removal. Most of them are minor and temporary. They include:
The most common side effect of laser hair removal is redness, which usually disappears within 1-2 hours. This effect is often similar to what you may notice even after waxing. Try applying ice packs to reduce swelling.
Some people may develop a crust on the skin in the treated area. Sometimes this can lead to the formation of scabs or scarring. Use a moisturizer to prevent this side effect.
Some people may notice slight changes in the color of the treated skin area. After laser hair removal, it may become slightly darker or lighter. These changes usually disappear with time and the skin returns to normal.
There is always a risk of infection with any type of wound, including those caused by laser removal. Be sure to keep the area clean and monitor for any signs of infection, such as redness, swelling, or pus.
Summary
Diode laser hair removal is a cosmetic procedure that uses a powerful laser to remove unwanted hair. This light source heats up and destroys the follicles in the skin, which disrupts hair growth.
The most common areas to be treated are the face, chest, legs, arms, underarms, and bikini line. Also, there are some guidelines to follow before the procedure in order to get the most out of your treatment and avoid possible side effects.
While laser hair removal is effective in delaying hair growth for months or years, it usually does not result in constant hair removal. However, compared to shaving and waxing, it offers a more permanent solution.
FAQ
📍 Is diode laser hair removal permanent?
Diode laser hair removal is a very effective method of hair removal. In general, the results are long-lasting, and many patients report permanent hair loss after several sessions. However, it is important to note that some regrowth may occur, and extra sessions may be necessary to maintain the results.
🔍 How does diode laser hair removal work?
Diode laser hair removal works by targeting the pigment in the hair with a high-intensity light. This light is absorbed by the melanin, which heats up and damages the follicle, which causes hair growth to stop.
🧐 What are the side effects of diode laser hair removal?
The most common side effect of diode laser hair removal is temporary redness and swelling of the treated area. This usually subsides within a few hours, but in some cases may last for a day or two. Other possible side effects include blistering, crusting, and hyperpigmentation. These are usually mild and temporary and resolve on their own. In rare cases, more serious side effects such as scarring or burns can occur.
❓ How many sessions will I need?
The number of sessions needed varies from person to person and depends on factors such as skin type, hair color, and thickness. In general, most people need between six and eight sessions for optimal results. However, some may need more or fewer sessions depending on their individual circumstances.
Sources
W P Baugh 1, J P Trafeli, D J Barnette Jr, E V Ross. Hair reduction using a scanning 800 nm diode laser. — Dermatol Surg. 2001 Apr;27(4):358-64. doi: 10.1046/j.1524-4725.2001.00297.x.
Erin Courtney, David J Goldberg. Clinical Evaluation of Hair Removal Using an 810 nm Diode Laser With a Novel Scanning Device. — J Drugs Dermatol. 2016 Nov 1;15(11):1330-1333.
3. A Klein, S Steinert, W Baeumler, M Landthaler, P Babilas. Photoepilation with a diode laser vs. intense pulsed light: a randomized, intrapatient left-to-right trial. — Br J Dermatol. 2013 Jun;168(6):1287-93. doi: 10.1111/bjd.12182. Epub 2013 Apr 2.
4. Izabela Załęska and Magdalena Atta-Motte. Aspects of Diode Laser (805 nm) Hair Removal Safety in a Mixed-Race Group of Patients. — J Lasers Med Sci. 2019 Spring; 10(2): 146–152. Published online 2019 Feb 25. DOI: 10.15171/jlms.2019.23.