Facial skin is something that every girl wants to keep in perfect condition. After all, this is what we see every day in the mirror and what people see above all when they look at us. Some girls are lucky with their genetics and their skin doesn't need a lot of care until they're old. However, this is more of a rarity, an exception to the rule. Many more girls face various difficulties in taking care of their skin. It can be rashes, dryness, irritation, wrinkles… And there is no ideal product for perfect skin, but we have found something close to it.
You've probably heard something about Dr. Dennis Gross LED mask since you stopped by our article. Not only does this stuff look beautiful, but it works almost phenomenally. At least both regular people and doctors and even celebrities are happy with it. And such unity of opinion is quite rare, you must agree. Today we will understand the principle of action of this mask, the results you can expect, and dispel some myths that have already appeared on this topic.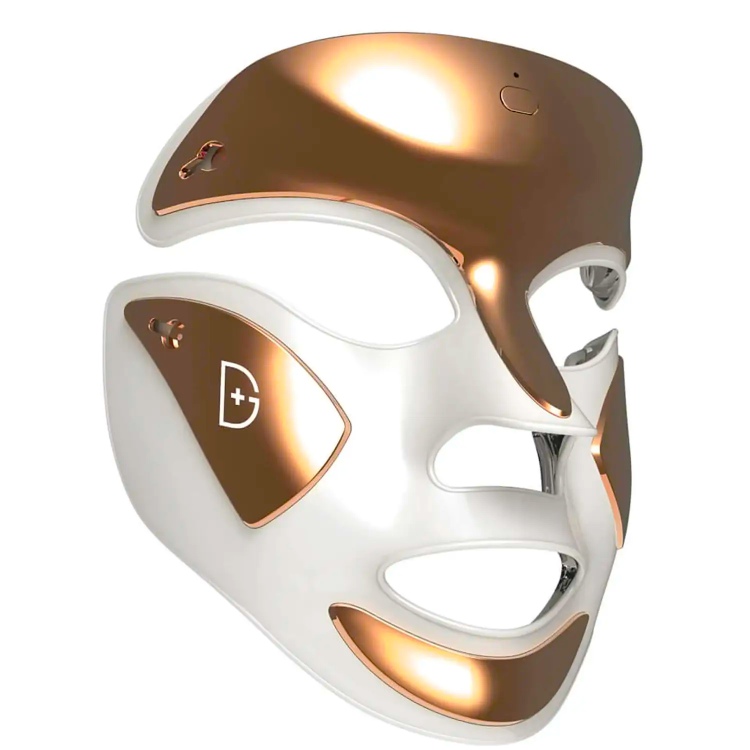 Quick overview

– This light therapy-based mask can achieve better skin for you in just 3-6 minutes a day.
– LED bulbs with red light therapy can reduce wrinkles and tighten your skin, making you look younger.
– Blue light therapy affects the bacteria that cause acne and helps fight it.

Jump to detailed review
Skin issues that Dr. Dennis Gross LED mask can cope with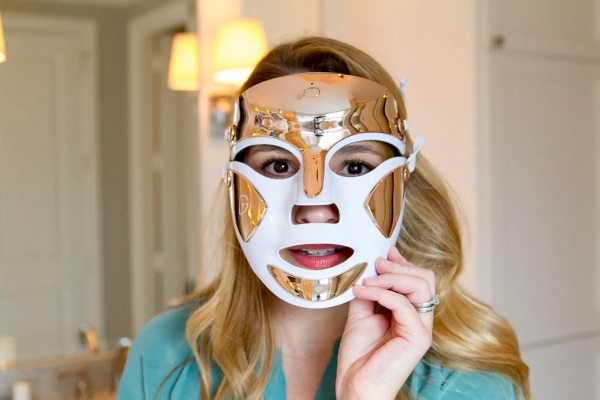 The two main problems targeted by the mask are skin aging and acne. I would say these are the most common problems that happen to the skin. The mask can work on them separately or simultaneously. However, we will talk about how everything works a little bit below.
So, skin aging. The mask helps smooth out wrinkles and fine lines, as well as improve overall skin tone.
What about acne? Light therapy helps kill the bacteria responsible for acne. It works for mild to moderate cases.
Could there be additional positive effects? Sure. It's a general firming of the skin and reduction of sun damage. That is, you can achieve a reduction of pigmentation and sun spots with the mask.
Suitable skin types
One of the best news so far: this mask is suitable for all skin types. Seriously, it is not a joke. Whether your skin is normal, dry, oily, combination, problematic or sensitive, it does not matter.
Unlike cosmetic products, the mask does not physically interact with your skin. You don't even feel that something is touching you and treating you (it may feel weird, but you will get used to it). You can use it regardless of your skin type because the mask works based on light therapy.
How does this mask work?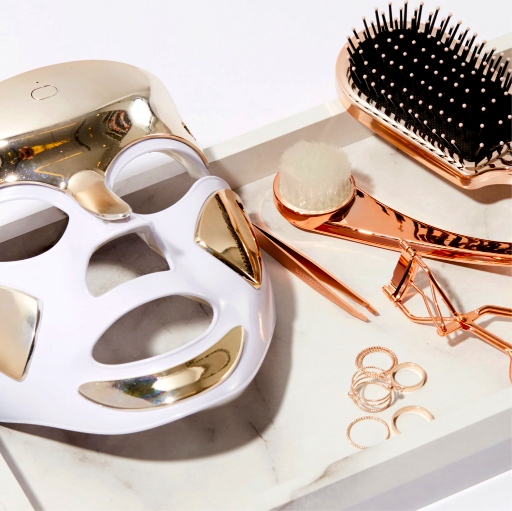 In case you missed the previous section, we will reiterate: Dr. Dennis Gross LED mask works based on LEDLED stands for Light Emitting Diode, it is a non-invasive type of phototherapy that uses the narrow-band, non-thermal energy of a light-emitting diode. Given that phototherapy involves treating the skin with different colors of the spectrum, the choice of light is decisive. (red and blue) therapy. There are three modes in the device: separately red light, separately blue light, or both at the same time.
Red light is responsible for anti-aging, namely, it improves skin quality (increases skin elasticity and density), softens wrinkles, stimulates collagen synthesis, and promotes faster skin renewal. It is believed that the parallel use of light therapy with red light improves the performance of active ingredients in skin care cosmetics.
Blue light is responsible for fighting the bacteria that generally cause acne, so blue light is recommended for the treatment and prevention of acne.
⚡Attention
LED therapy is not recommended for severe acne, as it can worsen the current situation.
The Dr. Dennis Gross DRx SpectraLite FaceWare Pro mask is charged with the USB cable (included). One charge lasts about 15-20 days of daily use for 3 minutes a day on average.
How long does it take to see results?
LED therapy gives a cumulative effect, that is, the LED devices will not give quick results "here and now". It is believed that the full-fledged results should begin to appear in about two months.
The manufacturer claims that you will see results after ten weeks of continuous use, and this is not far from the truth. However, you really should do this treatment daily for two to three months to see significant changes.
Detailed Review of Dr. Dennis Gross LED mask
Dr. Dennis Gross SpectraLite FaceWare Pro is a great everyday device for girls and women who want to give their face a little more than the classic care with cosmetics. The wrinkle-smoothing feature may not be necessary when you're under 30-40, but you'll definitely see the benefit if you're sometimes plagued by acne.
A little bit about the specifications:
Red light in the mask is represented by 4 spectra: Amber (LED wavelength 605 nm), Red (LED wavelength 630 nm), Deep Red (LED wavelength 660 nm), InfraRed (LED wavelength 880 nm);
Blue light (LED wavelength 415 nm).
There are a total of 100 red and 62 blue lights in this mask. You can use the blue and red light either separately or together. Red light affects wrinkles and overall skin smoothness ("anti-aging" feature), and blue light is responsible for fighting acne. One session lasts three minutes, so that's only 3-6 minutes of your time per day. Six is if you want to use the blue and red light separately.
You may be a little confused about the price (I understand you), but it is worth it for a few reasons. First, it really works. And second, this mask will last you for many years. It is warranted for two years but will last you much longer. My wife has been using this mask for the past four years almost every day, and it still works great. So do some math on how much you roughly spend on beauty products even in two years, and you will see that it is not as much of an investment as it first appears.
✍Pro tip:
Be sure to register your device within one month of purchase to activate the warranty (otherwise it will not be valid).
Pros and Cons
Every product has its strengths and weaknesses, but some manufacturers and even doctors prefer to overlook the downsides. We want you to make an objective decision, so we will tell you about all aspects of owning Dr. Dennis Gross's LED mask.
Pros
Reduces fine lines and wrinkles
Helps fight mild to moderate acne
Evens skin tone
Takes only 3 minutes per session (or 6 if you use two modes separately)
Suitable for all skin types
It comes with a two-year warranty
It works in 3 different modes, so you can choose a convenient format for you
This is an excellent alternative to professional procedures in clinics and ideal for home use
Cons
This mask cannot be used if you have a severe form of acne;
The straps that come with the mask to secure it to your face suck, according to most owners. But you can hold the mask with your hands or lay down on the bed (because the procedure lasts only three minutes).
It takes time to get impressive results (at least 10 weeks for anti-aging issues but less for acne treatment)
If your eyes are too sensitive, you may need to buy eye protection to prevent possible harm to them
Before & After results
The main feature of this mask, as we have already mentioned, is that you can use its functions both separately and together (anti-aging and acne reduction). Therefore, we present the results of different people who have achieved one of the two goals (or both). The only thing we can not see firsthand is how the mask helps prevent the appearance of early wrinkles and fine lines.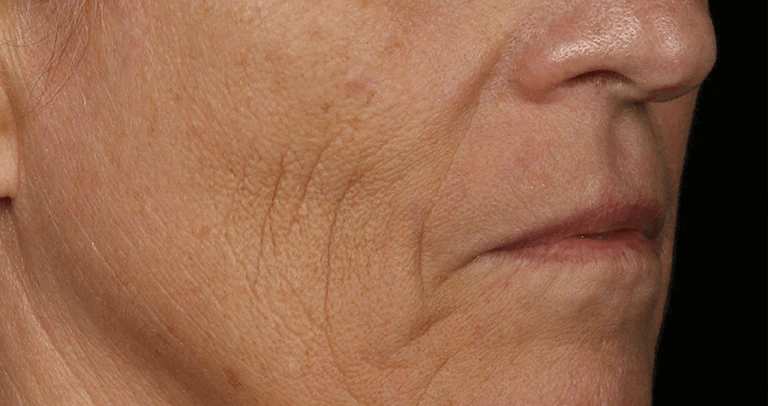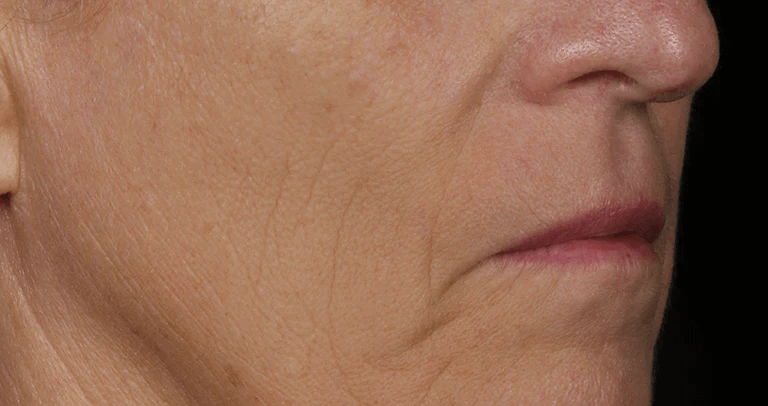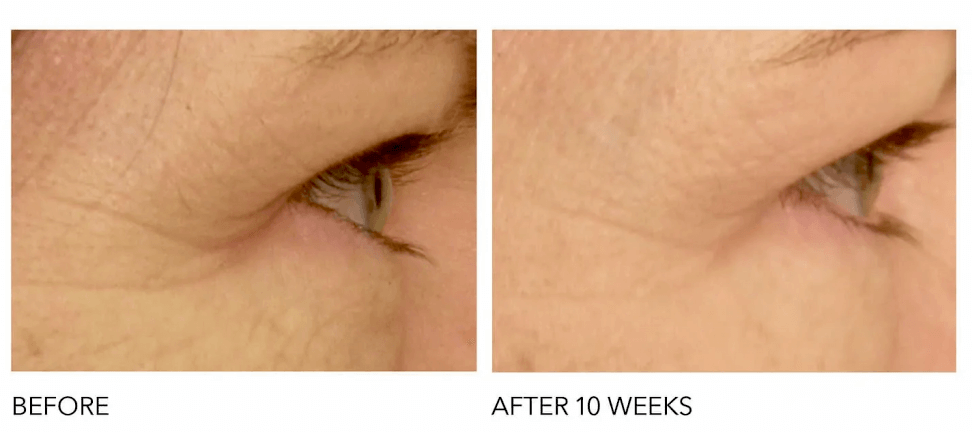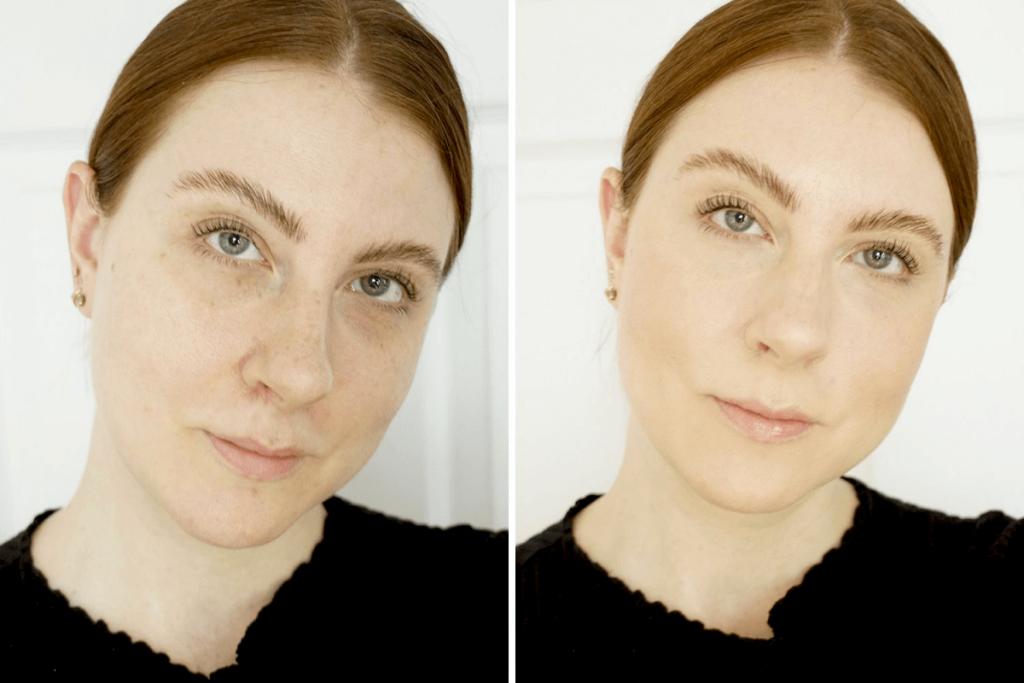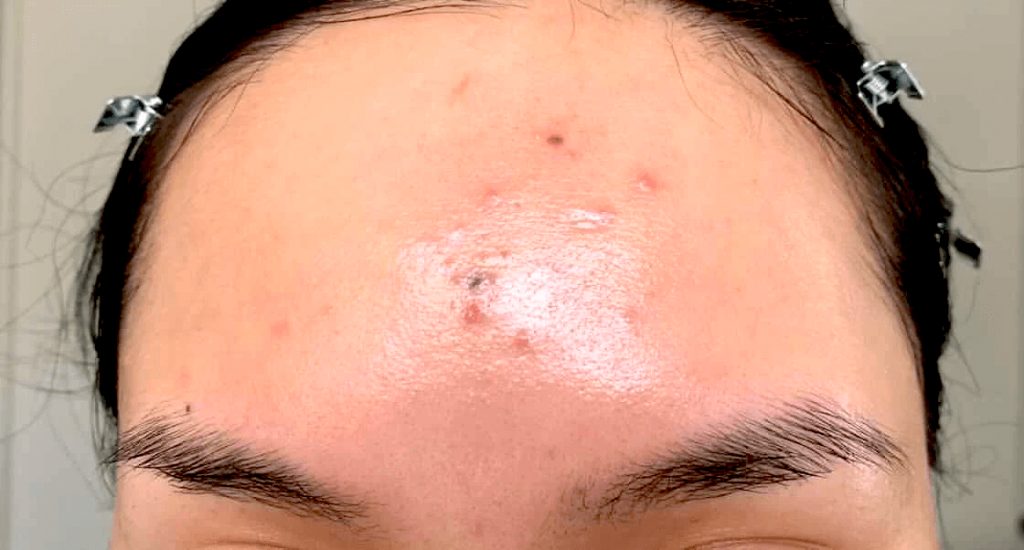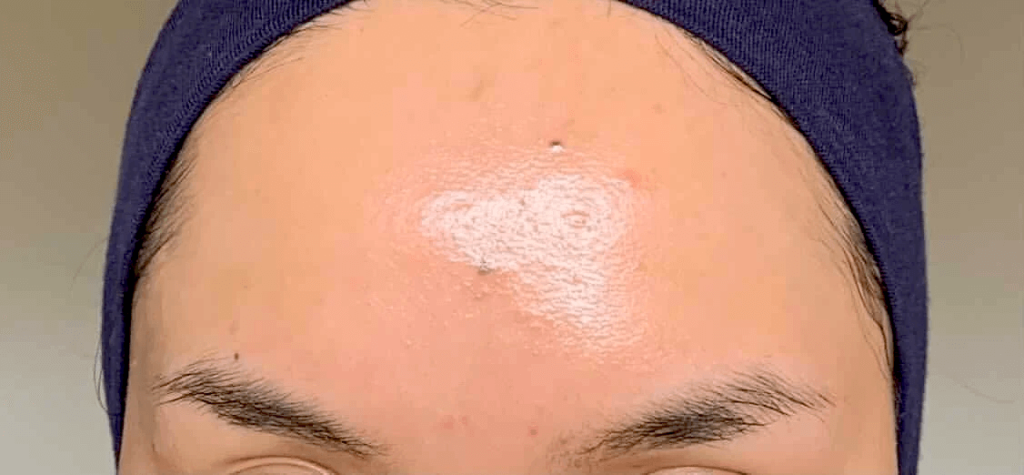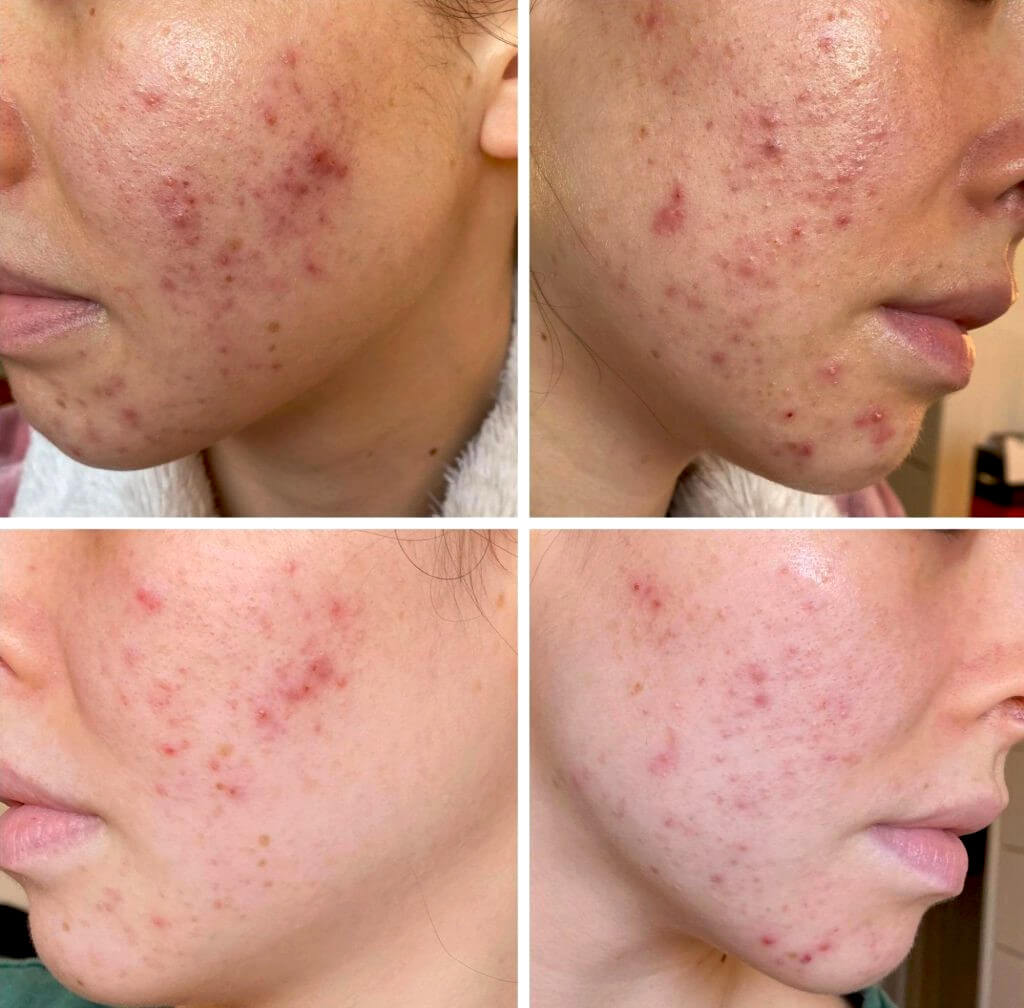 Myths and facts about Dr. Dennis Gross LED mask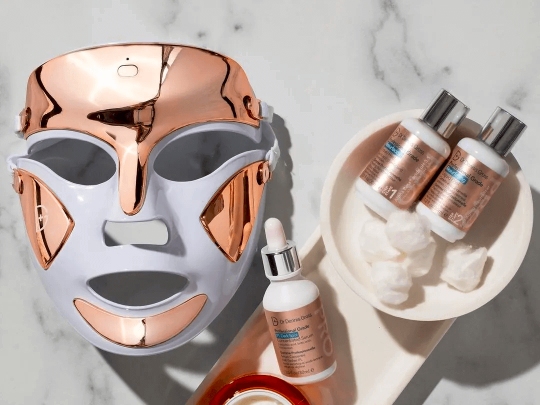 When something becomes too popular, it gets all sorts of stories, not all of which are true. It's easy to get lost in the multitude of facts about a product, and it's hard to distinguish the lies from the truth. We did our research to sort things out and remove any doubts you may have about the mask.
Eye damage
This is neither true nor a myth. About 30% of mask owners have doubts about the fact that the mask is completely safe for the eyes. Officially, the manufacturer does not say that eye protection is required when using it, but people are different. Most users are comfortable with the effects of LED lights, but there are exceptions. If you know that your eyes are too sensitive (for example, you are uncomfortable walking in the sun without sunglasses), you can buy special protective glasses (like for the tanning bed) and put them on before the mask.
Recommended by everyone
If you have been researching articles about this mask for a while now, or if you are just "in the loop," you have probably noticed that too many people admire this mask. So much so that it seems even unnatural?
It is hard not to believe when influencers like Salma Hayek, Charlotte McKinney, and Lucy Hale recommend DRx SpectraLite FaceWare Pro, calling it a "total gamechanger". But believe me, there is no product yet that all the people on the planet like. If you go to any marketplace to read reviews, you are sure to find a few negative ones.
But the truth is, this mask is endorsed by many dermatologists like Joshua Zeichner, M.D., and Jessica Weiser, M.D., a dermatologist with the New York Dermatology Group, and recommended to add to your skincare routine.
Works better than pro treatments
I hate to break it to you, but it's a myth. The LED lights in this mask are more powerful than in similar cheaper devices. However, it does not have the same effect as in professional clinics. There are bigger (and much more expensive) devices, the effect of which you will feel faster and stronger on your body. But do not devalue the Dr. Dennis Gross LED mask because of this. It works great and shows remarkable results, it just takes more time and patience.
A step-by-step guide to using Dr. Dennis Gross LED mask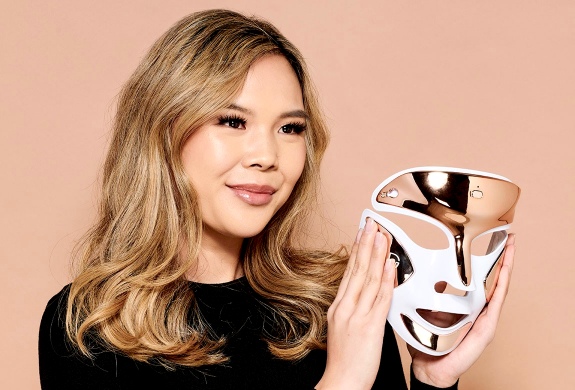 If you've gotten to this part, you're probably leaning toward getting this device after all. Some good news: there is nothing difficult about how to use it. So, step by step:
The mask should be used on clean skin before all creams, oils, and serums, so make sure to make it clean and dry (because water blocks infrared light waves).
💡
Dr. Dennis Gross also suggests using his
Alpha Beta® Peel
before the mask, but this is optional.
Put the mask on your face (or protective goggles first if you need them). Press the button once (there is only one button) if you want the red light, twice for the blue light, or three times for both blue and red light.
Wait for three minutes and it will shut off automatically. Then remove the mask and apply your serums or moisturizers.
In general, it makes no difference whether you use the blue and red lights at the same time or alternately. Many users prefer to do it alternately because they think the mask works better that way. But this is more of a psychological factor than a real one. Do it the way you feel most comfortable.
Summary
Your skin will thank you in a few months if you give it SpectraLite FaceWare Pro. It's the perfect hit if you have certain (but not too serious) acne problems and if you want to reduce or prevent wrinkles and fine lines. You will need patience and at least 2-3 months of daily use to be successful, but as most users (including my wife) say, it is worth every penny.
Remember to cleanse your face well before use and allow yourself to relax for three minutes every day. And if you're just starting on your journey, we recommend taking a "before" picture so you have something to compare it to! (If you would like, you can send us the before and after and we'll include them in our article!)


Dr. Dennis Gross SpectraLite FaceWare Pro
Key benefits:

- Preventing and fighting mild to moderate acne
- Reducing wrinkles and fine lines
- Takes little time (up to 3 mins)
- Fits all skin types
- Has a two-year warranty

FAQ
👀Is Dr. Dennis's mask worth it?
The majority of mask users (about 85%) are happy with it and think it is a sound investment, as it does make a difference in your skin.
📅How often should you use Dr. Dennis Gross's LED mask?
You should use the mask every day for at least 10 weeks to see impressive results. One session lasts only three minutes due to the powerful LED lights.
⏳How long does Dr. Dennis Gross LED mask last?
The manufacturer gives a two-year warranty. However, they usually last longer.
📈What wavelength is Dr. Dennis Gross's LED mask?
Red light in the mask is represented by 4 spectra: Amber (LED wavelength 605 nm), Red (LED wavelength 630 nm), Deep Red (LED wavelength 660 nm), and InfraRed (LED wavelength 880 nm). Blue light has an LED wavelength of 415 nm.