Suppose you are tired of traditional treatments with endless doses of ineffective antibiotics to get rid of acne or injections to reduce wrinkles. In that case, you probably want to try a new approach.
Celluma LED light therapy is a new technology, based on NASA research, that kills acne-causing bacteria, speeds up the recovery process, and has a variety of therapeutic effects.
Worthy alternatives
Wrinkles, acne scars, and loose skin are common problems that many people have to take care of on their faces daily. If you want to feel the action of LED devices, but you are not satisfied with the price of Celluma devices, you can look at the alternatives that we offer.
These devices are much cheaper than the Celluma, but they are not inferior to efficiency. They are FDA-cleared and are great for home use.
Devices can help with wrinkles, acne scars, skin laxity, redness, large pores, brown spots, and more.
Hydraskincare Light Therapy Machine for Skin Care
– Emits 3 lights (red, near-infrared, blue), and also has an additional yellow light, unlike Celluma PRO which helps to neutralize the negative effects of stress and soothes the skin;
– Can be used hands-free, making it easy to apply;
– Supplied with a stand, however, it is not as flexible as Celluma devices, which can adapt to the exact shape of the treated area.
Hydraskincare Light Therapy Machine for Anti-aging
– Includes more light options (red, near-infrared, blue, yellow), which help in improving blood circulation, accelerating metabolic processes, which in turn reduces wrinkles, improves the general condition of the skin while in Celluma CLEAR only offers blue light for acne treatment;
– All colors of light can be turned on at the same time;
– Has a solid design, but this has an effect on weight, unlike Celluma devices.
About Celluma light therapy
Celluma from BioPhotas, Inc. is a world leader in advanced light therapy. The company manufactures LED medical devices that use patented technologies to treat skin, muscle, and joint diseases.
Celluma has FDA approvals and CE medical marks, including the treatment of acne, wrinkles, and pain. Also, the Celluma series carries the CE medical mark for skin wound healing in Europe, the first device of its kind to achieve this status.
Celluma light therapy is non-invasive, painless, does not require recovery time, and can be used for all skin types. Also, this brand has received many awards that only confirm the effectiveness of this product.
🏆 Celluma Light Therapy Awards:
Best Product of 2020, 2019, 2018, 2017, 2016 & 2015 — Les Nouvelles Esthetiques & Spa Magazine (light therapy category)
Professional's Choice Awards 2020, 2019, 2018, 2017, 2016 — Winner Day Spa Magazine
Professional's Choice Awards 2019, 2018, 2017, 2016 — Winner American Spa Readers for "Favorite Laser & Light Manufacturer"
Professional's Choice Awards 2019 — Winner American Spa Readers for "Favorite Facial Equipment Manufacturer"
Readers Top 100 Products 2019, 2018, 2017, 2016 — Chiropractic Products Report
Light Therapy Products Manufacturer of the Year, Best Anti-Aging Therapy Device Manufacturer, 2019 — LUX Magazine
Reader's Choice Award 2019, 2018 – Winner Best LED — Skin Deep Magazine
2019 "Product Innovation of the Year" Award — The Aesthetics Journal (UK)
Read also about
Infrared Sauna Blankets
— another highly effective technology that helps to improve overall skin condition, relieve pain and ease stress.
How Celluma light therapy works
💡
LED therapy is a non-invasive type of phototherapy that uses light from a diode to provide energy. Given that phototherapy involves treating the skin with different colors in the spectrum, the choice of light is crucial. Light can penetrate tissues by 1–5 mm depending on the wavelength, providing a different therapeutic effect.
Celluma light therapy is based on the ability of the skin to absorb light and convert it into energy. This energy, in turn, causes specific reactions in the skin cells — it accelerates the recovery processes, stimulates the production of collagen, increases elasticity, fights bacteria, evens out skin tone, and removes toxins.
Chemical compounds are used to create artificial rays for LED devices. Under the influence of current strength, these compounds emit light waves of a certain length and, accordingly, a certain color, imitating the sun's rays. Celluma uses blue (465 nm), red (640 nm), and infrared (880 nm) light, each of which penetrates to different depths of the upper layers of the skin and solves various problems.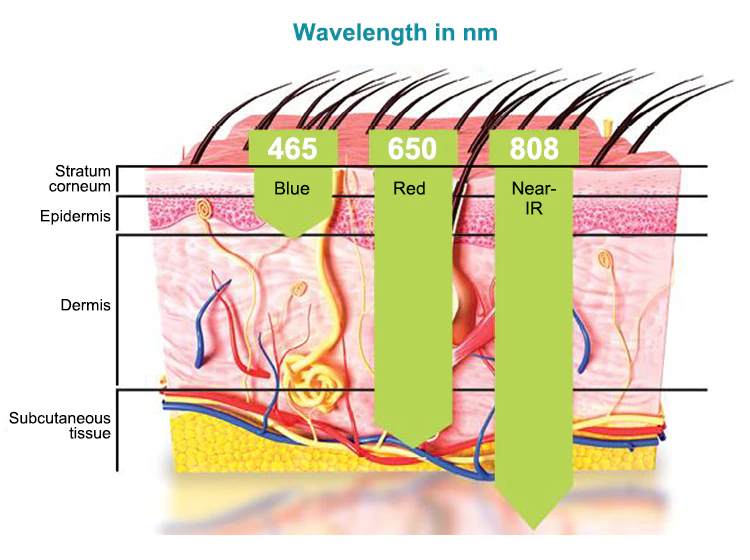 What diseases does Celluma treat?
Celluma light therapy provides safe, UV-free, low-level light treatments through LED devices. Different wavelengths of light have various therapeutic effects.
🔵 Blue light therapy aims to treat acne and comedones, as it fights one of the most common causes of rashes — the bacterium propionibacterium acne.
Blue light emits short wavelengths (400-510 nanometers). It is close to ultraviolet in the spectrum of waves, which gives it the same antibacterial properties but does not expose the skin to additional risk. It penetrates only into the uppermost layers of the skin (by 1 mm), but this is enough to saturate the skin with oxygen, which leads the bacteria to their death.
💡
A combination of blue and red light is also often used for acne.
Blue light works against bacteria, while red has an anti-inflammatory effect, which reduces the activity of the sebaceous glands.
Read more about acne treatment with blue and red light in our article on
Neutrogena Acne Spot Treatment
🔴 Red light is used primarily for skin repair and rejuvenation. It has a wavelength of 633-830 nm and penetrates the layers of the skin to a depth of 4-5 mm. This wavelength allows light to penetrate the layers of the dermis, where the fibroblasts, which are responsible for the production of collagen and elastin, are located. Also, red light improves blood circulation, thereby saturating cells with oxygen and nutrients.
LED red light therapy has the following therapeutic effects:
Stimulation of collagen production and photorejuvenation by improving cell metabolism.
Reducing the depth of wrinkles and increasing skin elasticity.
Saturation of skin cells with oxygen and nourishing ingredients due to improved blood circulation.
Reduction of inflammation, blackheads, and the fight against rashes.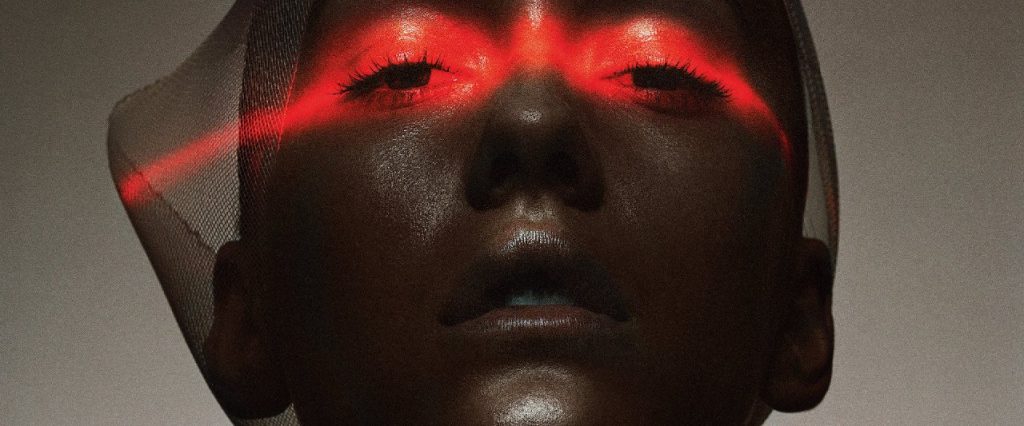 ⭕ Infrared radiation (880 nm) accelerates physical and chemical processes in the body. Tissue regeneration occurs, cell growth and blood flow are accelerated. This light therapy, combined with red light, helps relieve chronic pain without any unwanted effects. It does not irritate the skin. The infrared rays warm up the tissues underneath and also improve the symptoms of cardiovascular diseases, diabetes mellitus, and chronic kidney disease.
Coming out of this, the most common problems that IR therapy is used to solve are the following:
Pain in joints and muscles
In case of muscle pain, cramps, thermal radiation helps the muscle tissues to relax. Due to the intense blood flow, they begin to be actively supplied with nutrients and oxygen. The pain subsides, and the spasmodic muscles relax.
Skin injuries and diseases
IR lights are used for skin problems: non-healing wounds, irritations, acne, and for the effectiveness of cosmetic procedures. The devices help with burns, frostbite, ulcers, and itchy dermatoses.
Inflammatory processes of internal organs are not purulent
Radiation's infrared has a therapeutic effect not only on the outer layers of the skin. But, they are also effective for chronic nonsignificant and subacute inflammations occurring in internal organs. Among them are diseases of the kidneys, lungs, genitourinary system, etc.
How effective is Celluma light therapy? Based on scientific research
Celluma light therapy improves cell health by reducing the signs of aging, relieving pain, and eliminating acne. These words are backed by years of research showing their effectiveness.
Anti-Aging
A study [1] was conducted that examined the effects of LED therapy (660 nm) on aged/photo-aged individuals. The research found that LED therapy promoted collagen production by increasing blood circulation and improving cells' oxygen and nutrient delivery. As a result, more than 90% of patients experienced a decrease in the depth of wrinkles and skin roughness.

The following study confirms the effectiveness of exposure to red and infrared light on the skin [2]. 31 individuals with age-related wrinkles were treated with LED for 12 weeks. The treatments combined wavelengths of 633 nm and 830 nm. As a result of the study, 52% of patients showed a 25-50% improvement in photoaging by 9 weeks; 81% of patients reported a significant reduction in wrinkles at the end of follow-up.

Acne Treatment
A study [3] involving 24 patients with mild to moderate facial acne was treated with LED devices (alternating blue (415 nm) and red (633 nm) light). The treatment was carried out twice a week for 8 weeks. As a result, the average improvement in non-inflammatory and inflammatory lesions was 34.28% and 77.93%, respectively. 14 patients also reported improved skin tone and improved skin texture.

The following study [4] confirms the effectiveness of blue and red light in treating acne. 107 patients with mild to moderate acne vulgaris were randomized into four treatment groups: blue light, mixed blue and red light, cold white light, and 5% benzoyl peroxide cream. Subjects in the phototherapy groups were exposed to radiation daily for 15 minutes. After 12 weeks of active treatment, an average improvement in inflammatory lesions of 76% was achieved with combined blue-red light phototherapy. Blue light therapy initially showed poorer results, but by 12 weeks, it was on par with the combination therapy. The groups treated with benzoyl peroxide and white light showed lower results.
From this, it can be concluded that mixed blue-red light phototherapy, probably through a combination of antibacterial and anti-inflammatory effects, is an effective treatment for mild to moderate acne vulgaris without significant short-term side effects.
Pain Management
A study [5] was conducted in which 50 patients with osteoarthritis of both knees (joint disease) took part. They were randomly divided into three phototherapy groups: red (15 patients), infrared (18 patients), and placebo (17 patients). The treatment was carried out for 10 days. The result showed a decrease in pain in the red and infrared groups and was more than 50%. There was no significant reduction in pain in the placebo group.
Another randomized clinical trial [6] involving 86 patients with knee pain. The first group received 12 phototherapy treatments (using 875 and 640 nm LEDs); the second was in traditional care (physiotherapy or chiropractic); the latter group received placebo treatment using a placebo phototherapy device. The results demonstrate that phototherapy significantly reduced pain, almost eliminating it, unlike physiotherapy and placebo treatments.
We have concluded that the combination of red and infrared LEDs effectively reduces pain and improves the quality of life of patients with pain.
Best Celluma devices
Celluma PRO
Celluma PRO
Treats: Acne, Aging, Pain, Wounds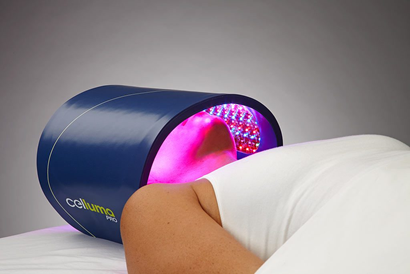 Celluma PRO is unlike any other LED panel available today. This device is widely used by cosmetologists, dermatologists, and pain management specialists to treat various skin diseases and musculoskeletal systems.
The device has 3 modes, which provide operation in blue (465 mm), red (640) mm, and near-infrared (880 mm) ranges. This makes it versatile — you can treat acne, age-related changes, or relieve pain.
Celluma is flexible and can adapt to the exact shape of the treatment area, which is the key to its effectiveness.
Celluma CLEAR
Celluma CLEAR
Treats: Acne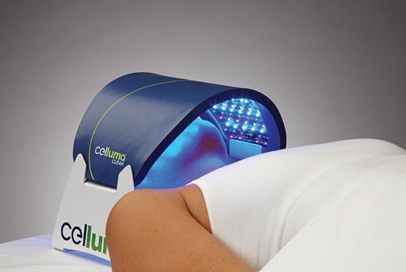 Celluma Clear has one mode for quick and effective acne treatment. Blue LED therapy emits light at a specific, clinically proven wavelength, causing a natural effect in human tissue, killing acne-causing bacteria, reducing inflammation, and improving skin tone, texture, and clarity from the inside.
The device works safely and effectively without chemicals, harmful UV rays, or side effects. This device allows for hands-free use, making it a convenient acne treatment at home.
Pros
This technology has very flexible uses and benefits.
The procedure is painless and non-invasive.
Has a large number of FDA approvals and medical CE mark, which indicates the safe operation of the device.
Celluma products are lightweight and portable. You can take them on a trip.
Cons
Celluma products and treatments are expensive.
Celluma treatment is not suitable for everyone. People with epilepsy and pregnant women should better refrain from Celluma treatment.
Skin treatment alternatives
Hydraskincare Light Therapy Machine for Skin Care is a specially designed facial device that enhances the characteristics of your skin.
This machine has three different settings, so you can choose between red (and near-infrared), blue, or yellow depending on what type of problem you have. If you have acne-prone skin, it is recommended to use blue light as it helps fight the bacteria that cause acne. If you have aging skin, red and near-infrared light should be used because it helps increase collagen and elastin production. Yellow light — soothes puffy skin, improves its color and enriches it with oxygen, reduces the effects of stress. Yellow light is an additional advantage that this device has over Celluma.
You can use all lights at the same time for even more enhancement.
This device has a stand for hands-free use, however, it is not as flexible as Celluma devices, which are fully adaptable to the treatment area.
Use the machine for just 15-30 minutes a day to keep your skin soft and radiant.
Hydraskincare Light Therapy Machine for Anti-aging is a skincare device that uses red, blue, yellow, and infrared light to improve skin health. Its advantage over Celluma is that it has a wider range of different light for a full recovery.
Like the previous device, red and infrared light help improve the appearance of wrinkles and skin texture, blue light helps kill acne-causing bacteria, and yellow light helps reduce the negative effects of stress and improve complexion.
Hydraskincare Light Therapy Machine is a great option for anyone looking to improve the health of their skin. It is safe for all skin types and it only takes 20 minutes a day to get results.
Even though it is slightly smaller than the previous device, but compared to the Celluma, it is almost 2 times heavier what affects its portability.
Summary
Celluma is a technological device that uses low-level light therapy to address specific age, pain, and musculoskeletal problems. It is a non-invasive and painless system. The energy of light therapy penetrates the skin and muscles, restoring the vitality of the affected cells.
Overall, the number of satisfied customers of Celluma technology is confirmed by positive reviews of Celluma.
Despite its cost, Celluma light therapy is indeed an investment choice for many.
FAQ
🗓 How often should Celluma be used?
The frequency and duration of treatment will depend on the disease. We recommend 4-8 treatments to achieve the desired results. Start with 2 sessions twice a week, then once a week.
🧐 What are the side effects of the Celluma device?
Cellumа is a painless, non-invasive procedure that has no side effects. After a treatment session, people can return to their normal activities.
🚫 Who is Celluma contraindicated for?
People with epilepsy, taking photosensitive drugs and pregnant women are not advised to undergo Celluma treatment. Also, for children under 12 years of age, we recommend refraining from this therapy.
⏰ How long does one Celluma session last?
Each session of light therapy lasts from 30 to 45 minutes, depending on the desired effect.
Sources
Daniel Barolet, Charles J. Roberge, Francois A. Auger, Annie Boucher, and Lucie Germain. Regulation of Skin Collagen Metabolism In Vitro Using a Pulsed 660 nm LED Light Source: Clinical Correlation with a Single-Blinded Study. – Journal of Investigative Dermatology (2009) 129, 2751–2759; DOI:10.1038/jid.2009.186; published online 9 July 2009.
B. A. Russell, N. Kellett, L. R. Reilly. A study to determine the efficacy of combination LED light therapy (633 nm and 830 nm) in facial skin rejuvenation. – Journal of Cosmetic and Laser Therapy. 2005; 7: 196–200.
Lee S.Y., Park M. Y. Blue and red light combination LED phototherapy for acne vulgaris in patients with skin phototype IV.
P. Papageorgiou, A, Katsambas, A. Chu. Phototherapy with blue (415 nm) and red (660 nm) light in the treatment of acne vulgaris. – Br J Dermatol. 2000 May;142(5):973-8. DOI: 10.1046/j.1365-2133.2000.03481.x.
J. Stelian, I. Gil, B. Habot, M. Rosenthal, I. Abramovici, N. Kutok, A. Khahil. Improvement of pain and disability in elderly patients with degenerative osteoarthritis of the knee treated with narrow-band light therapy. – J Am Geriatr Soc. 1992 Jan;40(1):23-6. DOI: 10.1111/j.1532-5415.1992.tb01824.x.
Ernesto Cesar Pinto Leal-Junior, Douglas Scott Johnson, Anita Saltmarche, Timothy Demchak. Adjunctive use of a combination of super-pulsed laser and light-emitting diodes phototherapy on nonspecific knee pain: a double-blinded randomized placebo-controlled trial. – Lasers Med Sci. 2014 Nov;29(6):1839-47.