Medically reviewed by
Diana Londoño
.
If you are tired of traditional treatments with endless doses of ineffective antibiotics to get rid of acne, or injections, creams, and serums to reduce wrinkles, you probably want to try a new approach.
LED light therapy is a new treatment base that uses LED devices, emitting specific wavelengths to promote the elimination of bacteria causing acne and speed up the recovery process. This therapy increases the amount of collagen in the skin and reduces inflammation, promoting anti-aging, wound healing, and relieving effects.
In the article, we will look at one of the most popular brands on the light therapy market — Celluma, the features of its devices, as well as reviews from real users.
Worthy alternatives
Wrinkles, acne scars, and loose skin are common problems that many people have to take care of on their faces daily. If you want to feel the action of LED devices, but you are not satisfied with the price of Celluma devices, you can look at the alternatives that we offer.
These devices are much cheaper than the Celluma, but they are not inferior to efficiency. They are FDA-cleared and are great for home use.
Devices can help with wrinkles, acne scars, skin laxity, redness, large pores, brown spots, and more.
Hydraskincare Light Therapy Machine for Skin Care
– Emits 3 lights (red, near-infrared, blue), and also has an additional yellow light, unlike Celluma PRO which helps to neutralize the negative effects of stress and soothes the skin;
– Can be used hands-free, making it easy to apply;
– Supplied with a stand, however, it is not as flexible as Celluma devices, which can adapt to the exact shape of the treated area.
Hydraskincare Light Therapy Machine for Anti-aging
– Includes more light options (red, near-infrared, blue, yellow), which help in improving blood circulation, accelerating metabolic processes, which in turn reduces wrinkles, improves the general condition of the skin while in Celluma CLEAR only offers blue light for acne treatment;
– All colors of light can be turned on at the same time;
– Has a solid design, but this has an effect on weight, unlike Celluma devices.
About Celluma light therapy
Celluma by BioPhotas, Inc. is a world leader in devices for light therapy. The company manufactures LED devices for medical use to treat signs of aging, relieve pain, and eliminate acne. Celluma affirms that its devices reduce the appearance of fine lines and wrinkles, relieve arthritic and muscle pain, and treat existing blemishes and dark spots.
Celluma has nine FDA clearances and CE medical marks, including acne treatment, muscle and joint pain, muscle and joint stiffness, muscle spasm, arthritis, and compromised local blood circulation. Additionally, the Celluma series carries the CE medical mark for dermal wound healing in Europe.
Celluma light therapy is non-invasive, painless, does not require recovery time, and can be used for all skin types. Also, this brand has many awards that only confirm the effectiveness of this product.
🏆 Celluma Light Therapy Awards:
Best Product 2015-2021 (seven years in a row), Winner — Les Nouvelles Esthetiques & Spa Magazine (Light therapy category).
Aestheticians Choice Award 2015-2020, Dermascope.
Professional's Choice Awards 2016-2020, Day Spa Magazine.
Professional's Choice Awards 2016-2019, American Spa Readers for "Favorite Laser & Light Manufacturer".
Professional's Choice Awards 2019, American Spa Readers for "Favorite Facial Equipment Manufacturer"
Readers Top 100 Products 2016-2019, Chiropractic Products Report.
Health, Beauty & Wellness Awards for Most Innovative Light Therapy Device and Best Wound Healing device 2018 – LUX Magazine.
Light Therapy Products Manufacturer of the Year, Best Anti-Aging Therapy Device Manufacturer, 2019 – LUX Magazine.
Reader's Choice Award 2018-2019, Best LED, Skin Deep Magazine.
2019 "Product Innovation of the Year" Award, The Aesthetics Journal (UK).
Read also about
Infrared Sauna Blankets
— another highly effective technology that helps to improve overall skin condition, relieve pain and ease stress.
How Celluma light therapy works
💡
LED therapy is a non-invasive type of phototherapy that uses light from a diode to provide energy. Phototherapy involves the treatment of the skin with different wavelengths of the light spectrum (colors). The choice of light is crucial because, depending on the wavelength, light can penetrate tissues by 1 to 5 mm, providing a different therapeutic effect.
Celluma light therapy is based on the ability of the skin to absorb light and convert it into energy. This energy causes specific reactions in the skin cells, leading to improved recovery processes, stimulating collagen production, increasing elasticity, fighting bacteria, clearing skin tone in dark spots, and removing toxins.
Celluma devices use LEDs, "small electronic semiconductors able to produce light when an electric current pass through them", according to the IUPACInternational Union of Pure and Applied Chemistry. Scientists create specific LED light colors using different chemical compounds that emit light in certain wavelengths when stimulated with a current strength.
Celluma devices use blue (465 nm), red (640 nm), and infrared (880 nm) light, each of which penetrates at different depths of the upper layers of the skin. Depending on the condition to treat, the physician selects one or a combination of these lights.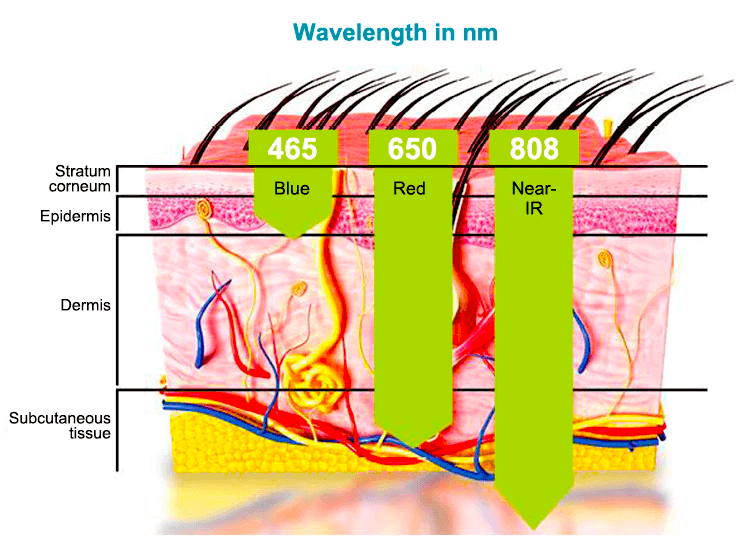 What diseases does Celluma treat?
Celluma Light Therapy provides safe, UV-free, low-level light treatments through LED devices. Different wavelengths of light have different therapeutic effects.
🔵 Blue light therapy is used to treat acne and comedones, as it fights one of the most common causes of rashes — the bacterium Propionibacterium acnes.
Blue light emits at short wavelengths (400 nm-510 nm), which gives it antimicrobial properties like the ultraviolet spectrum but is less harmful. It penetrates only into the uppermost layers of the skin (up to 1 mm), enough to saturate the skin with reactive oxygen species toxic to bacteria.
💡
A combination of blue and red light is also often used for acne.
Blue light works against bacteria, while red has an anti-inflammatory effect, which reduces the activity of the sebaceous glands.
Read more about acne treatment with blue and red light in our article on
Neutrogena Acne Spot Treatment
🔴 Red light is used primarily for skin repair and rejuvenation.
The spectrum of red light covers wavelengths of 633 to 830 nm and can penetrate the layers of the skin to a depth of 4 to 5 mm. These wavelengths allow light to infiltrate until the dermis, the location of the fibroblasts, which are responsible for the production of collagen and elastin. Red light improves blood circulation, saturating cells with oxygen and nutrients.
LED red light therapy has the following therapeutic effects:
Stimulation of collagen production and photorejuvenation by improving cell metabolism.
Reducing the depth of wrinkles and increasing skin elasticity.
Saturation of skin cells with oxygen and nourishing ingredients due to improved blood circulation.
Reduction of inflammation, blackheads, and the fight against rashes.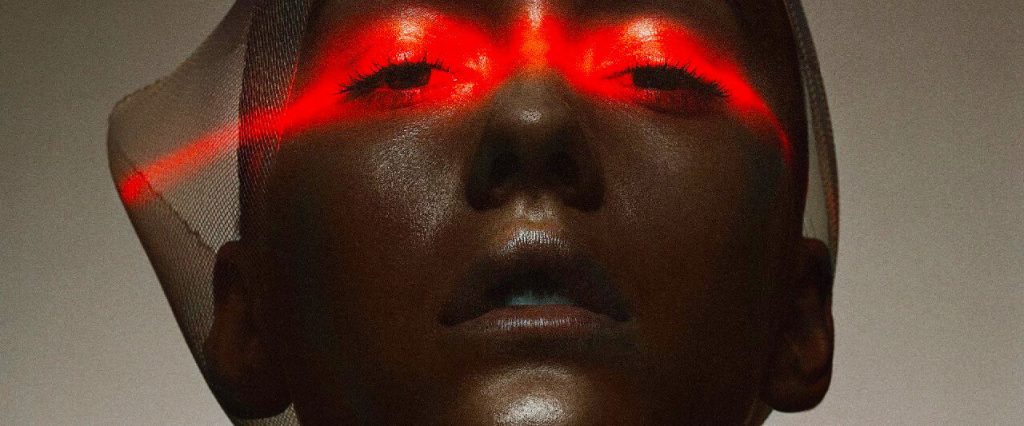 ⭕ Infrared radiation (880 nm) is a type of electromagnetic radiation with a higher wavelength than the visible light spectrum.
It can accelerate some physical and chemical processes in the body, like tissue regeneration, cell growth, and blood flow. This light therapy, combined with red light, helps relieve chronic pain without unwanted effects. The infrared rays warm up the tissues underneath helping to ameliorate symptoms of cardiovascular diseases [6], and in some cases, diabetes mellitus [7].
Additionally, the clinical practice uses infrared therapy to treat:
Pain in joints and muscles.
In case of muscle pain and cramps, thermal radiation helps the tissues to relax due to the intense blood flow. Cells receive nutrients and oxygen, reducing inflammation in joints and muscle relaxation.
Skin injuries and diseases.
Infrared lights help with skin problems: non-healing wounds, irritations, and acne. The devices help with burns, frostbite, ulcers, and itchy dermatoses.
Due to its anti-inflammatory effect, some clinical trials evaluated infrared therapy to treat injuries and inflammatory processes in the lungs [8,9].
How effective is LED light therapy? Based on scientific research
As mentioned before, LED Light Therapy has a wide range of therapeutic effects like reducing the signs of aging, relieving pain, and eliminating bacteria causing acne. Here is some evidence of the different studies evaluating its efficacy.
Anti-Aging
Barolet and collaborators conducted a study [10] to evaluate the effects of LED therapy with red light (660 nm) on aged/photo-aged individuals. The research found that LED therapy promoted collagen production and improvement of oxygen and nutrient delivery to cells by increasing blood circulation. More than 90% of patients experienced a decrease in the depth of wrinkles and skin roughness.


The previous results correlate with those found in patients using Celluma devices. You can observe a reduction of age-related wrinkles in patients with different regimens of treatment.
Other scientists confirmed the effectiveness of exposure to red and infrared light on the skin, like Russell and his peers [11]. A cohort of 31 individuals with age-related wrinkles was treated with LED for 12 weeks. The treatments combined wavelengths of 633 nm and 830 nm. As a result, 52% of patients showed a 25 to 50% improvement in photoaging by nine weeks; 81% of patients reported a significant reduction in wrinkles at the end of follow-up.
Acne Treatment
In a study about treatment with LED for acne vulgaris [12], Lee et al., treated 24 patients with mild to moderate facial acne alternating blue (415 nm) and red (633 nm) light, performing sessions twice a week for eight weeks. As a result, researchers obtained an average improvement in non-inflammatory and inflammatory lesions of 34.28% and 77.93%, respectively. They also reported improved skin tone and skin texture in 14 patients.
Another study [13] confirms the effectiveness of blue and red light in treating acne. In the research of Papageorgiou, they evaluated 107 patients with mild to moderate acne vulgaris. The trial randomized the patients into four treatment groups: blue light, mixed blue-red light, cold white light, and 5% benzoyl peroxide cream. The researchers exposed subjects in the phototherapy groups to daily radiation for 15 minutes. After 12 weeks of active treatment, patients presented an average improvement in inflammatory lesions of 76% with combined blue-red light phototherapy. Blue light therapy initially showed poorer results, but by 12 weeks, it was on par with the combination therapy. The groups treated with benzoyl peroxide and white light showed lower results.


In these images, you can see the reduction of inflammation on the skin, wound healing, and improvement of skin texture after two sessions per week for eight weeks. (Source: Celluma).
According to the above, the scientific community concludes that mixed blue-red light phototherapy, probably through a combination of antibacterial and anti-inflammatory effects, is an effective treatment for mild to moderate acne vulgaris without significant short-term side effects.
Pain Management
Regarding pain treatment with LED Light Therapy, different studies and clinical trials are researching the benefits of this treatment. For example, the investigation by Stelian and collaborators, in the early 90s [14], analyzed 50 patients with osteoarthritis (joint disease) of both knees. They were randomly divided into three phototherapy groups: red (15 patients), infrared (18 patients), and placebo (17 patients). The treatment was carried out for ten days and the results showed a decrease in pain in the red and infrared groups in more than 50% of the patients and no significant reduction in pain in the placebo group.
Another randomized clinical trial, performed by Leal-Junior, [15] included 86 patients with knee pain. The first group received 12 phototherapy sessions, using LEDs emitting at 875 and 640 nm; the second was in traditional care (physiotherapy or chiropractic), and the latter received treatment with a placebo phototherapy device. The results demonstrate that phototherapy significantly reduced pain, almost eliminating it, in contrast to physiotherapy and placebo treatments.
With this data, we concluded that the combination of red and infrared LEDs is effective in reducing pain and improving the quality of life of these patients.
Best Celluma devices
Celluma PRO
Celluma PRO is unlike any other LED panel available today. Cosmetologists, dermatologists, and pain management specialists use this device to treat various skin diseases, and joint and muscle pain.
The device has three modes, providing operation in blue (465 mm), red (640) mm, and near-infrared (880 mm) ranges. This characteristic makes it versatile — you can treat acne, age-related changes, or relieve pain.
Celluma device is flexible and can adapt to the exact shape of the treatment area, which is the key to its effectiveness.
Reviews:
Could not live without my Celluma Pro — it keeps acne breakouts at bay and has significantly improved my skin's natural glow and texture, as well as reduced healing time whenever I do have a small breakout (mostly in periods where I haven't been as consistent using it!) I use both the red and blue light settings and have also tried the pain setting for bruises or injuries which helps a lot. I use it 3-4x per week and could not live without it! Worth every penny.
— Allison, Florida
As a licensed aesthetician specializing in the skin with acne, the Celluma is a device that no aesthetician or client who has problematic skin or simply wishes to delay the onset of natural aging and reduce visible signs of aging should be without.Regarding pain, after breaking my ankle and being restricted to a cast for 3 months — I have also been using the Celluma device to boost the healing of "cast skin", along with reducing the pain and swelling which has allowed vast improvement in flexibility and mobility of the joints. This has provided me the ability to get back to two feet with no delays in physical therapy! Celluma is a must-have.
— Anna, Connecticut
Celluma CLEAR
Celluma Clear has one mode for quick and effective acne treatment. Blue LED therapy emits light at specific wavelengths, proven to be beneficial for the skin. This emitted light helps to eliminate acne-causing bacteria and reduces inflammation, generating an improved skin tone, texture, and clarity from the inside.
The device works safely and effectively without chemicals, harmful UV rays, or side effects. Also, this allows for hands-free use, making it a suitable acne treatment at home.
Reviews:
I was a bit hesitant at investing in a Celluma, but I shouldn't have hesitated; I couldn't be happier. The results are fast and remarkable.
— Georgia, Ohio
I've been utilizing LED for years, but the Celluma panel has made the treatment so much easier. You do need to have LED very close to tissue which is why Celluma is a lifesaver. The results are fantastic!
— Monika, Wisconsin
Pros
This technology has multiple benefits in the treatment of acne and in reducing aging signs.
The procedure is painless and non-invasive.
It was approved by the FDA, indicating the safety of the device.
It is flexible and can adapt to the exact shape of the treatment area.
Celluma products are lightweight and portable. You can take them on a trip.
Cons
Celluma devices are expensive.
Celluma treatment is not suitable for everyone. It is not recommended for pregnant people or with epilepsy.
Skin treatment alternatives
Hydraskincare Light Therapy Machine for Skin Care is a specially designed facial device that enhances the characteristics of your skin.
This machine has three different settings, so you can choose between red (and near-infrared), blue, or yellow depending on what type of problem you have. If you have acne-prone skin, it is recommended to use blue light as it helps fight the bacteria that cause acne. If you have aging skin, red and near-infrared light should be used because it helps increase collagen and elastin production. Yellow light — soothes puffy skin, improves its color and enriches it with oxygen, reduces the effects of stress. Yellow light is an additional advantage that this device has over Celluma.
You can use all lights at the same time for even more enhancement.
This device has a stand for hands-free use, however, it is not as flexible as Celluma devices, which are fully adaptable to the treatment area.
Use the machine for just 15-30 minutes a day to keep your skin soft and radiant.
Hydraskincare Light Therapy Machine for Anti-aging is a skincare device that uses red, blue, yellow, and infrared light to improve skin health. Its advantage over Celluma is that it has a wider range of different light for a full recovery.
Like the previous device, red and infrared light help improve the appearance of wrinkles and skin texture, blue light helps kill acne-causing bacteria, and yellow light helps reduce the negative effects of stress and improve complexion.
Hydraskincare Light Therapy Machine is a great option for anyone looking to improve the health of their skin. It is safe for all skin types and it only takes 20 minutes a day to get results.
Even though it is slightly smaller than the previous device, but compared to the Celluma, it is almost 2 times heavier what affects its portability.
Summary
Celluma is a technological device, non-invasive and painless, that uses low-level light therapy to treat acne-causing bacteria, and joint and muscle pain. It has other beneficial effects on the skin, helping to reduce signs of aging and increase wound healing. The energy of light therapy penetrates the skin and muscles, promoting activation of the affected cells.
Overall, Celluma has many satisfied customers, confirmed by the positive reviews of its devices. It is indeed an investment choice for many, despite its cost.
This article was medically reviewed by Diana Londoño,
a biologist with a Master's degree in Infectious Diseases and a PhD in Biochemistry.
FAQ
🗓 How often should Celluma be used?
The frequency and duration of treatment will depend on the disease you want to treat. We recommend 4-8 treatments to achieve the desired results. You can start with two sessions twice a week, then once a week.
🧐 What are the side effects of the Celluma device?
Cellumа is a painless, non-invasive therapy that has no proven side effects. According to the manufacturers, "these LED devices are considered low risk when used as intended". However, in some isolated cases, its use for extended periods can cause smooth burns. After a treatment session, people can return to their normal activities.
🚫 Who is Celluma contraindicated for?
Celluma is contraindicated for people with epilepsy or those taking photosensitive drugs. The use of the device is not recommended for pregnant persons. If so, do not use it over the stomach to prevent alterations in the normal development of the fetus.
⏰ How long does one Celluma session last?
Each session with Celluma light therapy devices lasts about 30 minutes.
Sources
Keemss K, Pfaff SC, Born M, Liebmann J, Merk HF, von Felbert V. Prospective, Randomized Study on the Efficacy and Safety of Local UV-Free Blue Light Treatment of Eczema. Dermatology. 2016;232(4):496-502. doi: 10.1159/000448000. Epub 2016 Aug 19. Erratum in: Dermatology. 2016;232(4):522. PMID: 27537360.
Zhang P, Wu MX. A clinical review of phototherapy for psoriasis. Lasers Med Sci. 2018 Jan;33(1):173-180. doi: 10.1007/s10103-017-2360-1. Epub 2017 Oct 24. PMID: 29067616; PMCID: PMC5756569.
Sorbellini E, De Padova MP, Rinaldi F. Coupled blue and red light-emitting diodes therapy efficacy in patients with rosacea: two case reports. J Med Case Rep. 2020 Jan 28;14(1):22. doi: 10.1186/s13256-019-2339-6. PMID: 31992343; PMCID: PMC6988247.
Avci P, Gupta A, Sadasivam M, Vecchio D, Pam Z, Pam N, Hamblin MR. Low-level laser (light) therapy (LLLT) in skin: stimulating, healing, restoring. Semin Cutan Med Surg. 2013 Mar;32(1):41-52. PMID: 24049929; PMCID: PMC4126803.
Spitler R, Berns MW. Comparison of laser and diode sources for acceleration of in vitro wound healing by low-level light therapy. J Biomed Opt. 2014 Mar;19(3):38001. doi: 10.1117/1.JBO.19.3.038001. PMID: 24638250.
Dungel, P., Hartinger, J., Chaudary, S., Slezak, P., Hofmann, A., Hausner, T., Strassl, M., Wintner, E., Redl, H. and Mittermayr, R. (2014), Low level light therapy by LED of different wavelength induces angiogenesis and improves ischemic wound healing. Lasers Surg. Med., 46: 773-780. https://doi.org/10.1002/lsm.22299
Shengbing Li, Cong Wang, Bo Wang, Li Liu, Liang Tang, Dongfang Liu, Gangyi Yang, Lili Zhang. Efficacy of low-level light therapy for treatment of diabetic foot ulcer: A systematic review and meta-analysis of randomized controlled trials, Diabetes Research and Clinical Practice, Volume 143, 2018, Pages 215-224, ISSN 0168-8227, https://doi.org/10.1016/j.diabres.2018.07.014.
Rigonato-Oliveira NC, de Brito AA, Vitoretti LB, de Cunha Moraes G, Gonçalves T, Herculano KZ, Alves CE, Lino-Dos-Santos-Franco A, Aimbire F, Vieira RP, Ligeiro de Oliveira AP. Effect of Low-Level Laser Therapy (LLLT) in Pulmonary Inflammation in Asthma Induced by House Dust Mite (HDM): Dosimetry Study. Int J Inflam. 2019 Mar 21;2019:3945496. doi: 10.1155/2019/3945496. PMID: 31015955; PMCID: PMC6448342.
Gattinoni L, Chiumello D, Caironi P, Busana M, Romitti F, Brazzi L, Camporota L. COVID-19 pneumonia: different respiratory treatments for different phenotypes? Intensive Care Med. 2020 Jun;46(6):1099-1102. doi: 10.1007/s00134-020-06033-2. Epub 2020 Apr 14. PMID: 32291463; PMCID: PMC7154064.
Barolet D, Roberge CJ, Auger FA, Boucher A, Germain L. Regulation of skin collagen metabolism in vitro using a pulsed 660 nm LED light source: clinical correlation with a single-blinded study. J Invest Dermatol. 2009 Dec;129(12):2751-9. doi: 10.1038/jid.2009.186. Epub 2009 Jul 9. PMID: 19587693.
Russell BA, Kellett N, Reilly LR. A study to determine the efficacy of combination LED light therapy (633 nm and 830 nm) in facial skin rejuvenation. J Cosmet Laser Ther. 2005 Dec;7(3-4):196-200. doi: 10.1080/14764170500370059. PMID: 16414908.
Lee SY, You CE, Park MY. Blue and red light combination LED phototherapy for acne vulgaris in patients with skin phototype IV. Lasers Surg Med. 2007 Feb;39(2):180-8. doi: 10.1002/lsm.20412. PMID: 17111415.
Papageorgiou P, Katsambas A, Chu A. Phototherapy with blue (415 nm) and red (660 nm) light in the treatment of acne vulgaris. Br J Dermatol. 2000 May;142(5):973-8. doi: 10.1046/j.1365-2133.2000.03481.x. PMID: 10809858.
Stelian J, Gil I, Habot B, Rosenthal M, Abramovici I, Kutok N, Khahil A. Improvement of pain and disability in elderly patients with degenerative osteoarthritis of the knee treated with narrow-band light therapy. J Am Geriatr Soc. 1992 Jan;40(1):23-6. doi: 10.1111/j.1532-5415.1992.tb01824.x. PMID: 1727843.
Leal-Junior EC, Johnson DS, Saltmarche A, Demchak T. Adjunctive use of combination of super-pulsed laser and light-emitting diodes phototherapy on nonspecific knee pain: double-blinded randomized placebo-controlled trial. Lasers Med Sci. 2014 Nov;29(6):1839-47. doi: 10.1007/s10103-014-1592-6. Epub 2014 May 21. PMID: 24844921.