Are you tired of feeling self-conscious about your hair loss and trying countless remedies with little to no success? You're not alone. Many people struggle with this common and frustrating condition. But there is hope — laser therapy.
In this article, we'll delve into one of the most talked-about laser therapy devices — the Hairmax laser comb. With its popularity on the rise, we'll examine its features, usage, and scientific backing to determine if it's the answer to hair loss woes.
What is the HairMax laser comb?
The Hairmax laser comb, the first therapy device approved by the FDAFDA is a Food and Drug Administration standard that guarantees the quality and safety of the presented device., uses laser light to increase hair growth and handle thinning, as well as baldness. This handheld machine features a module that emits 9 or 12 laser beams (depending on the model you choose), each with a wavelength of 655 nm.
The device comes equipped with combs that are attached to the module. These combs are used to part your hair, ensuring that the light is evenly distributed throughout your scalp. This not only helps to improve the delivery of the laser beam but also makes the therapy process much more convenient.
The light stimulates hair follicles. This forces them to return to their normal hair growth cycle. This process naturally increases the production of keratin and ATPATP is a molecule that acts on the follicle to help maintain the hair growth phase.. It also increases blood circulation to the scalp, providing fast delivery of nutrients. Nutrients help grow new and healthy hair.
If carried out according to the recommendations, laser therapy with the HairMax device is a completely safe and effective method of hair treatment without any side effects. Laser therapy with this device is safe for home use, unlike high-power laser therapy used in surgery.
How does the HairMax laser comb work?
The HairMax laser comb is a portable device that uses lasers to revitalize and repair hair follicles. It does this by increasing the production of ATPATP is a molecule that acts on the follicle to help maintain the hair growth phase. . This energy is used by the body to synthesize proteins, enzymes, hormones, and other substances necessary for life.
Besides ATP production, laser energy helps to dilate capillaries and increase microcirculation, which provides hair follicles with an increased supply of essential nutrients and oxygen. This leads to a surge of essential nutrients and oxygen being delivered straight to the follicles, revitalizing them. The hair stops falling out, increases in diameter, and acquires a healthy shine.
This device offers a therapeutic solution for hair treatment without the need for additional lotions or medicines that can affect a person's hormonal balance. Its unique approach makes it an effective and safe and reliable method of hair care. With the Hairmax laser comb, individuals can enjoy revitalized, healthier-looking hair without the need for harsh chemicals or medicines.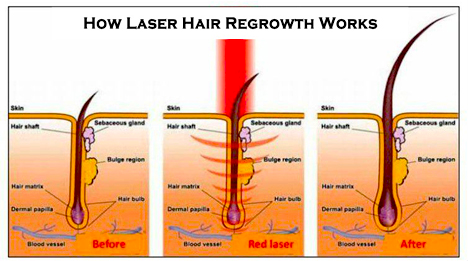 Find out more on
Capillus Laser Cap
— light therapy-based technology that helps to overcome hair loss.
How to use a laser comb
Using 10 to 15 minutes, three times a week — is all it takes to achieve fuller, thicker locks.
But keep in mind, more isn't always better — using the comb excessively won't cause harm, but sticking to the recommended usage will deliver the best results.
Using the device is a breeze. Simply comb your hair as you would normally, with one key difference. Pause for five seconds on each section of your head before moving on to the next. Each motion should be no more than an inch, and it's best to work against the natural growth of your hair to allow the laser to penetrate the scalp. Start at the front of your hair and work your way back for maximum effectiveness.
The main thing to remember is that the slower the better. Moving the comb quickly can reduce its efficiency.
Clinical studies on the effectiveness of the Hairmax laser comb
HairMax has invested more in research and clinical research on light energy for hair growth than any other company.
Below are some of the studies that support the effectiveness of this treatment device.
A randomized study [1] was conducted using a Hairmax laser comb and a fake device. It involved 110 male patients who were treated for 26 weeks. Results indicated that the mean hair density in patients treated with the Hairmax showed a significant increase compared to the placebo group.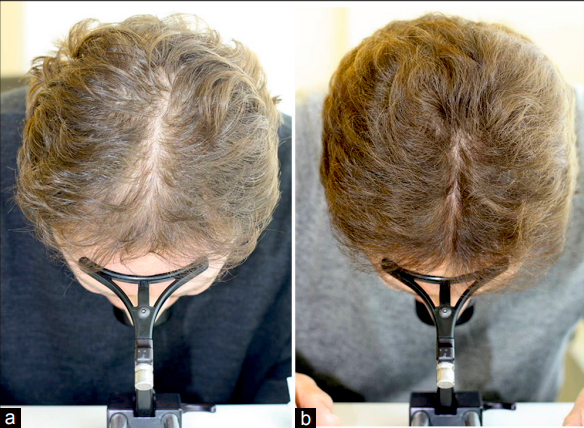 The following study [2] involved 47 women with baldness. The active group received a device containing 655 nm diode lasers. The placebo group was identical, but with inactive beams. Patients were treated at home every other day for 16 weeks (60 treatments in total). As a result, the active group showed a 37% increase in hair growth compared to the placebo.
The next study [3] supports the efficacy of the Hairmax device. 32 patients (21 women, 11 men) were treated with a 655 nm laser device. As a result, 88% of patients showed an improvement in their hair condition (out of 32 patients, 28 experienced significant or moderate improvement, and 4 did not). The first results were already in 3 months and persisted up to a maximum follow-up period of 24 months.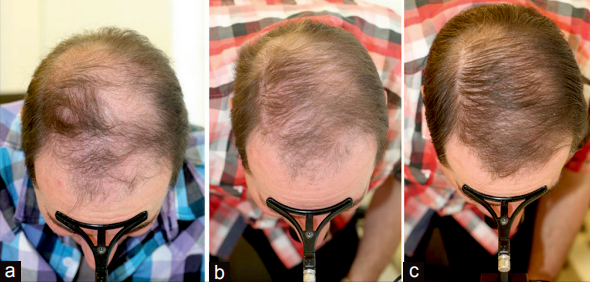 The recent study [4] was conducted on 35 individuals with androgenic alopecia (AGA), with 28 being male and 7 female [4]. They got laser treatment for six months. The results showed that the temporal region experienced an increase in hair density, with men showing an average increase of 74.1% and women — 55.2%. The overall increase for all patients was 69.1%.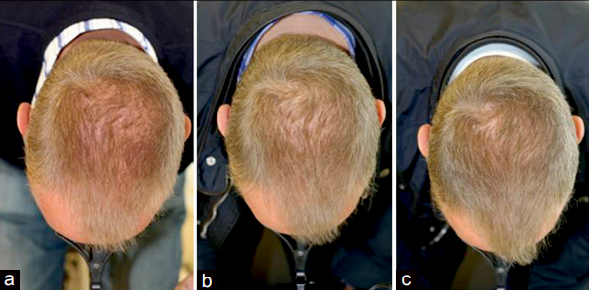 The Hairmax laser comb, through low-level laser therapy, effectively boosts hair growth and improves hair strength. This method is one of the best treatment options for androgenetic alopecia, given its safety, ease of home administration to patients, and the benefits cited in studies.
Read also our analysis of Capillus and iRestore technologies and discover which one is more effective.
Customer reviews about HairMax laser comb
Exciting results from the first weeks
"I'm thrilled with my Hairmax treatment! Previous hair products and costly salon treatments fell short of my expectations, but this laser comb has exceeded them. Years of hair extensions left my locks damaged and in need of recovery. But after just a few months of use, I've already noticed a difference. My hair is fuller and stronger. The instructions promised results in 16 weeks, but to my surprise, I saw improvement after only 4 weeks! I can hardly wait to see what more growth and compliments the future holds for my locks."
— Sherri, LA
New hair growth and improved texture in 3 months
"It wasn't until about a year ago that I first noticed my hair thinning and falling out more frequently. I initially didn't give it much thought, but after 6 months, I was horrified to see clumps of hair falling out and bald spots on my once-thick head of hair. After a diagnosis of androgenic alopecia from a dermatologist and a scalp biopsy, I was determined to find a solution. After using Hairmax for just three months, I was already seeing new hair growth and an improved texture. I couldn't be happier with the results!"
— Lia, CA
Aging with renewed hair growth
"I had originally intended to buy a laser cap from another company, but after extensive research, I chose the Hairmax laser comb. After over 6 months of use, I'm thrilled to report that it has been a fantastic fit for me. Age is irrelevant and at 70, it's never too late to begin treatment."
— Samuel, CO
Unleash the secret to combating hair loss with the infrared light therapy device.
Bonus: your hair will look shinier, feel softer, and grow thicker.
The verdict
Lackluster, thinning hair can be a source of distress for many people, affecting both one's appearance and confidence. Unfortunately, the longer you wait to address the issue, the less likely it is that you'll be able to fully restore your hair's vitality. However, there's hope — the Hairmax laser comb offers an innovative solution for your locks.
Not only does the Hairmax laser comb help to improve the thickness and overall health of your hair, but it can also stimulate dormant hair follicles that still have the potential to grow.
This makes the device a non-invasive, side-effect-free alternative to drug treatments. And, unlike many hair restoration products, the Hairmax laser comb is suitable for both men and women, making it a versatile solution for a range of hair concerns.
FAQ
👨‍🦲 What is the Hairmax laser comb used for?
The Hairmax laser comb is a device used for the treatment of thinning hair and early stages of baldness. It uses low-level laser therapy to stimulate growth and improve hair density.
🔎 Is it safe to use the Hairmax laser comb?
Yes, the Hairmax laser comb is safe to use. It has been cleared by the FDA for the treatment of hair loss and has been tested in clinical studies to demonstrate its safety and effectiveness.
🗓 How often should I use the Hairmax laser comb?
It is recommended to use the Hairmax laser comb three times per week for the best results. Each treatment should take about 10-15 minutes.
🤓 How long does it take to see results with the Hairmax laser comb?
Results may vary, but most users notice an improvement in hair density and thickness within 3 to 6 months of regular use.
Sources
Matt Leavitt, Glenn Charles, Eugene Heyman, David Michaels. HairMax LaserComb laser phototherapy device in the treatment of male androgenetic alopecia: A randomized, double-blind, sham device-controlled, multicentre trial. – Clin Drug Investig. 2009;29(5):283-92. DOI: 10.2165/00044011-200929050-00001.
Joaquin J. Jimenez, Tongyu C. Wikramanayake, Wilma Bergfeld, Maria Hordinsky, Janet G. Hickman, Michael R. Hamblin, Lawrence A. Schachner. Efficacy and Safety of a Low-level Laser Device in the Treatment of Male and Female Pattern Hair Loss: A Multicenter, Randomized, Sham Device-controlled, Double-blind Study. – Am J Clin Dermatol, DOI 10.1007/s40257-013-0060-6
Andréia Munck, Maria Fernanda Gavazzoni, Ralph M Trüeb. Use of low-level laser therapy as monotherapy or concomitant therapy for male and female androgenetic alopecia. – Int J Trichology. 2014 Apr;6(2):45-9. DOI: 10.4103/0974-7753.138584.
John L. Satino and Michael Markou, D.O. Hair Regrowth and Increased Hair Tensile Strength Using the HairMax Laser Comb for Low-Level Laser Therapy. – International Journal Of Cosmetics Surgery and Aesthetic Dermatology, Volume 5, Number 2, 2003.