Hair loss is a common and frustrating problem that many people face. While this primarily affects men, women are also at risk for this change. There are many solutions to this problem in the industry. There are shampoos, surgical remedies, and other options, but these results are all temporary and, for some, extremely unfortunate. One of the most effective hair loss solutions is laser therapy.
In this article, we'll take a look at one of the most popular laser therapy devices, the HairMax laser comb. We have studied its features, methods of use, as well as scientific trials. So, can this device help in treating hair loss, and is it effective at all?
What is the HairMax laser comb?
The HairMax laser comb is the first
-approved therapy device designed to stimulate hair growth.
The HairMax LaserComb is a handheld laser therapy device that contains a single laser module that simulates 9 or 12 beams (depending on the device version) at a wavelength of 655 nm. The device uses the technique of parting the user's hair with combs attached to the device. This improves the delivery of distributed laser light to the scalp.
The light stimulates hair follicles. This forces them to return to their normal hair growth cycle. This process naturally increases the production of keratin and ATPATP is a molecule that acts on the follicle to help maintain the hair growth phase.. It also increases blood circulation to the scalp, providing fast delivery of nutrients. Nutrients help grow new and healthy hair.
If carried out according to the recommendations, laser therapy with the HairMax device is a completely safe and effective method of hair treatment without any side effects. Laser therapy with this device is safe for home use, unlike high-power laser therapy used in surgery.
How does the HairMax laser comb work?
The HairMax laser comb is a portable device that uses lasers to revitalize and repair hair follicles. It does this by increasing the production of ATPATP is a molecule that acts on the follicle to help maintain the hair growth phase. . This energy is used by the body to synthesize proteins, enzymes, hormones, and other substances necessary for life.
In addition to stimulating the synthesis of ATP in the hair follicles, HairMax laser energy helps to expand capillaries, increase microcirculation. The increased blood flow enhances the delivery of nutrients and oxygen to the hair follicles. Thus, the hair follicles will have additional energy for absorption, which contributes to a pronounced stimulation of hair growth. Hair stops falling out, increases in diameter, acquire a healthy shine and increases its elasticity.
The device has a therapeutic effect without the use of additional lotions or medicines that can affect the hormonal background of a person. And therefore it is not only effective but also a safe method of hair treatment.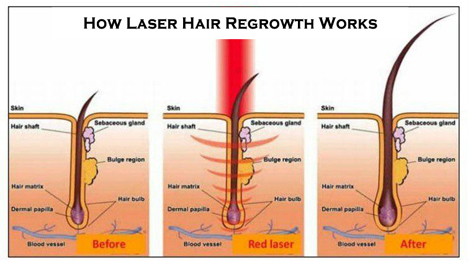 Find out more on
Capillus Laser Cap
— light therapy-based technology that helps to overcome hair loss.
How to use a laser comb
Laser combs are very easy to use but time-consuming. HairMax recommends using its products for 10-15 minutes three days a week.
Using a comb over the recommended amount will not cause side effects, but insufficient use will lead to poor results.
The laser comb is used in the same way as a conventional comb. The only difference is that instead of a continuous motion, you will stop the comb on each part of the head for five seconds before moving on to the next spot.
Each movement should be no more than one centimeter at a time. The laser comb should be moved against the natural direction of hair growth. Thus, the comb will move the hair and expose the scalp for laser penetration. The easiest way is to start at the front of your hair and work your way back.
The main thing to remember is that the slower the better. Moving the comb quickly can reduce its efficiency.
Does the HairMax laser comb really work? Based on clinical researches
HairMax has invested more in research and clinical research on light energy for hair growth than any other company.
Below are some of the studies that support the effectiveness of this treatment device.
A randomized study [1] was conducted using a HairMax laser comb and a fake device. It involved 110 male patients who were treated for 26 weeks. The fake device used in the study was identical to the active device, except that the laser light was replaced with an inactive incandescent light source. As a result, patients in the HairMax LaserComb treatment group showed significantly greater increases in mean hair density than patients in the fake device group.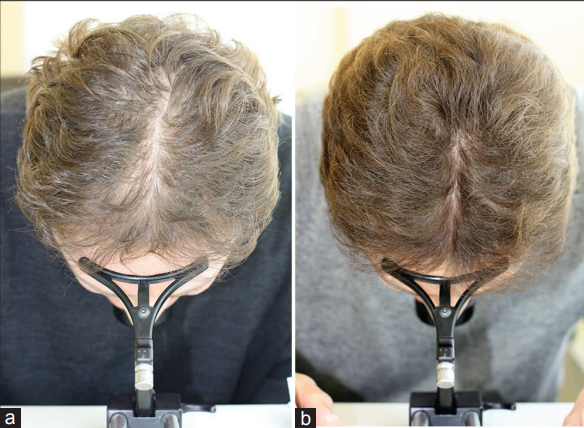 The following study [2] was carried out in several private clinics. 128 men and 141 women were randomized to receive either a laser comb or a sham device and treated their entire scalp three times a week for 26 weeks. As a result, the average number of terminal hairs at week 26 increased by 20.27 cm² from baseline. The increase in hair density did not depend on the age and gender of the subject. In addition, 70 percent of patients treated with a laser comb reported an overall reduction in hair loss. None of the trials reported serious side effects when treated with a laser comb.
The following study [3] confirms the effectiveness of the HairMax laser comb. 32 patients (21 women, 11 men) were treated with a 655 nm laser device. As a result, 88% of patients showed an improvement in their hair condition (out of 32 patients, 28 experienced significant or moderate improvement, and 4 did not). The effect was observed both with monotherapy and with concomitant therapy. The first results were already in 3 months and persisted up to a maximum follow-up period of 24 months.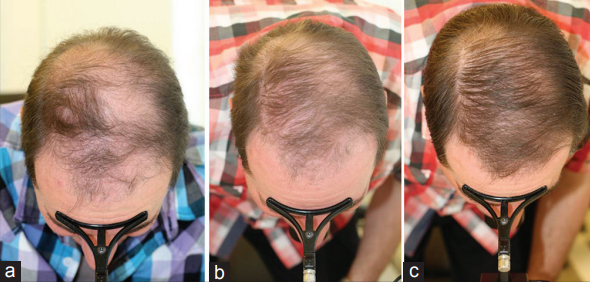 The last study [4] was involving 35 patients (28 men and 7 women) with androgenic alopecia (AGA). The course of treatment lasted six months. As a result, the amount of hair in the temporal region increased by an average of 55.2% in women and 74.1% in men, and 69.1% in all patients. In the crown area, the corresponding percentage was 64.9% for women and 120.1% for men.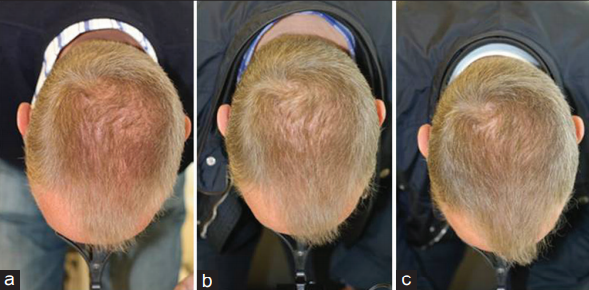 Low-level laser therapy with the HairMax LaserComb is an effective way to stimulate hair growth and increase hair strength. This method is one of the best treatment options for androgenetic alopecia, given its safety, ease of home administration to patients, and the benefits cited in studies.
Read also our analysis of Capillus and iRestore technologies and discover which one is more effective.
Customer reviews about HairMax laser comb
Exciting results from the first weeks
"I'm very pleased with the result of using HairMax. All other hair products, as well as expensive salon treatments that I have tried, did not show the desired result. I had hair extensions for many years that caused hair loss. Unfortunately, my hair was not in the best condition and needed treatment. I have been using a laser comb for several months now and I am delighted. The instructions say that the results will be noticed in 16 weeks. After about 4 weeks, my hair became thicker and healthier. It's so exciting and I can't wait for more hair growth and compliments that my hair looks healthier."
— Sherri, LA
New hair growth and improved texture in 3 months
"About a year ago, I started to notice that my hair was getting thinner and more often falling out, but I didn't really care about it. After about 6 months my hair began to fall out in large clumps. I have very thick hair since birth, and I was horrified when I saw bald spots on my scalp. After a visit to a dermatologist and a scalp biopsy, it was determined that I have androgenic alopecia. It was terrible for me. After spending a lot of time looking for a solution to the problem, I came across the Hair max laser comb. I use it 3 times a week and after just 3 months I saw new hair growth and improved texture. I'm delighted."
— Lia, CA
Impressive results even in old age
"Firstly I planned to buy the device from another company that sold the laser cap. However, after reading a lot of studies, I decided to purchase a laser comb from HairMax. After more than 6 months of using the device, I'm happy to say that the product suits me very well. I used to see the reflection of my scalp in the mirror. Now I see growing hair, which is good news. Even though I am 70 years old, it is never too late to start treatment."
— Samuel, CO
Summary
Thinning and lifeless hair brings significant damage to both appearance and psychological state. The delay in time leads to a decrease in the chances of a successful recovery.
HairMax laser comb allows users to care for their hair, making it thicker and healthier. While this product does not work miracles or revitalize already dead hair follicles, it can stimulate hair follicles that are still functioning but may be dormant.
It is also worth noting that the device is suitable for both men and women, and does not cause any side effects, unlike drug treatment.
FAQ
👨‍🦲 Who is the laser therapy offered by HairMax suitable for?
Individuals with mild to moderate baldness (including thinning) will benefit the most from the device. It will also help prevent further hair loss, although manufacturers recommend starting treatment as soon as the first signs of baldness are noticed.
🔎 How does the HairMax laser comb treat hair loss?
Using laser energy, laser devices stimulate hair follicles and increase ATP ATP is a molecule that acts on the follicle to help maintain the hair growth phase. synthesis to induce new hair growth. The devices direct all their energy to the hair follicle, helping to improve blood circulation.
🗓 How long will users have to use the HairMax laser comb treatment?
Initially, the user will have to undergo a course of treatment three times a week for 10-15 minutes. However, after the patient reaches the regrowth level that he was trying to achieve, some people may be able to reduce their use to as little as twice a week.
🤓 How should I use the HairMax laser comb to treat hair loss?
When using LaserComb devices, they should be moved slowly over the head. The device periodically beeps to let the user know when he needs to move it over his head.
Sources
Matt Leavitt, Glenn Charles, Eugene Heyman, David Michaels. HairMax LaserComb laser phototherapy device in the treatment of male androgenetic alopecia: A randomized, double-blind, sham device-controlled, multicentre trial. – Clin Drug Investig. 2009;29(5):283-92. DOI: 10.2165/00044011-200929050-00001.
Joaquin J. Jimenez, Tongyu C. Wikramanayake, Wilma Bergfeld, Maria Hordinsky, Janet G. Hickman, Michael R. Hamblin, Lawrence A. Schachner. Efficacy and Safety of a Low-level Laser Device in the Treatment of Male and Female Pattern Hair Loss: A Multicenter, Randomized, Sham Device-controlled, Double-blind Study. – Am J Clin Dermatol, DOI 10.1007/s40257-013-0060-6
Andréia Munck, Maria Fernanda Gavazzoni, Ralph M Trüeb. Use of low-level laser therapy as monotherapy or concomitant therapy for male and female androgenetic alopecia. – Int J Trichology. 2014 Apr;6(2):45-9. DOI: 10.4103/0974-7753.138584.
John L. Satino and Michael Markou, D.O. Hair Regrowth and Increased Hair Tensile Strength Using the HairMax Laser Comb for Low-Level Laser Therapy. – International Journal Of Cosmetics Surgery and Aesthetic Dermatology, Volume 5, Number 2, 2003.
Black Friday Deals
Subscribe and get notified about the black friday deals, up to 50% discounts.