Men and women lose hair for a variety of reasons, from medications to genetics. Finding the right hair loss treatment system can be challenging. Many of them don't work and this can make you skeptical about all hair growth claims.
However, new treatments are coming to the market that differ from shampoos, serums, vitamins, and medications. This is the low-level laser therapy (LLLT) hair system. It can also be called red light therapy or cold laser therapy. It is safe for the scalp and is not invasive like some other treatments, such as hair transplant surgery.
In this article, we will look at low-level laser therapy, its features, and its effectiveness based on scientific research. And also let's compare the best home LLLT devices — iRestore laser cap and Capillus laser cap, highlighting their features and differences.
What is low-level laser therapy and how does it work?
What is LLLT?
Low-level laser therapy is a form of medicine that uses laser light at low levels or near-infrared light. This treatment method has many applications, particularly reducing pain or inflammation, accelerating wound healing, and treating hair loss. This treatment mechanism is at the heart of the iRestore and Capillus devices.
Low-level laser hair therapy is a treatment that is used as an adjunct to traditional hair treatments. It is a painless and non-toxic method that has no side effects. It is mainly used to treat androgenetic alopecia, or what is often referred to as male or female pattern baldness.
In the United States, laser therapy is one of three treatments for alopecia that have been approved by the United States Department of Health. This therapy stops pathological hair loss with a low-frequency pulsed light beam that has a rejuvenating effect on the scalp, increases blood flow, and regenerates hair roots.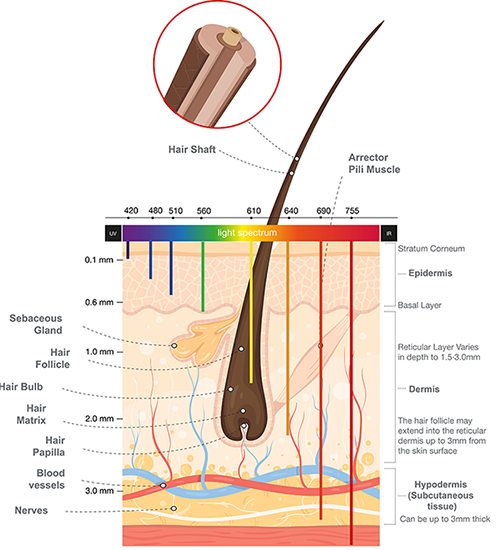 LLLT can also be used to treat other forms of alopecia caused by reasons such as chemotherapy or severe hair loss that can occur in women after pregnancy or menopause.
How it works
Laser light, which is used in LLLT, emits waves of a certain wavelength, which have a unique ability to be absorbed by the molecules of the hair follicles. Light helps to transfer hair follicles to the growth stage in several ways.
When it penetrates the scalp, it stimulates the stem cells responsible for the regeneration of hair follicles, promoting hair regrowth. It also helps to increase the production of ATP and metabolic processes in cells for faster hair growth.
The light works by increasing blood flow to the target area of ​​the scalp, thereby increasing the delivery of nutrients and oxygen to the hair follicles, causing hair to grow in length and diameter. This helps in the production of thicker hair shafts and generally makes the hair thicker.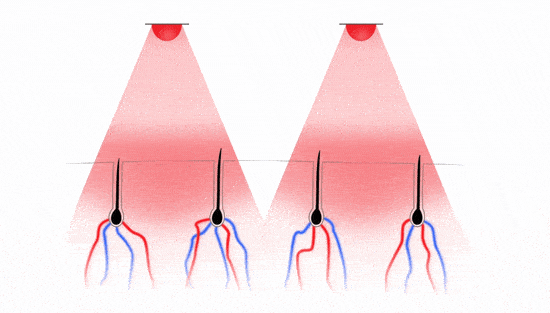 How effective is LLLT? Based on clinical trials
Low-level laser therapy (LLLT) affects cells or tissues with low levels of red and near-infrared light and has been used in medicine for more than 40 years for photobiostimulation for various indications, in particular, androgenetic alopecia (baldness).
Studies on the effectiveness of LLLT in the treatment of baldness are presented below.
A study [1] was involving 100 patients with androgenetic alopecia. All participants were randomly assigned to receive LLLT on one side of the head and simulate light exposure on the other side 3 times a week for 30 minutes over 24 weeks. After the treatment period, significantly more hair coverage was observed on the LLLT-treated scalp than on the sham-treated side. Also, a greater improvement from baseline was observed in hair thickness.
The next randomized clinical study [2] was conducted in 2 institutions. 60 patients diagnosed with androgenetic alopecia were recruited and divided into two groups, which used the experimental LLLT device and the sham device. The test lasted 16 weeks. As a result, the group that used LLLT showed a 7-fold increase in hair density and thickness relative to the sham device group. No side effects were found.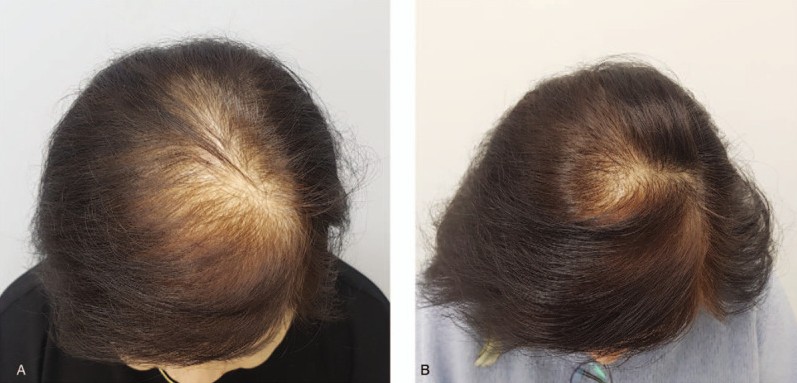 The following study [3] was conducted to determine the physiological effects that occur when exposed to laser light with red light (650 nm). The study demonstrates that low-level laser scalp treatment every other day for 17 weeks is a safe and effective treatment for androgenetic alopecia. As a result, in patients receiving LLLT, the number of hairs increased by 51% compared to control patients receiving sham therapy. It is also worth noting that the improvement in hair count for both women and men was similar.
The next 16-week study [4] was involving 40 patients suffering from genetic hair loss and hair thinning. 20 people were randomly selected to receive a real LLLT system, and another 20 were given a placebo system. As a result, those who used the real LLLT system experienced an impressive increase in hair growth of more than 43% on average, compared with an increase of more than 5% for those who used the fake system in the placebo group.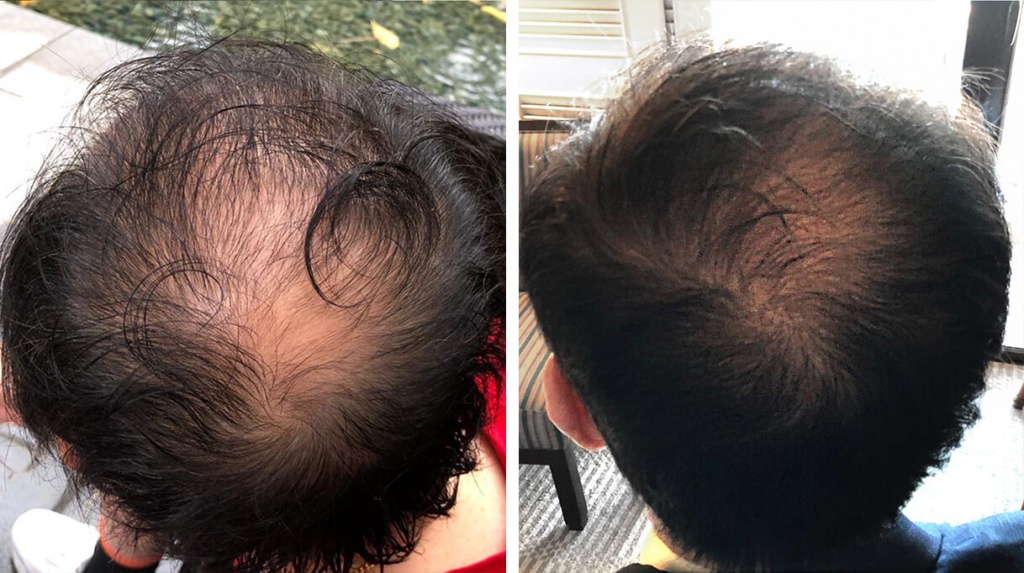 The last study [5] was including 40 patients with androgenetic alopecia. They were treated with a helmet-type home use LLLT device emitting wavelengths of 630, 650, and 660 nm, or a dummy device for 18 minutes a day. The study lasted 24 weeks. As a result of the treatment, the LLLT group showed significantly greater hair density than the simulated device group.
Studies have shown that low-intensity laser therapy stimulates hair growth and is an effective and safe treatment for androgenetic alopecia. It is also worth noting that although men and women have different patterns of hair loss, LLLT improves hair count equally for everyone.
iRestore vs Capillus: Which hair laser system is the best?
Various methods can be used to carry out LLLT. The therapy can be carried out in medical institutions using special lasers or panels. There are also many portable devices that patients can use at home.
Some of the most popular home devices are the iRestore laser cap and Capillus laser cap.
iRestore laser cap
iRestore laser cap uses 51 medical red-light lasers. This means that the entire cap is optimized to emit red light lasers, which are used to target the hair follicles of the scalp.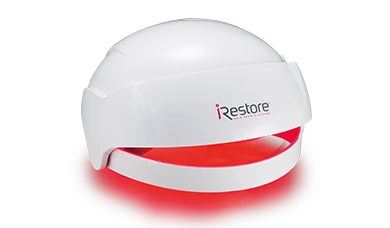 The device should be used for 25 minutes each session. For best results, it is recommended to use it every other day. The iRestore has a timer display to help you keep track of your treatment time. In addition, the helmet will automatically turn off after 25 minutes.
It is primarily intended for home use as the cap is not suitable for outdoor use and will require either a power outlet or a relatively bulky battery, unlike the Capillus laser cap, as it looks like a regular cap and comes with a portable battery.
If you follow the treatment regimen with the iRestore, you should see hair growth results in about three months, which is 4 times less than the Capillus laser cap. In addition, since this product is non-invasive, it can be combined with other hair strengthening and regrowth products such as oils, shampoos, and natural supplements.
Capillus Ultra laser cap
The Capillus is a portable device, making it a good option for those who travel a lot or who need to jog on business during laser hair growth treatments. When worn outside the home, it will not differ, as it looks like a regular cap.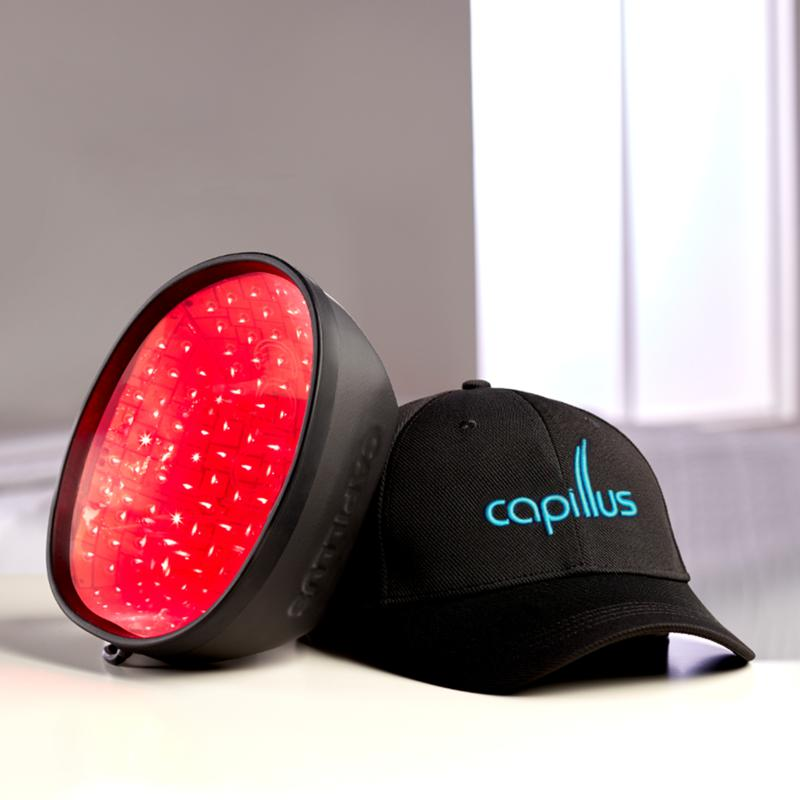 The cap itself has 82 low-level lasers, almost 2 times more than the iRestore, and has much more head coverage. It's also rechargeable and comes with a carrying bag to help you travel. The batteries last for about 30 days, so although users need daily treatment, they can be recharged monthly.
The product should be used within six minutes daily, which is 4 times less than using the iRestore laser cap. This model also shuts off automatically, so your scalp is not exposed for more than six minutes a day if you forget to time it.
Results usually start to be noticeable after 12 months of constant daily use. The maximum effect will appear after 24 months, which takes more time, than using the iRestore cap.
More information about the Capillus laser cap and real reviews in
our article
.
The verdict
Both products are designed for laser-based hair restoration. They are clinically proven to treat hair loss and improve the health of hair follicles with laser therapy in both men and women.
Capillus gains an advantage over the iRestore mainly due to the greater number of laser diodes, appearance, and session times that determine the success of the treatment.
It's worth noting, however, that iRestore promises to deliver results and show visible signs of improvement over 3 to 6 months of regular use, as opposed to 12-24 months of the Capillus cap. Plus, device prices vary. Therefore, if you are looking to save a couple of hundred dollars, you can opt for the iRestore, which is a decent hair restoration device.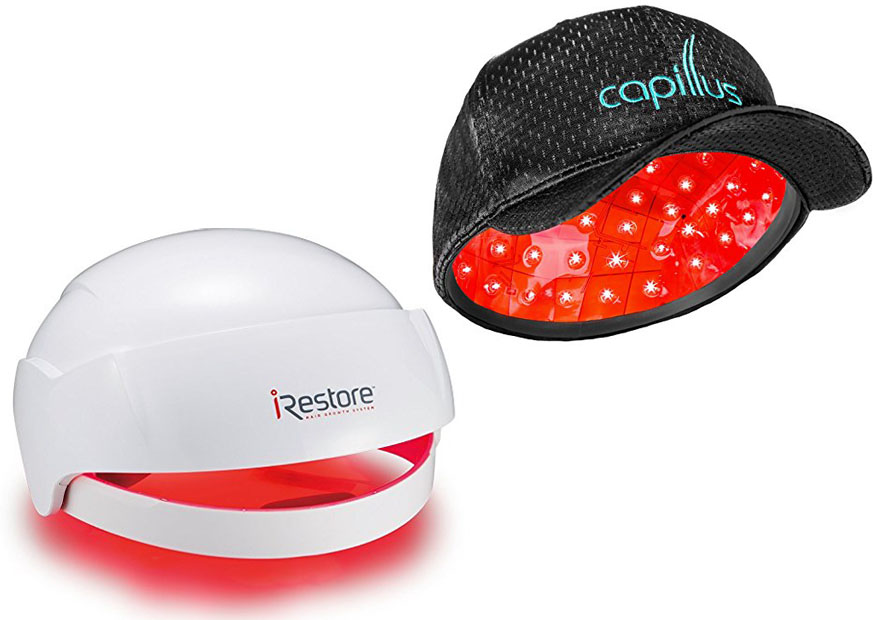 Summary
For those who are losing hair, there are many ways to keep it in place and revitalize the follicles to make them stronger and thicker. Red laser hair therapy is one way to stimulate growth and even repair dormant follicles.
While both red-light caps have been proven to work, the choice is up to you, depending on your lifestyle and the time you have for laser hair treatment. Remember, the most important part of using this remedy is consistency.
iRestore is better for those with a consistent home schedule and daily routine. Capillus may be more convenient for you if you have a busier schedule or are often on the go.
FAQ
🧐 Does LLLT work for hair loss treatment?
Low-level laser therapy is a clinically proven treatment for hair problems including receding hairline, thinning hair, and hair loss. Scientifically proven that hair becomes healthier and thicker in just 3-6 months. The peculiarity of hair growth lasers is that it is a non-invasive, safe and painless way to stimulate hair follicles to make hair thicker and healthier.
🧢 What is the most effective LLLT device for treating hair loss?
The most popular hair loss treatment devices on the market today are the iRestore laser cap and Capillus laser cap. Both devices are FDA certified and scientifically proven to be effective. The iRestore is better for those with a consistent home schedule and daily routine. Capillus may be more convenient for you if you have a more busy schedule. More detailed information about devices in our article.
📆 How long does laser hair therapy last?
It all depends on the treatment device. Typically, therapy is performed daily or every other day. With adherence to the treatment regimen, it usually takes 3 to 12 months to see noticeable results.
🔎 Are there any side effects of LLLT hair loss treatment?
Because LLLT is as safe as it is effective, this form of light therapy has no known long-term side effects.
Sources
Sabrina Mai-Yi Fan, Yu-Pin Cheng, Ming-Yung Lee, Sung-Jan Lin, Hsien-Yi Chiu. Efficacy and Safety of a Low-Level Light Therapy for Androgenetic Alopecia: A 24-Week, Randomized, Double-Blind, Self-Comparison, Sham Device-Controlled Trial. – Dermatol Surg. 2018 Nov;44(11):1411-1420. DOI: 10.1097/DSS.0000000000001577.
Jung Soo Yoon, Won Young Ku, Jang Hyun Lee, Hee Chang Ahn. Low-level light therapy using a helmet-type device for the treatment of androgenetic alopecia: A 16-week, multicenter, randomized, double-blind, sham device-controlled trial. – Medicine (Baltimore). 2020 Jul 17;99(29):e21181. DOI: 10.1097/MD.0000000000021181.
Shelly Friedman, Patricia Schnoor. Novel Approach to Treating Androgenetic Alopecia in Females With Photobiomodulation (Low-Level Laser Therapy). – Dermatol Surg. 2017 Jun;43(6):856-867. DOI: 10.1097/DSS.0000000000001114.
Hyojin Kim, Jee Woong Choi, Jun Young Kim, Jung Won Shin, Seok-Jong Lee, Chang-Hun Huh. Low-level light therapy for androgenetic alopecia: a 24-week, randomized, double-blind, sham device-controlled multicenter trial. – Dermatol Surg. 2013 Aug;39(8):1177-83. DOI: 10.1111/dsu.12200. Epub 2013 Apr 3.