Medically reviewed by
Noha Sami Hanafy
.
About 50% of men have signs of baldness by the age of 50 years, while about 40% of women experience hair loss. Therefore, it is not surprising that more and more people are trying to find the perfect hair loss treatment solution.
There are drugs, remedies, and therapies that promise everything from stopping hair loss to the formation of a thick, voluminous head of hair. But is it true?
In this article, we will talk about the increasingly popular hair loss treatment — laser therapy with the Capillus laser cap. We will consider the features of this device, its pros and cons, and reveal its effectiveness based on scientific research.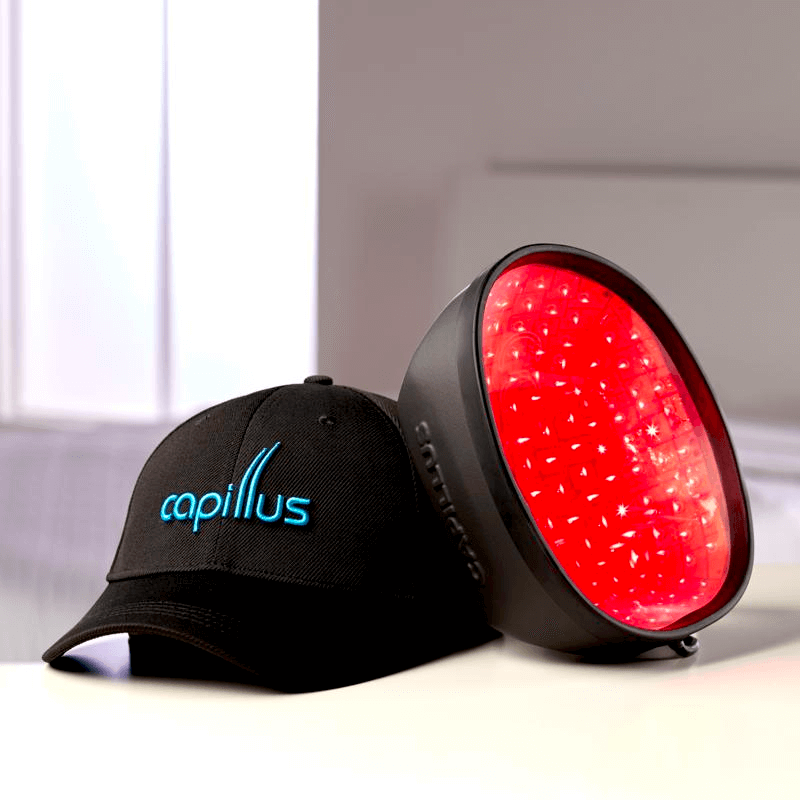 Capillus Ultra Laser Cap
About Capillus laser cap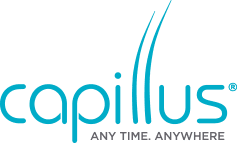 Capillus products are manufactured by Miami-based Curallux, LLC. They are a leader in medical devices for photobiomodulation therapy, formerly known as low-level laser therapy (LLLT). This treatment approach uses red or near-infrared light to stimulate, heal, regenerate, and protect tissue that has either been damaged or degenerated.
The company creates new personal technology products and ancillary products that can be used by men and women who care about their appearance and want to improve their health.
What Capillus laser cap work for
The company offers a variety of hair care services and products. They can stop further hair loss and promote new hair growth in some cases but, it doesn't reverse genetic diseases.
In 2007, the FDAFDA is a Food and Drug Administration standard that guarantees the quality and safety of the presented device. first approved low-level light therapy for the treatment of mild to moderate hair fall in the form of a laser cap designed to promote hair regrowth.
The company offers three main caps, each with a different total light output depending on the number of diodes: Ultra (410 mW), Plus (1010 mW), or Pro (1360 mW, which has 3.3 times more laser panels than the first device). These LEDs are safe and cool to touch. More diodes mean more coverage. This, in turn, gives faster results over the same period of use.
All models are designed to be worn for 6 minutes every day, allowing for an even distribution of light therapy. Customers are expected to see results within 6-12 months after using the cap regularly.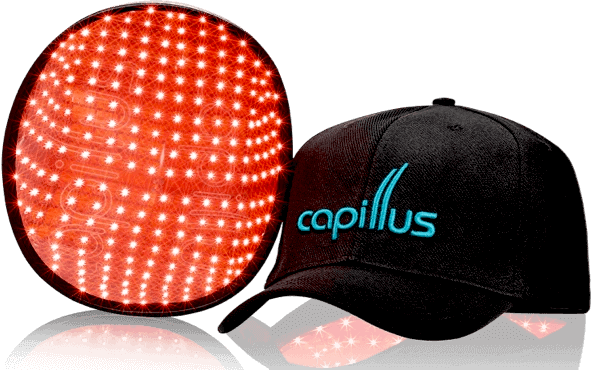 Capillus Ultra Laser Cap
How it works
Capillus uses a technique called photobiomodulation therapy to treat hair loss. The procedure is often shortened to PBMT. It is the medical application of laser science to stimulate cell function, rejuvenate tissues, accelerate healing, improve circulation, and reduce inflammation. This therapy is suitable for those with male and female pattern baldness.
When a person's hair begins to fall out and some or all parts of the scalp begin to go bald, it is usually caused by weak hair follicles. Thus, if a part of the head is bald, it is possible that the cells responsible for hair growth on that part are weak and cannot perform their duties effectively.
When this happens, the cells need the energy to continue to carry out their tasks. This is where the Capillus cap comes in handy. It consists of visible red laser light diode panels useful for stimulating the growth phase and nourishing the cells in hair follicles. Thus, with this stimulation, the cells will be able to efficiently perform their task, and you will begin to notice hair growth.

How effective is the Capillus laser cap? Based on scientific research
Androgenetic alopecia (AGA) is the most common form of hair loss in men and women. Despite frequent emergence, traditional treatments have shown little efficacy, and the search for new treatments continues. Low-level light therapy (LLLT) is a relatively new technique used to stimulate hair growth in both men and women.
Below are studies that support the efficacy of light therapy that is used in Capillus laser cap and other similar devices for hair loss.
A double clinical study [1] involved 40 patients (20 women and 20 men). They were randomized to be treated with a laser helmet or a sham helmet at home for 24 weeks. As a result, the laser helmet significantly outperformed the sham device for increasing hair density and diameter by 4.5 times and showed improvement in hair condition.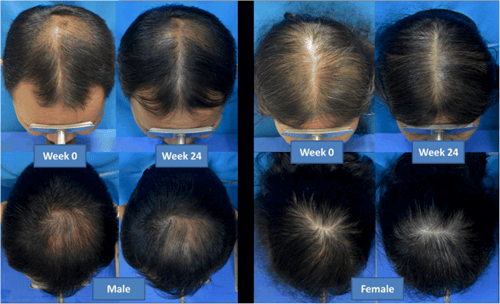 The following study [2] was carried out in several institutions and private clinics. Two groups of 146 men and 188 women with typical baldness were examined. A total of 128 men and 141 women were randomized to receive either a laser comb or a sham device and treated their entire scalp three times a week for 26 weeks. Among the patients who participated in the analysis, the average number of hairs increased from baseline by 20.2 per cm², which is an effective treatment. In addition, a large number of patients treated with the laser cap reported an overall improvement in hair loss, hair thickness, and hairiness compared with patients receiving sham therapy.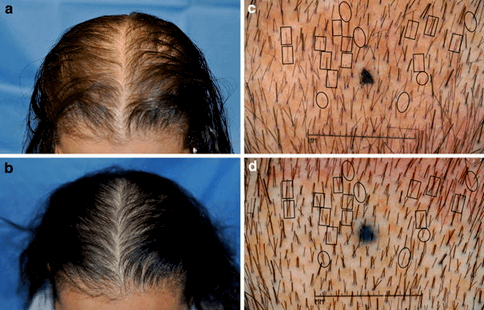 The following study [3] recruited 47 women with androgenic alopecia. Two groups were created: the first was treated with a red light laser (655 nm), the second was a placebo. Patients received treatment at home every other day for 16 weeks. The results showed a 37% increase in hair growth in the active treatment group compared to the placebo group.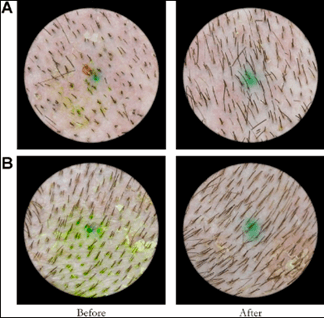 The latest study [4] included 44 men with signs of hair loss. The first group received treatment with a helmet that emitted red light, the second group received placebo treatment. Patients are treated at home every other day for 16 weeks. As a result, a 39% increase in hair was demonstrated in the light therapy group.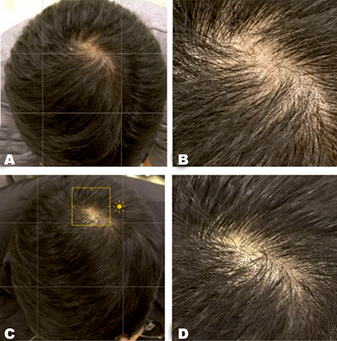 Based on research, it can be concluded that laser red light therapy is an effective treatment for hair loss in both men and women. However, it should be noted that the treatment is long-term, and noticeable results can be seen after 6 months.
Read also about HairMax Laser Comb that helps to deal with hair loss.
Customer reviews about Capillus laser cap
Ease of use
"I like this type of head-mounted laser device and move around because it has a battery pack. This laser is suitable for the treatment of baldness and shows incredible results."
Effective device
"I used plenty of creams, took pills and drugs prescribed by the doctor to heal my thinning hair. As a result, I got nothing but a lot of wasted money. Seeing this device, I got very excited and decided to try it. I have been using this device for 5 months following the directions for 6 minutes a day and I can already tell that it works. My scalp is filling so much that I can see new hair. For some reason, I couldn't grow my bangs for about a year. And now I notice hair growing in this part. I'm so excited."
A good alternative to other treatments
"As a doctor, I can claim that laser therapy works great for any person, be it men or women. I believe that some women are not suitable for hair transplantation due to their density is insufficient. Light therapy does not have these contraindications, since it stabilizes the progression of thinned hair."
Pros and cons of Capillus laser cap
Pros
Easy to use
Clinically tested
cleared with no side effects
Effective for androgenetic alopecia, a common pattern of hair loss in both men and women
Cons
Capillus products and treatments are expensive
Not intended for children under 13
Worthy Alternatives
Сapillus laser cap is an effective device for hair growth, but many people note its high cost. Based on this, we provide you with worthy alternatives that do not compromise on device quality or efficiency.
HairMax Laser Comb
– Using red laser diodes that stimulate hair follicles to reverse thinning and stimulate hair growth;
– Fast procedure — only 11 minutes a day;
– Wireless and portable, suitable for travel.
– The first laser hair growth comb that can be used with serum;
– Biotin nourishes the scalp, strengthening roots and reducing hair loss;
– Multiple сlinical studies prove safety for hair growth.
Hairmax laser comb, the quick and easy solution to thinning hair. It contains laser diodes emitting red light at 650 nm. The comb has 144 laser diodes arranged in 9 rows of 16 diodes each. This stimulates the cells that are responsible for hair growth, just like in the Capillus laser cap. The device includes a patented mechanism for separating the hair. The teeth separate the hair to help deliver maximum energy to the skin for optimal results.
The device is wireless, making it very portable and also ideal for travel.
It is recommended to use this device 3 times a week for 11 minutes. Users get their first visible results in just 3 months.
Laser Comb with Biotin is a device designed for hair growth promotion. The device is based on low-intensity laser and LED light therapy, combined with vitamins and minerals to enhance bio-stimulated hair regrowth.
The product is made in the form of a small comb emitting red light (650 nm). The biotin serum is placed in the comb's liquid storage container. By clicking on the Liquid Out column, it can easily flow out, nourishing the hair and scalp, strengthening the roots, awakening hair, and reducing hair loss.It is recommended to use the device once a day for 5 minutes per session. Users notice the first noticeable results after 5 months.
Wet Brush is a device that was birthed out of sheer necessity. Its creator suffered from severely damaged hair that broke off and needed some serious help. She spent years developing an ergonomically friendly brush that won't catch or pull the hair but detangles without sacrificing its strength. The patented design helps to cut down on frizziness and static.
The Wet Brush is designed to not only cut down on hair breakage but also split ends. It can be used on wet or dry hair and works great for all types of hair, especially thick curly textures like afro-textured hair. Also, you can instantly cut down on blow-drying time by 50%, while making your hair healthier in the long run.
Note:
Does not emit red light.
Summary
Laser therapy is actively developing both in medicine and in cosmetology. For many, laser treatment of alopecia is almost the last hope for the return of lost hair.
Capillus is a state-of-the-art laser hair growth attachment designed to reverse hereditary hair loss in both men and women. Short session period and easy use, allows you to treat wherever you are. However, it should be borne in mind that the appearance of the first noticeable results is noted at the 6th month of using this device.
Also, the Capillus laser cap has no side effects and is FDA-approved as well as clinically tested.
This article was medically reviewed by Noha Sami Hanafy,
PhD in Medical Applications of Laser in dermatology. 
FAQ:
🔴 Does red light help hair growth?
Red light laser therapy stimulates the growth phases of cells in hair follicles. Thus, with this stimulation, the cells will be able to efficiently perform their task, and you will begin to notice hair growth.
🧐 Are Capillus lasers caps safe?
Yes, laser light treatments have been approved by the FDA as a safe treatment for hair loss. Also, Capillus uses a special type of low-level laser light that is visible red light with a wavelength of 650 nm. The ability of red light is regenerative and does not damage skin cells.
🥵 Can I get burned while using the cap?
No, Capillus laser cap diodes are cool to the touch, which means that the treatment will be comfortable and painless.
🗓 How long does it take to grow hair with Сapillus laser cap?
In most cases, the first noticeable hair growth results are observed after 6 months, provided that the cap is used every day for 6 minutes.
Sources
Poonkiat Suchonwanit, Noppanun Chalermroj, Saranya Khunkhet. Low-level laser therapy for the treatment of androgenetic alopecia in Thai men and women: a 24-week, randomized, double-blind, sham device-controlled trial. – Lasers Med Sci. 2019 Aug;34(6):1107-1114. DOI: 10.1007/s10103-018-02699-9. E-pub 2018 Dec 19.
Joaquin J. Jimenez, Tongyu C. Wikramanayake, Wilma Bergfeld, Maria Hordinsky, Janet G. Hickman, Michael R. Hamblin, Lawrence A. Schachner. Efficacy and safety of a low-level laser device in the treatment of male and female pattern hair loss: a multicenter, randomized, sham device-controlled, double-blind study. – Am J Clin Dermatol. 2014 Apr;15(2):115-27. DOI: 10.1007/s40257-013-0060-6.
Raymond J. Lanzafame, Raymond R. Blanche, Richard P. Chiacchierini, Eric R. Kazmirek, Jeffrey A. Sklar. The growth of human scalp hair in females using visible red light laser and LED sources. – Lasers Surg Med. 2014 Oct;46(8):601-7. DOI: 10.1002/lsm.22277. E-pub 2014 Aug 13.
Raymond J. Lanzafame, Raymond R. Blanche, Adam B. Bodian, Richard P. Chiacchierini, Adolfo Fernandez-Obregon, Eric R. Kazmirek. The growth of human scalp hair mediated by visible red light laser and LED sources in males. – Lasers Surg Med. 2013 Oct;45(8):487-95. DOI: 10.1002/lsm.22173.
Friedman S, Schnoor P. Novel Approach to Treating Androgenetic Alopecia in Females With Photobiomodulation (Low-Level Laser Therapy). Dermatol Surg. 2017;43(6):856-867. doi:10.1097/DSS.0000000000001114.
Lueangarun S, Visutjindaporn P, Parcharoen Y, Jamparuang P, Tempark T. A Systematic Review and Meta-analysis of Randomized Controlled Trials of United States Food and Drug Administration-Approved, Home-use, Low-Level Light/Laser Therapy Devices for Pattern Hair Loss: Device Design and Technology. J Clin Aesthet Dermatol. 2021;14(11):E64-E75.