Nearly 40% of the US currently uses some form of light therapy, and this number is expected to increase. This is because people are dissatisfied with traditional treatments (especially drugs with potential side effects), seek personal control over themselves, and look for more natural treatments that do not involve surgical intervention.
However, to make sure that light therapy does not harm you and brings benefits, you need to take the choice of machines seriously. That is why we decided to tell you about medical-grade devices that combine both effective treatments and are completely safe.
After reading the article, you will learn about what these devices are, and how to differentiate them from customer ones. We will also consider the most popular models on the market so that you can join alternative treatment today.
Dr. Dennis Gross SpectraLite FaceWare Pro

Best anti-aging and acne treatment device
✓ The most effective anti-aging and acne treatment device, thanks to the combination of red and blue light, which promotes collagen production, reduces redness and fights acne-causing bacteria;

✓ Mask design that adheres tightly to the skin, which allows you to treat conditions without downtime.


More info

iRestore Essential

Best device for generalized hair loss treatment
✓ Most effective for extensive hair loss in different parts of the head, due to the design that covers the entire head;

✓ Does not require constant hand movements that need concentration and interrupting routine activities.



More info

HairMax LaserComb

Best device to treat specific areas of thinning hair
✓ Most effective for those who want to treat bald spots and certain areas of thinning hair, due to medical lasers that have direct contact with the scalp, stimulating hair growth;

✓ Best for people with a strict schedule due to short treatment time (only 8 minutes per day).



More info

DPL Flex Pad

Best device for pain relief
✓ The most effective device for pain relief, due to the combination of red and infrared light, which penetrates deep into tissues and improves blood circulation, as well as stimulates cell regeneration;

✓ Designed for use on various areas of the body (neck, back, arms, legs) due to its flexible shape.

More info
What is a medical-grade red light?
Medical red light therapy is a type of light therapy that uses red or near-infrared light to treat a variety of conditions. Unlike some other types of light therapy, medical red light therapy usually includes licensed devices that have been properly tested for safety and efficacy.
Red light therapy provides many benefits for the skin and body. Some of the biggest aesthetic benefits of red light therapy include smoother skin tone, reduced inflammation, improved collagen levels, and treatment of acne, fine lines, and wrinkles.
However, red light therapy is not just a cosmetic procedure. It also has a positive effect on solving the problem of inflammation which helps in various symptoms, from fatigue and fever to pain in the stomach, chest, and joints:
Non-invasive;
No injections;
Can be used from the comfort of your own home.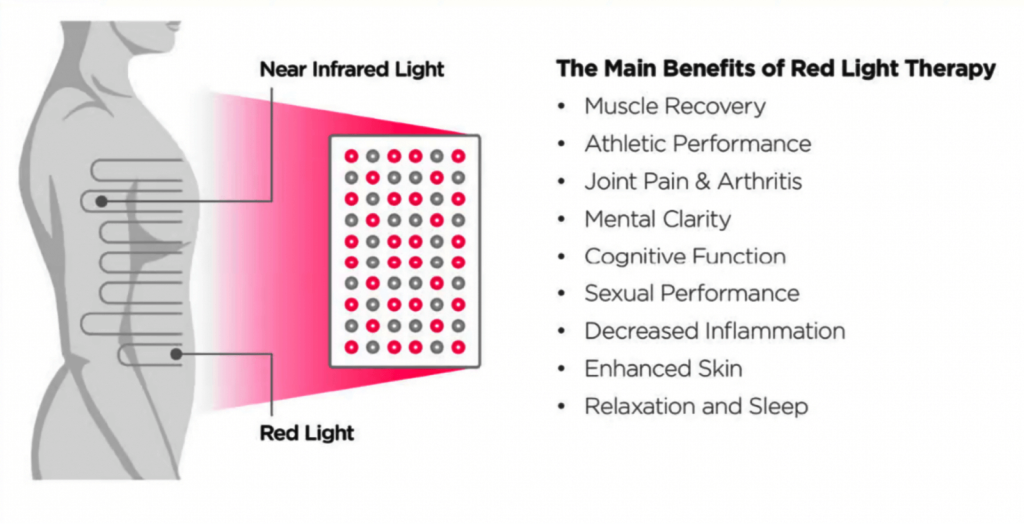 Top medical-grade red light therapy devices
Dr. Dennis Gross SpectraLite FaceWare Pro
Dr. Dennis Gross SpectraLite FaceWare Pro is an LED mask that offers a fast way to achieve smooth, clear, and youthful skin at home.
SpectraLite FaceWare Pro uses medical-grade red and blue light therapy for optimal results. Red light promotes collagen production and circulation, while blue targets acne-causing bacteria. Together, these two wavelengths improve the overall appearance of your skin.
When it comes to the safety and effectiveness of LED masks, the most important differentiating factor is design. The patented design of the SpectraLite FaceWare Pro mask uniquely conforms directly to the skin and conforms to all facial contours, allowing the condition to be treated with no downtime.
Users report improvement in skin tone and acne after 3-minute sessions daily for 2 weeks.
If you're looking for a safe and effective way to achieve professional-quality results at home,
LED masks
are the perfect solution. Try it today and see the difference for yourself.
HairMax LaserComb
HairMax LaserComb is a device that uses medical-grade red light to stimulate hair growth. The comb can be used by both men and women to treat androgenetic alopecia, also known as baldness.
It is a hand-held device that is used to comb hair like a regular comb. It delivers low-level (655nm) laser energy to the scalp, which is absorbed by the follicles. This stimulation promotes hair growth as well as thickening.
This device will be most effective for a person who wants to treat bald spots and certain areas of thinning hair, as this comb only includes 12 lasers, and will not cover the entire head like iRestore Essential.
According to the user manual, the Hairmax has a processing time of just 8 minutes, three days a week. Compared to competing brands, this is significantly shorter than the norm.
iRestore Essential
iRestore Essential is a revolutionary device that uses clinically proven medical-grade red light therapy to stimulate hair growth. Like the HairMax, the device blocks DHT (dihydrotestosterone), the hormone that causes genetic hair loss.
If you suffer from generalized hair loss in different areas of your head, iRestore Essential is perfect for you. Also, it is superior to laser combs as it sits motionless on the head and does not require constant hand movements that need concentration and interrupt normal activities.
It is safe and easy to use. However, keep in mind that you need to use the device for 25 minutes a day, which is almost 3 times more than with HairMax. But after 4-6 months, you can start to see visible hair growth.
If you're looking for more hair loss treatment options, check out the
laser caps
, which have also been proven to be effective and beneficial.
DPL Flex Pad
The DPL Flex Pad is a comfortable, easy-to-wear device to help relieve pain. It uses medical-grade infrared and red light therapy to reduce symptoms by stimulating cells and improving circulation.
The DPL Flex Pad is conveniently designed to be used on various areas of the body. Due to its flexible shape, it can easily conform to the contours of your body, such as the lower back, neck, and calves. The pad also has two adjustable straps that allow you to customize the fit and pressure.
Each recommended therapy session is 20 minutes, with a maximum of 40 minutes. The DPL Flex Pad lasts for three uses and is then easily recharged.
Before and after results
Medical-grade red light therapy devices have been cleared by the FDA for a variety of indications, including the treatment of wrinkles, temporary relief of muscle and joint pain, and even the healing of wounds. But what about the before-and-after results?
Below, we take a closer look at the results of red light therapy on real people who have used this type of treatment.
Red light therapy for the face is one of the latest trends in skin care, from reducing wrinkles to fighting acne. Find out more about treatment and worthy options
in our article
.
Scientifically proven benefits of red light therapy
Red light therapy is part of the visible spectrum, between 630 and 700 nanometers. It is usually used to treat conditions such as acne or wrinkles, but it can also be applied to speed up wound healing, treat skin infections, and relieve pain.
Below we take a closer look at each of the conditions and the effects of red light therapy.
Skin rejuvenation
Skin aging is a natural process that is characterized by a loss of collagen, elastin, and hyaluronic acid. These substances are responsible for the skin's firmness, elasticity, and hydration. As we age, our bodies produce less of these substances, resulting in wrinkles, sagging skin, and dryness. Red light therapy can help to counteract these effects of aging by increasing collagen production and improving skin elasticity.
The study [1] was involving elderly patients and individuals with incipient photoaging. One side of their skin was irradiated with red light (660 nm) for 12 treatments. The results showed that more than 90% of people experienced a reduction in the depth of wrinkles and skin roughness. No side effects were reported.
The following study [2] confirms the effectiveness of red therapy for age-related changes. 13 patients with wrinkles or fine lines received nine-light treatments lasting 20 minutes using light therapy (a combination of 633 and 830 nm wavelengths). As a result, after 12 weeks of follow-up, 91% of patients reported an improvement in skin tone and 82% reported an improvement in skin smoothness in the treated area.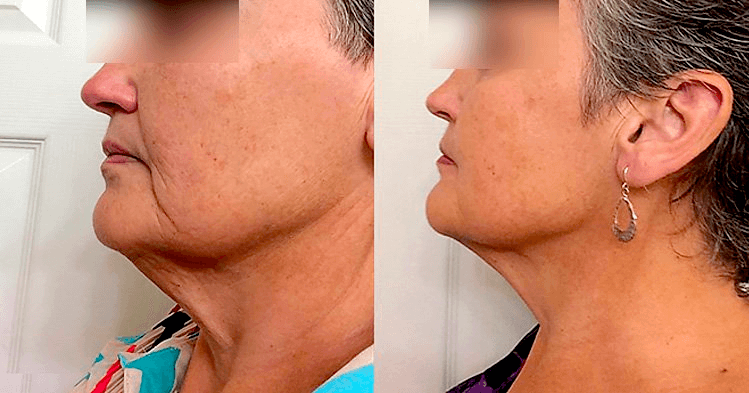 Acne treatment
Acne is a common skin condition that affects millions of people worldwide. It is characterized by the presence of pimples, blackheads, and whiteheads. Acne occurs when the hair follicles become clogged with sebum, bacteria, and dead skin cells. This lead to inflammation and the formation of pimples.
Red light therapy is an effective treatment for acne by reducing inflammation and killing bacteria.
The study [3] involved 24 patients with mild to moderate facial acne. They were treated with LED therapy with alternating blue (415 nm) and red (633 nm) light. The treatment was carried out twice a week for 4 weeks. The results showed an impressive improvement in non-inflammatory and inflammatory lesions, which were 34.28% and 77.93%, respectively. Measurements also showed that melanin levels dropped significantly after treatment. As a result, 14 patients reported improved skin tone and texture.
The next study [4] included 30 acne patients which using a blue light. For 4 weeks, patients received 8, 10, or 20 minutes of light treatments. The results showed that an overall effect on the number of inflammations was observed at the 5th week, and a statistically significant reduction in the number of inflammations was found at 8 weeks.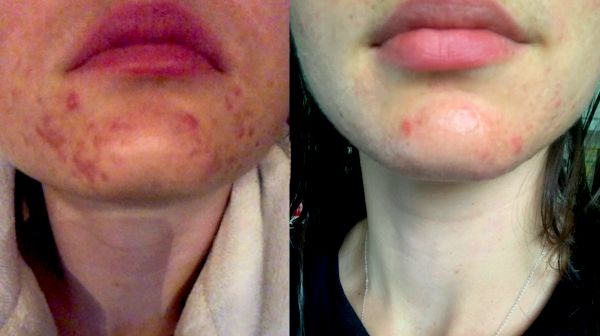 Pain relief
Red light therapy is an effective pain treatment. It works by stimulating the production of ATP, a molecule that is responsible for the body's energy production. When the body produces more ATP, it reduces inflammation.
A study [5] was aimed at investigating the effectiveness of light therapy for joint disease. The research involved 50 patients with osteoarthritis of both knees. They were randomly assigned to three phototherapy groups: red (15 patients), infrared (18 patients), and placebo (17 patients). The course of treatment was carried out for 10 days.
The result showed a decrease in pain in the red and infrared groups and amounted to more than 50%. There was no significant reduction in pain in the placebo group.
Hair loss treatment
Hair loss is a common condition that affects millions of people worldwide. Hair loss can be caused by a number of factors, including genetic predisposition, age, hormones, and stress.
Red light therapy has been shown to be an effective treatment for hair loss.
The study [6] was conducted to determine the physiological effects that occur when exposed to laser light with red light (650 nm). The study demonstrates that low-level laser scalp treatment every other day for 17 weeks is a safe and effective treatment for androgenetic alopecia. As a result, in patients receiving light therapy, the number of hairs increased by 51% compared to control patients receiving sham therapy. It is also worth noting that the improvement in hair count for both women and men was similar.
The following study [7] was carried out in several private clinics. 128 men and 141 women were randomized to receive either a laser comb or a sham device and treated their entire scalp three times a week for 26 weeks. As a result, the average number of terminal hairs at week 26 increased by 20.27 cm² from baseline. The increase in hair density did not depend on the age and gender of the subject. In addition, 70 percent of patients treated with a laser comb reported an overall reduction in hair loss.

Weight loss
Red light therapy has been shown to be an effective treatment for weight loss. It helps reduce body fat by stimulating an increase in metabolism.
A randomized placebo-controlled study [8] was involving 67 participants. They were randomly assigned to low-level laser treatment (635 nm) or a corresponding sham treatment 6 times for 2 weeks. As a result, participants in the laser-used group showed a 3.5″ reduction in total circumference in all areas (waist, hips) compared to the control group, which showed a 0.7″ reduction.
The latest study [9] confirms the effectiveness of weight loss with light therapy. 689 participants were exposed to light radiation. Participants underwent a total of six LLLT procedures over 2 weeks. The average decrease in the waist, hip, and hip circumference 1 week after the treatment regimen was 3.27″. In addition, participants showed an overall average decrease of 5.17″ across all measurement points (waist, hips, arms, knees).
What are the differences between medical-grade and customer devices
There are several key differences between medical-grade and consumer devices.
〰 Wavelengths
The medical-grade device will feature only the most widely studied and clinically validated red (630 and 660 nm) and near-infrared (810, 830, and 850 nm) wavelengths. They have been tested for remedial effects on the human body.

Also, consumer device manufacturers often hide what wavelengths are used in their devices, as opposed to medical-grade.
✅ FDA approval
FDA is a Food and Drug Administration standard that guarantees the quality and safety of the presented device.
All medical-grade devices are marked with the "FDA" icon and are created by the organization's strict guidelines. Therefore, they confirm the high quality, efficiency, and safety of use.
However, some consumer device manufacturers state that their products do not require FDA approval or registration because they are classified as "low-risk general health/fitness products." Therefore, using them you cannot be sure of complete safety and effectiveness.
💸 Cost
Medical-grade devices are more expensive than consumer devices. This is due to the higher quality standards and the additional safety features. However, the extra cost may be worth it for those who need a device that will provide more accurate and reliable results.
📑 Warranty
Consumer devices very often only come with a one-month warranty, while medical devices offer to range from 1 year up to 5 years.
Because buying a device is a significant investment, it's important to understand that not all warranties are the same, so be sure to check the warranty policy for any device you plan to purchase.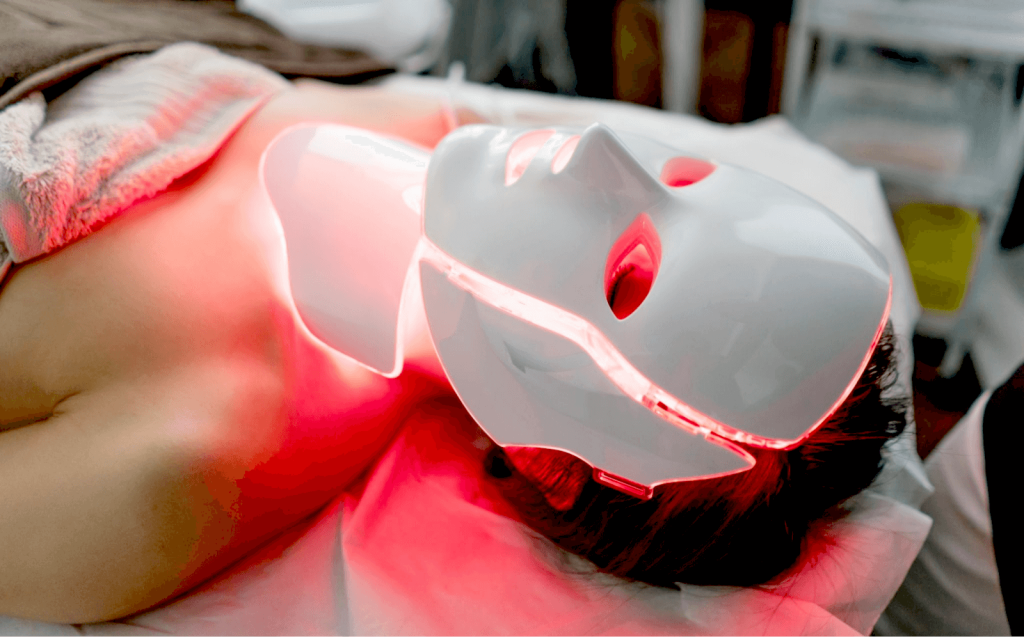 Summary
The interest in red light therapy continues to grow, with many devices appearing, making this service even more attractive. However, how to determine whether this device will be effective and will not cause harm?
Medical grade light therapy devices are the most efficient use of light energy, providing wide coverage without harming the patient. Today's technology has made medical devices available for consumer use. You get the same effective treatment as in a professional, in the comfort of your own home.
FAQ
🧐 What are medical-grade red light therapy devices?
These are specialized FDA-approved devices that emit red and near-infrared light waves of a specific wavelength and intensity. They are used to treat various conditions, such as pain, inflammation, skin conditions, and wound healing.
🔍 What conditions can be treated with medical-grade red light therapy devices?
These devices have been shown to be effective in treating a variety of conditions, including pain, inflammation, skin conditions, and wound healing.
📌 Are medical-grade red light therapy devices safe?
Yes, these devices are considered to be safe when used as directed. However, it is important to consult with a healthcare professional before using one of these devices to ensure that it is appropriate for your specific condition.
Sources
Daniel Barolet, Charles J. Roberge, François A. Auger, Annie Boucher, Lucie Germain. Regulation of skin collagen metabolism in vitro using a pulsed 660 nm LED light source: clinical correlation with a single-blinded study. – J Invest Dermatol. 2009 Dec;129(12):2751-9. DOI: 10.1038/jid.2009.186. Epub 2009 Jul 9.
Fabien Baez, Laurence R. Reilly. The use of light-emitting diode therapy in the treatment of photoaged skin. – J Cosmet Dermatol. 2007 Sep;6(3):189-94. DOI: 10.1111/j.1473-2165.2007.00329.x
Seung Yoon Lee, Chung Eui You, Mi Youn Park. Blue and red light combination LED phototherapy for acne vulgaris in patients with skin phototype IV. – Lasers Surg Med. 2007 Feb;39(2):180-8. DOI: 10.1002/lsm.20412.
C. Morton, R. Scholefield, C. Whitehurst, J. Birch. An open study to determine the efficacy of blue light in the treatment of mild to moderate acne. – J Dermatolog Treat. 2005;16(4):219-23. DOI: 10.1080/09546630500283664.
J. Stelian, I. Gil, B. Habot, M. Rosenthal, I. Abramovici, N. Kutok, A. Khahil. Improvement of pain and disability in elderly patients with degenerative osteoarthritis of the knee treated with narrow-band light therapy. – J Am Geriatr Soc. 1992 Jan;40(1):23-6. DOI: 10.1111/j.1532-5415.1992.tb01824.x.
Shelly Friedman, Patricia Schnoor. Novel Approach to Treating Androgenetic Alopecia in Females With Photobiomodulation (Low-Level Laser Therapy). – Dermatol Surg. 2017 Jun;43(6):856-867. DOI: 10.1097/DSS.0000000000001114.
Joaquin J. Jimenez, Tongyu C. Wikramanayake, Wilma Bergfeld, Maria Hordinsky, Janet G. Hickman, Michael R. Hamblin, Lawrence A. Schachner. Efficacy and Safety of a Low-level Laser Device in the Treatment of Male and Female Pattern Hair Loss: A Multicenter, Randomized, Sham Device-controlled, Double-blind Study. – Am J Clin Dermatol, DOI 10.1007/s40257-013-0060-6.
Robert F. Jackson, Doug D. Dedo, Greg C. Roche, David I. Turok, Ryan J. Maloney. Low-level laser therapy as a noninvasive approach for body contouring: a randomized, controlled study. – Lasers Surg Med. 2009. Dec;41(10):799-809. DOI: 10.1002/lsm.20855.
Robert F. Jackson, Fredric A. Stern, Rodrigo Neira, Clara L. Ortiz-Neira. Application of Low-Level Laser Therapy for Noninvasive Body Contouring. – Lasers Surg. Med. 44:211–217, 2012. https://doi.org/10.1002/lsm.22007.