Hair loss — a widespread problem. The causes of hair loss are many, from genetic predispositions to stress and bad nutrition, which can cause the hairs to become thinner and fall out.
Light therapy has been used as the first line of treatment for hair loss since 2000, and it is very effective in many cases. It can stop hair loss and even induce growth.
In this article, we will consider this type of treatment, its features, advantages, disadvantages. We will also study what are the most popular devices for hair loss treatment on the market and consider how effective they are, based on real customer reviews.

Kiierr272Premier-MD Laser Hair Cap

Hair Max - PowerFlex Laser Cap 272

Hair Max - LaserBand 82 - ComfortFlex

iRestore Professional

CapillusPro
The number of laser diodes: 272
Weight: 7 lbs
Dimensions: 12 × 14 × 6 inch
- Automatic timer for safe use;
- Wide and deep base for thicker hair even on the sides/back of the scalp.

The number of laser diodes: 272
Weight: 4.56 lbs
Dimensions: 13 x 11 x 5 inch
- Dual-mode technology to select constant or pulsed laser lightwave — 15 minutes or 30 minutes treatment time;
- Rechargeable battery pack for portability.
The number of laser diodes: 82
Weight: 0.6 lbs
Dimensions: 12 х 10 х 5 inch
- Very lightweight yet powerful;
- Flexible band design for comfortable treatment.
The number of laser diodes: 82
Weight: 2.2 lbs
Dimensions: 11 x 10 x 6 inch
- Built-in automatic shutdown which prevents the risk of overuse;
- Convenient to use — there are medical foam cushions around it, so using it is completely painless.
The number of laser diodes: 272
Weight: 4.95 lbs
Dimensions: 13 x 11 x 6 inch
- Safety function — the treatment session is automatically paused when the cap is removed from the head;
- There is a mobile application for tracking treatment.
What is a laser cap?
A laser cap is a scalp-worn attachment that emits red and infrared lasers.
Laser caps for hair loss treatment use low-level light therapy to stimulate the scalp and boost blood circulation in the area. They are worn on the head for 30-60 minutes daily. Laser therapy may help delay or even prevent further hair loss.
Laser hair regrowth devices are available for purchase in a variety of formats, including helmets, caps, combs, and headbands.
How does a laser hair growth device work?
All hair that a person has is in one of three phases of the growth cycle: anagen, catagen, and telogen. Anagen is the growth phase, catagen is the transition phase, and telogen is the resting phase.
When your hair is in the catagen or telogen phase, it doesn't grow. When it is in the anagen phase, it is actively growing.
When hair loss occurs, some of your hair follicles may become dormant and unable to produce hair during the growth phase. This leads to the fact that over time, areas of the head become noticeably thinner until the follicles eventually die.
Low-intensity laser therapy (LLLT) can reverse thinning hair by delivering light energy to your hair follicles. It stimulates cell metabolism and increases energy production (in the form of adenosine triphosphate or ATP).
This biochemical process counteracts hair loss by prolonging the phase of the growth cycle, which reactivates dormant follicles and promotes regeneration.
Top 5 Laser cap devices
Kiierr272Premier-MD Laser Hair Cap
Pros
XL cap size that fits up to 24″ circumference;
Uses only medical grade laser diodes;
Portable and easy to use;
Proven and

FDA

cleared for efficacy and safety;
Risk-free trial period (you can get a full refund within 7 months of purchase).
Cons
Results are better for light skin than a dark one;
Requires more frequent battery recharging than other devices.
Kiierr272Premier-MD Laser Hair Cap is a device that provides laser therapy to the scalp. It is based on an FDA-approved technology known as low-level laser therapy (LLLT). The device claims to be able to help user grow back their hair by stimulating blood flow in the scalp.
The compact design of the Kiierr272 allows it to fit into any size head (up to 24"). Also, this device has a long and wide base that provides coverage across different sections on your scalp — including those around edges like temples.
It is recommended that you use this device for 30 minutes every day. The cap signals at 10-minute intervals to let you know how far you have come in your treatment. After the allotted time, the timer will work and the device will turn off to avoid overexposure.
Kiierr272Premier-MD Laser Hair Cap reviews
Since I started using the laser cap and the blocking vitamins the hair loss stopped
"I have been suffering from hair loss for years and it had become a major problem. Every time I showered, there were large clumps of my hair falling out onto the floor. Thankfully after getting laser cap treatment as well as some blocking vitamin supplements this has started improving drastically. I'm happy about these results."

Thomas, MD
Great experience
"I am 73 years old and my hair has thinned over the last few years. Now I have only been using the cap for a few months and have already noticed that my hair is fuller. I ordered a Kiierr laser cap with shampoo conditioner vitamins and I'm so impressed — they've exceeded all expectations."

Anna, FL
Hair Max — PowerFlex Laser Cap 272
Pros
Effective for androgenic alopecia and other types of hair loss;
The laser cap includes a skin-friendly silicone insert that hides internal diodes;
Controller with timer and battery level indicator for ease of use;
It is approved by

FDA

for safety.
Cons
 It is expensive when compared to similar products.
Hair Max — PowerFlex Laser Cap 272 is a revolutionary new hair loss treatment that helps restore the natural hair growth cycle, resulting in new and thicker strands. This device emits laser light using medical LEDs that are positioned and precisely aligned inside the laser cap to stimulate hair growth evenly.
This device has dual-mode technology. You can choose the type of laser light wave (constant or pulsed) that will be applied to your skin. The time of your treatment will depend on this — 15 or 30 minutes, 3 days a week.
Due to the controller with timer and battery level indicator, you will always get the perfect treatment without the worry of overexposure.
Hair Max — PowerFlex Laser Cap 272 reviews
Worth the money
"The device is great! It's handheld so you can use it when you do your household chores. The flex-fit design of this product makes all the difference in comfort over other brands, especially when compared to their hard plastic counterparts which caused me pain after wearing them for too long at a time. My only complaint would be recharging, but since we're avoiding big heavy battery packs on our devices anyway I think that's an acceptable trade-off between power efficiency and portability."

Jeremy, AR
High-quality and comfortable product
"The PowerFlex 272 is a high-quality product that provides a comfortable head treatment. I've seen other devices and they don't come close to comparing in terms of comfortability, ease-of-use, or design detail with this one. The silicone liner on this machine is so soft you'll forget that you have a cap on your head. I'm really impressed."

Kare, NJ
Pros
Fastest treatment time — just 90 seconds, 3 days a week;
Lightweight, handy, portable, and practical for use at home or on the go;
The device is safe to use as it is approved by the

FDA

.
Cons
Not tested on black skin tones;
Less head coverage than others.
Hair Max — LaserBand 82 — ComfortFlex is a device that many swear by. People who have used it claim that they were able to regrow their hair and in some cases, eliminate the need for hair transplants.
This device uses 82 medical lasers that stimulate hair follicles to promote growth. The soft-touch prongs in the band separate the hair, delivering light energy more efficiently.
The manufacturer claims that this device takes the least time to treat hair — just 90 seconds, 3 days a week.
More information about the
HairMax
company and its devices —
in our article.
Hair Max — LaserBand 82 reviews
Amazed at growth!
"I won't say I was always a believer in the HairMax laser Band 82. Trying this out seemed worth a shot for me anyways. The first few times using may have been kind of ticklish if you're not used to scalp treatments. Now after six months I'm impressed to see how quickly my hair grew back compared to other methods."

Lisa, OK
It really works!
"I was skeptical at first but I'm glad to say that this product does work. My hair thinning had been a problem for about a year and it seemed like nothing could help me until now. The Hair Max – LaserBand 82 is perfect because you can use it three times per week without having any negative effects on your busy schedule, plus laser therapy only takes 5 minutes each session. Also, it's super convenient when traveling."

Denise, OR
Pros
Has two sensors placed inside the cap to prevent the laser from emitting when not worn on the head;
Versatile (for any head size);
Durable (more than 5 years);

FDA

approved for hair loss treatment.
Cons
During treatment, you must remain connected to the mains (but you can become fully mobile by purchasing a rechargeable battery).
The iRestore Professional has been designed for both men and women with a receding hairline, baldness, and thinning hair.
The iRestore Professional is durable, lightweight, and features an advanced ventilated design. The system is designed to provide airflow and breathability to keep your head cool and comfortable.
What's more, the device is also designed for optimal comfort, with ultra-soft medical foam cushions that lightly hug your head.
It is recommended to use the device every other day for 25 minutes sessions. Also, IRestore Professional has a built-in LED display that shows the remaining time of each session.
For more information on the
iRestore laser cap
and its effectiveness based on multiple customer reviews,
read our article.
iRestore Professional reviews
It works but takes time
"I was getting fed up with my thinning hair. I found out later on that it was due to PCOS and stress. After months of reading reviews online about iRestore laser therapy treatment plans, I decided to try it on myself. And I'm so glad — after just three months of use, my hair looks fuller at the top!"

Kathy, TN
I found the cure
"I bought the iRestore laser cap only about 3 months ago, and the results are great. My family has noticed some changes in my appearance. The back of the head is beginning to fill in nicely with thickness returning as well. I'm so impressed."

Steve, VT
Pros
The battery lasts much longer than other devices (10 uses vs 3);
Ease of use and no side effects;
Universal AC adapter — excellent for traveling;
Eye safety sensors.
Cons
Not intended for children under 13;
Expensive compared to other devices.
CapillusPro is a hair loss treatment that combines a laser attachment with topical products. Reminiscent of a baseball cap, it delivers low-level laser therapy (LLLT) to the scalp to treat genetic hair loss (androgenetic alopecia) and stimulate hair growth. Laser diodes built into the inner surface of the cap provide maximum coverage of thinning areas.
These devices come in a standard size (up to 24 inches), but if you need a larger one, the company provides devices individually for a specific person.
The device should only be used for 6 minutes a day, which is much less than the aforementioned laser caps. Exceeding the recommended time or frequency will not enhance the effect of CapillusPro, and can cause negative effects. However, due to the built-in timer, you don't have to worry about overexposure.
More information about
Capillus laser cap
, its effectiveness for hair growth —
in our article
.
CapillusPro reviews
Getting my hair back!
"I thought it was impossible to stop hair loss, but this cap gave me hope. My thick locks are now growing back thanks to the device that doesn't irritate my scalp. It's like a magic cure-all for me — well worth every penny."

Barry, ND
Great product!
"I've always known that I had thinning hair, but it wasn't until my early thirties that the first strands started falling out. After trying every product on Drugstoreideas for weeks with little success other than making things worse instead of better, I finally decided to invest in an expensive medical-grade device. I'm happy to say after 2 years of using the device my hair loss has stopped!"

Paula, CA
Are laser caps really to regrow hair? Based on scientific research
Most laser hair growth devices emit light into the scalp. Although scientific research is limited, proponents of laser therapy believe it can improve blood flow and stimulate hair growth.
Studies on the effectiveness of low-level laser therapy (LLLT) in the treatment of baldness are presented below.
A study [1] was involving 100 patients with androgenetic alopecia. All participants were randomly assigned to receive LLLT on one side of the head and simulate light exposure on the other side 3 times a week for 30 minutes each over 24 weeks. After the treatment period, significantly more hair coverage was observed on the LLLT-treated scalp than on the sham-treated side. Also, a significantly greater improvement from baseline was observed in hair thickness.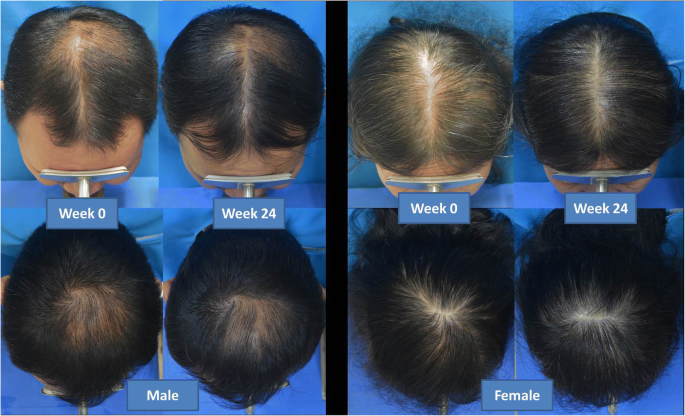 The next 16-week study [2] involved 40 patients suffering from genetic hair loss and hair thinning. 20 people were randomly selected to receive a real LLLT system and another 20 were given a placebo system. Placebo systems were specifically designed for research. They looked identical to the real device from the outside but were built using conventional incandescent lamps instead of lasers and clinical power LEDs (650 nm wavelength) in real devices. As a result, those who used the real LLLT system experienced an impressive increase in hair growth of more than 43% on average, compared with an increase of more than 5% for those who used the fake system in the placebo group.
The following study [3] involved 47 women with androgenic alopecia. Two groups were created: the first was treated with red light (655 nm), the second was a placebo. Patients received treatment at home every other day for 16 weeks. The results showed a 37% increase in hair growth in the active treatment group compared to the placebo group.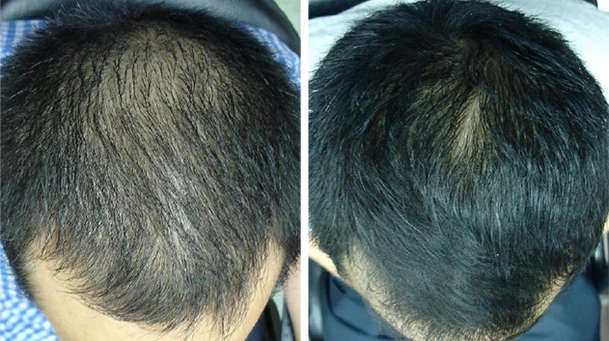 The last study [4] included 40 patients with androgenetic alopecia. They were treated with a helmet-type home use LLLT device emitting wavelengths of 630, 650, and 660 nm, or a dummy device, for 18 minutes a day. The study lasted 24 weeks. As a result of the treatment, the LLLT group showed significantly greater hair density than the simulated device group.
Benefits of laser hair loss treatment
Laser hair loss treatment can slow down or stop hair loss in various types of thinning hair, such as androgenetic alopecia (male pattern baldness), diffuse thinning, and hereditary thinning. Benefits, including:
Increase hair density;
Grows new hair;
Get rid of itching and redness on the scalp;
Reduce inflammation and promote blood circulation in the scalp;
The low-level laser can be used for both men and women;
No side effects were reported;
Low-level laser hair therapy is relatively inexpensive.
Drawbacks of laser hair loss treatment
In most cases, laser therapy is not a stand-alone approach to hair loss treatment.
It usually requires instruction in good skin and scalp care as well as a healthy diet rich in protein and vitamins.
Individuals who opt for laser therapy must be willing to make a long-term commitment to this treatment option, as it is time-consuming (4-5 times per week for 30 minutes).
Some patients find that the heat of the laser therapy causes discomfort during their sessions.
Patients who are taking medications that must be taken orally (i.e., anticoagulants, antidepressants) or topically (i.e., certain acne creams) may not be suitable candidates for this treatment because it can interfere with the effectiveness of these drugs.
Does laser cap therapy work for everyone?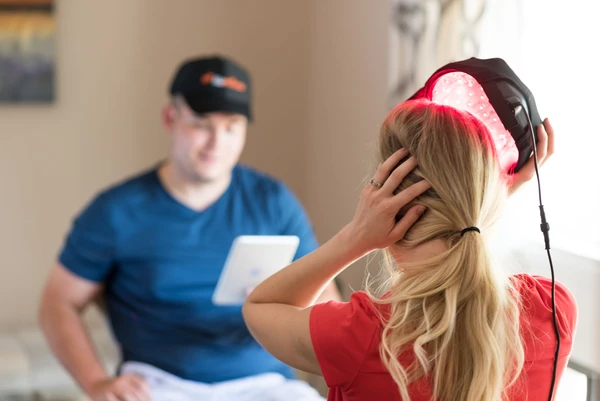 Not everyone is a candidate for laser therapy. People who should avoid laser cap use include:
Anyone under the age of 12.
Children and adolescents should not wear a laser cap for therapeutic purposes, regardless of the benefits that may be offered by treatment, because their skulls are still developing.
Women who are pregnant or breastfeeding.
The effects of using infrared light on unborn children and infants have not been studied, so it is best to avoid laser therapy while pregnant or trying to conceive and during the first six weeks of nursing.
People with metal implants in their heads, such as mesh from a cranioplasty or shrapnel.
Although manufacturers claim that caps are safe for these patients, anyone who has had surgery involving the brain or skull should consult with a medical professional before using a laser cap.
People who wear a cardiac pacemaker.
The FDA has not approved the use of laser therapy if you have a cardiac pacemaker, so it is best to avoid caps until further studies have been done.
Anyone with epilepsy or other nervous system problems.
Patients with active seizure disorders should not use laser therapy because it may increase the possibility of seizures.
Anyone who has a urinary catheter or colostomy bag in place and anyone unable to take a shower and clean the scalp area daily.
Without proper hygiene and regular cleaning, your risk of developing scalp infections increases dramatically.
Anyone with any kind of skin disorder, such as psoriasis or acne, affects the scalp area.
Patients with skin problems should consult with their dermatologist before using a laser cap.
How to safely use laser caps?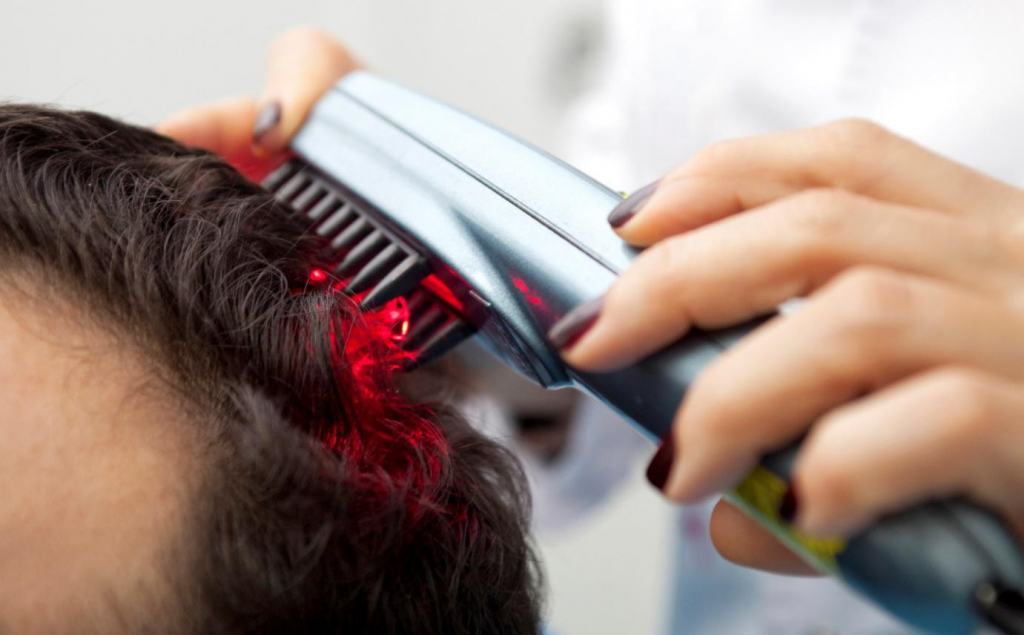 The following precautions must be taken when using a laser cap:
Do not look directly into the beam. It is best to put on goggles or other protective glasses.
Use laser caps only on dry skin, and avoid contact with soap residues because these can cause unwanted fumes or accidentally burn your skin.
It is advisable to keep the laser caps away from pets and avoid using them if you have a pet in your home.
Never use hair growth laser caps while operating machinery, driving, jogging, or cycling.
Keep out of reach of children and pets at all times.
Summary
Laser caps are an effective way to fight hair loss.
A laser cap with a diode laser is placed directly on the scalp, where it emits low-intensity light at a predetermined wavelength, which penetrates deep into the skin. This light energy stimulates the natural healing process for your hair follicles, increasing circulation around your roots and stimulating healthy hair growth.
Laser therapy can be used to:
Supply of oxygen and nutrients to your hair follicles, which boosts healthy hair growth;
Prevent thinning and shedding by strengthening your roots;
Treat damaged scalp conditions such as psoriasis or alopecia areata. Laser therapy is even

FDA

-approved as an effective treatment for hair loss.
FAQ
🧢 What are laser caps?
Laser caps that use low-level Light therapy (LLLT) in the form of red and infrared lights, lasers, and LED devices are used to stimulate hair growth. They're intended for men and women experiencing thinning hair or bald spots on their scalp, but not total hair loss/baldness.
🤔 Are laser caps effective for hair loss?
Laser cap with 830 nm diode laser is the most effective tool because it targets the melanin in hair follicles which causes hair loss and regrow new healthier hairs. This technology cures 80% of alopecia cases. It also reduces inflammation and stimulates blood flow to the scalp.
📌 Do laser caps have side effects?
Side effects of laser caps have been studied but these are not a concern. As with any device, there is a chance of skin irritation, however, this is rare and should resolve within 24 hours if it does occur. Some users report temporary reddening or mild flaking of the skin in areas where hair loss treatments are being used. In some cases, using a product to protect the skin can help prevent these side effects.
🔎 Can you use a laser cap too much?
No, this is not recommended. The most common problem that you may notice is the appearance of red spots on your scalp. This phenomenon occurs when the device is used for a long time without stopping or short pauses between applications. In some cases, the problem may be more serious and you can get an infection in your head. It is therefore advisable to use a laser cap for hair loss treatment, not more than 60 minutes a day.
🗓 How long does a laser cap take to work?
The treatment time per day is 10 to 60 minutes, depending on the device. The first noticeable results will be visible in a few months. But keep in mind that results vary from person to person, so don't expect a miracle from a few sessions. You will need to have regular sessions as directed by your doctor/clinic for any positive changes to be noticed.
Sources
Sabrina Mai-Yi Fan, Yu-Pin Cheng, Ming-Yung Lee, Sung-Jan Lin, Hsien-Yi Chiu. Efficacy and Safety of a Low-Level Light Therapy for Androgenetic Alopecia: A 24-Week, Randomized, Double-Blind, Self-Comparison, Sham Device-Controlled Trial. – Dermatol Surg. 2018 Nov;44(11):1411-1420. DOI: 10.1097/DSS.0000000000001577.
Adam Bodian. iRestore: clinically proven to grow hair.
Raymond J. Lanzafame, Raymond R. Blanche, Richard P. Chiacchierini, Eric R. Kazmirek, Jeffrey A. Sklar. The growth of human scalp hair in females using visible red light laser and LED sources. – Lasers Surg Med. 2014 Oct;46(8):601-7. DOI: 10.1002/lsm.22277. E-pub 2014 Aug 13.
Hyojin Kim, Jee Woong Choi, Jun Young Kim, Jung Won Shin, Seok-Jong Lee, Chang-Hun Huh. Low-level light therapy for androgenetic alopecia: a 24-week, randomized, double-blind, sham device-controlled multicenter trial. – Dermatol Surg. 2013 Aug;39(8):1177-83. DOI: 10.1111/dsu.12200. Epub 2013 Apr 3.