Skin is a concern for millions of women and men around the world. Everyone wants smooth, glowing, healthy skin that doesn't need makeup to look good. But the harsh reality is that few of us are born with such genetics so that we don't require additional skin care products (and even that's only until a certain age).
Acne, breakouts, redness, pigmentation, wrinkles, and fine lines; do some or all of these sound familiar to you? I get it. I too have skin problems, and I've tried all the different technologies that exist to treat these issues. Today I want to tell you about one of the most effective ways I have found for the above skin conditions, high-frequency technology, namely the NuDerma wand. Our review includes everything you might want to know about this device, so stay tuned to see if you need this stuff.
Quick Overview
A handy high-frequency device that helps treat or reduce a number of skin problems, including:

✓ Wrinkles and fine lines
✓ Acne and sporadic rashes
✓ Acne scars
✓ Skin sagging and more.

Easy to use, fits all skin types, and takes only 5 mins a day to get results*

*Jump to the detailed review

What is NuDerma wand & how does it work
The NuDerma wand is considered to work on the basis of high-frequency therapy. It does, but don't take it literally — the electric current doesn't go straight into your skin. The device itself only emits a gentle heat that penetrates the skin. It has four attachments for different purposes, which we'll talk more about in the detailed review.
Let's first deal with the high frequency (HF). Back in 1892, French biophysicist Jacques-Arsin d'Arsonval began using HF to treat skin and mucous membrane diseases. But it was not until the 1970s that European salons discovered the cosmetic and healing properties of high frequency. And by the 1980s, the technology had become widespread in America, and it was quickly recognized as an effective way to treat a variety of problems.
Modern devices that are based on so-called high frequencies actually work on the basis of neon and argon — in the case of the standard NuDerma wand it is neon. However, there is also an upgraded model with argon-based attachments, which are particularly effective in fighting acne.
So, why might your skin need HF? Everything starts with ATP (adenosine triphosphate). In simple terms, it's the main source of energy for cells in particular and the body as a whole. The older we get, the slower ATP is produced, and one of the consequences is wrinkled skin. The NuDerma wand speeds up ATP synthesis and reverses aging with the help of high-frequency technology. It's like a workout where high-frequency sessions energize your skin, and as long as you use the device, the effect will keep improving.
There are a lot of devices that can help you improve your skin condition. I suggest you explore the best light therapy-based
skin tightening machines
if you aren't sure high frequency will work for you.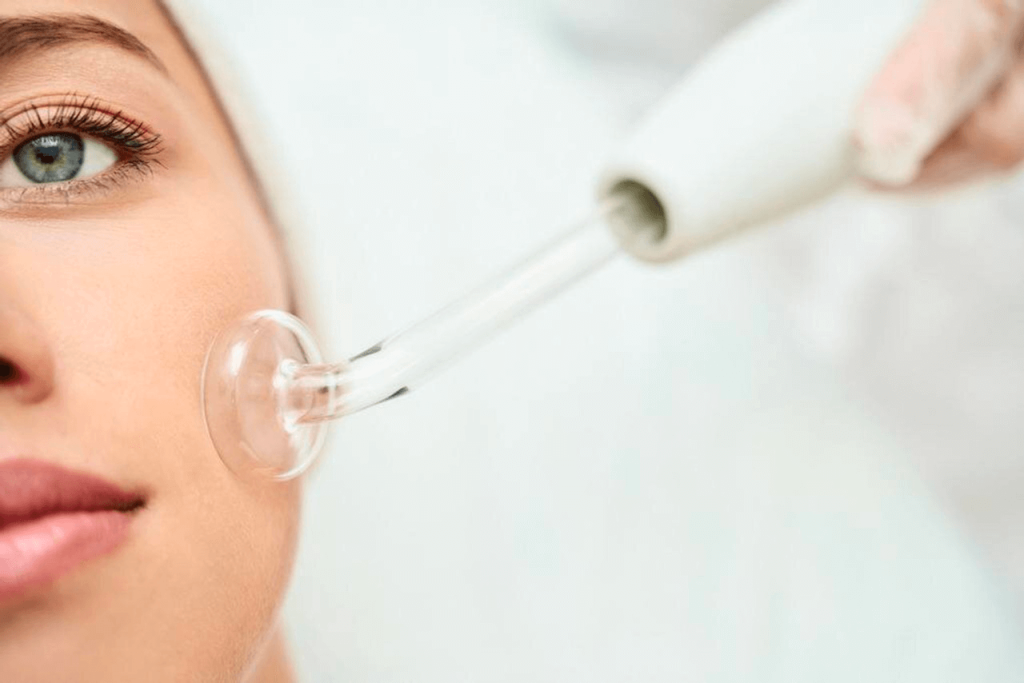 What Does a High-Frequency Wand Work Best For?
As we've said before, high-frequency wands are used for a wide range of issues, but we'll focus on what they can do for the skin:
Reduce the appearance of wrinkles and fine lines
Successfully fight hormonal and cystic acne
Eliminate sporadic rashes
Reduce acne scars
Kill all the bacteria underneath the skin
Help with dark circles under the eyes
Smooth and tighten the skin and make it look healthy
Reduce inflammation
Help the affected area heal faster
Make pores look noticeably smaller
Detailed review: NuDerma Wand
If you're looking for a device that will help you fight acne, smooth out wrinkles, and improve the overall appearance of your skin at a reasonable price, the NuDerma wand is one of the best options.
High frequencies have proven effective on many patients, and 90% of people see a big difference when they use the NuDerma wand (see before and after results and reviews).
So, what's included in the kit? There is a NuDerma high-frequency handle, a neon-powered mushroom wand, a neon-powered spot wand, a neon-powered comb wand, a neon-powered tongue wand, and, of course, quick-start treatment guides. The instructions will tell you the best wand for specific uses, but some of them are very intuitive: comb wand for hair, spot wand for single pimples, etc. You can also take a look at a brief table to make it easier to understand which attachment to use for what:
By the way, the comb wand is the most underrated in the kit. It's usually used at the last minute and rarely mentioned at all, but that's wrong. If you regularly comb your hair with the appropriate tool, you can achieve more volume and density. Quite a few users have done so and have shared their experiences on Amazon and various forums, confirming the effectiveness of the wand, so we thought it should be mentioned. Just don't overdo it; the wands are quite fragile.
Among the other obvious advantages of this device, it's easy to use, and it only takes five minutes a day for 15 seconds per area. We recommend not abusing the wand, and indeed not using it for more than five minutes at a time. Otherwise, you may encounter some side effects.
One of the disadvantages of this device is that if you stop using it regularly (at least twice a week), your problems are likely to start coming back. Another disadvantage is the fragility of the wands and the size of the device itself. Some users consider it a bit bulky, and although it's convenient to use at home, you don't want to take it with you on trips.
Pros and cons
Pros
Works best for all kinds of acne (cystic and hormonal, facial and body)
Reduces wrinkles and fine lines 15% better than other similar products with continued use
Removes select types of rash
Smooths the face because of killing all bacteria underneath 
Tightens the skin
Affordable compared to clinical procedures and even some facial masks
Doesn't damage jewelry; you can keep it on during the sessions
Can be a non-invasive alternative to Botox
Cons
For some users, the device is inconvenient to use and store because of its size
Wand tips are glass and should be handled with care
Results are not long-lasting unless you use it regularly
Before and After results
"Before" and "after" photos are one of the best ways to analyze the difference of using a particular device. We recommend you also take pictures of yourself before using the NuDerma wand then again one to two months after.
Also, let us caution that you won't necessarily get the same precise results as the patients in the pictures. Everyone is different, and HF doesn't react to the skin in the same way in every procedure. You may have a slightly different effect, or it may take longer/less time.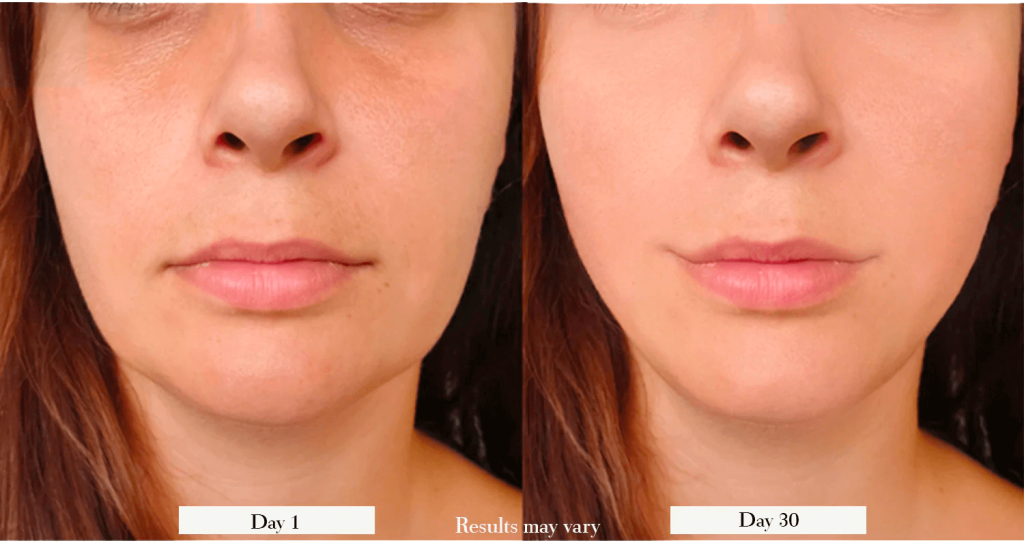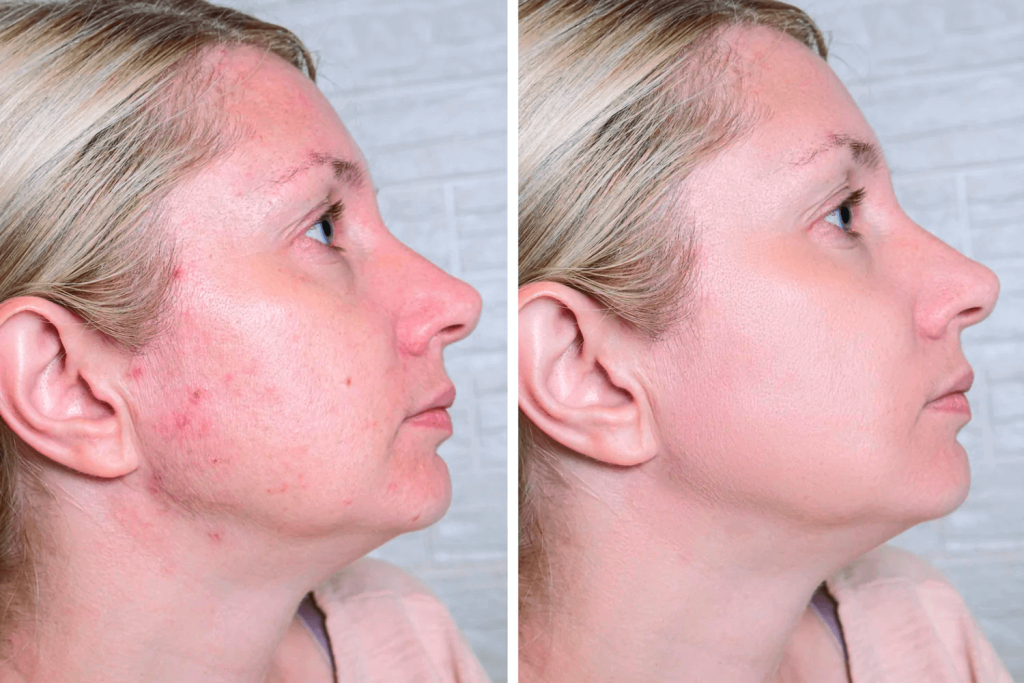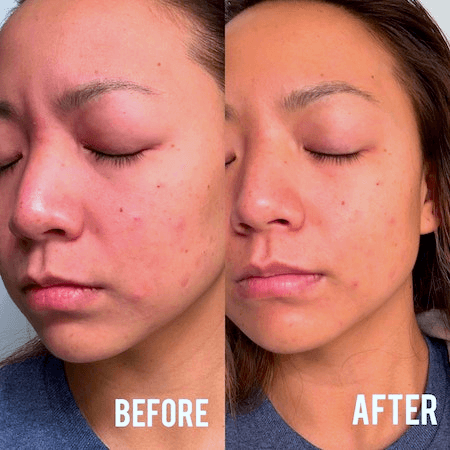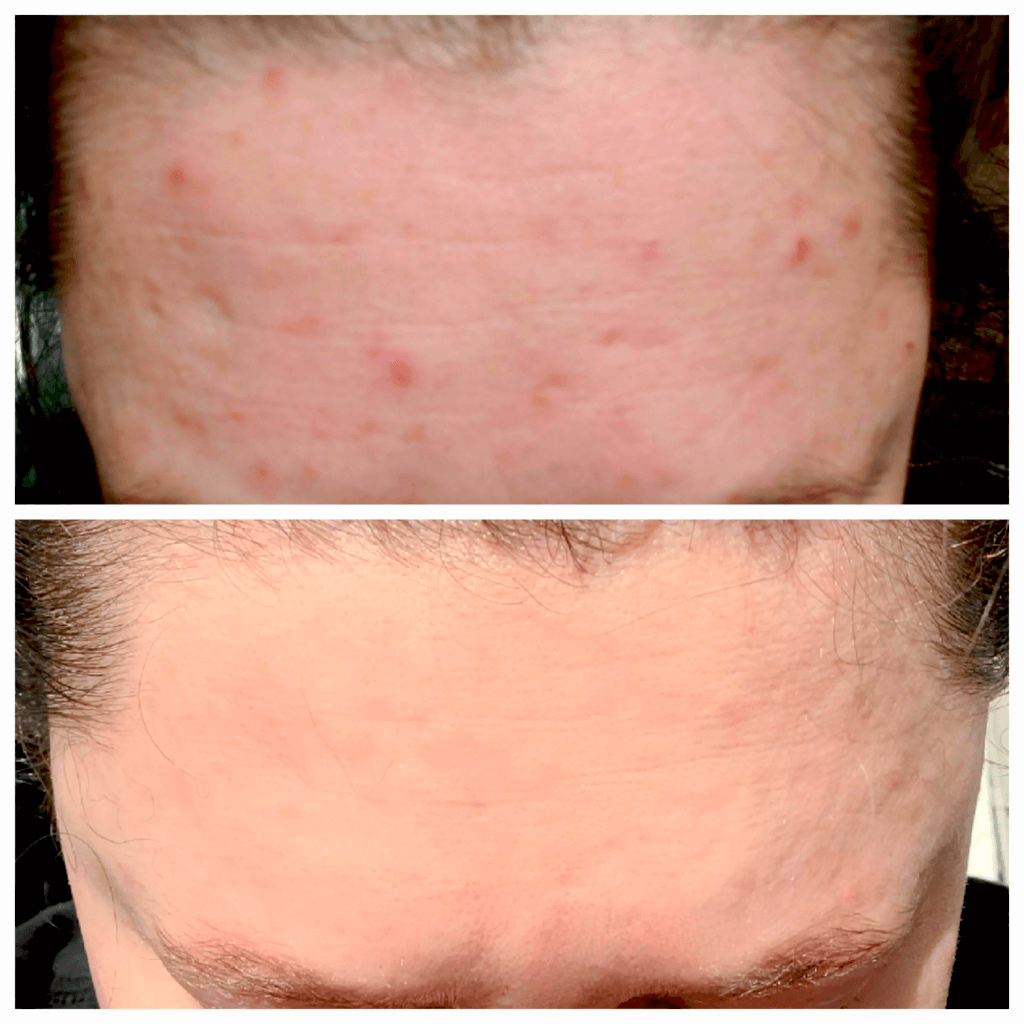 Customer reviews
There are hundreds and even thousands of reviews on the Internet about this wand, and surprisingly, almost all of them are positive. We have collected a few for you to give you an idea of how this device has changed the lives of its users.
"God, yes, this is what I was looking for. I have suffered from acne since I was a teenager, and have tried all sorts of remedies, of which few were really effective (usually they were too expensive for me). This wand has helped with my cystic acne, as well as any breakouts I happen to have. I didn't think I would find something so cool after all these years. Also, I love using it for dark circles under my eyes — they get smaller, and I get happier"
Amelia, NJ
"I'm 70, and it's silly to hope that some device will make me look young again, but it's not a bad machine nonetheless. I don't have acne, but I have wrinkles and loose skin. They haven't disappeared, but they look better, especially the fine lines. If you use this wand constantly, the effect improves little by little, but when I put it off for two weeks, my skin started to go back little by little"
Kate, SK
"It's hard for me to admit, but TikTok made me try it. I'm not usually tempted, but this device seemed worth it — and now I don't regret buying it. I'm 47, and I finally got rid of acne! Moreover, my skin got firmer and tighter, and they even asked me for ID when I bought wine in the store! You should have seen my happy face… (in our state if you are under 31, you always have to show your ID when you buy alcohol, I know, it's weird). The cashier at the store thought I was 29, and I think that's already a reason to try this device."
Helen, LA
Side effects of the device
Usually, people don't feel any particular side effects after using the NuDerma wand, as it's quite a safe and painless procedure. You may experience a slight redness, but this will go away after a while when you're done. If it makes you uncomfortable, just use the wand right before bed.
If you abuse the device and use it for more than five minutes a day, the consequences can be more serious. For example, the redness may be more severe and stay on your face longer.
Tips for proper use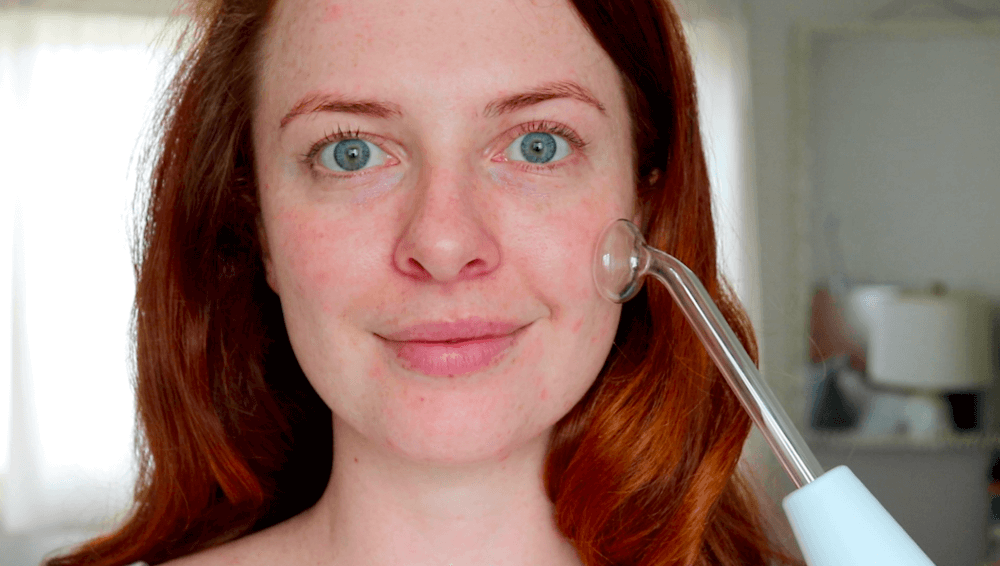 Since the NuDerma wand doesn't have the most detailed instructions, many people wonder how to use it correctly. So we've gathered all the tips and tricks from real users who shared their experience online and offline (conducted about ten small interviews with device owners) to help you achieve the desired effect.
💎 The glass is relatively thin and fragile — handle it carefully so as not to break the applicators. Always grasp the probe by its body and pull it straight up. Do not grab it by the head or move it, because it can break.
👁 Cool tip for dark circles: use a thin probe and rotate it counterclockwise around your eyes, as it stimulates blood flow. Don't apply it to your eyelid (I don't know why you would), but circle it just under your eyebrow and under your eye.
☝ This device can be used on dry skin or with moisturizer. This wand is supposed to improve the absorbency of skin products, so if you like, use them in combination. A little tip: Many users have liked a cucumber mask as a base before the wand.
Note:
You shouldn't feel anything special when using the device, BUT an odd smell is normal. The wand gives off a specific odor when it is in use, which you should be prepared for.
Summary
Today we explained how high-frequency therapy works and how it can benefit your skin. In particular, we have looked in detail at the NuDerma wand (review).It's one of the best devices in this category and has been proven to work on thousands of users. It's also a great, affordable alternative to Botox and other invasive procedures. Yes, it will take persistence and consistency to succeed, but after a few sessions you'll find it worth it.
We can't guarantee you one hundred percent results, as there are exceptions, but we've seen results ourselves firsthand. So we advise you to try this device if you have skin problems such as acne, wrinkles, dark circles under the eyes, redness, etc. Wishing you clear skin and a good mood!
FAQ
✓ Do NuDerma high-frequency wands actually work?
The NuDerma wand didn't help all users, but more than 90% of customers were satisfied with the results, especially in terms of fighting acne, dark circles under the eyes, and skin tightening.
👩 What does high frequency do to face?
High-frequency therapy is used for a wide range of skin issues, including reducing the appearance of wrinkles and fine lines, fighting hormonal and cystic acne, eliminating sporadic rashes, reducing acne scars, killing bacteria underneath the skin, helping with dark circles under the eyes, and more.
📆 Can you use NuDerma high-frequency wands every day?
Yes, you can use the NuDerma wand wand every day, but don't overdo it — no more than five minutes a day.
💯 Does a NuDerma high-frequency wand tighten skin?
Many users (even those who didn't find it particularly helpful with wrinkles or acne) agreed that the NuDerma wand tightens the skin.