With aging, the facial skin loses its inner glow. It starts to sag, you look "always tired" and notice deeper wrinkles. To fight back authentic industry come up with many procedures, one of them is microcurrent like a petite NuFace Mini.
This device is beloved by many celebrities including Jennifer Aniston and Kate Hudson. NuFace Mini facial toning device can give you the lift and tone for just 5 minutes per day. 
The treatment is pain-free and relaxing. You can perform it while watching Netflix in the evening. While one microcurrent session in the at-office procedure can cost you more than $250, the one NuFace Mini will cost even less, but you can use it year-round.
Nuface Mini Starter Kit
NuFace Petite Facial Kit
The best for beginners in microcurrent
The best for versatile treatment
Suitable for skin lifting and reducing wrinkles for neck,
chin, cheek, and forehead
Provide the same anti-aging effect as the Standart kit +
remove lines and wrinkles around eyes and lips
What is Nuface Mini facial toning device?
NuFace Mini has become the best seller among NuFace devices. Combining the power of the standard device and the petite shape, NuFace Mini is a leader in at-home microcurrent devices for facial toning.
Nuface Mini delivers microcurrent to the skin and muscles under it. It results in building up facial muscles and lifting the skin. Microcurrent also increases blood circulation which helps to tone the skin.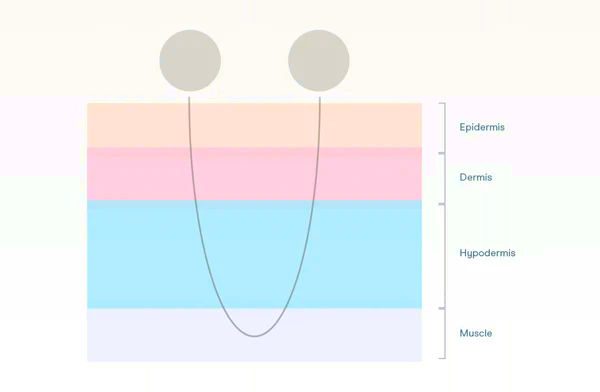 Pros and cons of the treatment with NuFace Mini devices
At-home microcurrent treatment with NuFace Mini has both positive and negative aspects like all other procedures. We based this list on analyzing 200 customer reviews. It includes criteria that are important for real users.
Pros
All skin types are suited for microcurrent treatment.
Safe to use (
approved).
The treatment is painless and non-invasive.
Comfortable to hold in the hand.
Portable and easy to carry anywhere.
Easy to use.
Cons
To get constant results you need to use the device regularly (5 days/week first 60 days and 2-3 days per week after). If you stop using the device you will lose the results.
The battery of the device cannot be replaced. If you have issues with the battery, you will need to replace the whole device by contacting Customer Support.
✒️ Our verdict:
NuFace Mini is an introductory device if you are looking for microcurrent treatment at home. The instructions and the procedure are convenient so even the beginner can carry them. Moreover, the treatment is painless and relaxing. However, the use of Nuface Mini is a long-term commitment. You need to use it every day to see the best results.
If you want to achieve better results with NuFace Mini, we recommend you to read about
red light therapy for the face
. It has proven efficiency in wrinkles reduction and improving skin texture. The combination with NuFace Mini will give the most prominent results.
A detailed review of the Nuface Mini product line
Nuface Mini starter kit
Nuface Mini starter kit
Winner category: The best for beginners in microcurrent
Best for: If you want to test microcurrent treatment or expect to get treatment out of the home frequently.
The standard kit goes with a NuFace Mini facial toning device and hydrating gel primer that transmit microcurrent from the device to the skin. NuFace Mini is a perfect to-go device. It is petite, easy to handle, and gives lifting, toning, and reduction of wrinkles.
Microcurrents from NuFace Mini sculpt and lift the skin on the neck, chin, cheeks, and forehead. After using you will see better-defined contours of the face, lifted muscles, and firmer skin. For example, the eyes become more open, and the cheeks get higher and contoured.
If you are looking for additional treatment around the eyes and mouth, then you will like a Petite Facial Kit (
detailed review
). It goes with a special device NuFace Fix for this purpose.
NuFace Mini goes with a special primer conductive gel with hyaluronic acid and other additives to hydrate the skin (like tremella fuciformis sporocarp extract and betaine). They will make your skin smooth and fresh.
Moreover, the NuFace Mini device is easy to use for facial toning. It goes with simple instructions about the directions of gliding.
Still, there is rare negative feedback from the users about this device. In most cases, it is related to the fact that the device stopped working. That's why we recommend buying a device from the manufacturer's site or the official retailers. Even if this unlikely problem occurs, you will easily solve it with customer support.
Petite Facial Kit
Petite Facial Kit
Winner category: The best for versatile treatment
Best for: If you are looking to reduce signs of aging from the face, neck, and areas around the eyes and lips.
Petite Facial Kit goes with exactly the same NuFace Mini device and primer as we described above, however, it also includes NuFace Fix to reach areas around the eyes and lips. NuFace Fix is a great final step for your skincare routine to remove all signs of aging from the face.
Along with NuFace Mini, the Fix device will remove the lines and wrinkles around the eyes and lips. It will give you a fresher and lifted look. In addition, to reduce wrinkles in the problem areas, NuFace Fix helps to make your lips look fuller without any fillers.
The same as NuFace Fix goes with FIX® Line Smoothing Serum which gives even more care to the skin than the primer gel.
The device is also more energy efficient than larger models. It takes 4 hours to fully charge it and you can use up to 20 days without recharging.
Both NuFace Mini and NuFace Fix are convenient in size. You easily bring them wherever you go. Moreover, if you buy the devices in the kit, you can save more than $80.
Refreshed NuFace Mini are cheaper alternatives for brand new devices
Refreshed models vs. brand-new devices
The official NuFace site also proposes a special offer to the clients to cut the cost. You can buy a refreshed model. What does it mean? Let's look at the differences compared to the brand-new model.
| | | |
| --- | --- | --- |
| | Brand-new | Refreshed |
| Origin | Goes directly from the manufacturing site to the customer | NuFace re-packages the device |
| Price tag | You pay a full price | The price is lower by $20-50 depending on the device |
| Presence of defects | Should go without defects | Can have cosmetic imperfections like scratches. |
| Money back policy | 60 days | No |
| Warranty | 1 year | 1 year |
Refreshed models can be an option if you want to get a microcurrent treatment but have a limited budget. In other cases, we recommend you buy brand-new devices.
Starter Kit
Winner category: The best for beginners in microcurrent
Petite Facial Kit
Winner category: The best for versatile treatment
Before and After Results
When you watch a device demonstration on YouTube you see prominent and impressive results in lifting and toning. However, the reality is a little different.
The result usually depends on the current skin condition, additional skincare routine, genetics, and facial anatomy. As a result, after the first use, you might not see a huge difference, because consistency is the key to the results of microcurrent treatment.
The instructions from NuFace Mini recommends using the device for at least 5 minutes 5 days per week for the first 60 days and then 2-3 timer per week to maintain the results. Let's look at several photos from real customers.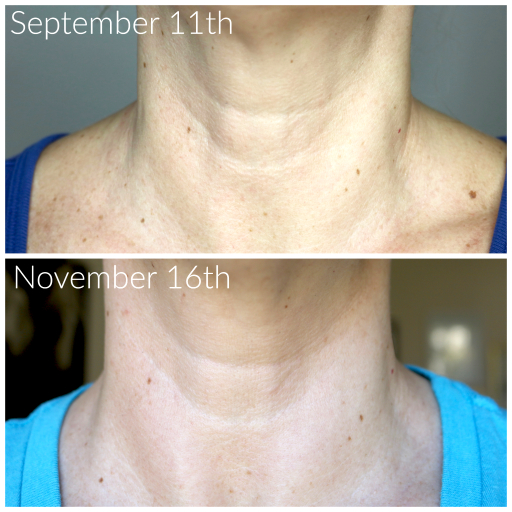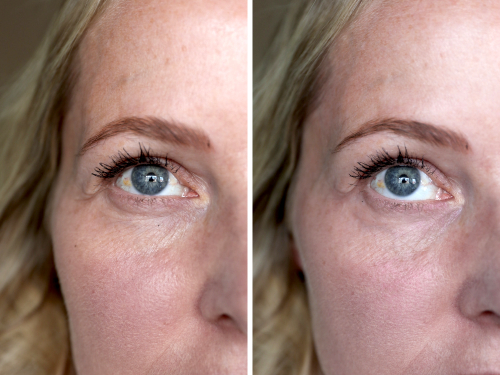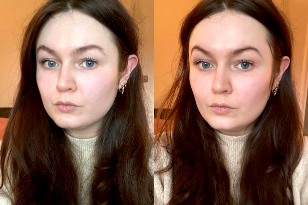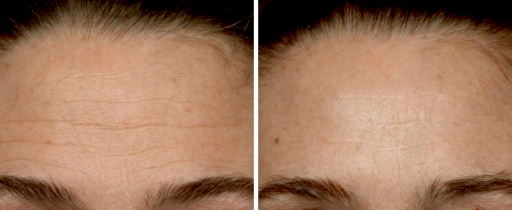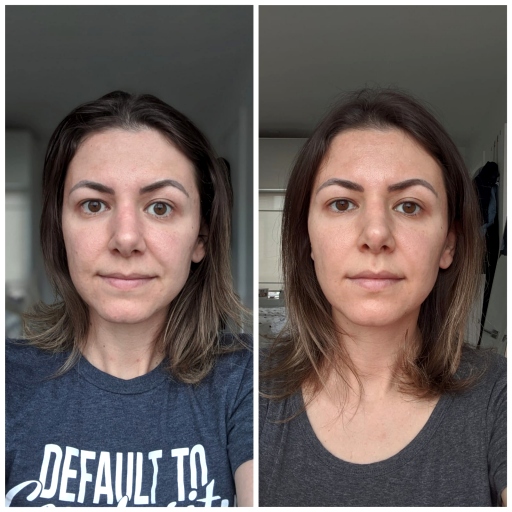 How to use the NuFace Mini facial toning device for the best results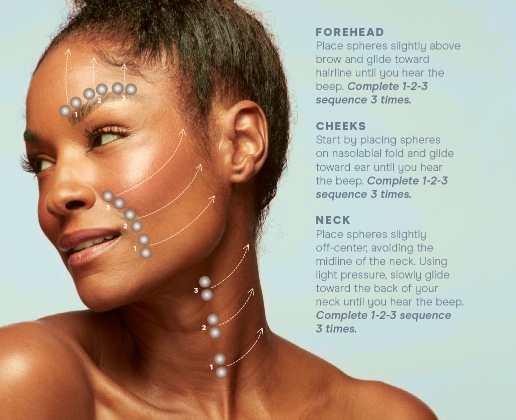 There is no restriction you should follow during the treatment. The average session lasts from 5 to 20 minutes. Keep in mind that NuFace Mini automatically shut off after 5 minutes, which is enough to treat all face and neck.
The key to the success of NuFace Mini is the constant use. Most people can expect subtle results with time. Don't forget to take before and after photos to see the results.
Step 1: Preparation
Clean the skin with the oil-free cleanser to remove makeup and oil products from the skin. Apply a mask-like layer of the primer to one treated area (cheek, neck, or forehead) to wet the skin. As the primer dries out, use only at the region you are about to treat now and then apply to the next one.
If you use NuFace FIX, apply a special serum around the eyes and lips.
📌 Tip!: Don't use oil-based skin care products before the session. Oil may prohibit the pass of microcurrent to the skin.
💡 Lifehack to save money
If you want to save money on the conductive gel you can use an ultrasound gel instead. Make sure that it doesn't contain any oil. But we want to warn you that ultrasound gel contains no beneficial compounds for the skin, so the results might be less noticeable.
Another way to overcome aging is to use an
Omnilus contour facial mask
, that uses red and near-infrared light to reduce wrinkles and tone the skin.
Step 2: Lifting
Put two balls on the skin and start gliding upward and outside direction to make your muscles toned. Both balls should touch the skin to make the current go.
You should start with gliding until you hear a "bip" sound, then you need to repeat the move again. In other words, you should make one slow sliding move between two "bip" sounds (3 seconds apart). You should repeat every sliding movement 3 times for each treated area
For more advanced treatment, use the press-and-hold motion. Put the NuFace Mini device in one place until you hear a "bip" sound. This helps to fully concentrate on the desired area. For example, you can apply it in the cheekbone zone to lift this area more.
💡 Lifehack: When the gel dries, you can add a little bit of water to hydrate it
📌 Tip! During the session, you might feel unpleasant tingling or shocking sensations. To prevent this, use more conductivity gel to transfer currents deeper in the skin.
If you use NuFace Fix the possible movements are gliding horizontally, vertically, or in circular movements. Keep in mind that you should use the NuFace Fix device two times per day for 3 minutes per treatment zone.
Step 3: Finish
Tap the remaining primer or serum into the skin and continue with your skincare routine.
Some users don't like the feeling of the gel on the skin, so you can wash it if this is your case.
Risks and contraindications of the Nuface mini facial toning device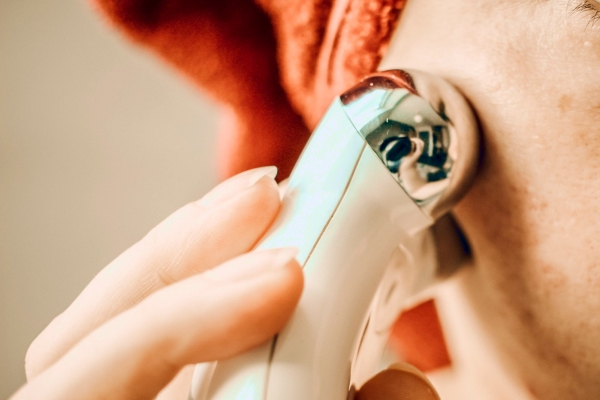 Contraindications:
☠ Cancer.
☠ Electronic implants devices, such as defibrillators, neurostimulators, pacemakers, or ECG Monitor (you can still use NuFace if you have metal plates, braces, or dental implants).
☠ Epilepsy or seizures.
☠ For those under 18.
Warnings:
⚠ If you have a hydrofacial, wait 2 weeks before NuFace treatment. It is better to allow your skin to heal before applying microcurrent for facial toning.
⚠ You can use NuFace Mini along with Botox and Fillers, however, you need to wait for 7-14 days after the cosmetological procedure.
⚠ If you get a microneedling treatment, you should wait 1 week after the procedure before using NuFace devices in this area.
⚠ Do not use the device over red, swollen, infected, or inflamed areas or skin eruptions.
Risks:
❗ While the treatment is considered safe, it has some possible side effects. The first one is the overstimulation of the thyroid gland. To prevent this you should avoid using the Nuface Mini at the center of the neck.
❗ The second side effect is possible flashing lights in the eyes. The microcurrent stimulates the optical nerve resulting in this effect. The manufacturer recommends avoiding using the device if you see the flashlights constantly during the session.
❗ Some patients in their reviews also complained about the loss of facial fat on the cheeks. Some dermatologists claim that microcurrents can burn a little fat. While somebody can consider this effect beneficial, if you already have a skinny and petite face, it might be a problem with fat reduction.
Not only the face but the whole body starts to sag and looks less attractive while aging. You can give your body additional lift without any exercise. Learn more about
infrared sauna blanket
and its benefits.
What does science say about microcurrent facial toning?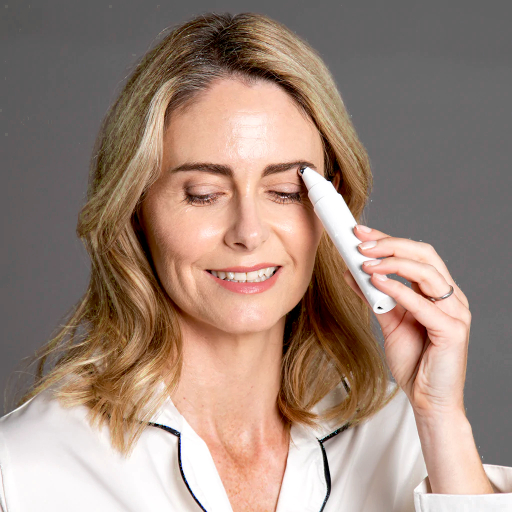 The site has a special section about the science behind the use of microcurrents. We decided to look at these cited papers and find more research on the topic.
First of all, the microcurrent has a proven therapeutic effect for wound healing, treating Bell's palsy, muscle rehabilitation, suppressing pain, and promoting blood circulation [1]. However, only a little research exists that proves microcurrent use for authentic aims like face contouring and skin toning.
The manufacturer explains that NuFace devices stimulate facial toning by increasing the amount of ATP (adenosine triphosphate) level in the cell. This molecule supplies energy to all cellular processes, including the synthesis of collagen and elastin. These proteins play a major role in maintaining the face shape.
All these statements are based on one research [2] from 1982. The researchers stimulated rat skin with different amounts of current and showed that it increased the concentration of ATP in the cells, as well as, amino acid transportation and protein synthesis. However, no research supports the point about the formation of collagen and elastin.
The manufacturer also shows the results of its own clinical trials. But our team didn't find any published paper or more detailed information on the results and used methodology. That is suspicious and leads to thinking about manipulation with the numbers.
We managed to find another randomized clinical study [3] the evaluated influence of microcurrent on the depth of the wrinkles. It included 30 women under 45 with wrinkles and no skin problems. After 30 sessions during one month, researchers found a significant reduction in wrinkles depth. Overall, around 70% of patients were satisfied with the results.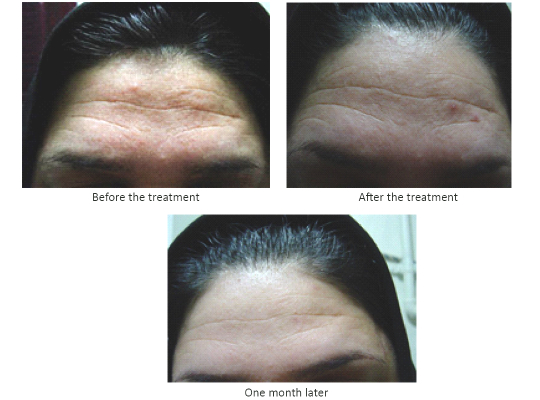 ✒️ Our verdict:
Does this research form a solid scientific base as the manufacturer said? Doubtfully. Like many at-home beauty devices, it lacks evidence. The manufacturer tries to use science to sound more serious, but there is nothing underneath.
Does it mean that the device has no positive effect? Well, no. As we stated, much research supports the therapeutic use of microcurrents. As for the authentic purpose? There is a lot of positive feedback from real customers on the product and the method itself. So it is up to you to judge.
Summary
NuFace Mini device is a petite and easy-to-use device for lifting and toning the skin. It has positive feedback from the users. However, in most cases, it should expect a subtle difference to your skin with regular commitment. The effect depends on genetics, age, current skin state, and muscle tone.
NuFace microcurrent devices are safe, however, there are some strict contraindications you should be aware of. They are pregnancy, cancer, electronic implants, epilepsy, seizures, and age under 18.
Despite a lot of positive feedback from the users, microcurrent for authentic purposes has a low evidence rate. More research is needed to prove its efficiency, however, based on users' experience we still recommend it.
FAQ
🥰 Can you use NuFace Mini on the neck?
Sure, the NuFace Mini is most suited for treating the neck, chin, cheeks, and forehead. However, you should avoid the area near the thyroid gland at the center of the neck.
😬 Who shouldn't use the NuFace Mini?
Those who are under 18 or pregnant, have any active forms of cancer, live with electronic implants, or suffer from epilepsy or seizures.
👀 Can I overuse NuFace?
No, it is impossible. However, the user manual recommends using the device no longer than 20 minutes a day. In this case, longer doesn't equal more effectiveness. You need to include the NuFace device in your daily skincare routine to see the results.
👄 Can you use NuFace Mini around the eyes and lips?
The applicator of NuFace Mini is too big for precise treating areas near the eyes and lips. If you want to treat these areas, we recommend buying NuFace Mini with NuFace Fix that goes together in Petite Facial Kit.
🌞 Is it better to use NuFace in the morning or evening?
It depends on your skincare routine. Some users prefer to use the device in the morning because it helps to reduce puffiness after sleep. On the other hand, some customers use it in the evening as the device gives nice relaxation feelings before going to bed.
Sources
Xu X, Zhang H, Yan Y, Wang J, Guo L. Effects of electrical stimulation on skin surface. Acta Mech Sin. 2021;37(12):1843-1871. doi:10.1007/s10409-020-01026-2
Cheng N, Van Hoof H, Bockx E, et al. The effects of electric currents on ATP generation, protein synthesis, and membrane transport of rat skin. Clin Orthop Relat Res. 1982;(171):264-272.
Fatemeh S., Hamid Reza Ghafarian Shirazi, Khosroo Khademi Kalantari. Consider of Micro-Current's effect to variation of Facial Wrinkle trend, Randomized Clinical Trial Study. Life Science Journal 2012;9(3) 1184-1189.