Environmental factors such as pollution or excessive sun exposure can lead to problems with our skin. These include structural abnormalities such as wrinkles and acne scars, pigmentation changes (freckles, sun spots, or visible blood vessels).
However, due to advances in medical technology, various treatments for the signs of skin ageing are available today, including LED therapy.
In this article, we will talk about Omnilux Contour — the world leader in medical devices for LED light therapy. We will look at the process of Omnilux's action on the skin, check how effective this treatment is, and also tell you about the best devices that are worthy of your attention.
Omnilux Contour Glove
For hand skin rejuvenation
Omnilux Contour Neck and decollete
For tightening the skin of the neck and decollete
Omnilux Contour Face
For reducing fine lines, wrinkles and pigmentation
About Omnilux contour light therapy

Omnilux is a company that has existed since 2000. And in 2003 it was recognized as the world leader in the production of medical devices for LED light therapy.
They offer several different health and beauty products that use red and near-infrared light for various purposes, from acne treatment to anti-aging.
Omnilux is one of the most trusted LED therapy brands out there as they have more than 50 published studies supporting the effectiveness of the devices. The company has also been approved by the FDA as safe for use.
How Omnilux contour light therapy works
As we age, the body's collagen and elastin production slow resulting in a loss of volume on our skin — it becomes loose or thin with wrinkles. UV rays from sun exposure cause unwanted pigmentation as well as spots which only accelerate this aging process over time.
The best way to achieve youthful-looking skin is with the latest technology. Omnillux includes the energy of two clinically proven wavelengths of red and near-infrared light. They work together on the cellular level for optimal results in bettering elasticity and reducing fine lines or wrinkles.
The red wavelength (633nm) is absorbed by cellular mitochondria and stimulates the production of ATP, resulting in increased cellular action and increased cell viability. This, in turn, increases the density and elasticity of aging skin, making wide pores less visible.
The near-infrared light (830 nm) works synergistically with red to achieve even greater effectiveness in photorejuvenation. It penetrates deeper into your dermis, where it stimulates new collagen production, which results in firmer-looking younger skin.

How effective is Omnilux light therapy? Based on scientific research
When it comes to aging, an important factor leading to the appearance of fine lines and wrinkles is insufficient collagen levels.
Increasing the number of fibroblasts is just one of the benefits of red and near-infrared LED therapy. Fibroblasts produce collagen fibers, so the more fibroblasts in the skin, the more and better collagen is produced.
Below are studies that confirm the effectiveness of LED therapy in the fight against age-related changes.
A study [1] involved 40 participants with sagging facial skin, large pores, fine lines, and wrinkles using the Omnilux device. They received 8 treatments every two weeks for 4 weeks. As a result, were noted improvements in facial wrinkles and skin texture. The decrease in pigmentation was less noticeable.
An overall improvement in the condition of the facial skin was noted by 77% of patients.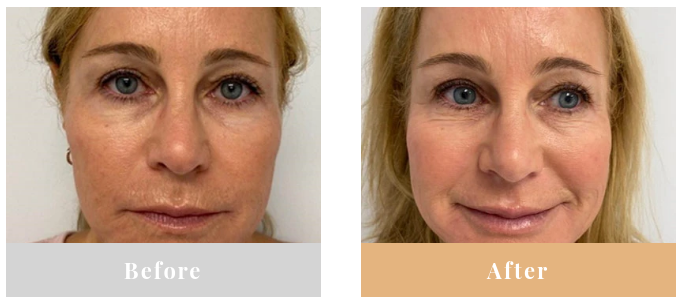 The next study [2] was examined the effects of LED therapy (660 nm) on aged/photo-aged individuals. The research found that LED therapy promoted collagen production by increasing blood circulation, improving oxygen and nutrient delivery to cells. As a result, more than 90% of patients experienced a decrease in the depth of wrinkles and skin roughness.
The effectiveness of exposure to red and infrared light on the skin is confirmed by the following study [3]. 31 individuals with age-related wrinkles were treated with LED for 12 weeks. The treatments combined wavelengths of 633 nm and 830 nm. As a result of the study, 52% of patients showed a 25-50% improvement in photoaging by 9 weeks; 81% of patients reported a significant reduction in wrinkles at the end of follow-up.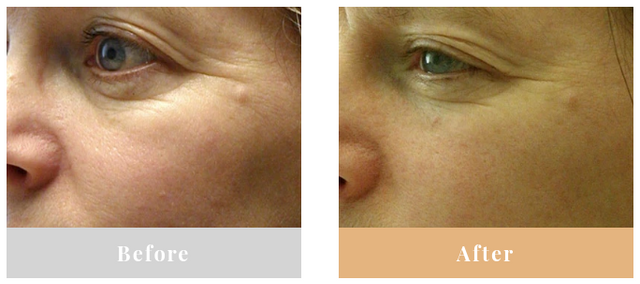 This study [4] was including 13 patients with wrinkles or fine lines who received nine-light treatments lasting 20 minutes using LED therapy (combination of 633 and 830 nm wavelengths). As a result, it was reported that after 12 weeks of follow-up, 91% of patients reported an improvement in skin tone, and 82% reported an improvement in skin smoothness in the treated area.
The last study [5] was involving men and women between the ages of 39 and 66. The red and near-infrared light therapy device was used for 10 weeks. As a result, 77% of patients noticed a significant reduction in wrinkles, 69% — a decrease of crow's feet on the face, and improved tone and texture skin.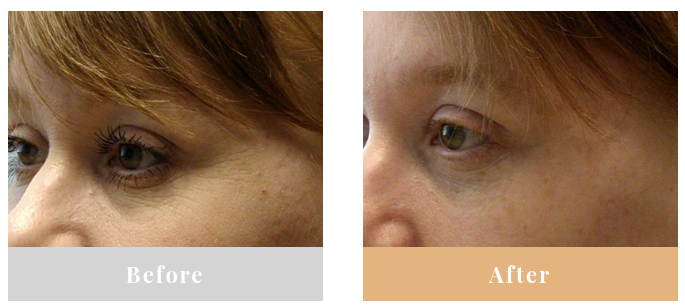 It can be summed up that light contour therapy helps to improve the appearance of the skin. 660 nm and 830 nm LEDs are a safe and effective strategy for increasing collagen levels.
Best Omnilux LED devices
The Omnilux Contour Glove is a device that uses pulsed red and near-infrared light to rejuvenate the skin on the hands.
The skin has blood vessels on the surface of your skin that is responsible for maintaining its condition. They also play a role in pigmentation by transporting melanin from the deeper layers of the dermis to the epidermis. The Omnilux Contour Glove targets blood vessels and melanin-producing cells, causing them to temporarily close, reducing pigmentation.
The recommended use is only 20 minutes twice a week. However, users report that they get more value if they use it every day, but for only 5 minutes a day.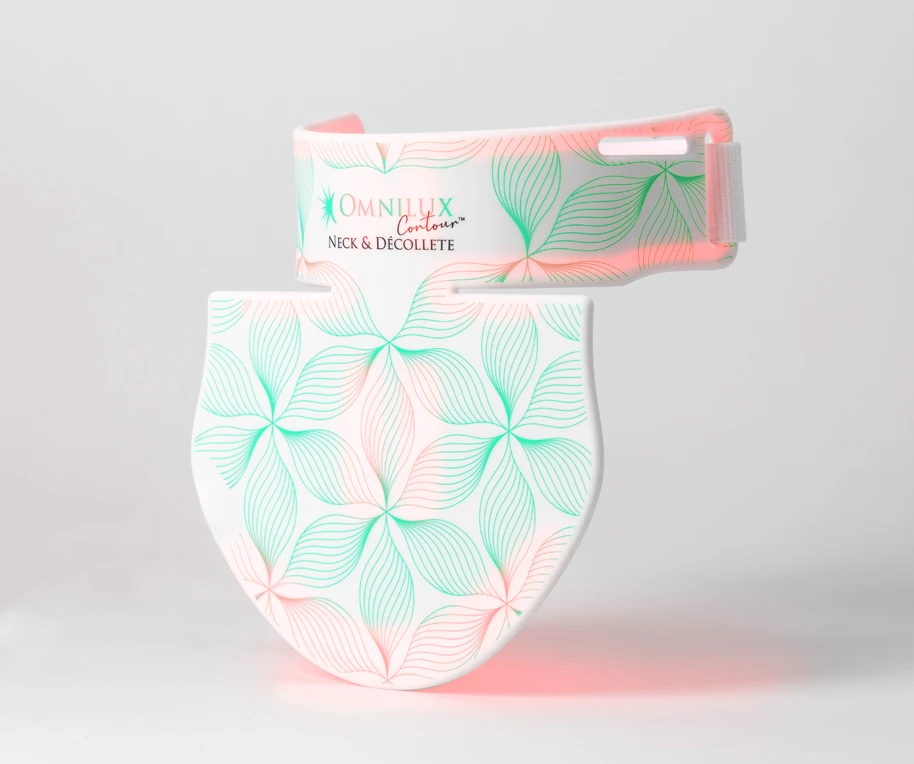 The Omnilux Contour Neck and decollete is, at first glance, a strange gadget because of its shape. But in fact, it is one of the cheapest ways to tighten the skin of the neck and decollete.
This device uses low-level lasers (red and near-infrared) to emit light onto your skin. It is good for stimulating collagen, which strengthens your skin and makes it more elastic. It also targets sun spots and hyperpigmentation. The Omnilux Contour Neck and decollete are said to reduce wrinkles by 30%.
The device should be used 10 minutes a day 3-5 times a week.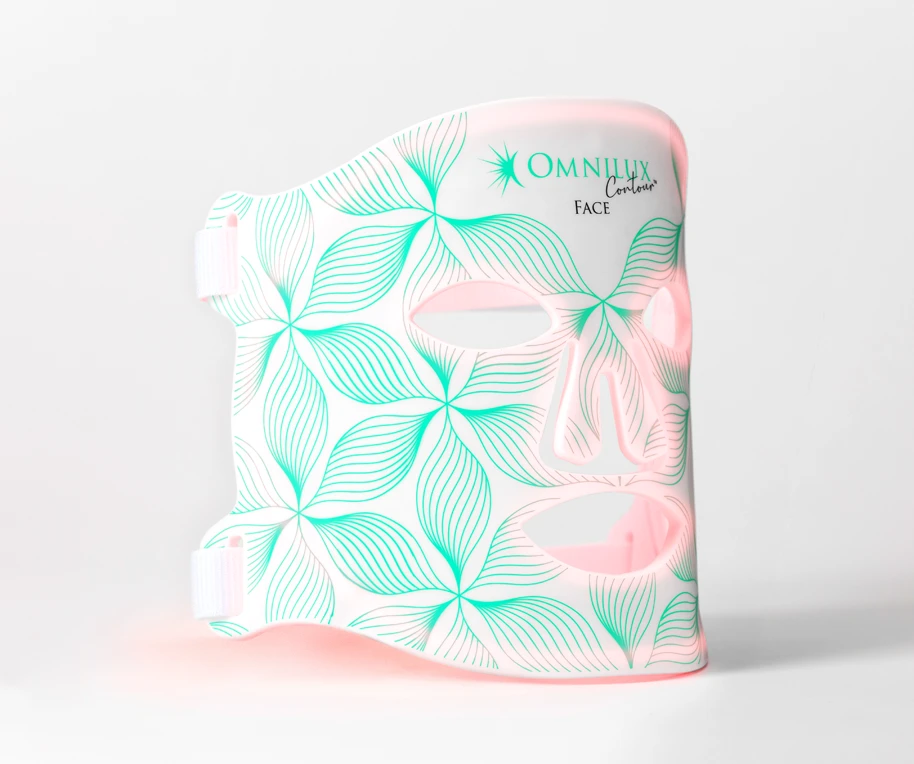 The Omnilux Contour Face is an LED mask that emits red and near-infrared light to stimulate skin cells. The manufacturer claims that the device reduces fine lines, wrinkles, and pigmentation, as well as improves blood circulation for a brighter complexion.
The mask has an ergonomic design that fits comfortably on your face, and it is all powered by a small battery pack that attaches with velcro. The mask itself uses high-quality LED lamps, which have a lifespan of 10 years.
Omnilux Contour Face is recommended to be used for 10 minutes 3-5 times a week.
More information about light therapy face masks, as well as devices that will surprise you with the result — in our article.
Omnilux contour light therapy reviews
"One of the main reasons I trust the Omnilux Contour is that it is backed by clinical data and based on medical devices that I, as a doctor, have used in the clinic for many years. My patients are delighted with these devices. They value excellent results and the convenience of home treatments without an appointment."
Adam, CO
"I'm hooked on the Contour Face mask. It's been a few months and my skin is much smoother, with fewer wrinkles around the mouth area thanks to this amazing product! It is worth every penny."
Anna, FL
"The results are so much better than I ever imagined. It's incredible the difference that this device has made with my skin. The treatment doesn't feel too intense; no worries about burning or anything like that because of its gentle energy fields which work wonders on your face as well. This could be one addiction worth getting hooked onto."
Rosanna, TX
"I can't believe how great my face looks after using the Omnilux Contour. It's like a whole new person. The redness is gone, and so are those bags under your eyes — which were quite prominent before treatment anyway. You'll see an immediate difference in skin tone; everything seems more even-looking, plump, hydrated. It really does work wonders for anyone who wants their complexion back!"
Holly, CA

Summary
The Omnilux Contour is the result of years of research and development using the most modern technology. Using the Omnilux Contouring, which emits light into the deeper layers of the skin, improves blood circulation, resulting in improved skin tone and texture.
The product is suitable for everyone but is a great choice for people who want instant results that they can see and feel after just one treatment.
Studies have shown that Omnilux Contour is capable of:
Increase the production of collagen and elastin (repair and firming the skin). This leads to an improvement in skin tone, texture, age spots, or damage to scar tissue.
Reduce the surface layer of the skin, reducing the appearance of wrinkles and making the skin look more youthful.
FAQ
🧐 How does the Omnilux Contour light therapy work?
The Omnilux treatment emits red and near-infrared light that stimulates natural collagen fibers to reduce wrinkles and fine lines. Near-infrared light also stimulates the dermis (layers under the skin) to produce more collagen, which tightens, firms, and firms aging skin for a more youthful appearance.
🔎 How many Omnilux Contour treatments do I need?
For best results, we recommend a series of 5-10 treatments performed 3 days apart during the first month and every 4-6 weeks thereafter.
❓ Which areas can be treated with the Omnilux Contour light therapy?
Omnilux Contour can be applied to the face, neck, decollete, and arms. For this, they have developed special devices:
Omnilux Contour Glove;
Omnilux Contour Neck and decollete;
Omnilux Contour Face.
⏳ How long does each treatment last?
The procedures take little time. On average, one session lasts only 5-10 minutes. Then you can go about your business without downtime.
Sources
J. W. Kim, "Clinical Trial of Nonthermal 633 nm Omnilux LED Array for Renewal of Photoaging: Clinical Surface Profilometric Results," Korean Society of Lasers in Medicine and Surgery, Vol. 9, No. 1, 2005, pp. 69-76.
Daniel Barolet, Charles J. Roberge, Francois A. Auger, Annie Boucher, and Lucie Germain. Regulation of Skin Collagen Metabolism In Vitro Using a Pulsed 660 nm LED Light Source: Clinical Correlation with a Single-Blinded Study. – Journal of Investigative Dermatology (2009) 129, 2751–2759; DOI:10.1038/jid.2009.186; published online 9 July 2009.
B. A. Russell, N. Kellett, L. R. Reilly. A study to determine the efficacy of combination LED light therapy (633 nm and 830 nm) in facial skin rejuvenation. – Journal of Cosmetic and Laser Therapy. 2005; 7: 196–200.
Fabien Baez, Laurence R. Reilly. The use of light-emitting diode therapy in the treatment of photoaged skin. – J Cosmet Dermatol. 2007 Sep;6(3):189-94. DOI: 10.1111/j.1473-2165.2007.00329.x.
reVive: Wrinkle Reduction: An In-house Red Light Therapy Study.