The modern routine is full of stress, which leads to many health problems. Unfortunately, it is very difficult in most cases to get rid of the very source of stress. In such a case, it is best to focus on removing the consequences of such a condition.
An excellent option for solving such a problem is the use of massage chairs. Such therapy, available at Planet Fitness, has many advantages. In this article, you can also read about the indications and contraindications of the use of massage chairs.
It's worth noting right away that unlimited use of massage chairs is available with a Planet Fitness Black Card Membership. This loyalty program also unlocks many other unique benefits, such as the use of the Total Body Enhancement machine.
Let's get started on our review of massage chairs at Planet Fitness right now!
What is a Massage Chair?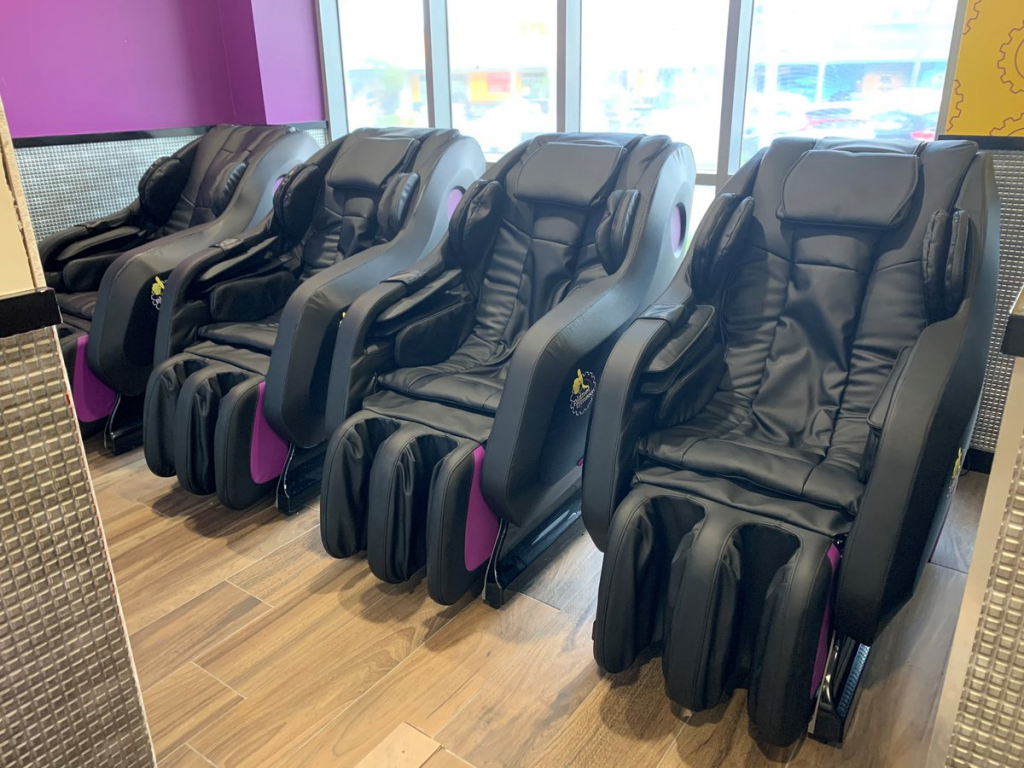 Massage chairs at Planet Fitness are special devices equipped with massage rollers. These rotating elements are located throughout the perimeter of the massage chair: on the backrest, seat, armrests, and lower elements around the legs.
The principle of massage chair work does not differ from the usual massage by a specialist. This device performs tapping, pressing, and stretching as well as the masseur during the session. But this effect from the massage chair occurs simultaneously in all parts of the body.
The massage chairs at Planet Fitness are equipped with sensory devices, sensors, and mini-scanners to monitor the condition of the device user. The user can also choose and control the different massage modes available.
Note:
There are 2,000+ Planet Fitness lounges throughout the United States and beyond, all of which offer unlimited
massage chair use
if you have a Black Card Membership.
When You Should Use the Massage Chair
The main purpose of massage chairs at Planet Fitness is to relieve the client from emotional and physical tension. However, there are also several other indications with which massage chair therapy is recommended.
The use of massage chairs is especially recommended by experts for:
People with circulatory problems;
People with spinal strain problems;
People who have problems with swelling of the neck, back & legs;
People with low physical activity;
People who want to relieve stress;
People with heavy and regular physical activity;
People with poor appetite;
People who want to prevent circulatory diseases;
People who want to prevent musculoskeletal disorders;
People who want to prevent diseases of the nervous system.
Important:
Be sure to consult with your doctor before deciding on massage chair therapy.
Based on the indications listed above, we can conclude about the main categories of people who will be very useful to the use of massage chairs. However, there are other categories that are recommended to use such chairs. To properly evaluate your particular case, we recommend that you ask a doctor for a recommendation.
Categories of people
What the use of a massage chair leads to
How using a massage chair helps to achieve the effect

Overweight people
Rapid breakdown of fats
Stimulation of the blood supply;
Improvement of metabolism.

Office workers
Reducing stress and tension;
Reduction of muscle pain.
Working out all the muscles at once;
Helps you collect your thoughts and calm down.

Elderly people
Dull joint pain
Separate treatment of hands and feet;
Ability to set a higher intensity massage for more painful and problematic areas.
Sportsmen
Healing of micro-traumas in muscles
Improvement of regenerative processes in the body;
Relieving muscle tension.
Pros and Cons of the Massage Chairs
The massage chairs at Planet Fitness aim to make your body healthier. To choose the right massage program, you need to consult a doctor. This will help you identify the muscles that require special attention during the massage.
The positive effects of massage chair therapy at Planet Fitness and its disadvantages are described in the table below.
Pros
Accelerate metabolism;
Promotes relaxation;
Stimulates blood circulation;
Relieves stress and chronic fatigue;
Improves flexibility of the back and spine;
Activates the body's regeneration processes;
Relieves muscle tension after exercise;
Helps relieve pain in the body and muscles;
Improves sleep;
Relieves headaches.
Cons
Use is only available to Black Membership Card holders;
Guests of Planet Fitness Black Card holders are not permitted to use the massage chairs.
How to Use a Massage Chair at Planet Fitness?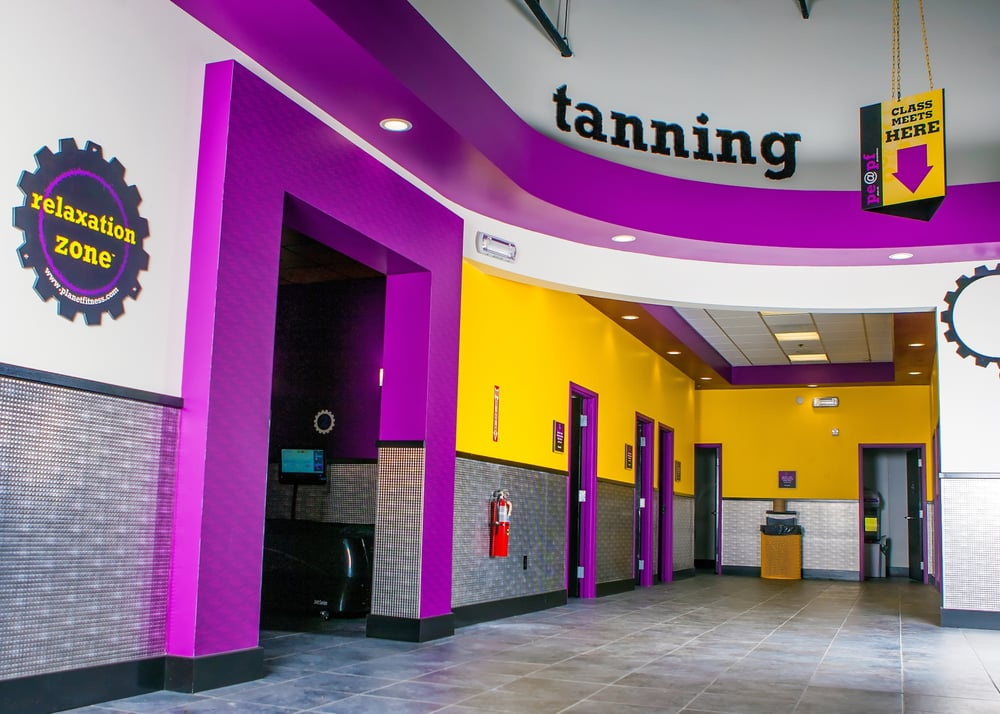 To use the massage chairs at Planet Fitness you need to have a Black Card Membership. With it, you will have unlimited access to this therapy when you become a member of this loyalty program.
Our advice:
The innovative
Total Body Enhancement
procedure, also available only to Black Card holders, is a great addition to the use of massage chairs.
The massage chairs are located in the relaxation zone at Planet Fitness. To use them, you need:
Approach the fitness center staff at the front desk and pick up a Planet Fitness set for massage;
Walk to the massage chairs in the relaxation zone;
Press the blue button on the wall next to the massage chair of your choice – it will activate the chair;
Sit in the chair;
Press the "Start" button to start the massage session;
Select the position of the chair, the intensity of the massage, and the massage mode on the touch control (located on the armrest of the massage chair);
Enjoy the massage session;
When it is over, press the "Stop" button on the touch control;
Get up from the chair;
Wipe the massage chair with the special wipes there to disinfect it for future use.
If you are already a client of Planet Fitness, you have probably noticed the cleanliness of all areas of the fitness center. That's why the staff asks clients to keep it clean as well.
After the massage session, you will need to wipe your used massage chair with special Planet Fitness wipes. We are sure you will also be pleased to sit in a clean and disinfected massage chair.
Also, remember that 1 massage session can last no more than 30 minutes. Keep this in mind when using the massage chair. Longer use of the massage machine may lead to muscle pain.
Planet Fitness Massage Chairs Contraindications
Unfortunately, no wellness treatment is universal and has its peculiarities. Because of this, each has certain contraindications. Massage chairs are also no exception.
Massage therapy using a specially equipped chair has the following contraindications:
Age under 12 years old;
Pregnancy;
The postpartum period in women;
Painful menstruation;
Gynecological diseases;
Oncological diseases;
Infectious diseases and acute respiratory infections;
Dermatological diseases;
Diseases of the urogenital system;
Diseases related to blood circulation (thrombosis, varicose veins, etc.);
Intestinal diseases;
Diseases of the cardiovascular system;
Chronic ulcers;
Chronic allergic diseases;
Acute inflammatory processes.
❗️❗️ Important:
Do not self-diagnose yourself, consult your doctor before using massage chairs!
If you fall into one of these categories of people with contraindications, do not rush to get upset. You may be able to find a compromise with your doctor in the form of less prolonged use of a massage chair or use on a low setting.
A traditional massage by a specialist may also be an alternative. However, you should still consult a doctor and find a solution that is not harmful to your health.
Summary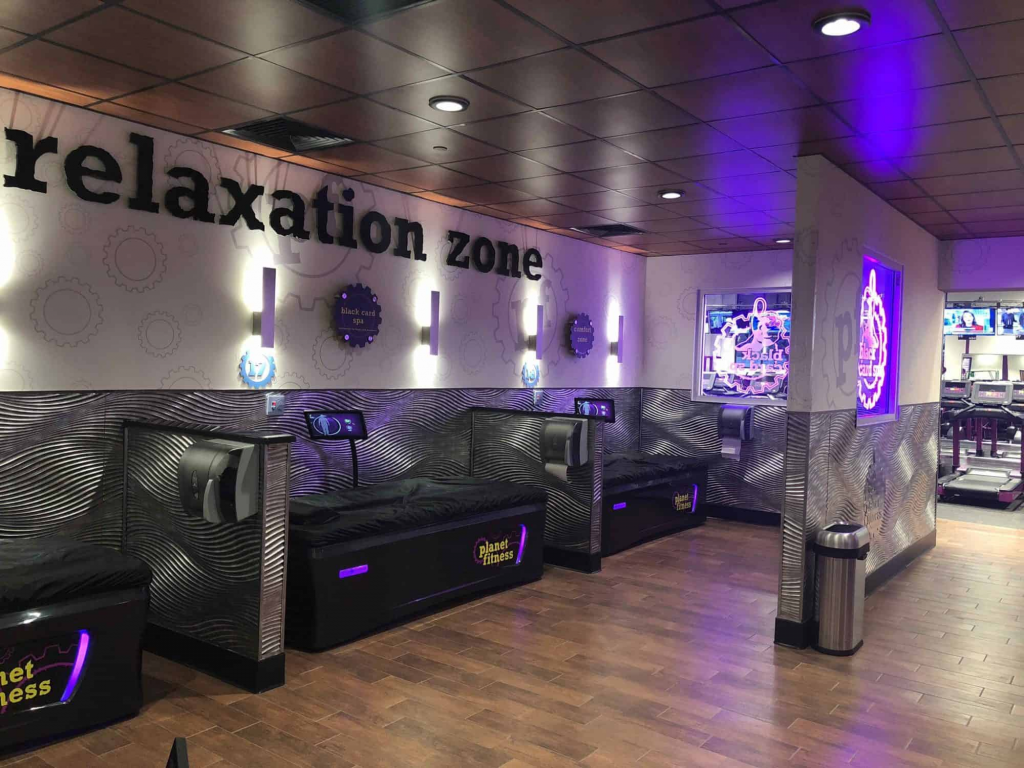 When it comes to treating certain illnesses or preventing possible ones, not everyone thinks about using massage chairs. However, you should pay attention to this device. In addition to relaxation and pleasant sensations, this device helps to cope with ailments such as poor circulation, spinal muscle strain, and swelling of the limbs and neck. This is just a small part of the possibilities that you can experience using a massage chair.
The Planet Fitness chain of fitness centers has a large number of these chairs available. To get unlimited access to use you will need to sign up for a Black Card Membership, which has many other benefits.
In this article, we have compiled all of the most important aspects related to massage chairs at Planet Fitness so that you don't have to look for information in other sources:
It is easy to be healthy!
FAQ
💬 What is a Planet Fitness massage chair?
These are chairs that have massage rollers built into them. They create the effect of tapping, pressing, and stretching, which provide prevention and treatment of various diseases. You can read more about the indications in our article.
📋 What are the indications for the use of massage chairs at Planet Fitness?
You should use massage chairs to treat circulatory, spinal strain, swelling of the neck, back & legs, poor appetite problems, prevent circulatory diseases, musculoskeletal disorders, diseases of the nervous system, relieve stress, and if you have low or high physical activity.
🔍 Who can use the massage chair at Planet Fitness?
All Black Card Membership holders may use the massage chair at Planet Fitness with no limitations.
🩺 What are the contraindications to using a massage chair at Planet Fitness?
Contraindications to the use of massage chairs are age less than 12, pregnancy, a postpartum period in women, painful menstruation, gynecological, oncological, dermatological diseases, intestinal, infectious diseases, diseases of the urogenital system, diseases related to blood circulation & cardiovascular system, chronic ulcers & allergy, and acute inflammatory processes