Planet Fitness is a world-renowned chain of fitness centers with more than 2,000 clubs. It exists for 30 years now and in that time the club has developed a variety of treatment options, which include Total Body Enhancement, HydroMassage beds, and of course the tanning beds.
Today we will take a closer look at the tanning bed. What options are available at Planet Fitness, how does it all work, and is it worth using these services at all? In a nutshell, if you observe the precautions, yes, but there are nuances. But one thing at a time!
What is Planet Fitness Tanning?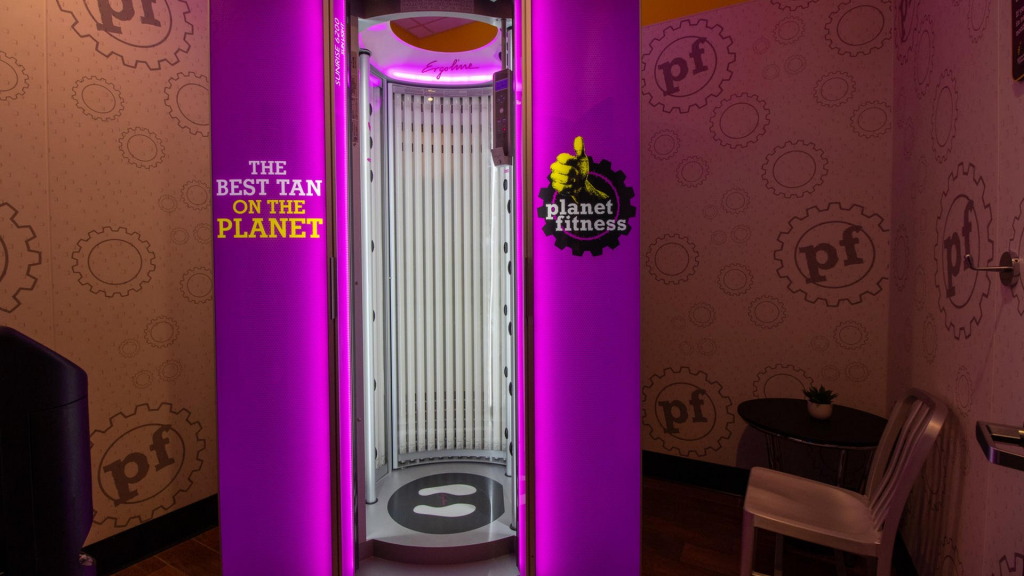 Tanning in Planet Fitness is a special feature available for Black Card Members only. The system works so that you can't pay for this service separately, and the only way to get it is to pay for a membership with a black card. It costs the same everywhere — $25 (for comparison, a classic membership with access to the gym only costs $10).
You can use the tanning at any time of the day or night if your PF club works 24/7 (but don't think about sitting there 24 hours a day!). Depending on which PF club you go to, different types of tanning may be available to you (we'll talk about them below). Keep in mind, however, that these services are used on a first-come, first-served basis and may not be available when you get there. So be prepared to wait a bit or come early to avoid the lines.
How does it work?
Using the tanning salon services at Planet Fitness is pretty easy, similar to tanning salons in other places. In general, the tanning beds are open 24 hours a day, and there is no such freedom for tanning booths, but they usually have a schedule written on them.
Tanning occurs as a result of exposure to ultraviolet (UV) radiation from a tanning bed (or sun). UV causes genetic damage to the cells of the outer layer of the skin. The skin tries to prevent further damage by producing melanin the pigment that gives our skin its color which causes it to darken. And that's what we call a tan.
Types of tanning in Planet Fitness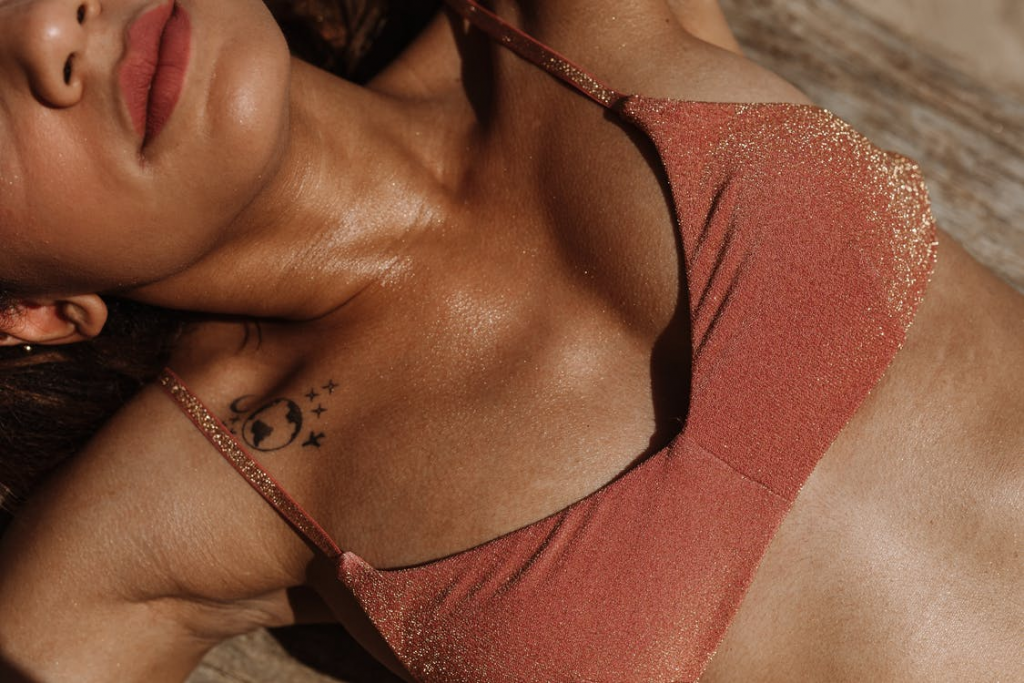 There are a few types of tanning in Planet Fitness:
Laydоwn tanning beds
Stand-up tanning beds
Spray tan bооths
1. Laydоwn tanning beds are a classic. Their advantage is that they promote relaxation (not just tanning) and affect the skin less intensely than those in which you have to stand. A session in these tanning beds lasts no more than 15 minutes.
However, there are some disadvantages to this option. Firstly, hygiene. In Planet Fitness it is customary to clean the tanning beds yourself after the session, and the previous user can clean them poorly. Therefore, always check for cleanliness before use. And second, these beds are glass and when you lie on them, pressure points form between your skin and the tanning bed. On the one hand, this way you don't get direct UV radiation. But on the other hand, tanning creases can form on the skin and the tan will be uneven. Therefore, it is better to change your position more often to avoid these tanning creases.
2. Stand-up tanning beds are preferred by those who are willing to sacrifice relaxation in favor of a more intense tan. In addition, such beds are more hygienic because there is more space and you do not need to come into contact with the tanning bed itself.
❗ But be careful: in this case, your skin will be exposed to direct UV rays and this can lead to negative consequences if your skin is not prepared for this. A session in a standing tanning bed lasts 10 minutes.
3. Spray tan booths are not available in all Planet Fitness clubs, but they give you almost perfect results. The plus side is that this option is healthier than a tanning bed, but remember that you can't use spray tan in these booths.
Treatment in a spray tan booth only lasts 3-5 minutes. During this time, you stand in the middle of the booth and look in the direction the voice assistant tells you.
How to use PF Tanning Bed: a Step-by-Step Guide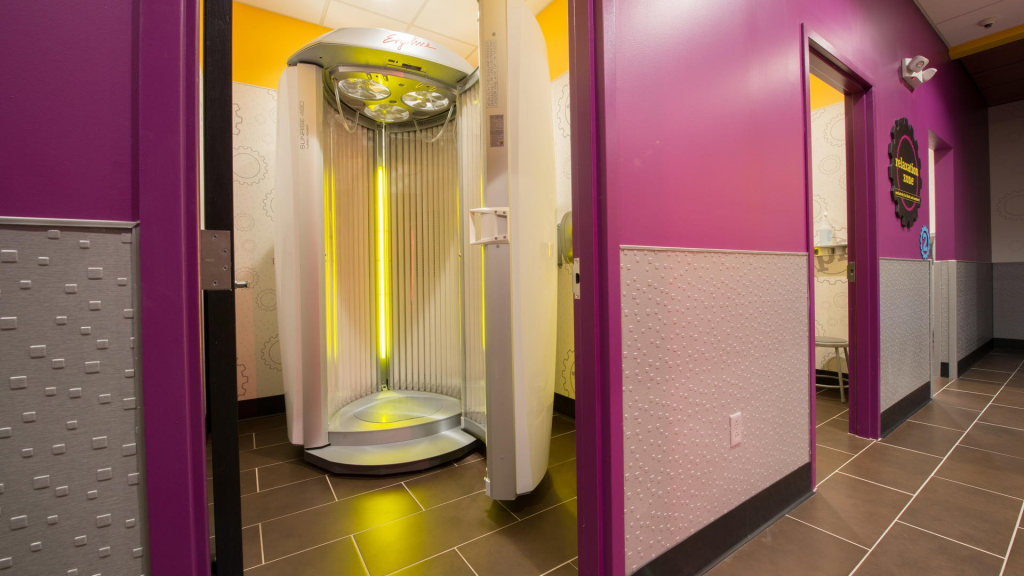 So, you've come to Planet Fitness tanning and you're ready to get your perfect tan. What should your next steps be? In fact, the staff at Planet Fitness will definitely give you a beginner's briefing and set a timer for you (so you don't stay in the tanning bed too long). However, we'll cover all the steps so you're prepared in advance for any surprises.
Leave all unnecessary items in the changing room and don't bring anything but tanning lotion with you (if you're using a laydown or stand-up tanning bed).
If you use lotion, apply it gently to your body, but don't overdo it. Lotion dries quickly and you may think it's not enough, but it is.
Be sure to wear eye protection like eye goggles.
So, you are ready to get in the tanning bed. Try to spread your legs and arms slightly apart, without pressing your body parts against each other. This way you can achieve an even tan.
In the middle of the session turn over on your stomach, so that your back tans just as well. You can bend your arms and put them under your chin to make it more comfortable.
In the end, try to force yourself to turn on your side. Lie for half a minute on one side, and the same amount of time on the other side. This way you will ensure an even tan on all sides and you will be most satisfied with the result.
Use paper towels that are always near the tanning bed, and don't forget to clean the tanning bed after yourself.
Planet Fitness Tanning Dress Code
It is recommended that you wear light and comfortable clothing that you can quickly take off and put on before the solarium. In the solarium itself, it is usually preferable to either stay in your underwear or tan without any clothes.
If you choose the nude option, then you will achieve a perfect tan. However, underwear (or alternatively a swimsuit) is also good, because then the most delicate parts of the skin will be protected from UV rays.
Planet Fitness Tanning Benefits & Dangers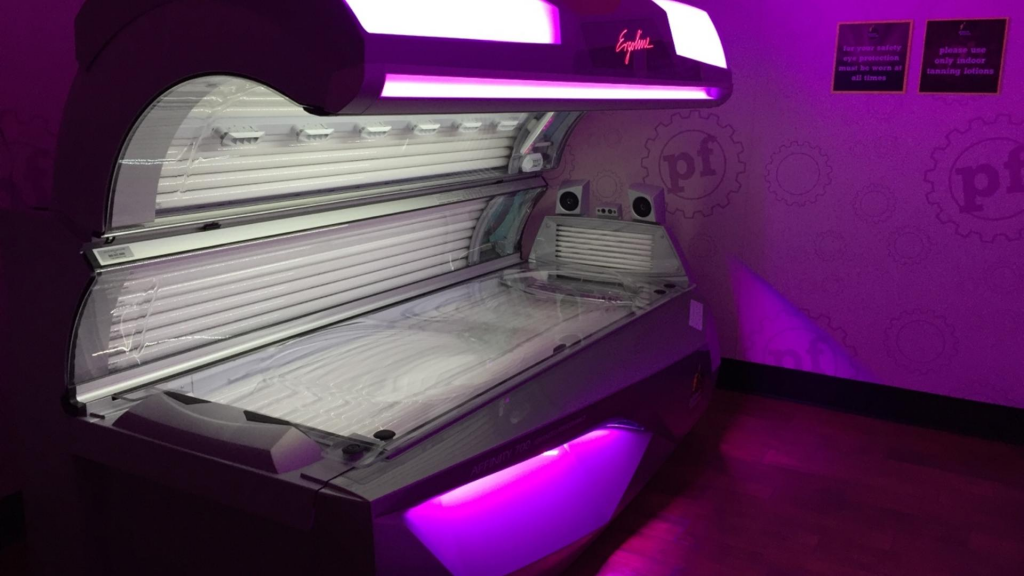 Sunbathing in the Planet Fitness tanning salon is convenient for many reasons. You don't need to spend time and money on different places if you do sports and want to tan — everything is available in one place. However, there are some drawbacks as well. You can compare them with the help of our lists of benefits and dangers.
Pros
Tanning in Planet Fitness is available at any time: day or night, winter or summer (although you shouldn't spend too much time there so as not to harm yourself).  So, you can keep your tan at least all year round.
It's convenient to go to the tanning after workouts, everything is close by.
Tanning beds are very easy to use, but even if something is not clear, the PF staff will always help.
You don't need to make an appointment in advance for a session, you can come whenever you want.
Cons
Hygiene is the weak point of the Planet Fitness tanning salon. Despite the rules on cleaning up after yourself, not everyone follows them. So always check the sunbed before you go in.
Excessive use of UV rays can contribute to the development of skin cancer or rashes.
Even though tanning beds do not use direct sunlight, you can still get burns or allergic reactions from UV light if your skin is too light and sensitive.
If you have dry skin, a tanning bed will not do you any good because it will dry it out even more. And over-dry skin becomes more prone to wrinkles and other cosmetic conditions.
If you feel that PF tanning is not for you, don't worry: we do have
alternatives
.
Tanning lamps
can become your favorites because you can use them right at home. And you won't worry about hygiene, at least.
Planet Fitness Tanning Rules
There are not many official rules for visiting the Planet Fitness tanning salon, but it is worth keeping them in mind:
The minimum acceptable age for a PF tanning bed is 18, but in some states, it may be older.
People who are not PF Black Card members (and guests invited by Black Card holders) cannot use the tanning salon.
Participants may tan as often as permitted by applicable law, but no more than once every 24 hours
There are no official statements about the bed weight limit in PF tanning. But depending on the thickness of the acrylic used, the average weight that a traditional tanning bed can hold is about 250 pounds, and most commercial tanning beds can hold 300-400 pounds.
Safety Tips to Know Before PF Tanning
Tanning in a Planet Fitness tanning salon may turn into a walk in the park for you if, of course, you take certain precautions.
Even though a tanning bed is included in your Black Card membership unlimited, you should not abuse it. If you go there too often, it will only harm your skin. The best option is 2 sessions a week (not in a row, but at least 48 hours apart).
Always carry eye protection — goggles with protection against UV rays, because the eyes are very sensitive.
Don't forget that depending on your skin type, the optimal time to stay in the tanning bed is different. If you have fair skin, it will be harder for your skin to withstand UV radiation, so you should spend less time in the tanning bed.

Always set a timer before tanning and do not exceed the time you spend in a tanning bed or booth.
If your Planet Fitness club has a Total Body Enhancement machine, it can be a great addition to your fitness routine. If you don't have too light and sensitive skin, you can go to The Beauty Angel RVT30 Total Body Enhancement machine before your tanning bed. This machine provides low-impact muscle toning. Also, red light therapy brings blood to the surface of the skin and provides a better tan due to the increased oxidation of melanin.
Summary
The Planet Fitness tanning can be a great addition to your fitness routine and give your skin a beautiful tan hue. Remember, however, that you should not get too carried away with this procedure. Always remember to protect yourself with eye goggles before you go tanning. Also, keep your tanning bed clean to avoid the possibility of contracting skin diseases. Finally, plan your hours carefully so that you don't over-sun, and moisturize your skin with lotion before sunbathing so that you don't dry it out.
FAQ
🌞Can guests tan at Planet Fitness?
Unfortunately, guests of PF Black Card members and members under the age of 18 cannot tan in the PF tanning.
💪Should I tan before or after working out?
It is best to tan in a tanning bed after a workout. Usually, you can relax in this way. The main thing is to moisturize your skin well before the procedure and don't run in immediately after jogging — let your body cool down.
🚿Why should you not shower after tanning?
It takes time for the tan to set on your skin. If you take a shower right after a tanning bed, your tan may become dull or uneven. Therefore, we recommend that you wait 4-5 hours after your treatment before getting in the shower again.
⌚What are 5 minutes in a tanning bed equivalent to?
If we compare a tanning bed with a natural tan under the sun, 5 minutes in a tanning bed are equal to an hour of natural sunbathing.