Medically reviewed by
Mahshid Moghei
.
People are constantly trying to improve medical treatments. The main goal is to make everything less painful, but still effective.
A lot of people struggle with various injuries, aches, or diseases. For decades treatment would be expansive and agonizing. However, in 1967 a Hungarian scientist Endre Mester discovered cold laser therapy, which became a game-changer [1].
Cold laser therapy works great for healing injuries related to diabetes, inflammation, swelling, burn scars, hair loss, migraines and headaches, skin imperfections, traumatic brain injury, and mouth infections [2–7]. However, keep in mind that it isn't some magical device for curing all diseases; it is simply an additional tool to help with pain relief.
In this article, we will look at cold laser therapy, the scientific evidence behind this therapy, its effectiveness, the benefits of using it, and the best devices on the market.
KTS cold laser therapy device

Easiest to use
✔️ The highest number of time settings
(set a perfect timer without unnecessary distractions)
✔️ The fastest to recharge (just 2 hours)
✔️ Most straightforward User Manual
✔️ Can be used on pets




TENDLITE cold laser therapy device

Best for pain relief
✔️ The biggest number of additional tools
(pouch, charger, protective glasses, case,
and 2 batteries — no need to buy extra accessories)
✔️ The longest-lasting battery (several weeks)
✔️ Can be used on pets
✔️ FDA approved

SINORIKO cold laser therapy device

Best for pets
✔️ The most lightweight
✔️ The biggest number of power modes
(you can change modes through treatment
depending on the case)

ATANG cold laser therapy device

The most personalized
✔️ The best customer support
(super quick to resolve any issues)
✔️ The best display size (easy to see)
✔️ Can be used on pets
What is cold laser therapy?
When you hear "Cold laser therapy" you probably think of ice, freezing, and enormous pain. However, these things have nothing to do with the therapy itself. "Cold" simply states the inability to heat your skin due to the usage of low levels of light. As for those who fear lasers — relax; it is a non-invasive therapy, so you will not feel a thing. Cold laser therapy got its fame for being a painless way to heal your wounds, treat sprains and muscle spasms, resolve skin problems, help with chronic aches and even boost hair growth [3–7].
It is also called:
Low-level laser therapy (LLLT)
Low-power laser therapy (LPLT)
Soft laser biostimulation
Photobiomodulation
Low emitted diodes (LED) therapy [1]
A cold laser therapy device has wavelengths from 600 to 890 nanometers (nm) [8], it is easy to use, portable, and just as good as the one at a doctor's office. This device will help you not only physically, but financially as well. Firstly, you do not have to spend money and time to go to a doctor's office, since you can always use the device at home or on your way to work. Secondly, this device can also be used for pets, so there is no need to buy an extra one for your pet [9].
How do cold laser therapy devices work?
Low-level red and near-infrared light waves apply directly to your skin helping cells to regenerate. Wavelength varies from 600 nm to 890 nm depending on the needs (650 nm – 680 nm for wounds, bruises, and 800 nm – 890 nm for joint pain, or inflammatory-related ailments). Longer waves mean deeper penetration into the tissues, which enables the device to treat more complex cases [8].
Every device has different time settings, though usually, people take 5-10 minutes sessions.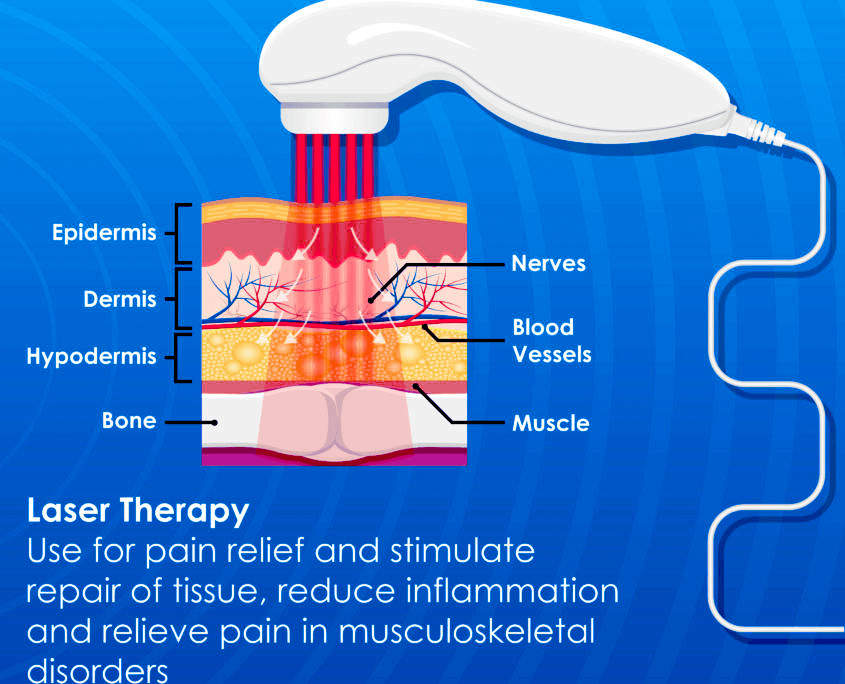 LLLT has been shown to increase the proliferation of these types of cells [10]:
Fibrolates (produce collagen and elastin)
Keratinocytes (produce the protein that makes up skin, hair, and nails)
Endothelial cells (found in blood vessels, lymphatic vessels, and the heart)
Lymphocytes (white blood cell that's an important part of the immune system)
Therefore, skin gets softer, wrinkles disappear, hair grows better and stronger, and blood circulation is improved. People experience pain relief, and pets become more active.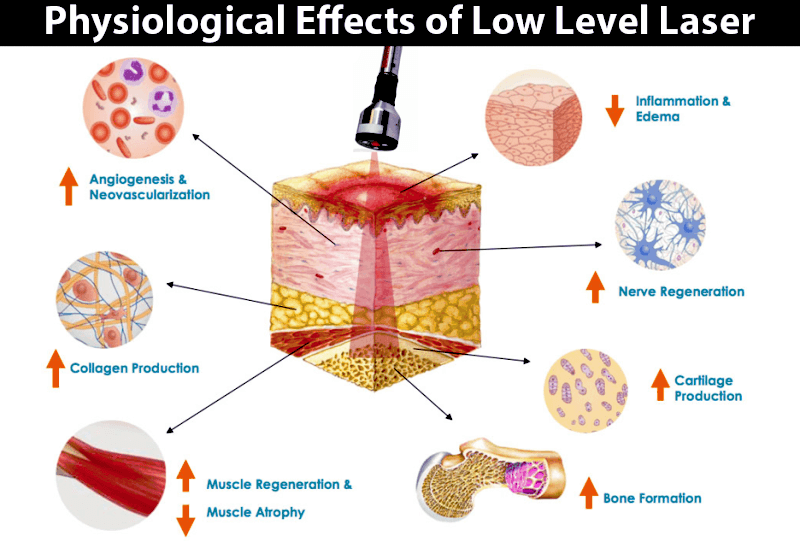 What do cold laser therapy devices help with?
Skin problems
Skin imperfections bother many people. That's where cold laser therapy will assist you. It treats [11]:
Acne
Psoriasis
Burns
Swellings
Dermatitis
More information on the treatment of acne with low-light laser therapy can be found
is in our article
Sport injuries
People often use cold laser therapy devices after training to reduce pain or training-related injuries [12]. LLLT works for:
Minor injuries
Sprains
Bruises
Spasms
Strains
Knee, back, and neck pain
Wound healing
The device stimulates damaged tissues to repair. It is commonly used to treat internal and external wounds. Lasers accelerate the body's natural healing processes by using a wavelength of light to boost blood flow at the site of injury.
Types of wounds that can be healed with a light therapy device [13]:
Infected wounds
Pressure ulcers
Diabetic wounds
Arterial ulcers
Chronic wounds
Surgical wounds
Pain relief
Cold laser therapy reduces nerve sensitivity by decreasing bradykinin (a chemical that causes pain). It releases endorphins (chemicals produced by the body to relieve pain). LLLT has a pain-reducing effect on certain nerve fibers [8].
The device also helps with:
Migraines and headaches
Traumatic brain injury
Mouth infections
Chronic pain
Arthritis
Hair loss
Cold laser therapy encourages hair growth. In a study [14] 44 males aged 18-48 got their hair trimmed to 3 mm length. The participants had a 35% increase in hair growth following the 4 months of treatment. LLLT irradiates photons into scalp tissues. These photons are absorbed by cells to improve hair growth.
Pet diseases
LLLT relieves your pet's pain. It activates acupressure points that provide musculoskeletal relief as well as block nerve receptors to reduce pain [9].
The device is beneficial in situations like:
Wound healing
Spine disease
Postoperative stitches
Osteoarthritis
Muscle injuries
Skin conditions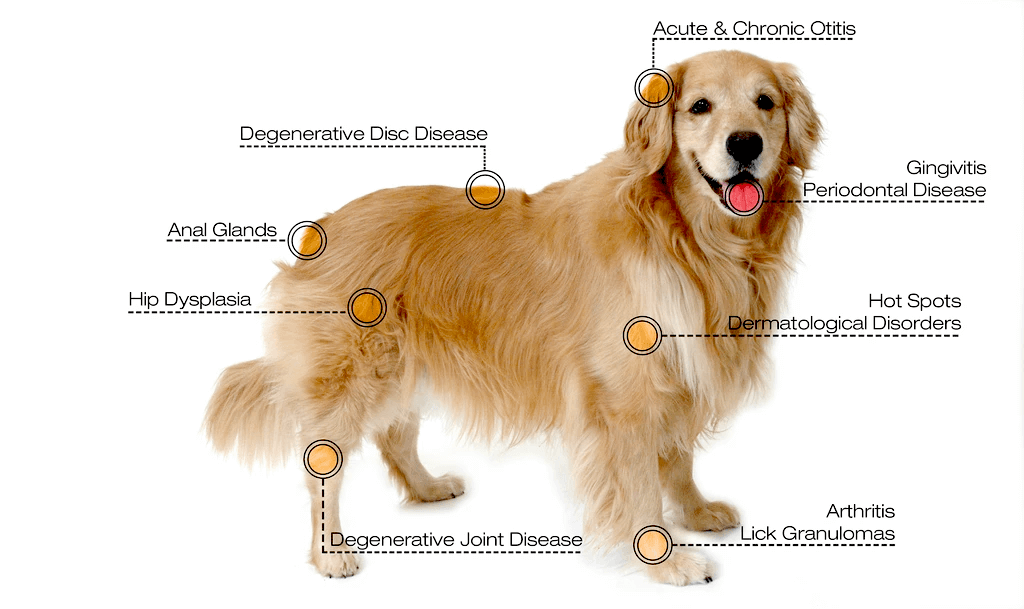 How effective is cold laser therapy? Based on scientific research
Effectiveness in humans
Cold laser therapy is safe and approved by the U.S. Food and Drug Administration (FDA) [15]. This particular criterion means that the product was tested several times under the supervision of professionals.
The effectiveness of the therapy was evaluated by various researchers. American, Australian, and British scientists have conducted research studies [16] to determine whether LLLT is an effective technique for pain relief. The researchers have stated that LLLT does help relieve pain and promotes the healing processes in the body. More common methods, such as steroid injections, acupuncture needles, and anti-inflammatory drugs are less safe and have side effects compared with cold laser therapy.
In one study [17] 300 people with wrinkles tried photobiomodulation therapy and 90% of them found their skin to be softer after a few sessions. They also experienced a reduction in skin unevenness and fine lines ranging from a significant reduction to sometimes subtle changes.
Twenty-eight patients participated in another study evaluating the effect of LLLT therapy [18]. Patients with acne vulgaris 18 years and older were treated with red LLLT (630 nm) and infrared LLLT (890 nm) on the right and left sides of the face respectively, twice per week for 12 sessions. Ten weeks after treatment acne lesions were significantly decreased on the side treated by 630 nm LLLT (cold laser therapy device wavelength).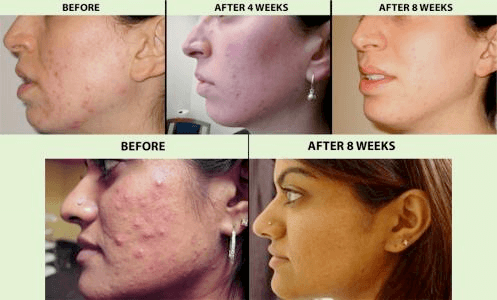 Another study [19] on the effect of cold laser therapy showed positive results for herpes labialis (cold sore). Fifty patients with recurrent perioral herpes simplex infection used LLLT therapy daily for 2 weeks. Treatment was shown to decrease the frequency of herpes labialis episodes. However, you should keep in mind that a cold laser therapy device is not a magical cure for all medical conditions, so do not expect your disease to just go away. The device simply helps you to overcome pain and improve some medical issues.

Effectiveness in animals
Cold laser therapy is also widely used on animals like dogs, cats, horses, and mice. A group of scientists conducted research [20] aiming to determine how dogs' bodies react to this therapy.
In this study, 2 female dogs and 3 male dogs, aged between 2 and 9 years old, from 3 different breeds (1 crossbreed, 1 Cane Corso, and 3 English Bulldogs) were selected. In each dog, one lesion was designated as the control (treated with a Cortavance® spray) and other lesions were treated with a light therapy device, daily for 5 days and as a follow-up treatment over two months. Results proved LLLT's beneficial healing effect on the dogs' injuries.
Veterinarians from different clinics not only support cold laser therapy devices but also advise people to buy them for home use.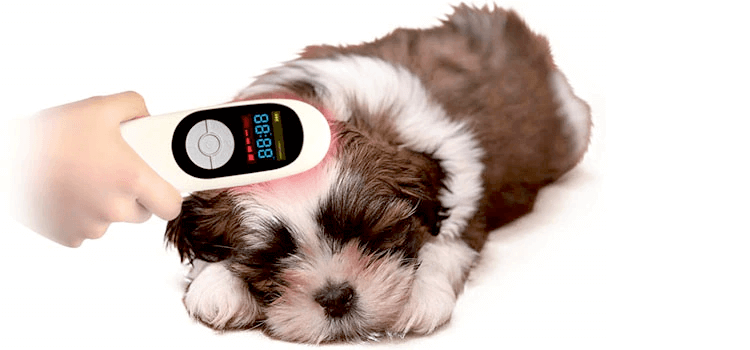 📢Tip: when using on animals shave the treatment area
Who can't use a cold laser therapy device?
Even though cold laser therapy devices help people and their pets with various health problems, there are still some exceptions for their use. Women are recommended to avoid the device during pregnancy as its effect on fetuses is not well known and researched.
It is risky for people diagnosed with cancer to use the device since it might stimulate tumor growth. Those with blood diseases (anemia, hemophilia, blood clots) and epilepsy should also avoid using this device.
Best cold laser therapy devices
KTS cold laser device is perfect for those who don't like wasting time on complicated technologies. For instance, elderly people complain about devices with dozens of buttons, which they cannot learn how to use. KTS only has two buttons: one for turning the device on/off, another for timer settings. The device has 12 x 650nm diodes and 2 x 808nm diodes to cover a large area. According to users' feedback, KTS also has the best instructions (most straightforward User Manual), which is a rare case among LLLT devices. People find the Manual legible (good font size and color of text) and valuable (lots of tips for using the device). You can choose the length of your sessions from 6 different settings, so the procedure goes without constant distractions. The device can be used everywhere as it comes with a travel case and has a battery life of up to 4 days.
The only disadvantage is the difficulty of applying KTS on your back. You might need somebody`s help there.
Pros
The highest number of time settings (5, 10, 15, 20, 25, 30 minutes timer — choose a perfect time for a session without interruptions)
The fastest to recharge (fully recharged in 2 hours)
Longest-lasting battery (lives for up to 4 days depending on the frequency of usage)
The most straightforward User Manual according to customers' feedback
Comes in a zipper-closure travel case, a charging cord and AC adapter, eye protection glasses, and a cleaning cloth
Portable
Can be used on pets
Cons
Difficult to use it on your back by yourself
SINORIKO cold laser therapy device is perfect for taking care of your pets. The device is extremely light and portable. The device has 13 x 650nm diodes and 3 x 808nm diodes so it can cover a large area. It has four-time settings, and you don't have to constantly be distracted by clicking the buttons. The device allows you to choose the right power mode depending on your preference, making it very personalized. As a result, SINORIKO is the most suitable device for animals.
However, some people say that the user manual doesn't cover a lot of information on usage (especially the dosage for each case), therefore, it might be helpful to watch some videos on how to use the device.
Pros
The most lightweight device
The highest number of power modes (4 modes from low to high)
Long-lasting battery (up to 5 hours of continuous usage)
Multiple timers (5, 10, 15, and 20 minutes) to allow an interruption-free session 
Comes with protective glasses, USB charger, and storage case
Portable
Cons
TENDLITE cold laser therapy device is the most famous one on the market. You will recognize the smooth design of a flashlight at a first glance. It works on a single wavelength (660 nm diode) and is considered to be most helpful for chronic pain. Scientists also support the use of TENDLITE as it's FDA-approved. The battery lasts for several weeks, so you can take it with you anywhere you want without worrying about a charger. The only drawback is its built-in 1-minute timer, so you have to constantly restart the session.
Pros
FDA-approved
Comes with pouch, charger, protective glasses, case, and 2 batteries
The longest-lasting battery (lasts for several weeks depending on the frequency of usage)
Rechargeable
Portable
Can be used on animals
Cons
1-minute timer
Poor user manual
ATANG cold laser therapy device is perfect for those who are not willing to spend a lot of money on devices but want to reduce pain. It has a great combination of 12x 650nm diodes and 1x 808nm diodes, which provides a better result and covers a larger area. The manufacturer recommends using the device at least twice a day for 30 minutes per session. However, you can adjust the time length according to your preferences. Even though this device is less expensive than our other devices, it doesn't mean that it's less effective. The price is lower because protective glasses and a traveling case are not included. These accessories are not crucial, but you can purchase them separately if you wish. Simply keep in mind to avoid looking directly at a laser light as it's dangerous for your eyes. In addition to the lower price point, ATANG also has incredible customer service with very friendly representatives to help you if needed.
The device has a brilliant combination of 12 x 650nm diodes and 1 x 808nm diodes, which enables a better result and covers a bigger area.
The device comes with protective glasses, however, you might want to buy a traveling case, if you plan on taking it outside.
Pros
The best customer support
Portable
Can be used on animals
Rechargeable
Comes with a power adapter and protective glasses
Has 10, 15, 20, 25, and 30 minutes timer (to take long sessions without interruption)
Has 4 power modes (change the power intensity throughout the treatment course)
The best size of a clock (comfortable to watch)
Cons
Benefits of using cold laser therapy devices
Painless
These devices are completely painless as they don't heat your skin. They also don't make any sounds or vibrations.
Noninvasive
You won't have to buy bandaids, or worry about cuts and bleeding. Cold laser therapy devices use red and near-infrared light which your body absorbs, stimulating cells to regenerate.
Versatility
Another positive aspect is that devices can be used for both humans and animals, so there is no need to buy a different device for your furry companion. Cold laser therapy takes care of your health and wallet.
Summary
Whether you are trying to get back on your feet after training, or you fear hair loss, cold laser therapy will help you. This innovation has become so popular for its non-invasiveness and painlessness.
Cold laser therapy devices are comfortable for home use: they are extremely lightweight, rechargeable, and easy to use. Even the elderly who may struggle with technology will find these devices easy to use.
The devices are portable, so you can continue to use them while traveling.
One of the biggest advantages of cold laser therapy devices is the ability to use them on pets as well. Whether your cat has stitches after an operation, your horse struggles from arthritis, or your dog regularly sprains its muscles chasing birds and squirrels— a cold laser therapy device will assist you. These devices don't produce any heat, noise, or painful sensations, so your pet will not experience any discomfort, or distress from the process.
This article was medically reviewed by Mahshid Moghei,
Medical Editor and scientific communicator with a PhD in health sciences
and extensive experience in scientific research and Medical Communications in various therapeutic areas.
FAQ
🏆 Which cold laser therapy device is the best?
💰 How much does a cold laser therapy device cost?
The price for cold laser therapy devices varies from $100 to over $2000 depending on settings, wavelength, size, and additional tools. The average price for a device with all needed additional tools (protective glasses, case, charger) and at least 3-time settings would be around $140.
🐕 Which cold laser therapy device is the best for dogs?
✂ Does cold laser therapy work for hair loss?
Yes, it boosts hair growth and there is scientific evidence supporting this claim. According to a study [14] conducted by Dr. Lanzafame and colleagues, patients had a 35% increase in hair growth following 4 months of treatment.
🕐 How often can you use cold laser therapy?
An average session lasts for 5-10 minutes 2-3 times a day. Depending on your condition, the device can be used daily or several times per week.
Sources
Michael R. Hamblin. Photobiomodulation or low-level laser therapy. — J Biophotonics. 2016 Dec; 9(11-12): 1122–1124. DOI: 10.1002/jbio.201670113.
Raquel Gomes de Sousa and Keila de Nazaré Madureira Batista. Laser therapy in wound healing associated with diabetes mellitus. Review. — An Bras Dermatol. 2016 Jul-Aug; 91(4): 489–493. DOI: 10.1590/abd1806-4841.20163778.
Howard B Cotler, Roberta T Chow, Michael R Hamblin, and James Carroll. The Use of Low-Level Laser Therapy (LLLT) For Musculoskeletal Pain. — MOJ Orthop Rheumatol. 2015; 2(5): 00068. Published online 2015 Jun 9. DOI: 10.15406/mojor.2015.02.00068.
Jisha K Pillai and Venkataram Mysore. Role of Low-Level Light Therapy (LLLT) in Androgenetic Alopecia. — J Cutan Aesthet Surg. 2021 Oct-Dec; 14(4): 385–391. DOI: 10.4103/JCAS.JCAS_218_20.
Luana Mazzacoratti Loeb, Rebeca Padrao Amorim, Maria da Graça Naffah Mazzacoratti, Fulvio Alexandre Scorza, Mario Fernando Prieto Pere. Botulinum toxin A (BT-A) versus low-level laser therapy (LLLT) in chronic migraine treatment: a comparison. — Arq Neuropsiquiatr. 2018 Oct;76(10):663-667. DOI: 10.1590/0004-282X20180109.
Connor Thunshelle and Michael R. Hamblin. Transcranial Low-Level Laser (Light) Therapy for Brain Injury. — Photomed Laser Surg. 2016 Dec 1; 34(12): 587–598. Published online 2016 Dec 1. DOI: 10.1089/pho.2015.4051.
Vartika Kathuria, Jatinder Kaur Dhillon, and Gauri Kalra. Low-Level Laser Therapy: A Panacea for oral maladies. — Laser Ther. 2015 Oct 2; 24(3): 215–223. DOI: 10.5978/islsm.15-RA-01.
Vahid Mansouri, Babak Arjmand, Mostafa Rezaei Tavirani, Mohammadreza Razzaghi, Mohammad Rostami-Nejad, and Mostafa Hamdieh. Evaluation of Efficacy of Low-Level Laser Therapy. — J Lasers Med Sci. 2020 Autumn; 11(4): 369–380. Published online 2020 Oct 3. DOI: 10.34172/jlms.2020.60.
Loris Barale, Paolo Monticelli, Massimo Raviola, Chiara Adami. Preliminary clinical experience of low-level laser therapy for the treatment of canine osteoarthritis-associated pain: A retrospective investigation on 17 dogs. — Open Vet J. 2020 Apr;10(1):116-119. doi: 10.4314/ovj.v10i1.16. E-pub 2020 Mar 30.
Natalia Adamskaya, Peter Dungel, Rainer Mittermayr, Joachim Hartinger, Georg Feichtinger, Klemens Wassermann, Heinz Redl, Martijn van Griensven. Light therapy by blue LED improves wound healing in an excision model in rats. — Injury. 2011 Sep;42(9):917-21. DOI: 10.1016/j.injury.2010.03.023.
Pinar Avci, Asheesh Gupta, Magesh Sadasivam, Daniela Vecchio, Zeev Pam, Nadav Pam, and Michael R Hamblin. Low-level laser (light) therapy (LLLT) in skin: stimulating, healing, restoring. — Semin Cutan Med Surg. Author manuscript; available in PMC 2014 Aug 8. Published in final edited form as Semin Cutan Med Surg. 2013 Mar; 32(1): 41–52.
Yusuke Morimoto, Akiyoshi Saito, and Yasuaki Tokuhashi. Low-level laser therapy for sports injuries. — Laser Ther. 2013; 22(1): 17–20. DOI: 10.5978/islsm.13-OR-01.
Robert G. Frykberg and Jaminelli Banks. Challenges in the Treatment of Chronic Wounds. — Adv Wound Care (New Rochelle). 2015 Sep 1; 4(9): 560–582. DOI: 10.1089/wound.2015.0635.
Raymond J Lanzafame, Raymond R Blanche, Adam B Bodian, Richard P Chiacchierini, Adolfo Fernandez-Obregon, Eric R Kazmirek. The growth of human scalp hair is mediated by visible red light laser and LED sources in males. Lasers Surg Med. 2013 Oct;45(8):487-95. DOI: 10.1002/lsm.22173.
Suparuj Lueangarun, Poom Visutjindaporn, Yardnapar Parcharoen, Pollawat Jamparuang, and Therdpong Tempark. A Systematic Review and Meta-analysis of Randomized Controlled Trials of United States Food and Drug Administration-Approved, Home-use, Low-Level Light/Laser Therapy Devices for Pattern Hair Loss: Device Design and Technology. — J Clin Aesthet Dermatol. 2021 Nov; 14(11): E64–E75.
Howard B Cotler, Roberta T Chow, Michael R Hamblin, and James Carroll. The use of low-level laser therapy (LLLT) for musculoskeletal pain. 2015. doi: 10.15406/mojor.2015.02.00068.
Weiss RA, McDaniel DH, Geronemus RG, et al. Clinical experience with light-emitting diode (LED) photomodulation.- Dermatol Surg. 2005;31(9 Pt 2DOI199–1205.
Korner R, Bahmer F, Wigand R. The effect of infrared laser rays on herpes simplex virus and the functions of human immunocompetent cells. Hautarzt. 1989;40(6):350-354.
Mir Hadi Aziz-Jalali 1, Seyed Mehdi Tabaie, Gholamreza Esmaeeli Djavid.Comparison of red and infrared low-level laser therapy in the treatment of acne vulgaris. 2012;57(2):128-30.
Roberta Perego, D. Proverbio, A. Zuccaro, and E. Spada. Low-level laser therapy: Case-control study in dogs with sterile pyogranulomatous pododermatitis. Vet World. 2016;9(8): 882-887.