Beauty is an important concern of modern people. If you are not ready to run to the clinic for botox and filler injections at the sight of the first wrinkles, pay attention to non-invasive methods, among which there are quite worthy and effective ones.
Among these is a microcurrent. It can be obtained both in clinics and in devices for home use. The most popular brands that use this technology are Ziip and NuFACE.
Below, we'll take a look at each feature of these devices, how they work, their differences, and how to use them for the best experience. After reading, you will have all the information you need to select the device that best suits your needs.
Best device for hyperpigmentation and scars treatment

– The most effective device, since it includes not only microcurrents but also nano currents, which penetrate deeper into the skin and bring even more benefits, such as the fight against hyperpigmentation
and acne marks;
– Mobile application with many different programs that can replace full-fledged care in a beautician.

More info
Best anti-wrinkle device

– The most versatile face and neck treatment thanks to attachments that allow you to have a complete skincare routine;
– Red LED attachment, which is especially effective in reducing the appearance of fine lines and wrinkles around the eyes, eyebrows, and lips.


More info

Best compact device

– The most compact version of microcurrent therapy,
which allows you to use the device even on go;
– Modes that provide proper facial care, giving it a firmer look and reducing wrinkles


More info
What is a microcurrent facial and how does it work?
Microcurrent therapy is a non-invasive hardware technique based on the action of a pulsed current of low frequency and low strength. The key turn in the history of the use of currents in the treatment of diseases occurred with the introduction of this method for the rapid recovery of athletes.
In the future, microcurrents began to be used in plastic surgery for rehabilitation after procedures. For example, in the presence of damaged tissues, when massage is contraindicated, microcurrents are the only way out. They allow you to relieve swelling and pain, as well as improve cell regeneration.
Later, microcurrents entered regular skin care and at home.
Microcurrent facials are a type of facial treatment that uses low-level electrical currents to stimulate the skin and underlying muscles.
The electrical current is thought to help increase collagen and elastin production, which can result in firmer, more youthful-looking skin. Microcurrent facials are often used as an anti-aging treatment, but they can also be beneficial for people who have other skin concerns, such as acne or rosacea.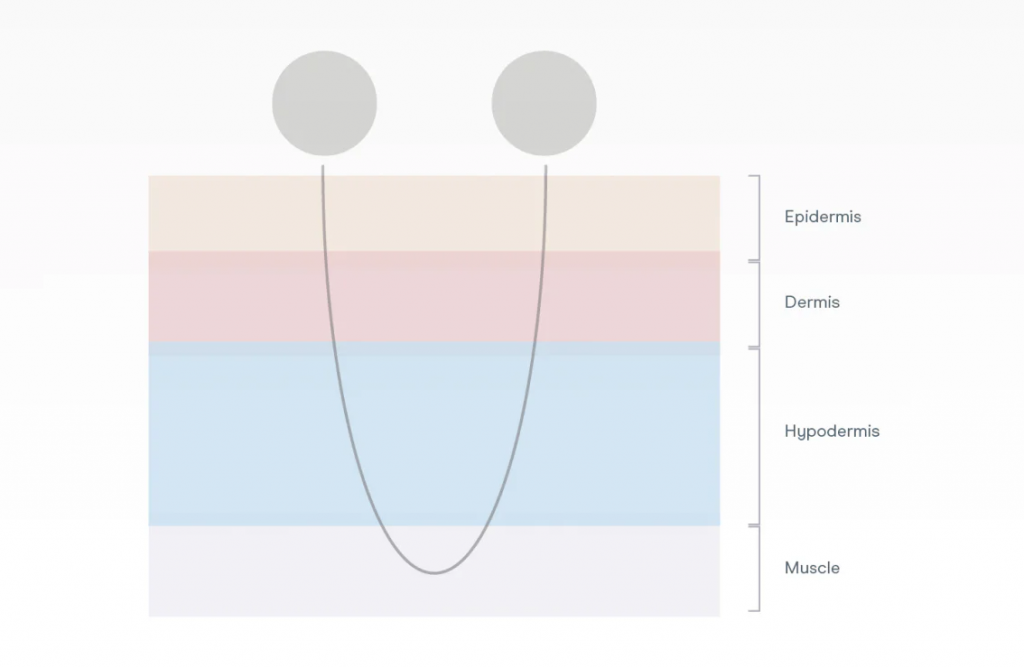 Microcurrent facials are typically done in a series of two-month treatments. Some people may see results after just a few procedures while others may need the full series to see the desired results.
Ziip microcurrent device review
ZIIP GX Series
Ziip is a microcurrent device that brings various benefits to the skin, such as improving the appearance of fine lines and wrinkles. In addition, it includes nano currents, which are smaller than microcurrents and can penetrate deeper into the skin, thereby solving other problems such as hyperpigmentation and acne marks. So you can get extensive treatments without buying extra attachments like the NuFACE device.
To begin treatment, apply the conductive gel (included) to your entire face and neck. This helps the device act on the skin, filling and moisturizing it. The gel can also be left after the end of the treatment. However, it has a sticky consistency, so it's best to use it at night rather than before applying makeup.
In addition, this device has a companion application that you can download to your phone. It offers many different sessions so you can tailor your treatment to specific areas or concerns.
The treatments last 2 to 12 minutes, so you can easily incorporate them into your day. You can also combine different sessions if you want a one-stop treatment.
How to use Ziip device
The Ziip device has only one button that turns it on and off.
The device also has its own app you need to download and connect to your device (it's available for Android and iOS). The application contains various programs that you can use to solve various needs and problems.
You can choose between programs designed for the eye area, cheeks, eyebrows, forehead, and problem areas (acne or hyperpigmentation). Or you can work on contouring, lymphatic drainage, and skin tightening. The device also offers a program that uses only nano-current for radiance, healing, and a long-term cumulative effect on the skin.
Each program has a specific movement pattern, and you can follow the detailed video instructions included in the app.
Programs last from 2 to 14 minutes, depending on what you want to do. Also, you can combine them for more prolonged treatment.
The company recommends using Ziip 3 times a week and no more than 6 times with the exception of the program "Pigment" and "Total clearing". They should be used no more than 3 times a week and no more than 1 time in 24 hours.
Before and after results
Nuface microcurrent devices review
MINI+ Starter Kit
The MINI+ Starter Kit is a great way to start microcurrent therapy. This FDAFDA is a Food and Drug Administration standard that guarantees the quality and safety of the presented device.-approved device comes with everything you need to get started, including activator gel and cream and an application brush.
NuFace's exclusive 3-depth technology (skin-tightening, instant, pro-toning modes) works on your skin and muscles to give you a firmer look and reduce wrinkles.
The main difference between NuFACE Mini and Trinity is that the second option can be used with different attachments to treat different areas of the face, while NuFACE Mini cannot. It can only be used with the fixed mount, which is the standard two "silver balls".
The MINI+ is a great choice for those who are new to microcurrent therapy and not ready to spend a fortune, or for those who are looking for a more compact option.
NuFACE Trinity
NuFACE Trinity is the complete version of the MINI+ device. It works the same way, creating a small current that increases collagen production to stimulate and tone the facial muscles. This device can be used on the face, neck, and chest.
NuFACE Trinity contains everything you need to look younger. The device itself is easy to use and comes with clear instructions. The primer gel included in the kit ensures proper electrical conductivity. However, based on customer feedback, the NuFACE therapy gel must be applied more liberally than with the Ziip device to prevent electric shocks.
NuFACE Trinity also comes with extra attachments for a better experience. The red LED light is especially effective in reducing the appearance of fine lines and wrinkles around the eyes, brows, and lips.
Read more about the benefits of red light for the face, the best devices, and real customer reviews —
in our article
.
NuBODY
NuBODY is a microcurrent device that helps tone and improves the appearance of your body. Like the iconic classic NuFACE device, this uses microcurrent technology to stimulate the cells, resulting in smoother skin and a visible cellulite reduction.
To use, simply apply the gel primer to the area to be treated. Then slowly move this device over the skin. If you have stubborn cellulite — keep it in the same place for two to three beeps (that sound every five seconds) to get to it.
If you want to tone your entire body, this is the device for you. And like all NuFACE products, it's FDAFDA is a Food and Drug Administration standard that guarantees the quality and safety of the presented device.-cleared and entirely safe for use.
How to use NuFACE devices
The NuFACE device is very simple as it only has three programs. You turn it on, and, aside from adjusting the intensity, you're done.
With the device, you will receive basic instructions on how to perform your treatment. And on the company's website and mobile app, you can also find instructional videos for both basic movements and advanced techniques.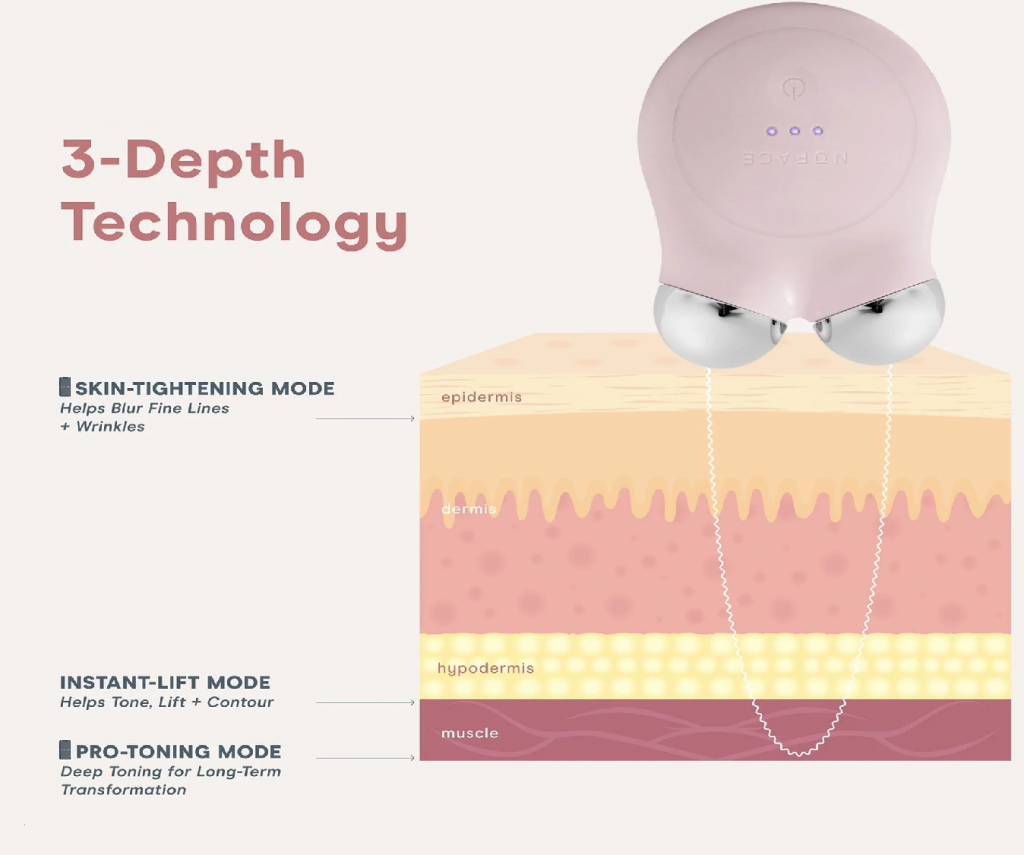 For starting, apply a thick layer of primer gel to the area to be treated, then move the device over the skin in an upward motion for 15-20 minutes.
To work on the area around the eyes and lips, you need to switch to the ELE (Effective Lip & Eye) attachment, which works on these small muscles. It has a lower current strength, which is suitable for sensitive skin areas.
In addition, you can use the LED attachment; it is especially effective for reducing wrinkles.
NuFACE should be used 5-6 times per week.
The company recommends starting with NuFACE 5 times a week for the first 60 days. And after that, you can save the result by using it 2 times a week.
Before and after results
Ziip vs NuFACE: what's the difference?
When it comes to homemade skin care products, there are many options to choose from. If you are looking for a device that can help fight aging, you may be wondering which is better — Ziip or NuFACE.
Both brands offer devices that use microcurrents to stimulate the skin and improve collagen production. They are also both FDAFDA is a Food and Drug Administration standard that guarantees the quality and safety of the presented device.-approved for use on the face. This means that the devices have been rigorously tested and are considered safe for use. However, there are some key differences between the two brands.
Let's take the most popular options — Ziip GX and NuFACE Trinity.
Ziip GX
NuFACE Trinity
Used technology
Nano current and microcurrent technology
Microcurrent technology
Intensity (microamps) at maximum force
400
335
Treatment time
2-12 minutes, 3-5 times per week
20 minutes, 6 times per week
-approved
Yes
Yes
Application
Included; a variety of skincare routines, as well as instructional videos, are synced to the app
Included; there are instructional videos for the operation of the device and all attachments
Additionals
No
– Eye and lip attachment
– Attachment with red LED (wrinkle reduction)
The first thing to note is that Ziip uses nano currents along with microcurrents. They are smaller in size and, therefore, able to penetrate deeper into the skin. This means that in addition to tightening and smoothing fine lines, it can also solve other problems such as hyperpigmentation, acne marks, and various scars.
NuFACE Trinity has additional attachments — for the eye and lip area, as well as a red LED light for those who want to target more specific areas for wrinkle reduction. On the other hand, Ziip is a single device without any attachments, but thanks to different program treatments, it can be used as a complete treatment.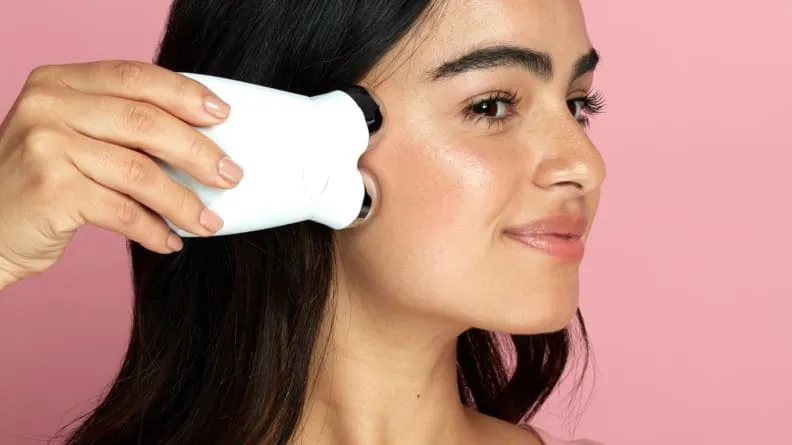 It is also worth noting the frequency and time of use of devices. NuFACE is recommended to be used every day for about 20 minutes a day. While Ziip, depending on the procedure you choose, can be used from 2 to 14 minutes a day. Also, note that this device should be used less frequently, about 3-5 times a week, and some programs are best recommended to be used only once every few days ("Pigment" and "Total clearing").
Finally, it is worth mentioning the price of the devices. The more expensive option is the Ziip when compared to the NuFACE Trinity starter kit, but it makes up for it with its deeper penetration technology and two-year warranty, as opposed to the one-year warranty with NuFACE devices.
So which option is better? It really depends on your individual needs and preferences.
If you are looking for a device that focuses more on hyperpigmentation and acne marks, the Ziip is definitely the one for you. It is also more compact and takes less time to treat the skin.
If you are looking for wrinkle reduction and skin tightening, then NuFACE is a good option for you. With the help of additional attachments, you will be able to gain more experience in the treatment of these aging problems. Also, it's slightly larger, but you can try the NuFACE Mini+ instead, which packs the same features in a compact size.
Benefits and effectiveness of microcurrent facials based on scientific research
Microcurrents are considered one of the most effective anti-aging treatments available, and some even refer to it as a "natural facelift." But what does the science say? Does microcurrent therapy really work? And what benefits can it give?
One of the main benefits of microcurrent therapy is that it stimulates facial muscles. As a result, it helps the face look more toned and reduces the visible signs of aging.
The study [1] included 30 people with significant facial wrinkles. They were treated with microcurrent therapy every day for one month. As a result, the most significant improvement was observed in the forehead area: about 18.37% in the first stage (before and after treatment) and 21.18% in the second stage (after treatment and a month later). Improvements in wrinkle reduction were also noted in the area near the mouth and nose.

Improves blood circulation
Microcurrent also improves blood flow to the skin. This helps to upgrade the functioning of cells, makes the skin healthier, or increases its density [2].
Microcurrent stimulation can also promote wound healing. With the help of it, blood flow to a certain area increases, and inflammation decreases. It can help with chronic wounds and ulcers, as well as some types of acne [2].
Microcurrent stimulation also has other non-cosmetic health benefits.
The following study [3] confirms the efficacy of pain management. 30 patients with moderate facial pain associated with the sinonasal disease were treated with microcurrent for 5 minutes for 4 weeks. As a result, with daily microcurrent treatment, pain decreased by 43.3% in 4 weeks.
Microcurrent provides a relatively safe, non-invasive therapy with minimal side effects, making it a modern and more appropriate treatment option for most people.
The verdict
Microcurrents are conquering the beauty market at breakneck speed — today this technology is increasingly being introduced into home devices. They act on cells, improving metabolism, as well as increasing the speed of transport of amino acids from which collagen is built. Thus, wrinkles are reduced, and the skin becomes more elastic and toned. The most popular brands with this technology are Ziip and Nuface.
Both are great choices and give similar results. However, if you require deeper treatments such as removing acne scars and bags under the eyes, then Ziip is the perfect option for you. NuFACE is more focused on tightening and wrinkle reduction, and thanks to the different sizes, you can choose the device that suits you best. This brand also offers a solution to the problem of cellulite, due to the NuBODY device.
Therefore, the easiest way to figure out which of these devices you should purchase is to think about your skin care goals and requirements.
FAQ
🧐 What is the difference between Ziip and Nuface devices?
Both Ziip and Nuface use microcurrents to stimulate the skin and underlying muscles. However, Ziip also uses nano currents along with microcurrents. Therefore, in addition to tightening and smoothing fine lines, it can also solve other problems such as hyperpigmentation and acne marks. NuFACE is more attuned to solving wrinkle problems, due to additional attachments that can replace a full visit to the beautician.
🗓 How often should I use Ziip and NuFACE devices?
For optimal results, we recommend using Ziip 3-5 times per week. The NuFACE needs to be used up to 6 times a week to see noticeable results.
⏳ How long does a Ziip vs NuFACE treatment take?
If we talk about Ziip, then you can use it from 2 to 12 minutes, depending on the treatment program you choose. NuFACE recommends using 20 minutes for problem areas.
📍 Does the Ziip or NuFACE treatment hurt?
No, the Ziip and Nuface procedures are completely painless. You may feel some tingling during the treatment, but this is normal. For a more comfortable session, watch the amount of gel applied to your face, it should be plentiful so that there is no unpleasant feeling of tightness.
Sources
Saniee F, Khademi Kalantari Kh, Yazdanpanah P, Rezasoltani A, Dabiri N, Ghafarian Shirazi HR. The effect of microcurrents on facial wrinkles. — J Jahrom Univ Med Sci 2012; 10(2): 8-15.
Xinkai Xu, Han Zhang, Yan Yan, Jianru Wang, Liang Guo. Effects of electrical stimulation on skin surface. — Acta Mech Sin. 2021;37(12):1843-1871. DOI: 10.1007/s10409-020-01026-2. Epub 2021 Feb 6.
Alan B. Goldsobel, Niveditha Prabhakar & Blake T. Gurfein. A prospective trial examining the safety and efficacy of microcurrent stimulation for the treatment of sinus pain and congestion. — Bioelectronic Medicine volume 5, Article number: 18 (2019).