Previously, LED light therapy procedures could only be performed in salons, but now many brands offer LED devices for home use. They are not as powerful as salon care, but there the advantage is that the home apparatus can be used at least every day, and the cost compared to procedures in salons is much lower.
In this article, we will explain what is LED therapy, when to apply it, and its effectiveness based on scientific research. We'll also take a look at the best portable LED devices and tips for using them at home.
Wolezek Red Light Therapy
For pain relief and improve skin
LightStim MultiWave
For acne treatment
Luma Skin Therapy Wand
For anti-aging treatment + ionic and massage therapy
What is LED light therapy and how it works?
What is LED light therapy?
💡
LED light therapy is a non-invasive procedure that uses the non-thermal energy of an LED to trigger the body's natural cellular processes to help accelerate skin regeneration and repair.
LED therapy sessions help reduce inflammation in many diseases, normalize skin metabolism, increase blood circulation and boost local immunity. Also, with the help of LED therapy, cosmetologists manage to reduce the reproduction of propionic bacteria on the skin, which is involved in the development of acne. Among other things, LED therapy devices are used to reduce the severity of pain in joint diseases and injuries.
Clinical indications of LED therapy:
LED light therapy is painless, does not require recovery time, and is suitable for all skin types.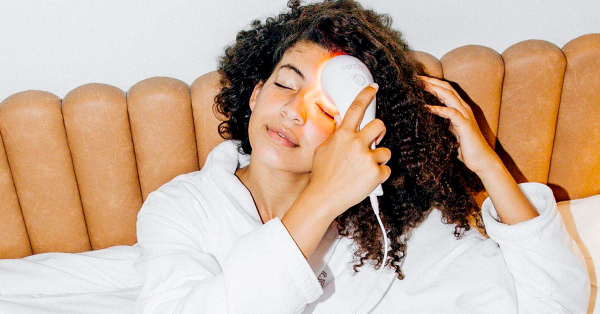 How it works
LED light therapy uses colored waves of light that have specific benefits for the skin. Each wavelength penetrates a specific depth in the skin and has unique properties that can affect different conditions.
The skin uses light as an energy source to repair and rejuvenate damaged cells or, in acne treatments, to kill bacteria. The energy stimulates the production of collagen and elastin, improves blood circulation, and accelerates tissue repair.
The main therapeutic colors are red, blue, green, and near-infrared.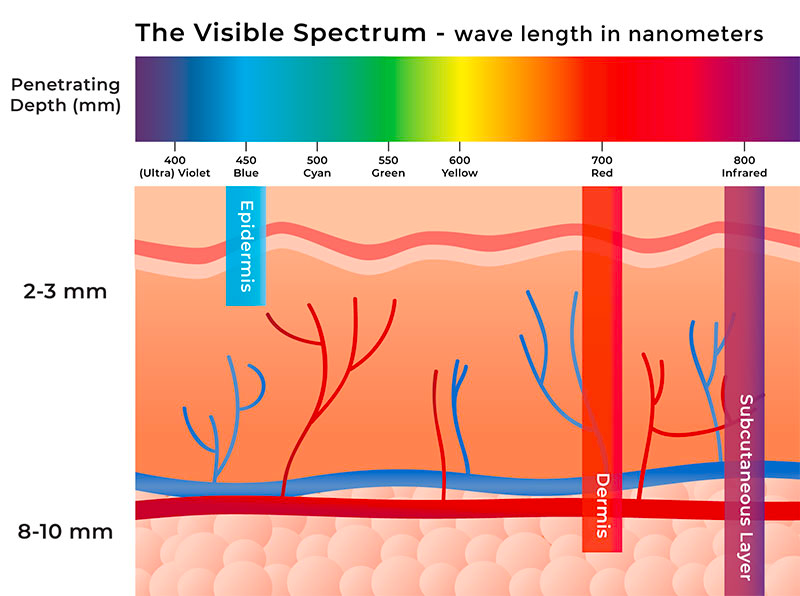 🔵 Blue light
It is a powerful antibacterial acne treatment without irritation, reduces oil production, prevents future breakouts, and offers a non-UV alternative for eczema and psoriasis.
Color combinations have been proven to be even more effective in optimizing skin health across the board than LED light treatments in isolation. The fusion of red and blue light produces the most successful results in treating acne and inflammation.
🟢 Green light
Used to even out skin tone. This wavelength targets melanocytes, slowing down the production of melanin so that pigmentation does not reach the upper layers of our skin. Also, this light began to be actively used to treat various painful conditions (migraine, chronic pain).
🔴 Red light
Red LED light is known to accelerate collagen synthesis and improve cell repair.
The energy of red light stimulates the mitochondria (energy generators) in cells to function optimally, increasing collagen and elastin production and, in turn, slowing down the signs of premature aging. Red light is also considered anti-inflammatory, for this reason, many skincare experts and dermatologists are pursuing more intense skincare with red LED treatments to soothe redness and swelling.
⭕ Near-infrared light
It is the most deeply absorbed wavelength. It increases cell permeability and absorption, smoothes lines and wrinkles, improves elasticity, reduces pain and inflammation, accelerates wound healing, and promotes cystic acne treatment.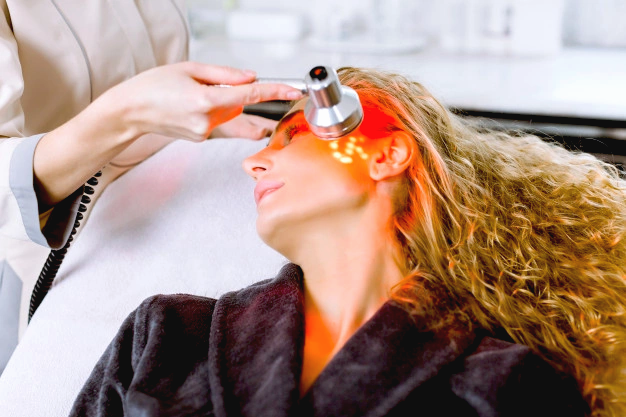 How effective is LED light therapy? Based on scientific research
Acne
Acne is a persistent skin condition that can affect your face, chest, back, shoulders, and arms, and while it doesn't necessarily affect our physical health, it can have mental consequences.
LED light therapy kills acne-causing bacteria at their source, deep below the surface of the skin. As people across the country are looking for more natural, chemical-free alternatives to traditional medical solutions, light therapy is ideal for this purpose.
Recently, acne phototherapy using blue (415 nm) and red (633 nm) light-emitting diode (LED) therapy. Below are shown studies that investigate the effectiveness of this treatment.
The study [1] involved 24 patients with mild to moderate facial acne. They were treated with LED therapy with alternating blue (415 nm) and red (633 nm) light. The treatment was carried out twice a week for 4 weeks. The results showed an impressive improvement in non-inflammatory and inflammatory lesions, which were 34.28% and 77.93%, respectively. Measurements also showed that melanin levels dropped significantly after treatment. As a result, 14 patients reported improved skin tone and texture.
Consequently, combined blue and red light LED phototherapy is an effective and safe treatment for mild to moderate acne vulgaris, especially papulopustular acne.
The next study evaluated the efficacy of a combination of 415 nm LED and near-infrared (IR) light therapy for the treatment of moderate acne.
The study [2] included 17 patients. They received 20-minute LED therapy sessions twice a week for 4 weeks, alternating between blue (415 nm) and near-IR (830 nm) LED light. The results showed an improvement of up to 48.8%. But it is worth noting that in 4 patients an increase in the number of non-inflammatory lesions was observed.
Coming out of this, although the combination therapy for acne (blue and near-infrared) gave results, they were less effective in reducing inflammatory lesions than those achieved with the previously described combination of blue/red LED light therapy.
Wrinkles and age-related changes
When it comes to aging, an important factor leading to wrinkles, fine lines and joint pain are insufficient collagenCollagen is the main structural protein found in skin and other connective tissues. levels. Increasing the number of fibroblasts is just one of the benefits of LED therapy. Fibroblasts produce collagen fibers, so it is clear that the more fibroblasts in the skin, the more and better collagen fibers are produced.
Below are studies that confirm the effectiveness of LED therapy in the fight against age-related changes.
A study [3] involved 31 patients with facial wrinkles. There were nine procedures in total, which combined the wavelengths of 633 nm and 830 nm. The improvement in skin surface was assessed at 9 and 12 weeks. The results showed significant improvements — 52% of the patients showed an improvement in photoaging indicators by 25-50% by the 12th week; 81% of patients reported a significant reduction in wrinkles at the end of follow-up.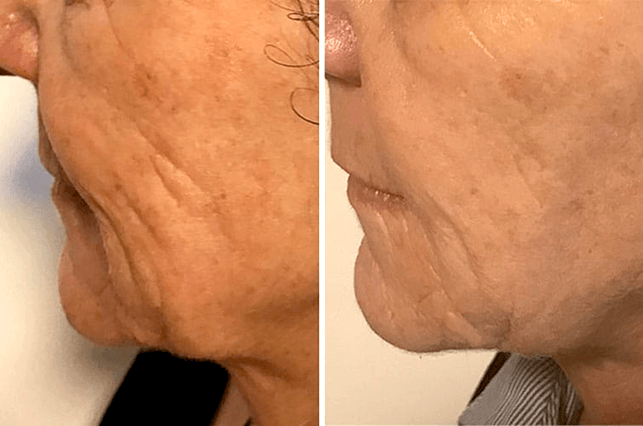 The following study [4] confirms the effectiveness of LED therapy for age-related changes. 13 patients with wrinkles or fine lines received nine-light treatments lasting 20 minutes using LED therapy (combination of 633 and 830 nm wavelengths). As a result, after 12 weeks of follow-up, 91% of patients reported an improvement in skin tone and 82% reported an improvement in skin smoothness in the treated area.
Pain relief
While light therapy is a great tool to combat external aesthetic issues like aging and acne, the full-body benefits of LED light therapy go far beyond the skin. Many people don't realize how effective light therapy can be for pain relief.
When it comes to effectively treating pain conditions with LED therapy, the wavelength is key. Compared to blue light therapy,
near-infrared wavelengths can penetrate deep into muscle and joint tissues to relieve pain, improve circulation and reduce inflammation
. Read more about
LightStim technology
that helps to get rid of the pain within a few weeks.
A study [5] was involving 17 patients who participated with lymphedema (swelling of parts of the body), which is accompanied by pain. The treatment consisted of LED therapy procedures (830 nm). As a result, 14 out of 17 patients (82%) experienced a 40% and 62.7% reduction in pain during movement on average after the first and second cycles of light therapy, respectively.
The next study [6] included 28 patients with various diseases: joint pain, muscle pain, and back pain. The treatment was carried out with an IR LED from 5 to 10 minutes per session. As a result, 17 patients (61%) reported pain relief, up to and including disappearance.
Another study [7] was aimed at investigating the effectiveness of LED therapy for joint disease. The research involved 50 patients with osteoarthritis of both knees. They were randomly assigned to three phototherapy groups: red (15 patients), infrared (18 patients), and placebo (17 patients). The course of treatment was carried out for 10 days. The result showed a decrease in pain in the red and infrared groups and amounted to more than 50%. There was no significant reduction in pain in the placebo group.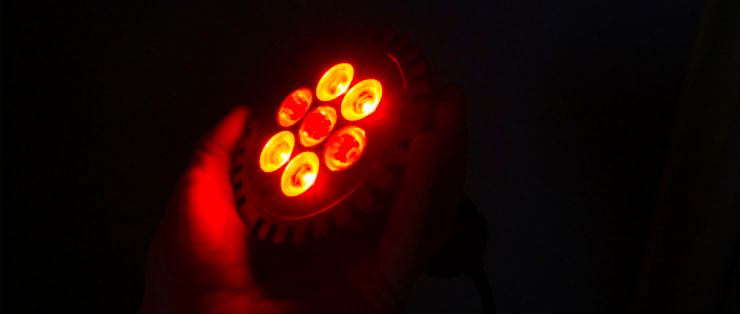 A detailed review of each device:
LightStim MultiWave
For acne treatment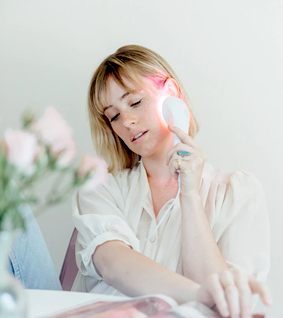 LightStim is a company that develops high-quality UV-free devices without damaging the skin. FDA-approved LightStim devices are renowned for their performance thanks to the patented MultiWave technology. This unique technology allows different wavelengths to be combined simultaneously for a more thorough and result-oriented treatment.
LightStim for Acne helps soothe and heal existing acne and reduce future breakouts by eliminating bacteria. Using blue and red light without UV radiation kills bacteria and reduces inflammation without damaging or drying out healthy skin. The light emits gentle warmth during 3-minute treatments that can be used anywhere without requiring recovery time.
Wolezek Red Light Therapy
For pain relief and improve skin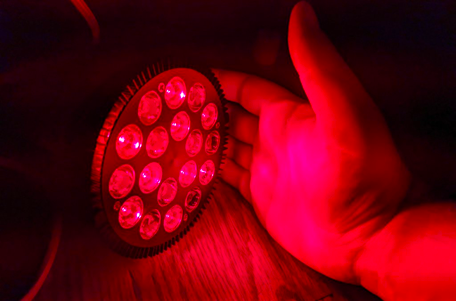 Wolezek brings you one of the best professionals LED light therapy devices for relieving muscle and joint pain.
With the help of red and infrared bulbs, the device emits light energy, which penetrates organs, tissues, and joints. This increases the production of ATPWhen your body has enough ATP, it has more energy to spend it on repair processes, such as the production of collagen and elastin, which are proteins that your body uses to repair itself., which serves as a pain reliever in the body. It reduces pain and inflammation and also increases tissue regeneration in the localized area.
You can also use Wolezek to reduce wrinkles, fine lines and improve facial texture. In addition to infrared light, it also emits red, which promotes collagen production and improves skin condition.
Luma Skin Therapy Wand
For anti-aging treatment + ionic and massage therapy
Luma Skin Therapy Wand uses 4 powerful modes to provide a versatile skincare tool. This wand allows each mode to be used individually or combined for component therapy including anti-aging therapy, skin firming, acne treatment, and more.
The first two Luma modes include light therapy, which helps fight the signs of aging by lifting and firming the skin with blue, green, and red light. The third and fourth modes include massage to work out the facial muscles, as well as an ionic mode to deliver serums and creams to its deeper layers.
How to use LED light therapy devices safely
As with any other part of your skincare regimen, there are some steps you can take to make the most of LED therapy.
It must be remembered that all the products applied before the procedure under the influence of light can get into the deep layers of the skin. Therefore, be sure to cleanse your face and do not apply products with retinol and AHA/BHA acids before using the LED device. Together it can increase the sensitivity and also cause skin burns.
The recommended treatment time is usually 3-5 minutes, although specific instructions will be on the product packaging.
Timers are a good way to monitor your therapy
Don't overdo it, that can damage your skin (freckles, hyperpigmentation). Some LED instruments are equipped with an automatic timer to make treatment even easier. If the timer is not supplied with your device, use your phone.
To avoid the development of side effects, such as deterioration of visual acuity, damage to the retina, it is recommended to use special glasses to protect the eyes.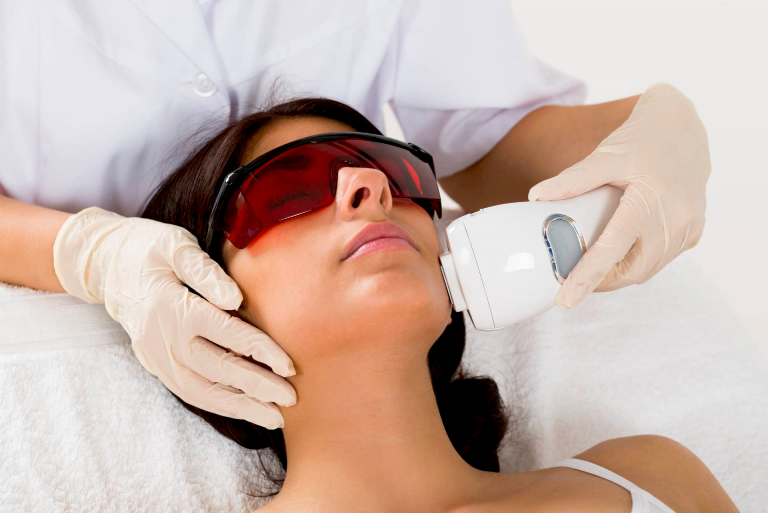 Summary
LED therapy is a technology that gives us a lot of possibilities, from improving skin conditions and treating acne to reducing soreness and chronic pain.
When it comes to effectively treating a variety of conditions, the wavelength is key. Blue light only penetrates the epidermal layer, while red and near-infrared waves can penetrate deep into muscle and joint tissues to relieve pain and improve blood circulation. Therefore, before choosing your LED device, you should pay attention to this.
Also, keep in mind that each of the appliances may work differently for you depending on your skin. An LED light therapy device can produce incredible results in a short amount of time, but for some people, it may take more than a couple of weeks.
FAQ
🧐 Does LED light therapy hurt or burn the skin?
No, LED light therapy is completely non-invasive and harmless. All you will feel is a little warmth.
👿 Can you get a tan with light therapy?
Light therapy does not use ultraviolet light, so there is no risk of getting a tan.
💆‍♀️ How to prepare your skin for LED therapy?
Remember that all products applied before the procedure can penetrate the deep layers of the skin under the influence of light. Therefore, be sure to clean your face before using the LED device. It will be useful in advance to do a light peeling or mesotherapy — both the rays and useful components from the care cosmetics applied before the procedure will penetrate deeper.
🗓 How often should LED therapy be used?
According to most research, daily use is ideal for the best results. Also, LED light therapy is non-invasive, so no recovery time is required. After completing the treatment, you can continue your daily activities.
Sources
Seung Yoon Lee, Chung Eui You, Mi Youn Park. Blue and red light combination LED phototherapy for acne vulgaris in patients with skin phototype IV. – Lasers Surg Med. 2007 Feb;39(2):180-8. DOI: 10.1002/lsm.20412.
Neil Sadick. A study to determine the effect of combination blue (415 nm) and near-infrared (830 nm) light-emitting diode (LED) therapy for moderate acne vulgaris. – J Cosmet Laser Therapy. 2009 Jun;11(2):125-8. DOI: 10.1080/14764170902777349.
B. A. Russell, N. Kellett, L. R. Reilly. A study to determine the efficacy of combination LED light therapy (633 nm and 830 nm) in facial skin rejuvenation. – J Cosmet Laser Ther. 2005 Dec;7(3-4):196-200. DOI: 10.1080/14764170500370059.
Fabien Baez, Laurence R. Reilly. The use of light-emitting diode therapy in the treatment of photoaged skin. – J Cosmet Dermatol. 2007 Sep;6(3):189-94. DOI: 10.1111/j.1473-2165.2007.00329.x
Abuzer Dirican, Oya Andacoglu, Ronald Johnson, Kandace McGuire, Lisa Mager, Atilla Soran. The short-term effects of low-level laser therapy in the management of breast-cancer-related lymphedema. – Support Care Cancer. 2011 May;19(5):685-90. DOI: 10.1007/s00520-010-0888-8. Epub 2010 May 6.
G. David Baxter, Chris Bleakley, Phil Glasgow, R Glen Calderhead. A near-infrared led-based rehabilitation system: initial clinical experience. – Laser Therapy, 2005 – jstage.jst.go.jp
J. Stelian, I. Gil, B. Habot, M. Rosenthal, I. Abramovici, N. Kutok, A. Khahil. Improvement of pain and disability in elderly patients with degenerative osteoarthritis of the knee treated with narrow-band light therapy. – J Am Geriatr Soc. 1992 Jan;40(1):23-6. DOI: 10.1111/j.1532-5415.1992.tb01824.x.