Loose skin, wrinkles, and fine lines can indicate age or make a person appear older. Fortunately, skin elasticity can be restored in a variety of ways, including with home-tightening machines.
In this article, we'll consider light therapy in terms of how it can be used for sagging, explore how effective it is, and highlight the best devices for tightening the skin.
Karloz 5 in 1 Multifunctional Facial Massager
What are skin tightening machines?
Light therapy skin tightening machines are at-home devices that allow performing cosmetic treatments without having to visit expensive spas.
The principle of operation is simple. The device uses light energy (in particular red and near-infrared light), which acts on the tissues under the skin to stimulate collagen production. This, in turn, causes tissue contraction and leads to the fact that the skin becomes firm and smooth.
Home devices for skin tightening with light therapy not only smooth fine lines and wrinkles but can also tighten loose skin, facial contours and reduce fat. Some devices are also designed for use on the body (legs, arms, abdomen, thighs, back, etc).
The procedure is so effective that it is often referred to as "light facelift". It is a painless procedure that produces almost instant effect.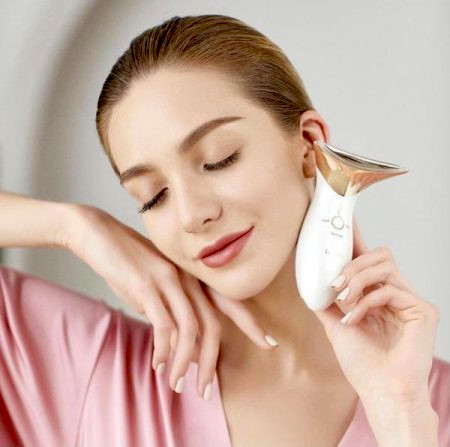 How does light therapy work for skin tightening?
Red and near-infrared light therapy, also known as low-level light therapy (LLLT) or photobiomodulation (PBM), is a popular and highly effective treatment.
Red light therapy uses wavelengths of red light from 630 to 660 nanometers and near-infrared (NIR) light from 810 to 850 nm. These wavelengths stimulate processes at the cellular level — healing from within. This is why this method is so effective in restoring healthy skin color and eliminating other signs of aging.
Red and near-infrared light therapy have the following therapeutic effects:
Increased cellular energy
The human body is made up of many cells with their structures and functions. The functioning of individual cells directly affects the entire body, therefore, recovering this process is the only way to improve health, including eliminating sagging skin and restoring its firmness and elasticity.
When red light hits your skin and is absorbed by tissues, where it interacts with special substances called chromophoresWhen radiation is absorbed, light energy is converted into heat in the area of the skin that contains the chromophore.. This interaction stimulates mitochondria to produce ATP ATP is a molecule that provides energy for skin cells to function., which is the body's main source of energy.
Increasing energy levels will help cells perform their specialized functions and repair and regenerate at full capacity.
Increased production of collagen and elastin
While the entire body can and does benefit from improved cellular energy production, there are a few cells that are particularly sensitive to red light. These cells help produce collagen and elastin, which keep your skin firm and smooth.
Collagen, a protein that forms about 80 percent of the skin, provides the structure that makes it resilient. Elastin is a protein that makes the skin stretch and returning to normal.
Without these key proteins, the skin loses its resilience and elasticity.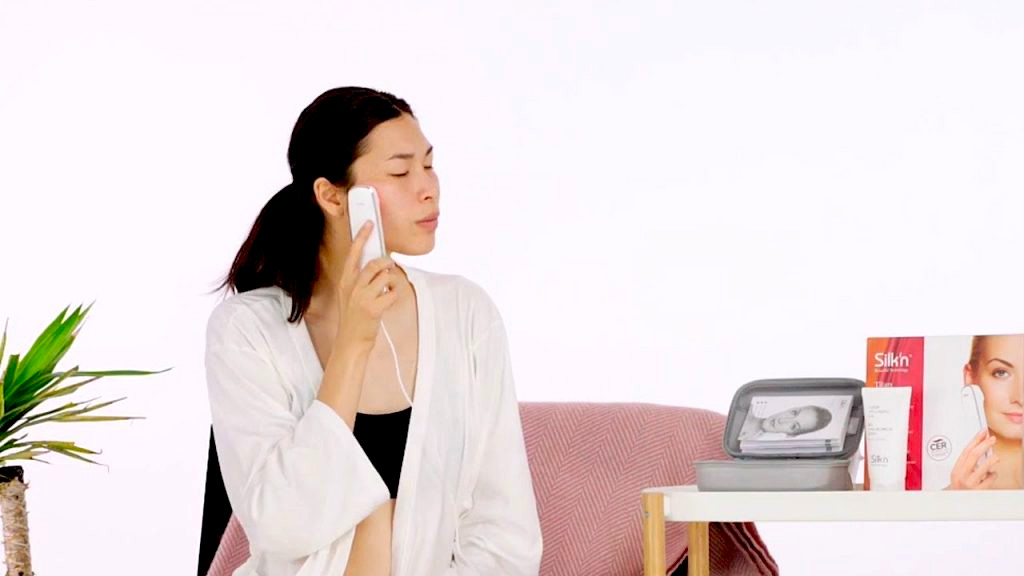 Improved blood circulation
Good skin tone also depends on the circulation of blood and lymph to the skin.
The blood flow delivers nutrients to the skin, and the lymph removes toxins from the skin, reducing oxidative stressOxidative stress is one of the most significant mechanisms of nerve tissue damage, which triggers pathological reactions that irreversibly damage cells. and the presence of pathogensA pathogen is a bacterium, virus, parasite, or fungus that can cause disease inside the body. damaging cells. Red light therapy promotes cell growth, thereby increasing the quality of blood circulation, which leads to an improved complexion.
The benefits of red light therapy are impressive. Reducing inflammation and oxidative stress, improving circulation, increasing collagen production, and improving cell metabolism all work in tandem to maintain skin health.
How effective are skin tightening machines? Based on scientific research
Non-invasive skin rejuvenation techniques such as light therapy are fast becoming the new standard in the treatment of wrinkles, tightening, and overall skin tone. Various laser wavelengths have been tried for this procedure with varying degrees of success.
Some of these studies are presented below.
The study [1] involved 31 patients with wrinkles and sagging facial skin, who had 9 light therapy procedures. The treatment combined wavelengths of 633 nm and 830 nm. Key results showed significant skin improvements: 52% of subjects showed a 25-50% reduction in photoaging by week 12; 81% of patients reported a significant improvement in periorbital wrinkles and an improvement in laxity after follow-up.
The next study [2] was included 76 patients with facial wrinkles who were treated with LLLT devices. All participants were randomly assigned to four groups receiving either only 830 nm, only 633 nm, or a combination of 830 and 633 nm, or a dummy treatment lamp twice a week for four weeks. As a result, the data showed a significant reduction in wrinkles (maximum: 36%) and an increase in skin elasticity (maximum: 19%) compared to baseline. There was also a marked increase in the number of collagen and elastic fibers in all treatment groups.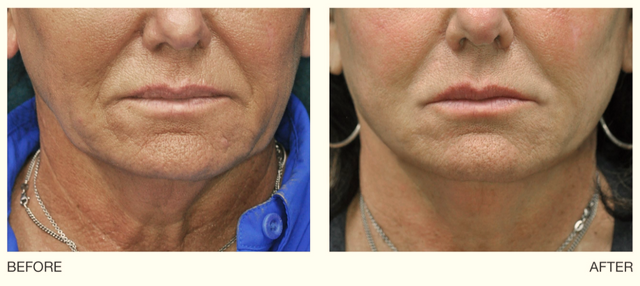 This study [3] was included a total of 150 patients who were treated with the 532 nm long-pulse laser and the 1064 nm long-pulse laser, alone and in combination. All participants were treated at least 3 times and not more than 6 times, depending on the level of satisfaction, at monthly intervals and were followed up for 18 months after the last treatment. After 3-6 treatments, 50 patients who received only 532 nm laser showed a decrease in redness and pigmentation by 70-80%, skin tightening by 30-50%. Patients treated with a 1064 nm laser showed improvement in erythema, pigmentation, and skin tightening from 10% to 30% maximum. The third group, who received the combination of lasers showed an improvement in redness and pigmentation by 70-80%, skin tightening by 40-60%.
The next study [4] looked at the effectiveness of light therapy not only on wrinkles and face lifting but also on pigmentation and blood vessels on the face. 58 patients were treated with light therapy. After 3 treatments, 62.1% of patients showed improvement in wrinkles and skin texture. Pigmentation improved in 84.6% of patients, and a decrease in blood vessels on the face was observed in 81.25% of patients. Also, it was possible to notice that the amount of activity of fibroblasts increased and they were more dynamic.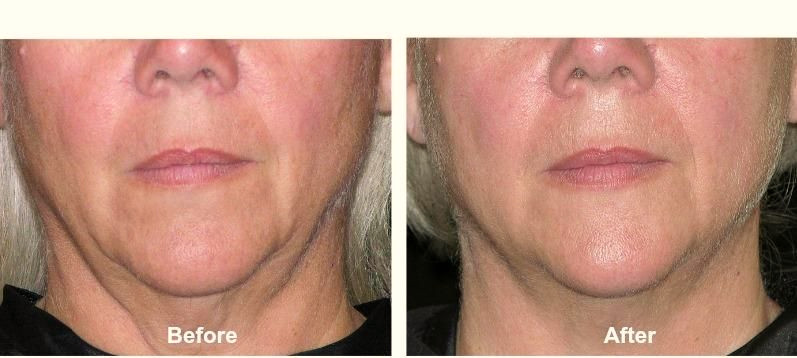 The latest study [5] confirms the effectiveness of LLLT therapy in age-related changes. 13 patients with wrinkles or fine lines received nine-light treatments lasting 20 minutes (combination of 633 and 830 nm wavelengths). As a result, it was reported that after 12 weeks of follow-up, 91% of patients reported an improvement in skin tone and 82% — an improvement in skin smoothness in the treated area.
Based on research, it can be noted that after light therapy, there is a slight to moderate improvement in the appearance of wrinkles, a medium enhancement in skin tone and texture, as well as a significant reduction in redness and pigmentation. Also, the results of the combined treatment using red and near-infrared light were slightly better than those achieved with only one laser.
Find out more about Omnilux Contour Face Masks — light therapy based devices that help to overcome aging skin problems
Top 4 skin tightening machines for home use
Doctors agree that with regular use, LLLT devices are a reliable option for skin lifting at home. These fast, comfortable, safe, and easy-to-use tightening machines have become one of the simplest but highly effective ways to combat the signs of aging at home.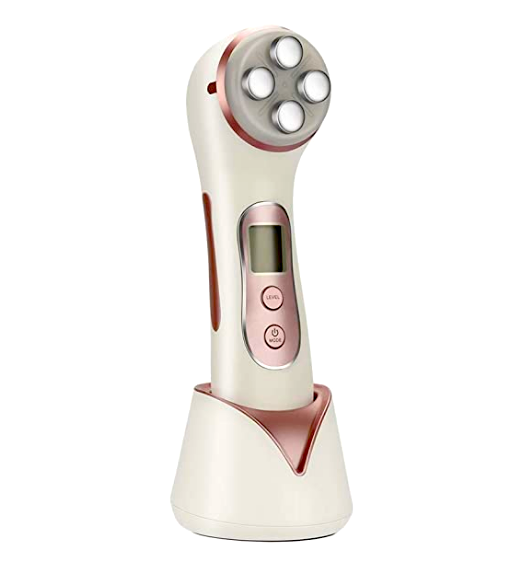 Karloz 5 in 1 Multifunctional Facial Massager is a multifunctional device that works to remove wrinkles, whiten skin, lift the face and other body parts, anti-aging, and improve the absorption of various skincare products.
The cleansing mode helps to remove harmful substances from the skin, improve skin tone, speed up blood flow and skin metabolism, and reduce pigmentation. The lifting mode restores skin elasticity, smoothes wrinkles, stimulates the lymphatic system, and reshapes the face. An anti-aging regimen promotes the regeneration of collagen in the skin, increases the vitality of the skin.
The Karloz 5 in1 Facial Massager works with 4 main cosmetic technologies to solve various skin problems: EMS EMS is electronic pulse technology, with micro-vibration, that has been developed to stimulate specific muscles in the face, allowing the face to become firmer., high frequency, sound vibration and LED light therapy. With these options, it is similar to Avorla, but its price is 3 times lower.
The device is recommended to be used 10 minutes 2-3 times a week.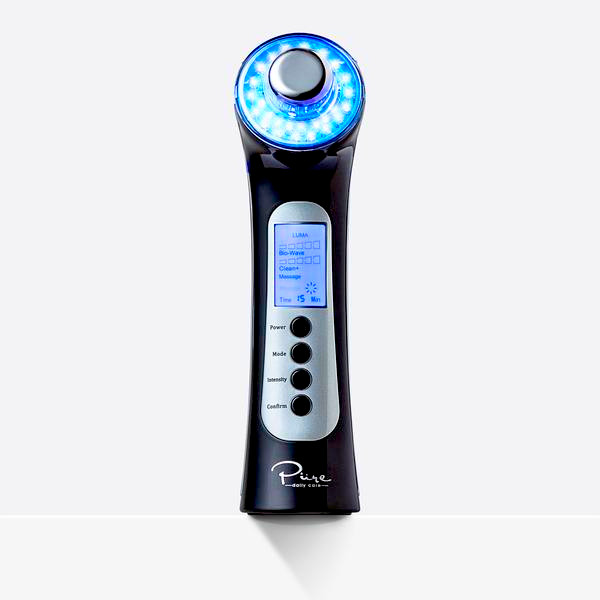 Pure Daily Care Luma 4-in-1 is another all-in-one skin tightening treatment. As the name suggests, it combines 4 powerful technologies in one device that you can use individually or combine them all, depending on your goals.
The first technology is bio wave cell stimulation, which has been shown to increase the production of collagen and elastin, two proteins that help skin stay firm and smooth. The second and third modes include ion-galvanic direction and massage. You can set the ion (+) or ion (-) mode to remove dirt and impurities from the skin or deliver serums and creams to the deeper layers of the skin, which will greatly improve their absorption and effectiveness.
The fourth technology is light therapy, which includes red, blue, and green LEDs that have a therapeutic effect on the skin.
Pure Daily Care Luma also has advanced features to make the device easier to use. The built-in timer allows users to preset the time during which the procedure will last, after which it will turn itself off. There is also a storage lithium battery that allows you to charge your device without wires.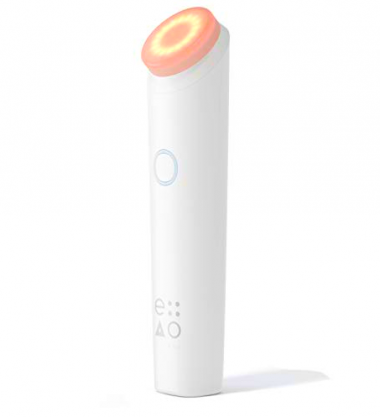 The Eterno Facial Toning Device is the last device on our list, but no less effective.
It is based on the benefits of red light therapy, which will help reduce fine lines, wrinkles on your face and neck as well as increase skin firmness and elasticity.
This device is safer than others. With this product, you don't have to worry about getting burnt or abrasions on your skin due to the glass surface. Eterno has also been clinically tested and approved by the FDAFDA is a Food and Drug Administration standard that guarantees the quality and safety of the presented device..
It is recommended to use this device 3 times a week for 15-20 minutes. The first results are noticeable after 3-4 weeks.
Avorla – 6 in 1 Skin Tightening Device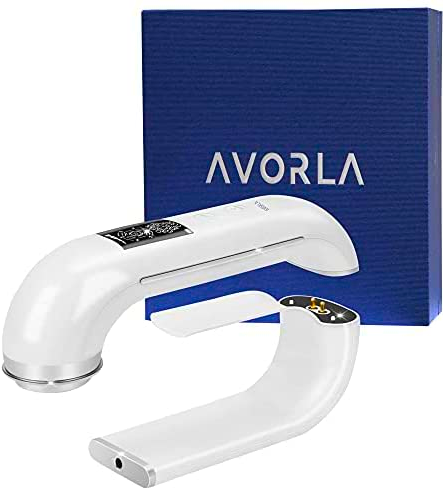 Avorla 6-in-1 device not only tightens the skin but also deeply cleanses it, which reduces laxity over time. The device can be used both on the entire face and on individual parts (for example, the area around the eyes).
The device, in addition to tightening the skin and reducing wrinkles, offers 6 different high-quality treatments: cleaning, importing, eye care, EMSEMS is electronic pulse technology, with micro-vibration, that has been developed to stimulate specific muscles in the face, allowing the face to become firmer. (RF and microcurrent), red LEDs, and cooling (blue LED).
Using just 3 minutes a day, 2 or 3 times a week, you will get deep skin cleansing, wrinkle reduction, and a facelift at home.
📌 Note
Do not use the Avorla Skin Tightening Machine on dry faces. Apply either RF Conductive Gel or any of the serums before each session.
Potential risks and side effects of light therapy for skin tightening
Overall, the American Academy of Dermatology considers this procedure to be safe. Since LEDs do not contain UV rays, it is considered a safer form of light therapy that will not cause long-term damage to your skin.
However, skin tightening machines can still be associated with small risks and restrictions on use.
If you are currently using Accutane for acne, keep in mind that this potent vitamin A medication increases your skin's sensitivity to light and can cause scarring in some cases.
Do not use a skin tightening machine if you are using drugs that increase the sensitivity of your skin to light (such as retinoic acid, benzoyl peroxide, diclofenac, and others). Because of this, you can get burns and redness of the skin.
You should also skip this treatment if you currently have an active rash to avoid aggravating the condition.
Pregnancy and breastfeeding is another contraindication so as not to harm the baby.
Side effects from using skin tightening machines are very rare. After the procedure, you may experience the following symptoms:
📌 If these symptoms persist, be sure to consult a doctor.
Summary
Skin tightening with red and near-infrared light uses heat energy during a non-invasive procedure to stimulate collagen production and strengthen the skin. During the treatment, the device emits light to heat the dermis, which triggers the natural healing process within the body, producing collagen and elastin, which over time make the skin denser.
A skin tightening machine is a great way to smooth and tighten skin. You will look younger because lines, wrinkles, crow's feet, and puffiness will be significantly reduced, and most of them work so quickly that you can even see results after the first treatment.
Even dull skin and dark spots can be treated with red and near-infrared therapy, and the fact that the devices are so easy to use is another good reason to try them.
FAQ
🔎 Do skin tightening machines work?
Yes. Most of the treatments you can get with the skin tightening machine are done in professional spas. In addition, the devices have been tested and approved by the FDA.
🧐 How long does it take to see results with a skin tightening machine?
Each device works differently, but you can see results from the first procedure with many of them. That being said, most machines recommend using them for 3 to 6 weeks before any significant reduction in lines and wrinkles occurs.
🗓 How often can I use my device?
Each device is different, but usually, these devices can be used 2-3 times a week for several months.
🥵 Are there any side effects?
Since the procedure involves heating the skin to a relatively high temperature, some redness should be expected afterward. You may also have slight swelling, but this and the redness should go away within a few hours (maximum 24 hours).
Sources
B. A. Russell, N. Kellett, L. R. Reilly. A study to determine the efficacy of combination LED light therapy (633 nm and 830 nm) in facial skin rejuvenation. – J Cosmet Laser Ther. 2005 Dec;7(3-4):196-200. DOI: 10.1080/14764170500370059.
Seung Yoon Lee, Ki-Ho Park, Jung-Woo Choi, Jung-Kyun Kwon, Doo Rak Lee, Mi Sun-Shin, Jee Sung Lee, Chung Eui You, Mi Youn Park. A prospective, randomized, placebo-controlled, double-blinded, and split-face clinical study on LED phototherapy for skin rejuvenation: clinical, profilometric, histologic, ultrastructural, and biochemical evaluations and comparison of three different treatment settings. – J Photochem Photobiol B. 2007 Jul 27;88(1):51-67. DOI: 10.1016/j.jphotobiol.2007.04.008. E-pub 2007 May 1.
Min-Wei Christine Lee. Combination 532-nm and 1064-nm lasers for noninvasive skin rejuvenation and toning. – Arch Dermatol. 2003 Oct;139(10):1265-76. DOI: 10.1001/archderm.139.10.1265.
Yujie Feng, Junying Zhao, Michael H. Gold. Skin rejuvenation in Asian skin: the analysis of clinical effects and basic mechanisms of intense pulsed light. – J Drugs Dermatol. 2008 Mar;7(3):273-9.
Fabien Baez, Laurence R. Reilly. The use of light-emitting diode therapy in the treatment of photoaged skin. – J Cosmet Dermatol. 2007 Sep;6(3):189-94. DOI: 10.1111/j.1473-2165.2007.00329.x.