Rosacea is a disease that affects 8-10% of the world's population. It most often occurs in women 40-50 years old, but men develop complications of the disease faster and more often. One way or another, it is quite an unpleasant thing, because it is manifested by cosmetic flaws on the face.
There are people who neglect this disease, but it is wrong because it can progress. It is not yet possible to cure rosacea completely, but it is possible to achieve a period of remission and prolong it as much as possible. Today we're going to look at one of the most modern approaches to treating rosacea: laser treatment. We've done the research to find the devices that work for rosacea and are ready to present you our top 3 (You must have heard something about Joanna Vargas Magic Glow Wand, but what about others?).
Comparison Table
If you don't have a lot of time to understand each model in detail, we explore. That's why we've compiled the results of our research into a compact table where you can compare the best devices for combating rosacea. Our review is based on an analysis of more than 200 testimonials from real users with rosacea who have tested these devices.
Lyma Laser Starter Kit

The best overall for all skin conditions
What's included
✓Lyma Laser
✓A 30-day supply of Lyma Active Mist
✓A 30-day supply of Lyma Priming Serum
✓Travel pouch
✓Charger
✓Lyma authenticity card for access to Lyma wellness concierge

Key benefits
✓The best for treating not only rosacea but also signs of aging, acne, scars, pigmentation, etc.
✓Takes only 15 minutes a day (half as long as the others)
✓Two-year warranty included
✓


Show Goop price
Dermalux Flex MD LED Light Therapy Device

The most comfortable & flexible
What's included
✓Dermalux Flex MD Base Unit
✓Dermalux Flex MD Controller
✓Flexible LED Canopy
✓Power Supply
✓User Manual
✓Goggles
✓Treatment Pillow
✓Carry Bag

Key benefits
✓The most effective and powerful clinical device based
on light therapy
✓The most convenient and flexible
✓
✓Fits any skin type and can be applied to the face, neck, and body

Joanna Vargas Magic Glow Wand

The best portable & affordable device for rosacea treatment
What's included
✓Just Joanna Vargas Magic Glow Wand
✓Charger

Key benefits
✓The best device for travelers
✓The best option for those who are not ready to spend much
on a skincare device
✓Besides rosacea, helps to fight puffiness
✓Gives the skin a glow


Show Dermstore price, Show J. Vargas price
What is laser treatment for rosacea?
Laser treatment of rosacea is a technique aimed at combating skin redness, spider veins, pink heads, papules, and pustules that look like acne. It can significantly reduce the symptoms of rosacea without skin damage, burns, and pain.
The procedure allows you to get an antiseptic and anti-inflammatory effect at the initial stage of the disease, in the phase of exacerbation, or remission.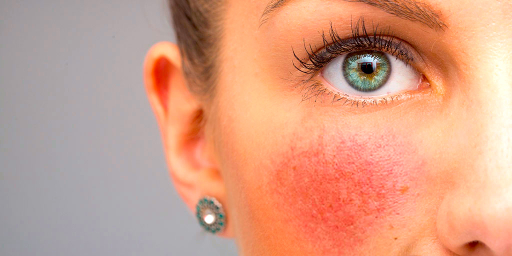 Types of lasers for rosacea
These laser treatments target the symptoms of redness, thickening of the skin, and recurrent spots on visible blood vessels that occur in some people with rosacea.
Types of laser treatment for rosacea include:
Pulsed dye lasers
Cynosure, V Beam, and V-Star are names for this type of laser treatments.
Light is pulsed at the optimum wavelength to penetrate vascular lesions or visible blood vessels in this treatment. A dye is used to produce a laser beam of different colors, the purpose of which is to reduce redness and inflammation.
YAG laser
This procedure targets visible blood vessels. It is also used to correct excess tissue that makes the nose appear bulging, a symptom of rosacea fimatosaRosacea fimatosa is a stage at which the surface of the skin becomes lumpy, there is a thickening of the skin, and cone-like growths appear on the skin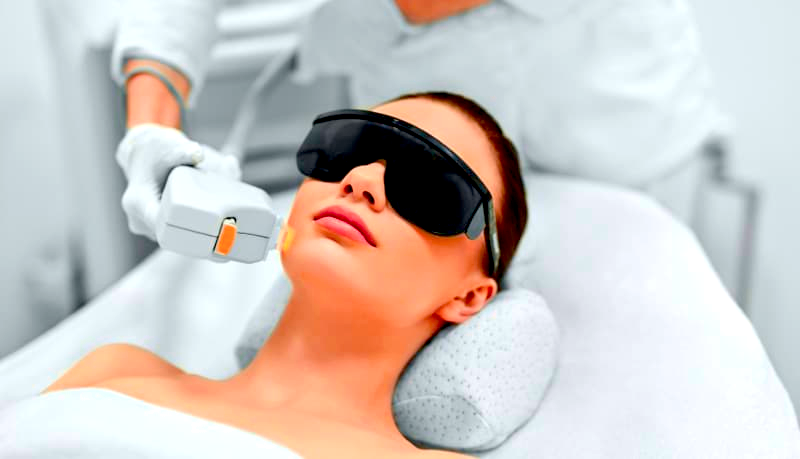 CO2 lasers
These types of lasers are called ablative lasers. Their purpose is to reshape the nose or other parts of the face if they are scarred or enlarged due to inflammatory rosacea tissue.
CO2 lasers commonly treat rhinophores (thickened skin or swollen shapes on the nose) caused by rosacea.
Intense pulsed light therapy (IPL)
Intense pulsed light therapy is different from laser therapy. Instead of using a single laser that focuses on your skin, it uses multiple wavelengths of light simultaneously.
IPL aims to eliminate unwanted pigment, redness, or uneven skin tone. IPL can be as effective as laser therapy for specific skin conditions.
A detailed review of the best devices
Lyma Laser Starter Kit — the best overall for all skin conditions
Pros
The most versatile tool for your skin needs (treats scars, rosacea, eye drooping, thread veins, pigmentation, signs of aging, and acne)
Comes with a bunch of extra perks (active mist, priming serum, travel pouch, etc.)
Treatment takes only 15 mins a day
It fits all skin types
Comes with a two-year warranty
Cons
It is pricey
You need to be consistent and wait for 3-4 months to see visible results
For people who are looking for a magic device that will cope with almost any flaw in their skin, there's the Lyma Laser Starter Kit. This is the most powerful FDA-cleared laser for home use you'll find on the market today (a hundred times more potent than standard light therapy devices). Yes, it's a serious investment, but this laser will last you for years and pay for itself pretty quickly.
One treatment at the clinic will cost you an average of $300-500, and you will need 4-6 of them, depending on the severity of your rosacea. Keep in mind that you may need a second course if the condition comes back. And with a home laser, you'll need more procedures and patience, but in return, you'll get more comfort and constant access to the device.
Lyma laser is excellent not only for rosacea, but also for other skin problems such as acne, wrinkles, pigmentation, thread veins, sagging skin, and some other skin imperfections. However, you will have to be quite patient and do the procedures continuously for three to four months to achieve the desired results (if you are lucky, or you do not have very big problems, it will take less time).
But if you're looking for a simpler or more portable format, I suggest you consider the Joanna Vargas Magic Glow Wand (review).
Dermalux Flex MD LED Light Therapy Device — the most comfortable & flexible
Pros
The most powerful clinical device based on light therapy adapted for home use
The most comfortable device on our list
The most flexible device on our list, treatment areas include face, neck & body
Comes with goggles, a carry bag, and a treatment pillow for the most comfort
The device is
Holds its charge extremely well (15% better than alternatives)
Cons
It's not comfortable to take with you when traveling
It's pricey
If you trust only professional procedures, but want to perform them in your home with maximum comfort — you're looking for a Dermalux Flex MD LED Light Therapy Device. This device is different from anything you've known before.
First, you can easily use it for any part of the body with maximum comfort — the base of the device is movable and adapts to you. Secondly, this device is an official alternative to the one used by professionals in clinics, adapted for home use. It is approved by the FDA, dozens of doctors, and even various media, including Forbes, The Times, The Telegraph, The Independent, and others.
Flex CBM is multitasking and can help you not only with rosacea but also with acne, rejuvenation, psoriasis, general skin improvement, and even muscle and joint pain relief. It differs from Lyma Laser Starter Kit (review) in that it is based on light therapy. Here three different kinds of light (red, near-infrared, and blue) are responsible for different functions. Infrared affects rosacea and pigmentation, blue affects acne, and red affects psoriasis, wrinkles, and fine lines.
If you're worried about how difficult it is to deal with this device because of its unusual shape, don't be. The YouTube video explains the whole process in great detail in just a minute and a half:
Joanna Vargas Magic Glow Wand — the best portable & affordable device for rosacea treatment
Show Dermstore price, Show J. Vargas price
Pros
The best portable device for rosacea
The most affordable option on our list
The most comfortable to take with you when traveling 
Makes the skin glow
The cool setting works wonders and helps to get rid of puffiness
Cons
Less powerful than its counterparts from our list
Some users stated that the material feels a little bit cheap
If your lifestyle resembles a nomad, or you just need an affordable device that you can always take with you, choose Joanna Vargas Magic Glow Wand.
Its price is significantly different from the previous devices in our review, and you're probably wondering why so. First, this tool is not as versatile as the previous ones. Its functionality and main benefits include reducing puffiness and redness, improving the action of various serums and masks, and improving skin glow. These goals are achieved thanks to the lymphatic drainage massage that this device performs.
Secondly, it's not FDA-clearedFDA-cleared means the company has demonstrated that its drug or biological product is safe and effective for its intended use, and that it can produce the product in accordance with federal quality standards. or approved, although it's still effective and gets dozens of positive reviews from users all over the world.
This device has two "hot" and two "cold" settings (with and without massage), which can be switched in just a few seconds. The cold mode soothes redness and helps fight rosacea, while the hot mode helps absorb serums and masks better.
And the most important thing is the small size and portability. You can take it with you on travels, business trips, and anywhere else you want to go. Yes, its power will be less than that of the Dermalux Flex MD LED Light Therapy Device (review) or Lyma Laser Starter Kit (review), but it is quite capable of doing its job for its price. This device will work if you have stage 1 or 2 rosacea.
Before & After laser treatment for rosacea
Words are just words until you see visual evidence. We understand that, too, and that's why we share with you the most striking "before" and "after" photos of the devices we described earlier.
Of course, every case is unique and no one can guarantee you exactly the same result. However, the probability of success is quite high, because all devices have been tested on many rosacea patients and all of them have improved in one way or another.
Side effects
Most often, lasers do not cause side effects, but there are exceptions. You may experience increased redness immediately after the procedure, but it should go away within a few days. You may also experience itching or rashes, but these should go away soon.
If the side effects don't go away within a week, you should see the doctor and consult with him about your device.
Summary
Now you know what laser treatment for rosacea is, what kinds of it are available, and what devices work best. Even though these devices are harmless and almost all users see improvements, we recommend consulting your doctor (if possible) if you haven't already done something like this.
If you have other skin problems besides rosacea, we recommend targeting Lyma Laser Starter Kit (review). For the most comfortable experience, choose the flexible Dermalux Flex MD LED Light Therapy Device (review), and if you're a frequent traveler or like small devices, look into the Joanna Vargas Magic Glow Wand (review).
FAQ
👌 Is laser treatment good for rosacea?
Laser treatment is an effective way to treat rosacea. In just a few weeks or months, you can significantly reduce the symptoms of the disease.
⌚ How long does rosacea laser treatment last?
One laser treatment session lasts an average of 15-30 minutes, depending on the treatment area and device. The course of treatments can last 2-4 months, depending on the stage of rosacea.
🥇 What type of laser is best for rosacea?
Different types of lasers target different aspects of rosacea. Therefore, there is no one perfect laser for everything.
🙌 Will my rosacea ever go away?
Rosacea is correctable, but it cannot be completely cured. Nevertheless, you can eliminate the symptoms as much as possible and go into remission with laser treatment, for example.