If you came to this article, you've probably heard at least something about light therapy. Even if you haven't, you will be sympathetic to it today. After all, Omnilux is in the business of making devices that affect your skin with LED light therapy. Today we will talk about their masks, which have become quite famous.
If you respect Bella Hadid or Kristin Smith, you've probably already thought about buying a mask from Omnilux, which they recommend on social media. But before you make a not the cheapest purchase, it is worth understanding how this device works and what results you can expect. If you're in, keep reading.
What are Omnilux and its LED masks?
Omnilux is a world-renowned skincare company. It is known for its masks with LED phototherapy systems that will make your skin look and feel better. It is considered a non-invasive alternative to Botox or similar procedures, as well as classic disposable masks.
Omnilux has been in business since 2003 and in that time they have done many studies on their products that prove their effectiveness. Since they were among the first to generally decide to create something like this for skin care, the breakthrough in this field belongs to them.
The company now has three devices in its lineup that work on red light therapy — a face mask, a neck and décolletage mask, and a hand glove.
In addition, a new mask with blue light therapy has recently appeared, which helps to fight acne. We'll focus on the best-selling facial, but we'll also talk about a new product that has won the hearts of many women.
Does Omnilux light therapy work?
Omnilux has conducted dozens of studies to confirm the effectiveness of its devices. Unlike many other companies, these guys publish all the studies directly on their website, so you can easily check them.
So, according to studies, Omnilux light therapy works with the following problems:
Acne
Skin rejuvenation
Pain relief
Wound healing
If research doesn't seem like enough reason for you to trust a brand, there is still feedback from hundreds of customers, which we'll talk more about next.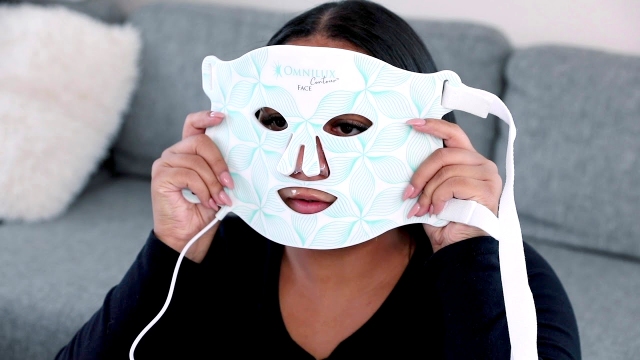 How long does it take to see results?
I will never tire of repeating that each person is different, and therefore there is no perfect length of time to use a mask. In fact, this applies to any device or procedure. But there is still an average time frame that will help you orient yourself as to how soon you may see results.
Omnilux recommends using its masks for 10 minutes a day consistently. You don't have to do it every single day, but if you can, it's only for the best. On average, it takes 4-6 weeks to see significant changes in your skin. It's best to take "before" and "after" photos to track your results. However, you may see improvements much earlier, such as after 2-3 treatments. Or it may take a little longer.
Does Omnilux tighten skin?
Skin tightening is one of the main functions of the LED mask from Omnilux. How does it work? For starters, our skin becomes looser because collagen and elastin begin to break down as we age. A certain wavelength of infrared light (830nm) affects deep fibroblast cells and stimulates the production of new collagen and elastin. The skin thus becomes firmer and tighter again.
Detailed Review: Omnilux Contour Face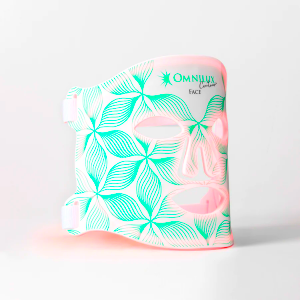 The Omnilux LED mask is designed for those who want to reduce wrinkles and tighten skin at home with a proven device. I will remind you that this mask uses red and near-infrared LEDs.
The red light (633 nm wavelength) helps to reduce inflamation and pigmentation and makes your face look brighter. It helps cells regenerate faster. The infrared rays (830 nm wavelength) penetrate the deeper layers of the skin and stimulate the production of collagen and elastin. This is what helps you look more youthful.
If you want to learn more about the impact of
red light therapy
on the face, we have a separate article about it with an expanded list of great devices.
This mask is most often recommended by dermatologists and cosmetologists when choosing between alternatives. All because it has the most clinical studies that have proven that it produces medical results, and it is FDA-approved.
All you need is 10 minutes of relaxation a day and a little patience. Don't quit if you don't see improvement the next day — some things take time to show themselves in all their glory.
This device is less powerful than its counterparts in professional clinics, but it performs its task just as well. You just have to be a little more patient to wait for the desired results. And if you want to tighten the skin on your neck and décolleté or hands, Omnilux has similar devices for that — Omnilux Contour Neck & Décolleté and Omnilux Contour Glove.
Pros and Cons
It's time to compare the ups and downs of Omnilux's bestseller. There's no such thing as a perfect skin device, but these guys have tried very hard to get close to perfection.
Pros
Reduces wrinkles and fine lines
Tightens skin
Reduces inflammation and redness
Removes pigmentation
Suitable for all skin types
Non-invasive, painless treatment
FDA-cleared
Comes with a two-year warranty
Cons
May not fit your face perfectly if it is much smaller/bigger than the standard.
In rare cases, users have not seen much improvement after 4-6 weeks of use.
It's a little pricey for some people.
Customer reviews
A wide variety of women have used the Omnilux mask over the years, and the vast majority of them have had the desired effect. Most of the time, the clients note that this mask is easy and convenient to use. And, of course, this device has become one of the best friends for their skin. We suggest you read a few reviews yourself:
"I am 52 years old and my skin feels ageless. I've been using the mask for about a month now and I notice that my skin is smoother, and fine lines are less deep. I'm not going to stop, and I'm looking forward to seeing how my skin gets even better in a few months."
Helen, KS
"I've been using the mask for about seven weeks and yes, my skin looks plumper, the spots on my face are lighter and less pronounced, and the overall improvement is noticeable. It is easy to use, although it could be more comfortable. I use it at bedtime while meditating or listening to relaxing music, as the mask truly relaxes me. If you have the chance, take it. I think I will be using it forever. This mask helps my face look better and younger especially after menopause, with all the changes."
Sandra, LA
"I adore my Omnilux mask and use it every day. It reduces redness on my skin and improves its overall appearance. I have contacted the company about several issues that they have resolved quickly, with enthusiasm and respect, which is not often seen in companies today. I highly recommend both the company and all of its products."
Bella, CA
Mystery novelty: Omnilux Clear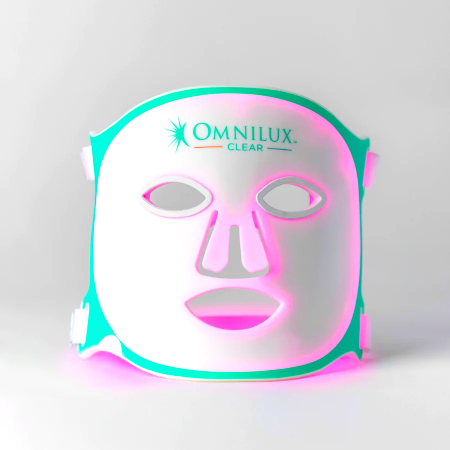 Omnilux Clear is a fairly new product to the company; it didn't come out until late 2021, but it's already won several awards in 2022, such as The 2022 Self Healthy Beauty Awards and the NewBeauty Awards. So what is this dark horse?
To begin with, this is the first home light therapy mask with FDA approval for the treatment of mild to moderate acne. Sounds pretty serious, right? It is. Even though the product is new, it has already gained loyal fans.
So, this mask uses blue and red light therapy. Among the promised effects we can expect a reduction of inflammation, redness, spots, pimples — everything that we attribute to acne. In addition, the device also copes with the scars that are left after acne and eventually helps to return the skin to the look it had before.
The treatment is almost identical to the Contour Face Mask: ten minutes of relaxation four to seven times a week. So you should have patience for a few weeks (better about six), and expect improvement.
The lack of negative reviews shows that this mask works as it should — and many report that it saves money on constant visits to the beautician. So the investment will pay for itself.
Before and After LED masks
It's better to see once than read a hundred times, isn't it? We believe that visual proof is one of the most effective, so we couldn't help but collect a few before-and-after photos from women who have already experienced the effects of Omnilux devices.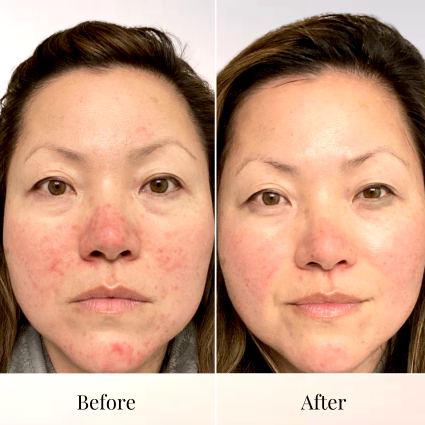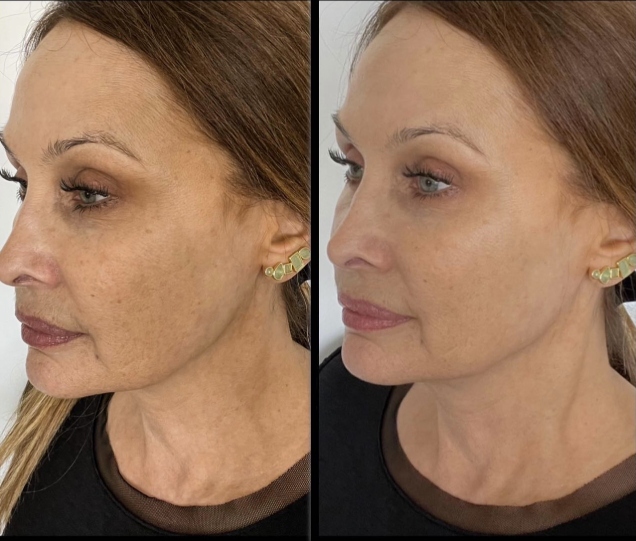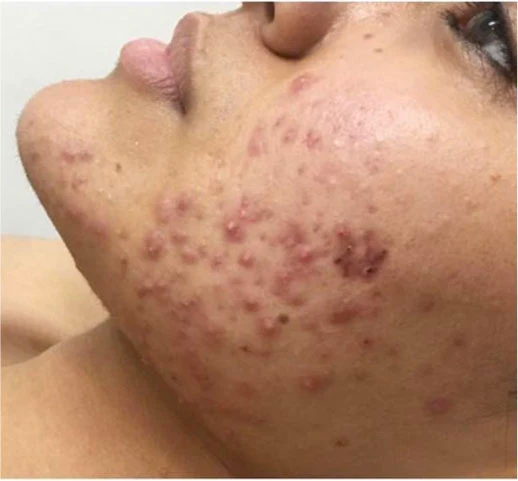 Before & after using Omnilux Clear for 4 weeks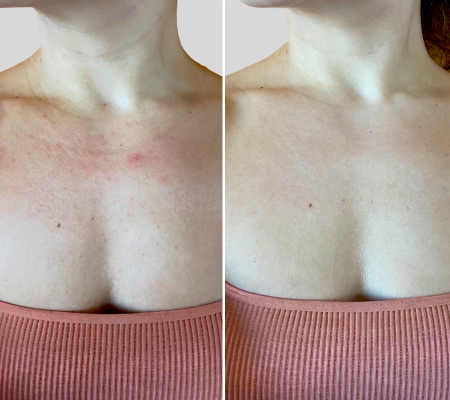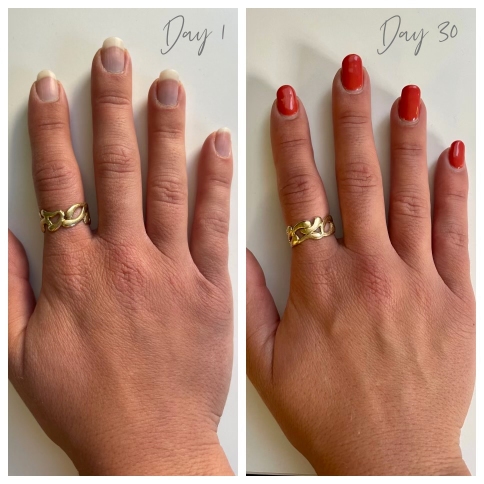 How to use Omnilux LED mask
This mask looks a little unusual, so at first glance, it's hard to get a handle on it. However, you have nothing to worry about, because it is very easy to use. Here's a quick guide to follow:
Charge it up
Insert the micro USB cable into the controller, and plug the opposite end of the USB into the power connector that matches your region. Then plug it into a power outlet. The LEDs on the controller will blink while charging. It will take about 3-4 hours.
Note: The device will not turn on during charging.
Prepare your face
Your face must be clean and dry before the procedure. Remove your makeup, wash and dry your face before putting on the mask. You can also use Omnilux Contour Hydrogel Mask if you wish. It enhances the effect of the main mask.
Just do it
It's time to put on the mask. Fasten it with the straps and start your ten-minute relaxation. Press the button on the controller (hold for 1-2 seconds) to turn on the device. After ten minutes it will automatically turn off.
After the treatment
Now you should apply your moisturizer and sunscreen to your face.
Clean the device
Finally, clean the mask with a damp cloth or tissue (water-based) and leave it until the next time. The device must be disconnected from the charger during cleaning.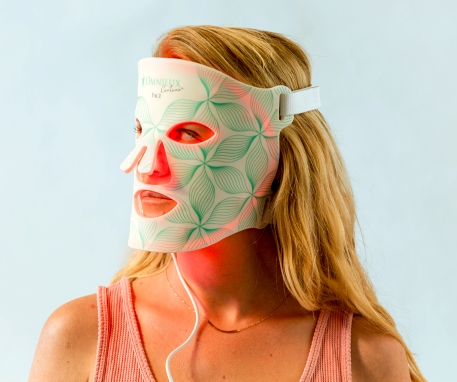 Side effects: fiction or bitter truth?
The manufacturer claims that the Omnilux device has no side effects. And this is really true. For most people LED masks are safe, but there are several contraindications in which it is not recommended to use them:
Pregnancy or breastfeeding
If you have lupus erythematosus, photosensitive eczema, or albinism
If you suffer from any photosensitivity disorder (sensitization to light)
If you take any medications that can cause photosensitivity
If you suffer from light-induced headaches
If you suffer from any genetic condition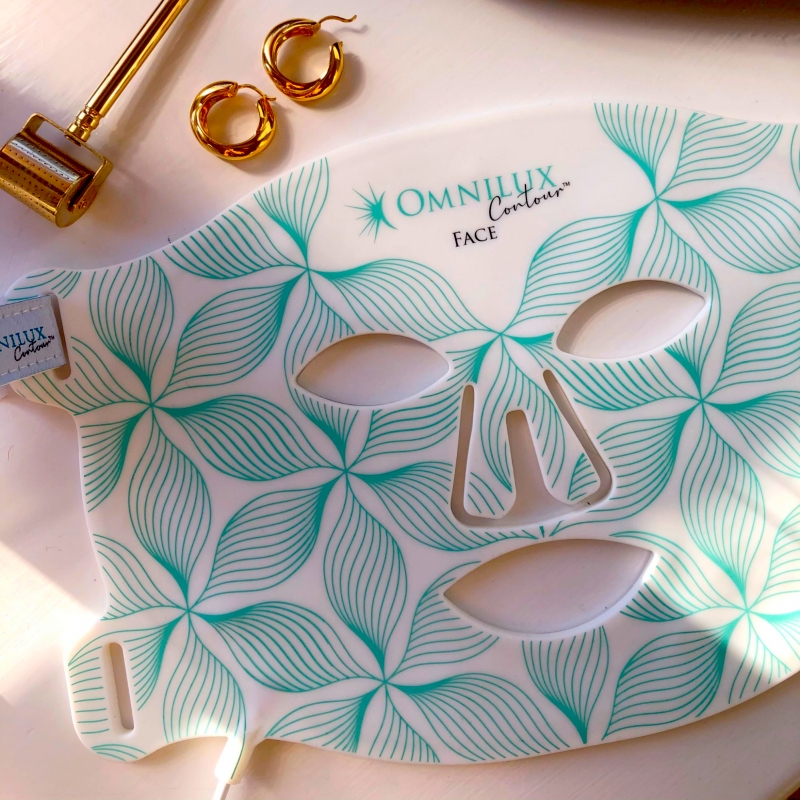 Summary
The LED mask from Omnilux can probably change your life, as pathetic as it sounds. Years of clinical research and hundreds of satisfied customers prove that light therapy works to reduce wrinkles, tighten skin and even fight acne.
For firmer, younger-looking skin, feel free to choose Omnilux Contour Face (or alternatives for the neck and décolletage and hands). And if you're suffering from acne, the FDA-approved Omnilux Clear is your lifesaver. Ten minutes a day at home and a few weeks of patience to look radiant and refreshed — not that much, right?
FAQ
📅Can you use the Omnilux LED mask every day?
Yes, you can use the Omnilux mask every day — many people do. However, there is no point in using it longer than ten minutes, as there is no clinical evidence that it works faster.
👀What does the Omnilux mask do?
Omnilux Contour Face aims to reduce your wrinkles, tighten your skin and reduce pigmentation and inflammation. And the new Omnilux Clear helps to fight acne and acne scars.
🙌Does Omnilux tighten skin?
Skin tightening is one of the main functions of the LED mask from Omnilux.
👁️‍🗨️Does Omnilux light therapy work?
According to dozens of studies, Omnilux light therapy works with the following problems: Acne Skin rejuvenation Pain relief Wound healing
✅Is Omnilux FDA approved?
That is right, Omnilux masks are FDA-approved.