Gyms have gone beyond the usual understanding of the concept. In addition to strength-training equipment, treadmills, and exercise bicycles, gyms provide other services. Their list includes wellness treatments, massage chairs, and even saunas.
No wonder when choosing a gym, visitors now pay attention not only to the variety of fitness equipment but also to the availability of additional options.
People who are considering gyms for regular visits often ask "Does Planet Fitness have a sauna?". This is because this gym chain is one of the largest in the United States. We considered that fact and decided to give a detailed answer to the question of whether Planet Fitness has a sauna, what alternative services these gyms offer, why you should choose Planet Fitness, and so on.
Let's get started!
What is Planet Fitness?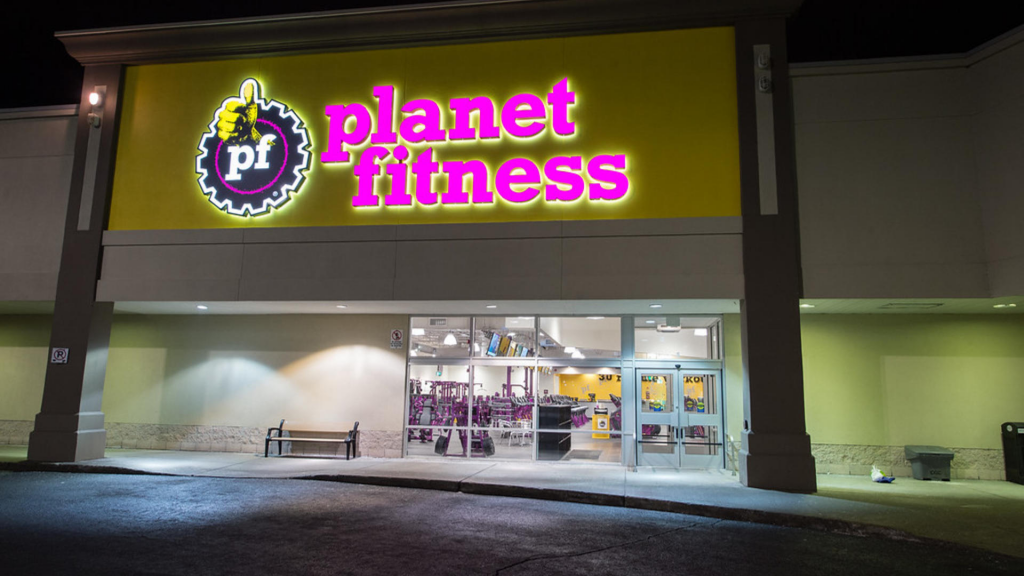 Planet Fitness is an American franchisorThe franchisor, for a fee, provides its trademark, business scheme, advertising materials, consulting and technical support, and helps hire and certify personnel. of fitness centers. They currently have 2,039 gyms in the U.S. and abroad. In addition to the U.S., there are fitness centers in Australia, Canada, Panama, the Dominican Republic, and Mexico.
Planet Fitness is known for its club membership programs. For a set monthly fee, customers get access to new services. There are 2 tiers in total:
Level 1 – Classic Membership. The monthly fee is $10. Holders of this club membership program get access to unlimited group fitness instruction and access to cardio and strength equipment. You can also indulge in pizza and bagels once a month at Planet Fitness' bar at company expense.
Level 2 – Black Card Membership. The monthly fee is $24.99. For this cost, you get to use treatments such as Total Body Enhancement, hydromassage, massage chairs, and tanning beds and invite one friend per day for free.
You can close your club membership card at any time. However, you can do it either at the club itself or by sending a letter by mail. Unfortunately, the service of closing the membership online is not available.
❗️❗️ Important:
The Classic and Black Card Membership prices may vary as Planet Fitness is the franchisor. $10 and $24.99 are the most popular rates.
Does Planet Fitness Have a Sauna/Steam Room?
At first glance, saunas and steam rooms seem to be the same procedure with different names, but this is not the case. The difference lies in the type of heat produced by these devices.
In a sauna, the air is drier and the heat is produced by a closed stove or heated stones. Steam rooms, on the other hand, produce more humid heat, directed into the air in the cabin by a generator filled with boiling water.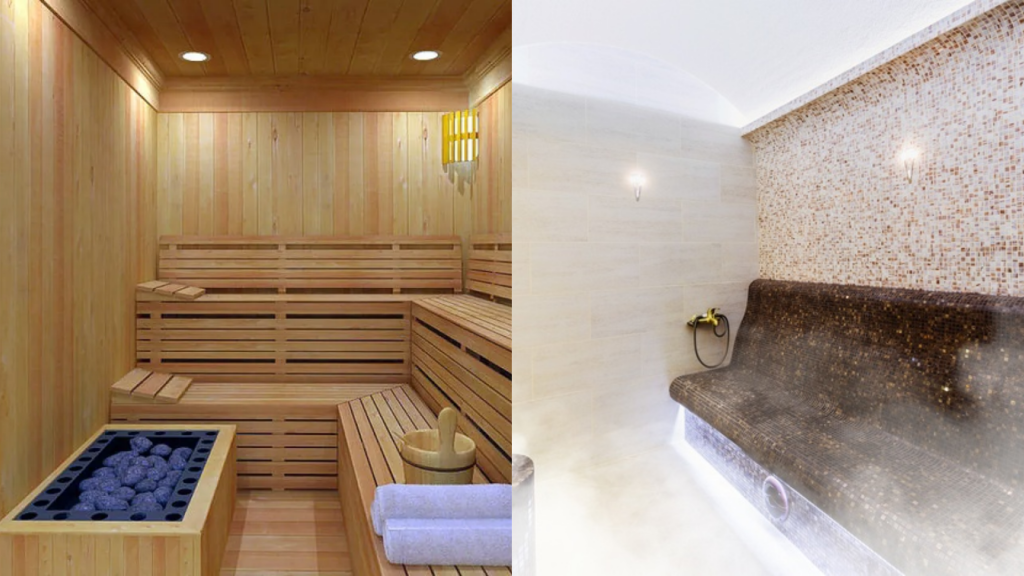 Saunas and steam rooms are known for their positive effects on human health. But can you get healthier with these treatments at Planet Fitness?
Unfortunately, not all fitness centers in this network have saunas and steam rooms. When you visit most Planet Fitness franchise locations, you won't be able to visit these treatments, but you may be offered equally effective alternatives like Total Body Enhancement, hydromassage, massage chairs, and tanning beds.
Reasons for the Saunas Lack in Most Centers
Several factors have to do with legislation or financial aspects that affect the availability of saunas in fitness centers. Unfortunately, the main reason for the lack of this service in most gyms is the desire to follow the basic principle of Planet Fitness – accessibility for everyone.
If you add saunas or steam rooms to most or all of the fitness centers of the chain, it will significantly increase the cost of services. Below we will tell you why and list other factors that affect the availability of saunas in fitness centers.
The complexity of maintenance. Saunas get dirty very quickly because of the high humidity and temperature, so they need to be cleaned every half hour. It is difficult because most Planet Fitness gyms only have 1 cleaner per shift, so they just don't have time to do it.
Cost of maintenance and installation. You have to hire additional cleaners to maintain the facilities, which will increase the cost of club membership and may cause negativity among visitors. It's the same situation with installation. If every Planet Fitness gym installed saunas, the membership fees would become much more expensive.
Unisex saunas. Unisex saunas are banned in the U.S., so fitness centers need to install separate men's and women's saunas. It doubles installation and maintenance costs. Also, the lack of unisex saunas has another disadvantage – the problem of monetization. Not every fitness center will have a sufficient number of visitors of different genders, which will provide the minimum necessary income.
Alternative Planet Fitness' Services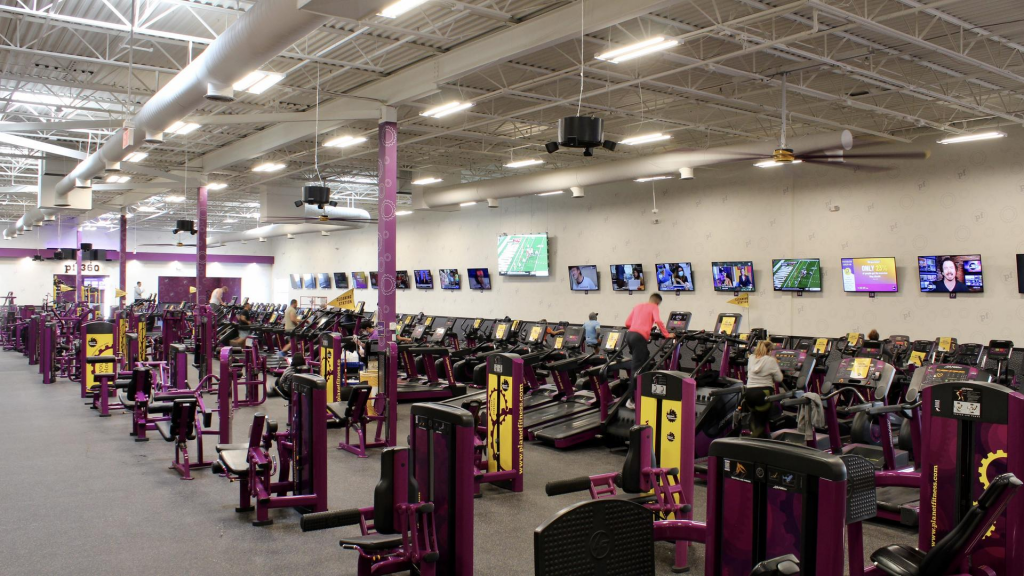 If you are a Planet Fitness Black Membership Card holder, you can use its unique spa and relaxation zone. There you will find many modern and useful alternatives to sauna and steam rooms, if none are available at the global chain fitness center you visit.
They all work differently from the sauna but can have positive effects similar to those of hot room treatment.
Let's find out exactly how and what procedure at Planet Fitness can replace visiting the sauna!
Total Body Enhancement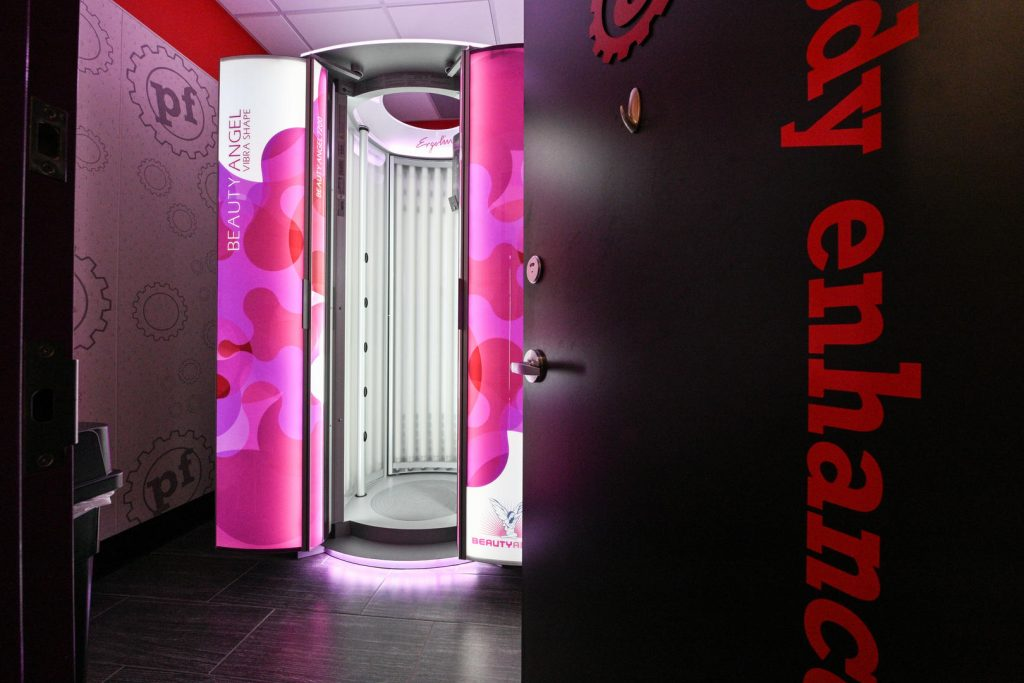 Total Body Enhancement machines are one of the main things Planet Fitness is proud of. This device is exclusive because it offers several innovative solutions at once.
❗️❗️
This machine is available only in 2 Planet Fitness centers in New York and Connecticut
The first thing you'll notice is the red light inside the stall. It's not just a pretty illumination. The red light penetrates your skin and stimulates the production of ATP. ATP is the energy that feeds the skin cells and speeds up the regeneration process. Through this, you can effectively fight wrinkles, acne, varicose veins, and other imperfections.
The Total Body Enhancement machine also has a vibrating platform, which helps to burn calories, fight cellulite and improve circulation through its movements. Relaxing music in the background will make the procedure not only effective but also enjoyable.
The main benefits of Total Body Enhancement are:
It has a toning effect on the body and muscles, allows you to burn calories and fight cellulite due to the vibration platform;
Allows you to effectively fight wrinkles, acne, and varicose veins;
It has a toning effect on the skin due to the production of ATP;
Reduces pain after exercise because the red light accelerates the regeneration of damaged cells;
It has a rejuvenating effect on the skin and improves blood circulation due to the effects of red light on the cells.
Hydromassage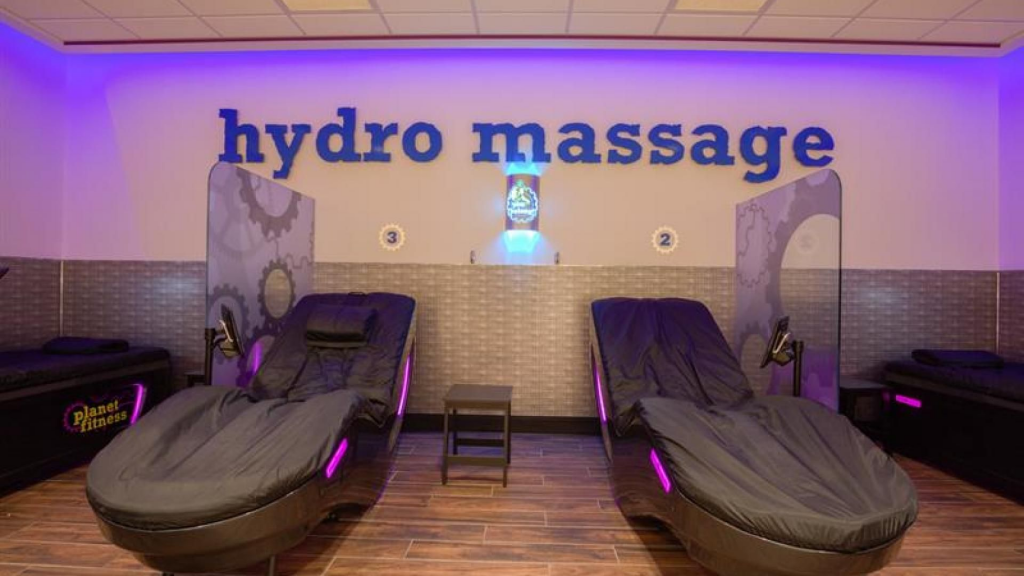 In the lounge area at Planet Fitness, with a Black Membership Card, you can use the hydromassage chairs. It is recommended that you shower before using them, and bring your towel for a massage.
This has to do with the issue of hygiene. You might sweat after a workout or even just after walking. So that you do not make yourself and other clients uncomfortable in the future, it is better to take a shower before using the whirlpool bed.
It is also recommended for hygiene purposes to use a towel after your session to wipe the sweat from your body after a warm whirlpool. In addition, don't forget to wipe the bed with Planet Fitness' special wipes after use to disinfect it.
Remember:
you must bring your own towel, as Planet Fitness does not provide towels for its clients.
Hydromassage chairs in their work use the action of water, which overflows under the body, massaging it. To use it, all you have to do is lie down on the hydromassage chair and activate it through the touch screen.
By regularly attending hydromassage sessions at Planet Fitness, you can improve your condition in the following ways:
Relax and get rid of tension;
Get rid of muscle pain;
Improve circulation
Decrease the level of stress;
Improve your sleep.
Massage Chairs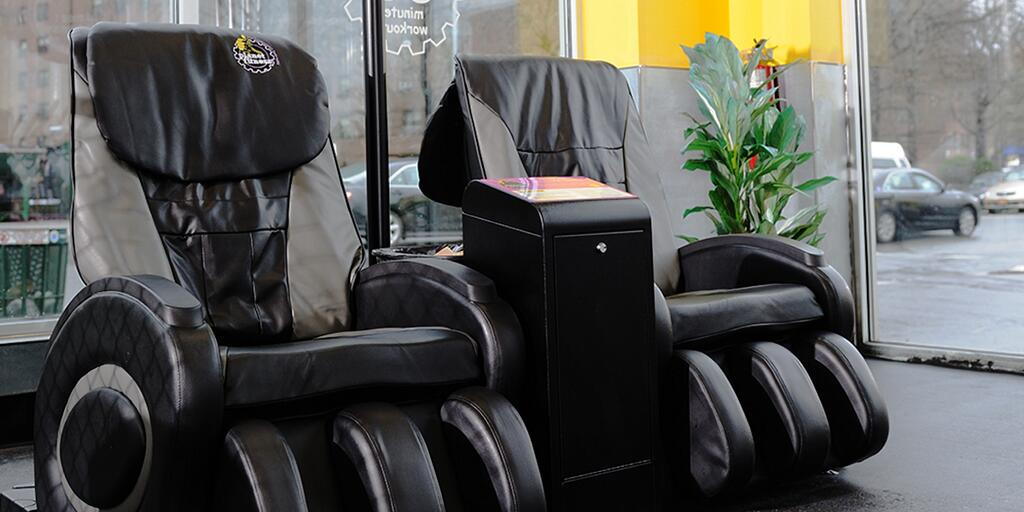 Massage chairs differ from hydromassage chairs on the principle of operation. Massage chairs are equipped with rollers, which are built into the lower elements around the legs, armrests, backrests, and seat. Because of this, they effectively provide a massage simultaneously for different parts of the body.
Massage rollers provide pressing, tapping, and stretching. You can control the mode and intensity of the massage using the control panel, which is located on the armrest.
Also, massage chairs are a universal device, because they are recommended to be used both with increased and reduced physical activity. They simultaneously provide relaxation and reduction of pain due to excessive loads and emulate the necessary stress on muscles and joints with minimal physical activity.
You can use the massage chairs at Planet Fitness when you sign up for a Black Card Membership. You will need to pay $24.99 per month to do this.
Massage chairs at Planet Fitness have the following benefits:
Relaxation after strength training;
Accelerate metabolism in your cells by vibrations;
Allows you to effectively fight headaches, stress, insomnia, and chronic fatigue;
Stimulates blood circulation;
Effectively combats muscle and joint pain;
Improves the flexibility of the back.
Tanning Beds and Booths
Fitness Planet also has tanning beds and booths. You can access these procedures if you have a Black Card Membership or a friend who can provide you with a one-day pass.
It is important to note that the number of solariums is limited, so their use is on a first-come, first-served basis. Also, there is usually no staff near the machine to ensure the order of the queue, so you should be polite with other visitors.
You can use tanning beds once every 24 hours for a set amount of time (usually a session lasts 15 minutes). Also, a specially trained staff member will instruct you regarding contraindications and limitations of use before the session and ensure maximum possible safety.
Tanning beds and booths at Fitness Planet have the following benefits:
Black Card Membership gives access to tanning beds at any time while the fitness club is open;
Tanning beds and booths are easy to use because their cover has an instruction that will briefly explain to you all the conditions of use;
Trained staff will help you understand how tanning beds work and ensure the best possible safety.
❗️❗️ Important:
Doctors do not recommend indoor tanning more than once every 48 hours. Frequent trips to the solarium increase the risk of skin cancer by 59%.
Customer Experience
If you're unsure about whether Planet Fitness is the right choice for you, it's always a good idea to do some research beforehand. Check out customer reviews to get a sense of what others have experienced at their local Planet Fitness gyms.
With so many different locations and services available, there's sure to be something that will work for your needs and preferences.
"I recently joined Planet Fitness and was extremely impressed with their services. The Total Body Enhancement machine is amazing! It uses red light therapy and vibrations to help with circulation and muscle relaxation. I use it before my workout and I can already feel a difference in my energy level and flexibility. The massage chairs are also great additions to my gym routine. After a tough workout, it's nice to have a way to relax and unwind. Totally recommend it!"

— Kasey, CO
"As someone who struggles with chronic pain, I was hesitant to join a gym. However, after trying out Planet Fitness, I can confidently say that their services have been a game-changer for me.

The hydromassage and massage chairs have been a lifesaver on days when my pain is particularly bad. The Total Body Enhancement machine has also been incredibly helpful in reducing inflammation and improving my circulation. The tanning bed is a nice bonus, but the pain relief I've experienced from the other services really sets Planet Fitness apart."

— Dash, CT
"I have been a member of Planet Fitness for over a year now, and I must say that I am quite impressed with their gym and services, in particular. The Total Body Enhancement machine has helped me reduce my cellulite and improve my circulation. And the tanning beds and booths are a great way to get a natural-looking tan without damaging your skin. The staff is always professional and friendly. I highly recommend Planet Fitness to anyone looking for a great gym experience."

— Julissa, NY
Why Choose Planet Fitness?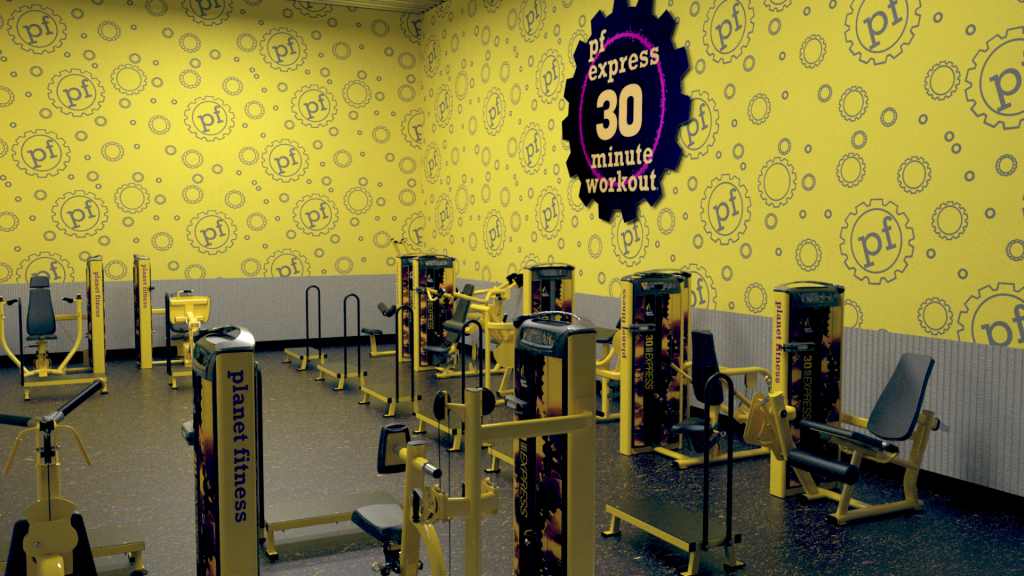 As we have already understood, the sauna is not available in every gym at Planet Fitness. However, we believe that you should consider the network of these fitness centers, as it has many advantages over other gyms.
Wide range of activities. In addition to the usual exercise machines, treadmills, and exercise bikes, you can use the Planet Fitness Spa. This is the general name for treatments such as Total Body Enhancement, hydromassage, massage chairs, and tanning beds. That is, immediately after training, you can use any of these services if you have a Black Card Membership.
Club membership fee. Planet Fitness has two levels of membership. The first one (Classic Membership) will cost you $10/month. It gives you access to cardio and a strength machine, and once a month you can get free pizza and bagels from the lounge bar.
The second level (Black Card Membership) will give you access to Total Body Enhancement, hydromassage, massage chairs, and tanning beds, allow you to bring 1 friend per day, and participate in group fitness exercises for $24.99/month. However, it is worth noting that the price may vary between clubs because Planet Fitness is a franchise.
Qualified personnel. If necessary, you can always turn to trainers and staff who will help you deal with the equipment and ensure the highest possible safety.
Summary
Planet Fitness is one of the largest fitness gym chains in the US with over 2,000 centers in the country and abroad. It has a loyal club membership program, which for a fairly affordable amount gives access to everything that is in the hall. You will be able to use both strength equipment and innovative treatments such as Total Body Enhancement.
Since Planet Fitness provides many activities, visitors may have questions about the availability of certain services. One of these is the spa and relaxation zone. Therefore, in this article, we answered the question "Does Planet Fitness Have a Sauna?", explained the reasons for the possible absence of a sauna in various fitness centers, indicated what alternatives to this service are in Planet Fitness, and clarified whether this franchise should be considered for sports.
FAQ
♨️ Does Planet Fitness have a sauna or steam room?
Sauna and steam rooms are not available in every Fitness Planet gym. This is because the cost of their maintenance would cause an increase in prices for the club membership.
🧖‍♀️ What are the sauna alternatives at Planet Fitness?
🧺 Are towels provided at Planet Fitness?
Showers and changing rooms are available at every Fitness Planet gym, but towels or toiletries will not be provided. Therefore, if necessary, you will need to take them with you.