Planet Fitness is the most affordable gym in the US that offers many additional benefits for a reasonable price. Unfortunately, it doesn't have a swimming pool among its amenities.
It is a perfect place for experienced users, gym beginners, or someone embarrassed with their own shape. Here you won't meet guys who grunt, drop large weights on the floor, and showcase.
Like every place, Planet Fitness has its own pros and cons. Our list helps you to make a quick decision about signing up for this gym.
Why don't all gyms have a swimming pool?
The main reason why Planet Fitness has no swimming pool is the extra costs associated with it.
The main goal of the Planet Fitness chain is to remain affordable for everyone who wants to be in shape. Getting a swimming pool will definitely increase the price of the membership fee.
💰 Maintenance cost
While building up a swimming pool is expensive, maintaining it clean is another part of the expense. The truth is that public pools are hard to keep working properly.
The pool should be professionally cleaned regularly to remain safe. Also, chemicals are added to maintain pH and chlorine levels to prevent algae growth.
In addition to chemistry, filters, pipes, and liners should be replaced regularly. It also add-up costs and makes membership fees higher.
🏊 Space
Swimming pools require a lot of space. If it is too small, it cannot accommodate all clients and as a result, causes many complaints.
Planet Fitness gyms are located in the shopping centers nearby homes, so it is not possible to build a swimming pool.
In addition to affordability, the convenient location is the second most popular reason for signing up for Planet Fitness. If it moves further from the crowded areas, the gym will lose its clients.
🧑‍💼 Staff
Planet Fitness should invest in the professional staff for maintaining the pool clean and operable daily.
Moreover, as the gym proposes free training, it should hire staff with the knowledge of water sports and swimming activities.
Lifeguards are also a necessary staff in every swimming pool to control visitors' safety.
🩱 Judgment
As Planet Fitness is promoted as a "Judgment Free Zone", getting a swimming pool can become a place that people find intimidating.
As the swimsuit is tight, it can give certain people reason to judge others. It doesn't match the mission of the gym.
Amenities that Planet Fitness proposes
All amenities described below are only available for Black Card members.
HydroMassage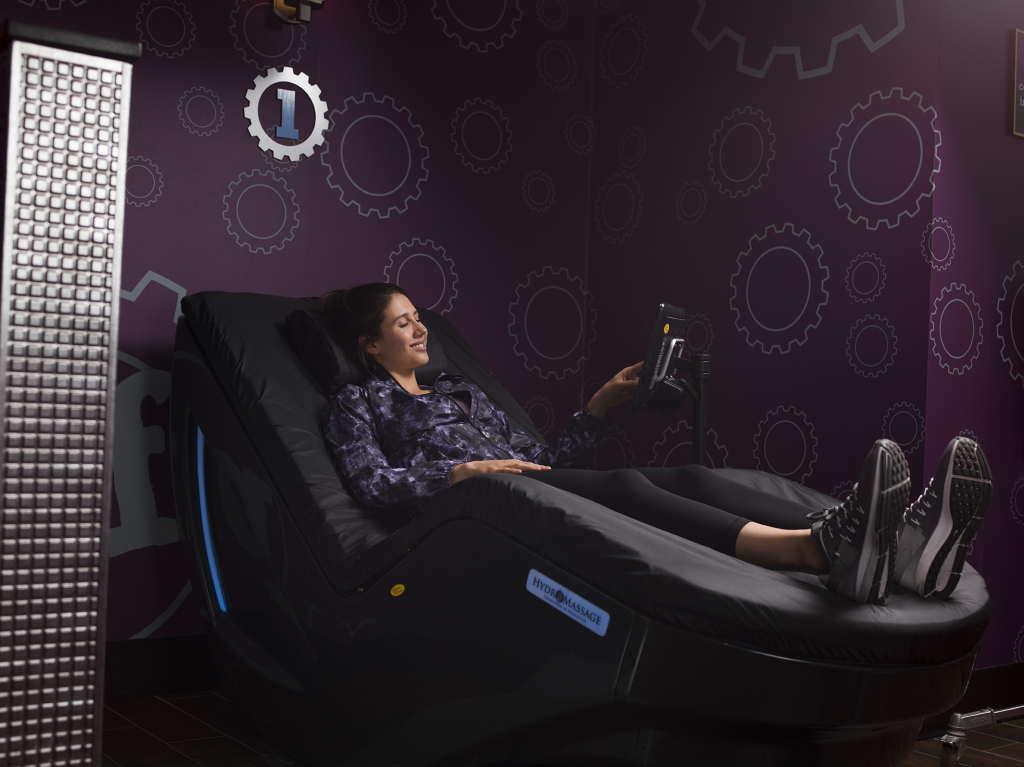 This facility is only available for the Black Card holders. Planet Fitness has either massaging beds or lounge chairs. They use the power of a warm water stream moving up and down along the body.
The average session of the HydroMassage lasts 10 minutes. For this time, you can focus on one problem area at any time or make a full-body massage. You can also regulate the pressure from the water jets and their speed.
Benefits from HydroMassaging:
Relief pain: Massage reduces inflammation and helps with relaxing muscles, tendons, and joints.
Relieves muscle soreness and tension: this becomes very helpful either before or after the workout to help muscles relax and get rid of their stiffness.
Get relaxed: it is nice to have a massage after an intensive workout, so it manages your stress level and helps to sleep better.
Make your workout better: in addition to reducing tension and soreness, massaging increases the range of motions and speeds up the recovery time. As a result, you can achieve better results in the gym.
Total Body Enhancement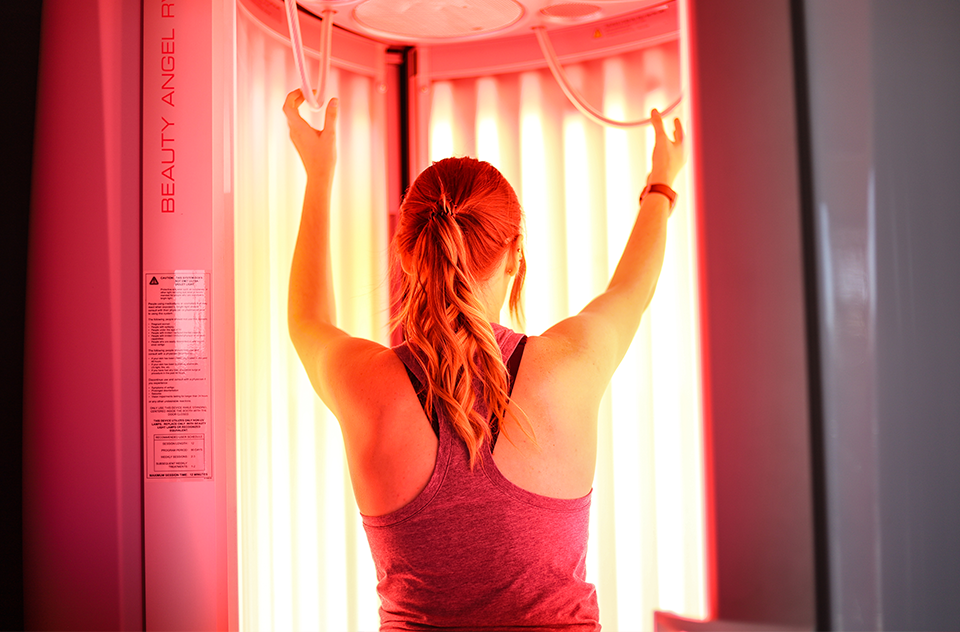 At first glance, the Total Body Enhancement device or so-called Beauty Angel can be mixed with a tanning booth, but they are not the same.
It uses red light therapy to enhance weight loss and treat problematic skin. In addition, it helps you to tone the muscles of your legs, abs, and back with a vibrating floor.
Depending on your experience, the device proposes different treatment programs. There are programs suitable for relieving the tension in muscles, for beginners, or as an additive to classical fitness.
The session lasts 12 minutes. In this short period, you can accomplish the next goals:
Weight decrease. By increasing blood circulation in fatty areas, red therapy helps to break down fat faster. During every session, you will burn up to 190 calories.
Reduces wrinkles. It promotes skin regeneration and synthesis of elastin and collagen.
Get rid of skin redness. Red therapy decreases inflammation in the skin, including one from acne.
Remove cellulite. As the platform starts shaking, while you standing on it, it stimulates your muscle in the legs, buttocks, and abdomen and enhances blood circulation there. As a result, cellulite became less noticeable.
Add strength and energy. Total Body Enhancement stimulates serotonin production so you will feel refreshed after the treatment. Additionally, serotonin reduces pain and muscle creation.
You can use Total Body Enhancement before the training to warm-up muscles. If you feel muscle soreness after the gym, this device also helps to reduce it and relieve tightness in the joints. It is also a great idea to combine it with HydroMassage for more relaxation.
You shouldn't hope to lose fat and become fit only with Total Body Enhancement. It should go in the complex with sport and proper diet. Moreover, the treatment has contradictions, which you can check in our special review.
The Total Body Enhancement is only available for Black Card Members in two locations in Connecticut and New York.
Tanning Bed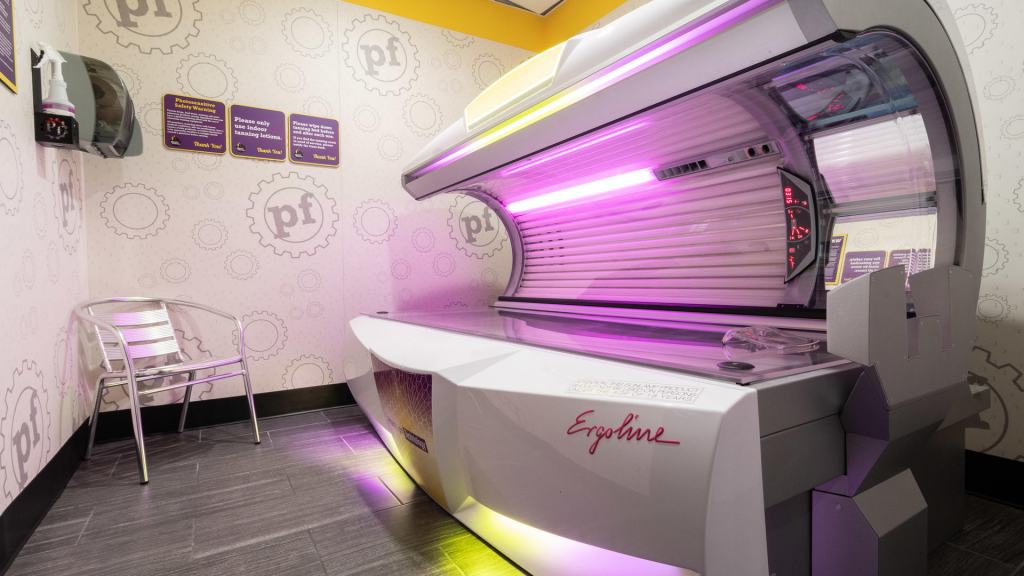 Planet Fitness offers a Black Card member an additional feature – it is a tanning bed. Unfortunately, not all locations have one.
There are three possible variations in tanning equipment that you can meet in Planet Fitness: tanning bed, tanning booth, and spray tan booth.
☀️ Tanning bed is classical tanning when you lay down in the machine. This type is great for additional relaxation.
☀️ Tanning booth gives you more intense tanning.
☀️ Spray tan booth spays special tanning mixture all over your body. It gives you even color for up to 12 days without the same risks as with classical tanning, such as skin cancer. It isn't available in all locations.
💡
Do you want to know all the benefits and dangers of
Planet Fitness tanning
? Check our ultimate review for this amenity.
You should follow a simple set of rules for using a tanning bed in Planet Fitness comfortably and safely.
Limit the session to 15 minutes as overdosed tanning can cause skin cancer.
Wait for at least 2 days between the tanning sessions. If overused, tanning will damage your skin and increase the risk of skin cancer.
Wait in the queue. The tanning beds in Planet Fitness follow the rule "first come-first serve", so be courteous and patient while waiting for your turn.
Lay down only on the 100% clean bed. Sometimes there is personnel who clean the bed after every use. In other cases, there are a paper-towels and cleaning solutions nearby, so you need to clean it on your own and wait until it dries up.
Wear protective goggles to protect your eyes from UV.
Massage Chairs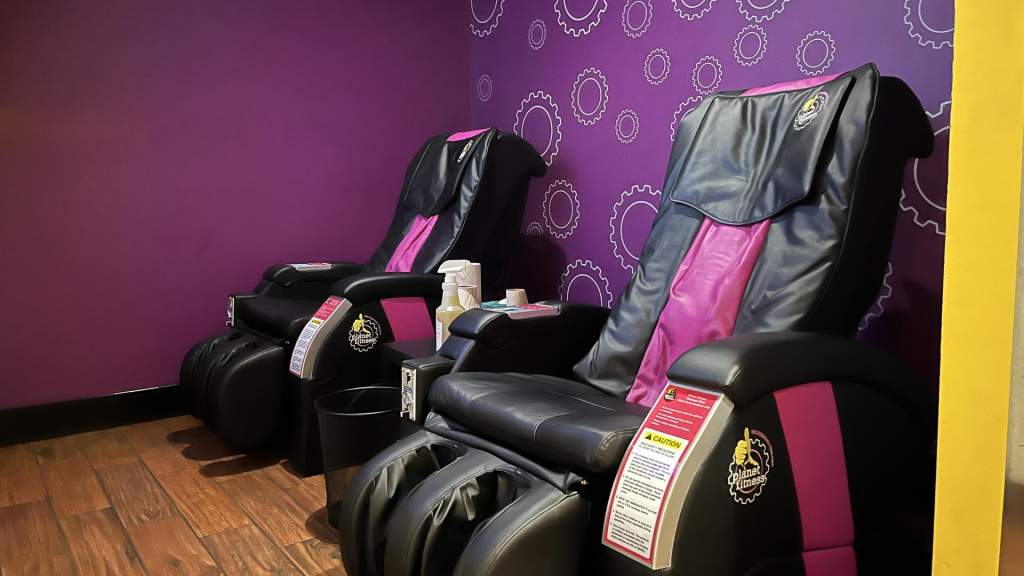 The same as with hydromassage, massage chairs bring relaxation to your body.
You can regulate pressure and the massage modes during the session. On average, it lasts up to 15 minutes.
If you want to use it, ask the manager at the reception to set it for you.
One important thing to know is that you should disinfect and wipe down the chair after use on your own.
Pros & Cons of Membership at Planet Fitness
You might find many positive or negative comments on the Web about Planet Fitness. Your attitude to this place depends on whether its philosophy appeals to you or not. Check the table below to know more.
Pros
 Cheap. Planet Fitness is an affordable gym. A classical membership costs $10, while Black Card costs $22. The latter gives you access to any location of Planet Fitness worldwide, SPA rooms, bringing one guest, and sales on drinks.
Clean. Most people admitted that locations are clean.
Has all traditional equipment. Planet Fitness is a good place to start your journey to the sport or if you are not too picky about special free-weight equipment. The gyms have everything to provide you with a basic workout. Usually, there is more than one of each piece, to decrease the queues. There is a lot of cardio equipment too, such as treadmills, ellipticals, bikes, stair climbers, etc. 
The Judgment Free Zone. Planet Fitness creates an atmosphere of acceptance, so the gym attracts a diverse crowd. Here you can meet typical gym-goers as well as people within every age group, level of experience, and size. Here you can go at your pace and nobody will not judge you.
24/7. Many locations of Planet Fitness work 24/7 so it is easy to include workouts in the schedule without sticking to the working hours. 
Workout express. Every Planet Fitness gym has a special section for a 30-minute express workout. It trains every part of the body with 12 different equipment with cardio steps in between. 
Free of charge locker rooms
Free training. You can apply for the free consultation with a personal trainer that will help you to design an exercise program and help you with equipment. There are also small group training sessions that you can attend for free.
Cons
Crowded. As this gym is affordable and many of them are located in the centers they are usually overcrowded during peak hours.
Casual. The main con of "Judgment Free Zone" is that the atmosphere can become too casual. Some people don't mind talking on the phone or taking selfies while sitting on the equipment. It can be annoying. 
A limited number of free weight equipment and barbells. Planet Fitness may not be the place for bodybuilding or serious lifting. For example, the dumbbells only go up to 75 pounds and there are no classical barbells, only Smith machines.
Lack of fitness or specialty classes. This is just a traditional gym. There are no pilates, yoga, or other classes in this gym. Although, you can always pick a trainer that helps to make up the exercise program.
Planet Fitness is a great and affordable place to start your journey towards the sport or just to stay fit without targeting serious results. It is also beneficial for those who are self-concern or want to workout during non-classical gym working hours.
If you are looking for a more professional environment for heavy lifting, bodybuilding, or crossfit, it is not the right place. Still, you can try it with a day pass, but don't expect anything extraordinary.
If you want to achieve more prominent results in fat burning, check the
at-home devices
that will help to reshape your body and get rid of stubborn fat pads.
Summary
Planet Fitness is not a luxurious fitness center with a pool, saunas, and steam rooms. It has the cheapest membership fees in the US.
For an affordable price, you will get everything you need for a full-body workout in a convenient location. Planet Fitness creates a friendly atmosphere of acceptance so you can go there without embarrassment.
Many locations of Planet Fitness have additional amenities, such as hydromassage, tanning beds, total body enhancement with red light therapy, and massage chairs. You can benefit from them any time you want with a Black Card membership.
FAQ
🤔 Why doesn't Planet Fitness have a pool?
Planet Fitness doesn't have a pool because of the additional expenses and costs associated with it. They include expenses on maintenance, additional staff, and an extra place to build a pool. It will dramatically increase the membership fee to the gym and make it less affordable for people. While the Black Card with all advantages costs $25 per month in Planet Fitness, the average low-end price in other gym chains is $52.
💸 How much does the membership card to Planet Fitness cost?
A classical membership costs $10, while a Black Card costs $25. The latter one gives you access to additional SPA facilities, the ability to bring a guest for free, and sales on drinks.
😊 What amenities does Planet Fitness have?
A SPA-facilities are available only for Black Card holders. They include hydromassage, tanning beds, total body enhancement, and massage chairs.
👀 Can I go to Planet Fitness without any gym experience?
Sure, Planet Fitness creates a welcoming and friendly atmosphere for everyone who wants to be in shape. Here you can meet many people of all shapes, experience levels, and age groups. If you don't know where to start, you can sign up for a free personal session with a trainer. He will help you define goals, develop the program, and shows around the equipment.