Quarantines and lockdowns since 2020 have provided a surge of interest in home care — and it's not just about masks and serums. Treatments that people used to get in clinics, it turns out, can also be done at home. And today we're talking about facials.
The SolaWave brand entered the market just in 2020, and it allows you to perform 4 types of treatments at once without the help of a cosmetologist: microcurrents, red light therapy, vibration massage, and heat treatment. Why is it so cool, how is it different from other devices, and what can it do to your skin? Keep reading the review to get the answers to these questions.
SolaWave Wand with Red Light Therapy
SolaWave Wand with Blue Light Therapy
The best fit for reducing wrinkles, fine lines, pigmentation,
and smoothing the skin
The best fit for fighting acne and improving skin's
radiance
Key Solawave benefits

⭐ Comfortable and easy to use
⭐ Affordable price compared to alternatives
⭐ Perfect little device to take on trips
⭐ Quick sessions (five minutes)
⭐ Discounts for students and a one year warranty for everyone

"This is a wonderful device! I am a mom with very little time for self-care, so I was looking for alternatives to red light therapy for facials. This device immediately showed its strengths. Firstly, it's cheaper. Secondly, the result was not long in coming. I noticed that my skin became smooth, and there were fewer wrinkles after 2 weeks of daily treatments for 5–10 minutes. This is ideal for people who don't have much time for self-care, as it only takes a few minutes a day!"

– Stacy, VA
"I recently discovered the amazing SolaWave and accompanying serum and ordered them immediately after seeing the incredible effect on my friend's skin. Using the device twice a day – once in the evening and once in the morning – gave my face a healthy glow back. I also want to point out that the serum is fantastic, although SolaWave is also great because it gives my skin a noticeable lift and luminosity. My family said I looked very well, which is a huge surprise given the lack of sleep and dark circles under my eyes. I even find myself using this device in the middle of the day to get some rest. This is my new favorite accessory!"

– Lexie, NC
About SolaWave
You might think that since the company released its first product in 2020, it came on the heels of a home skincare device hype because of the coronavirus and lockdowns. Anyone who is not familiar with the company would think so, and that's fine. But in truth, it's more of a coincidence. SolaWave began inventing their magic wand two years before the first release, respectively before the pandemic started.
The team working on the product took it all personally, as they all had their skin problems and dreamed of creating something that could quickly and conveniently help with different skin issues.

Several years after launching the devices, they continue to improve their products and keep an eye on how satisfied customers are with them. No one is perfect, and if a situation happens that SolaWave Wand stops working, they will replace it for free or give a refund. And even if you write about your experience with the wand not personally to them, but somewhere on Reddit or Quora, they will still find you (it just happens later than direct contact).
How does it work
SolaWave wand technology is based on the effects of red and blue light therapy. It is similar to the action of other devices such as the masks from Omnilux or Dr. Dennis Gross, but there is a difference.
If you want to know more, we have separate deep reviews of
Omnilux LED masks
(tighten the skin and reduce fine lines and wrinkles)
&
Dr. Dennis Gross LED mask
(works both for fighting acne and smoothing the skin)
.
First, the SolaWave wand has several other useful functions: microcurrent, massage, and therapeutic warmth.
The microcurrent can barely be felt, but it stimulates the muscles, penetrates deep into the skin, and helps reduce the signs of aging.
The massage not only doubles as a pleasant sensation but also helps to remove puffiness and dark circles, making the skin softer and more radiant.
Finally, what does this "therapeutic warmth" mean? This heat helps cosmetics absorb better, makes your skin glow, and reduces redness.
"After getting acquainted with "Atomic Habits", I'm implementing a new practice of making routines more appealing. I decided to try SolaWave, a luxurious skincare product that makes me feel like I'm in a spa every night. Despite my naturally dry skin, I was not disappointed with the treatment, since it left my skin refreshed and hydrated. The cost was slightly higher than I normally spend. But, I think it will be worth it in the long run, as it is almost equivalent to having three affordable facials. Overall, I am enthusiastic to observe how useful SolaWave will be. I am relieved that I am taking the necessary steps now that my future self will thank me."

– Amazon Customer, US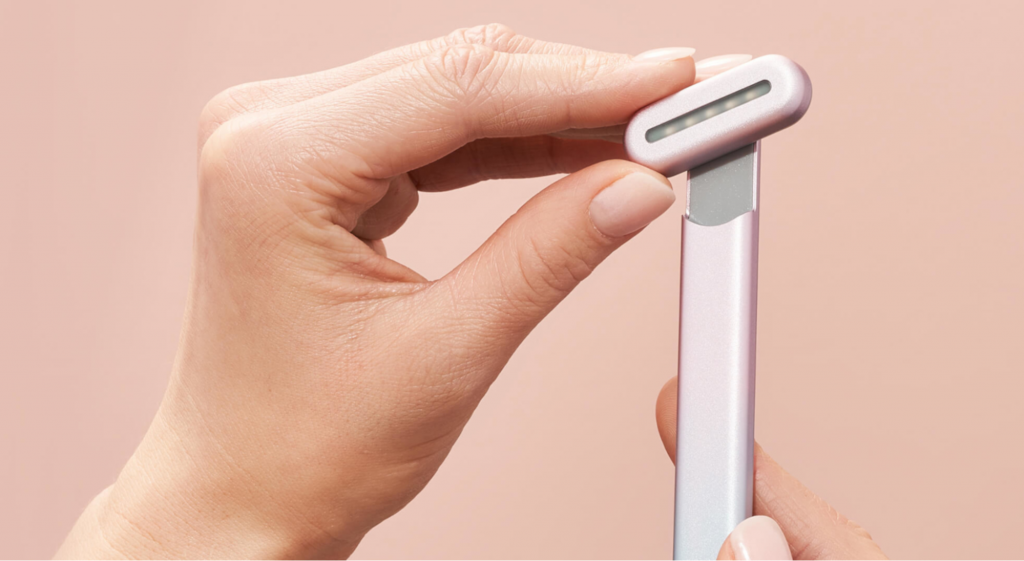 Is SolaWave FDA-approved?
Solawave Wands is not FDA approved, but one of their devices, Bye Acne, is already FDA-clearedFDA clearance means that a manufacturer can demonstrate that a product is 'substantially equivalent' to another legally marketable similar device that has already been approved (i.e., a 'predicate')..
Quick Overview

– FDA-approved treatment for acne
– Combines red (630 nm) and blue (415 nm) light therapy
– Requires as little as 3 minutes a day
– Spot treats inflamed areas
– Device rating — 4.8 based on 80+ reviews
By law, cosmetic devices don't have to be FDA-approved. It is more like a nice bonus. This is because FDA approval is primarily significant for medical devices, not cosmetic devices.
"Having used SolaWave for close to three weeks now, I can confidently state it is an effective and immensely beneficial tool for one's skincare routine. After a few hit-and-miss attempts, I mastered the use of this nifty device, so my complexion is much smoother and more even compared to three weeks ago. Also, as I'm in my late thirties, I love that I can use this while doing something else, like reading or watching a show; it's like an at-home spa treatment! I have rosacea that has become more prominent across my cheeks, and I've already noticed improvement after only a short while of using this product. I look forward to witnessing more progress and highly recommend it to those who are not fond of using too many products or who are seeking a healthier complexion."

– Sara, NJ
"I have made a wonderful gift to my special women – my mother, sibling, and closest friends – by giving them each a SolaWave wand because it is not only immensely enjoyable but genuinely provides results. I've tried other red light therapy devices, but nothing can compare to the SolaWave. My skin is now significantly softer and brighter with a beautiful glow. I absolutely adore it!"

– Mary, SC
Red light therapy vs. Blue light therapy
Let's take a brief look at what red light therapy is for, what blue light therapy is for, and what the difference is between the two.
Red light is the most powerful of all. It is usually prescribed for mature skin and to improve metabolism and blood circulation. It greatly increases the skin's ability to retain moisture and has a soothing effect. It also reduces redness and inflammation. Red light is medically approved for the treatment of rosacea.
Read more about
red light therapy
: how it works for different issues, before and after, and science studies.
Blue light is the most effective for fighting bacteria. It is effective in eliminating inflammation, so it is often used to treat acne- and rash-prone skin. The blue light fights propionic acne bacteria and is an effective method for treating rashes that do not respond to antibiotics. Blue light acne treatment also helps prevent future outbreaks of rashes and bacterial skin infections.
We have a separate article about the effects of
blue light therapy
on acne, so you can study it deeply.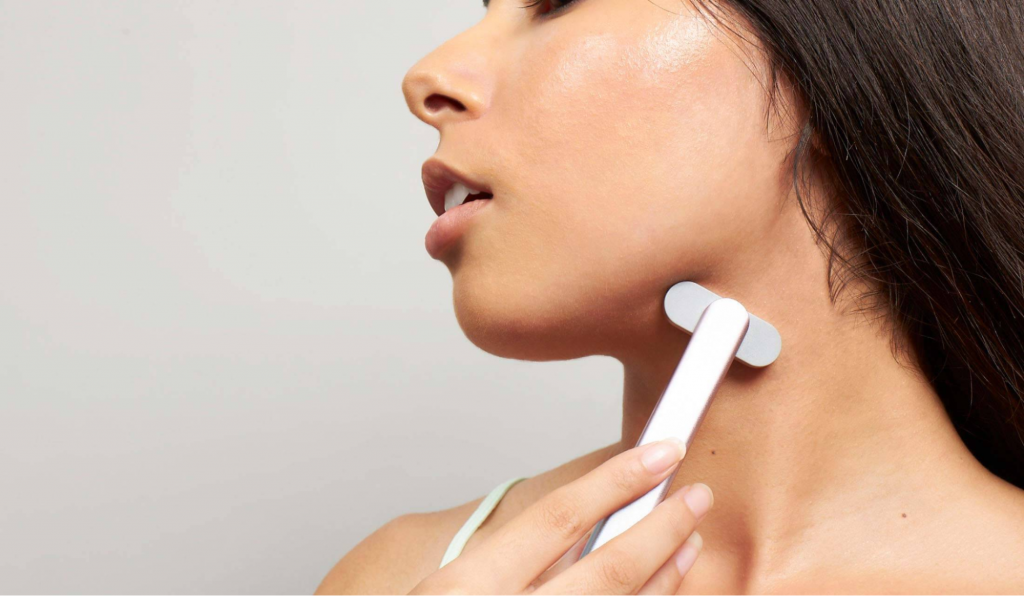 Review: SolaWave Wand with Red Light Therapy
The best fit for reducing wrinkles, fine lines, pigmentation, and smoothing the skin
As we mentioned before, the SolaWave Wand with Red Light Therapy is a device for girls and men who are willing to fight and win the battle against age-related skin changes. Not for nothing has this product "raised the hype" on social networks and media, from TikTok to Forbes.
First, it is worth noting that the vast majority of reviews about this wand are very positive. If you linger on the official website longer, it seems to be magical. And that's because when a customer is unhappy with the device or something breaks, the company readily changes the device at its expense. In addition, they have a 30-day return policy if the wand doesn't fit. Well, the warranty is for one year, but this is no surprise for brands-manufacturers of cosmetic devices.
How do I use this device? It's pretty simple: cleanse your face, apply serum and take your wand. It turns on automatically when it comes into contact with moisturized skin. Slide it gently up and out over your face, covering the cheeks, forehead, chin, and under-eye areas one at a time. 5 minutes every other day will be enough, but if you want you can extend the procedure, for example for 15-30 minutes. Many girls consider it as a kind of relaxation and thus relax during their evening routine.
There are two ways to buy this device — the model with the serum (which saves you 40% on the serum) and the classic version. We advise you to choose the serum version if you do not have your own or if you want to achieve better results. This serum simultaneously moisturizes and soothes the skin and enhances the effect of the microcurrents. Some users claim that only with this serum they can achieve serious results, but everything is individual.
Pros and Cons
We decided to separately highlight the main pros and cons of this device to help you decide whether you need it.
Pros
Simple to use
Budget-friendly compared to alternatives
Takes only 5 min/session (or more if you wish so)
Compact and easy to take with you on travels
Loyal discount system (15% off for subscriptions, 20% off for students)
1-year warranty
Cons
Needs a serum to work properly
It is not waterproof
Has a pretty short battery life (60 min)
Sometimes the wand turns off during the procedure (tap the head to activate it again)
💡 Our verdict:
We think that despite the minor flaws, this wand is magical in its way and worth a try. The results often exceed expectations, and the price is not so high as for such a technological device to regret the purchase.
Review: SolaWave Wand with Blue Light Therapy
This wand model, the latest development of Solawave, is designed for people who suffer from mild to moderate acne. There are many ways to combat rashes, and perhaps not everyone trusts blue light therapy, but it's worth a try.
We talked to a dozen girls and guys who have decided on the SolaWave Wand with Blue Light Therapy, and half of them told us that they barely had any help before this device. We were even surprised because there are so many acne-fighting products out there. But they told us in all seriousness that Solawave is now almost like a religion in their lives — daily rituals.
How does this model differ from the SolaWave Wand with Red Light Therapy from a technical point of view? There is no red light and microcurrent, but the facial massage and therapeutic warmth functions are retained.
The downside is that when you stop using the device regularly, the acne problem can come back. In that case, you need to consult a doctor, get tested, and maybe treat something inside your body because the causes of acne can be many, and they are all different.
As with the previous wand model, here you have the option to buy a set with serum and just a wand. If you have a serum that you trust, try it with it. But the serum from SolaWave is designed specifically to interact with this wand and therefore the results will be the best with it.
Pros and Cons
As with the last wand, we've divided up the pros and cons of this model to help you with your choice.
Pros
Easy to use
Affordable price
Takes only 5 min/day (or more if you wish so)
Compact and portable
The same cool discount system (15% off for subscriptions, 20% off for students)
1-year warranty & free shipping
Cons
Needs a serum to work properly
It is not waterproof
Has a pretty short battery life (60 min)
💡 Our verdict:
People on our team who have problems with acne have already ordered this device because they couldn't resist after the reviews and photos of the results. Those of us who still have a cool sober head advise you to weigh the pros and cons, and if the price is affordable for you, then feel free to try this acne wand.
🚨 Keep in mind:
The company has discontinued this model and replaced it with the Bye Acne device, which has also been shown to be an effective solution against acne rashes and pimples.
However, if you are still interested in trying SolaWave Blue Wand Therapy, you can find it on other websites.
SolaWave Before and After
One picture instead of a thousand words, huh? We, too, believe that there is nothing better than "before" and "after" photos. But before admiring these results and dreaming about the same ones, we must remember an important point: consistency and persistence in the use of devices, and only this will help you achieve your goals.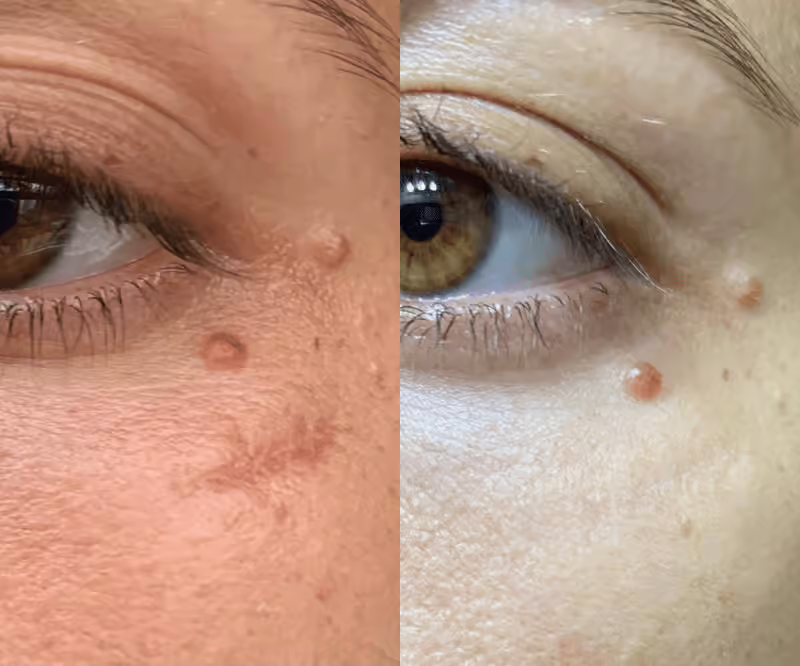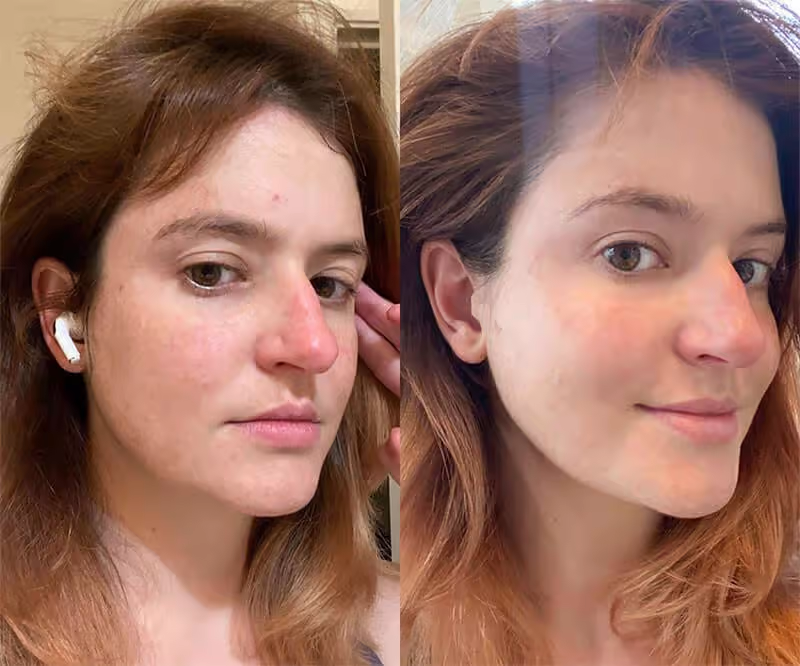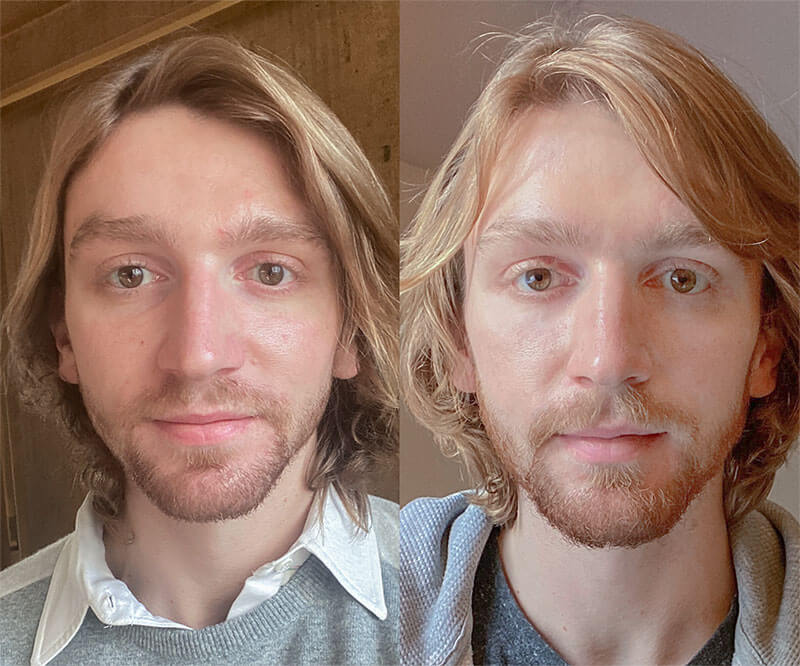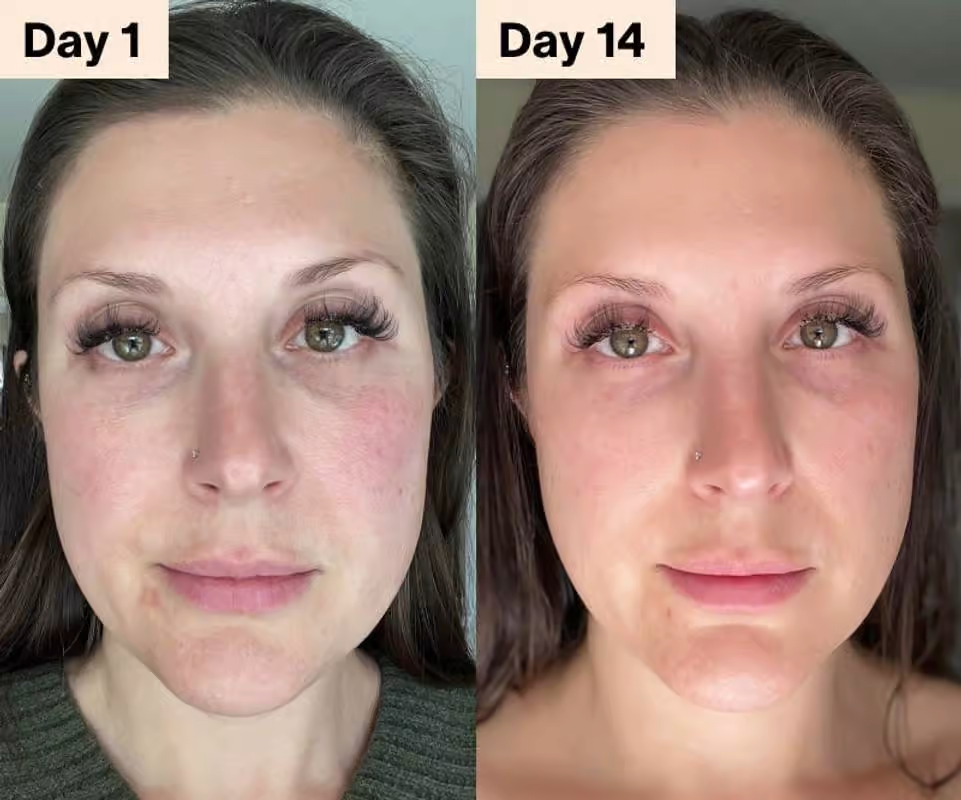 What about the blue light therapy wand? It is new but has already been tested by ladies with acne.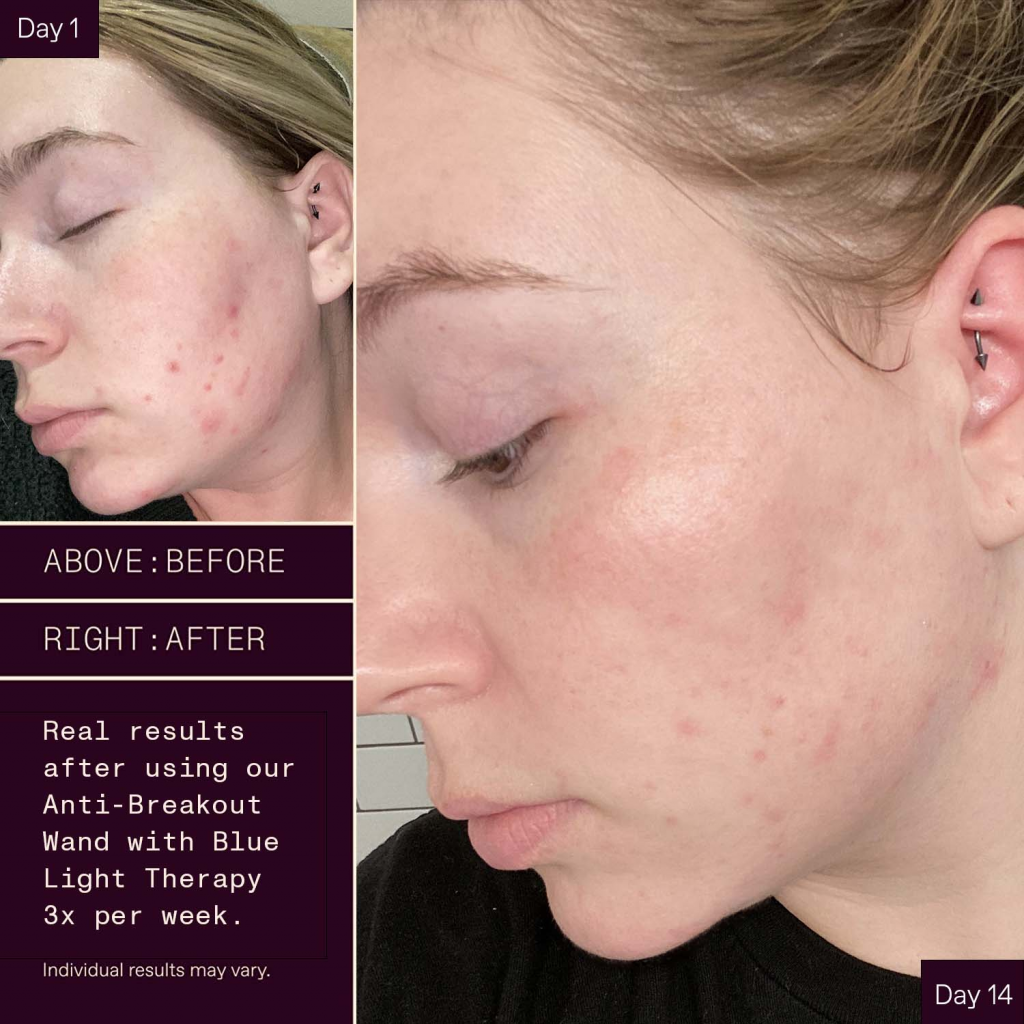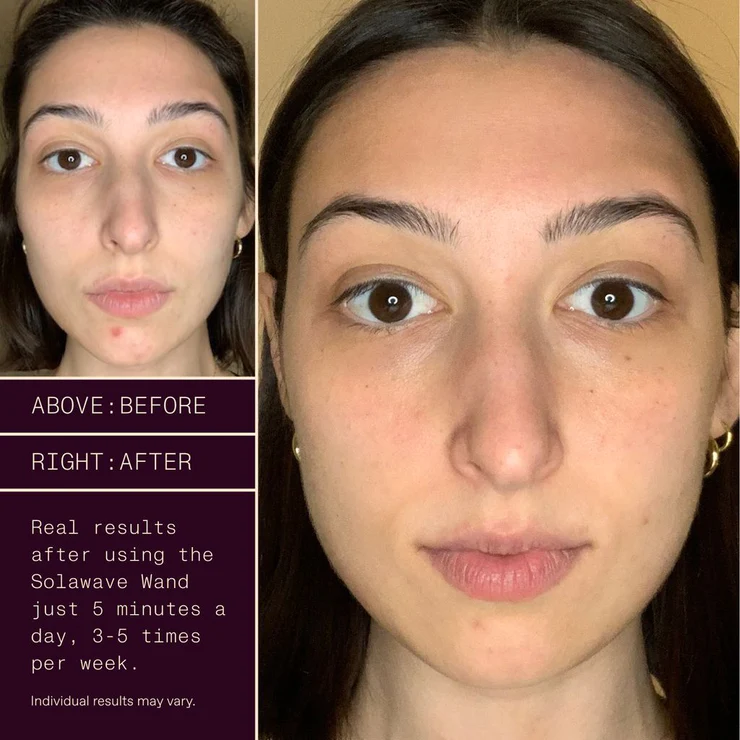 How long does it take to see results?
If we're talking about the red light therapy wand, some users see results almost immediately after they start using it. But on average, significant changes can be seen after about two weeks. We suggest taking a "before" picture so that you have something to compare it with.
Many girls and guys with acne see results after the first time using blue light therapy wand. When they get pimples, they use the wand for quick results. And each time it gets better and better. On average, it takes about three weeks to get significant results in fighting acne with the SolaWave wand.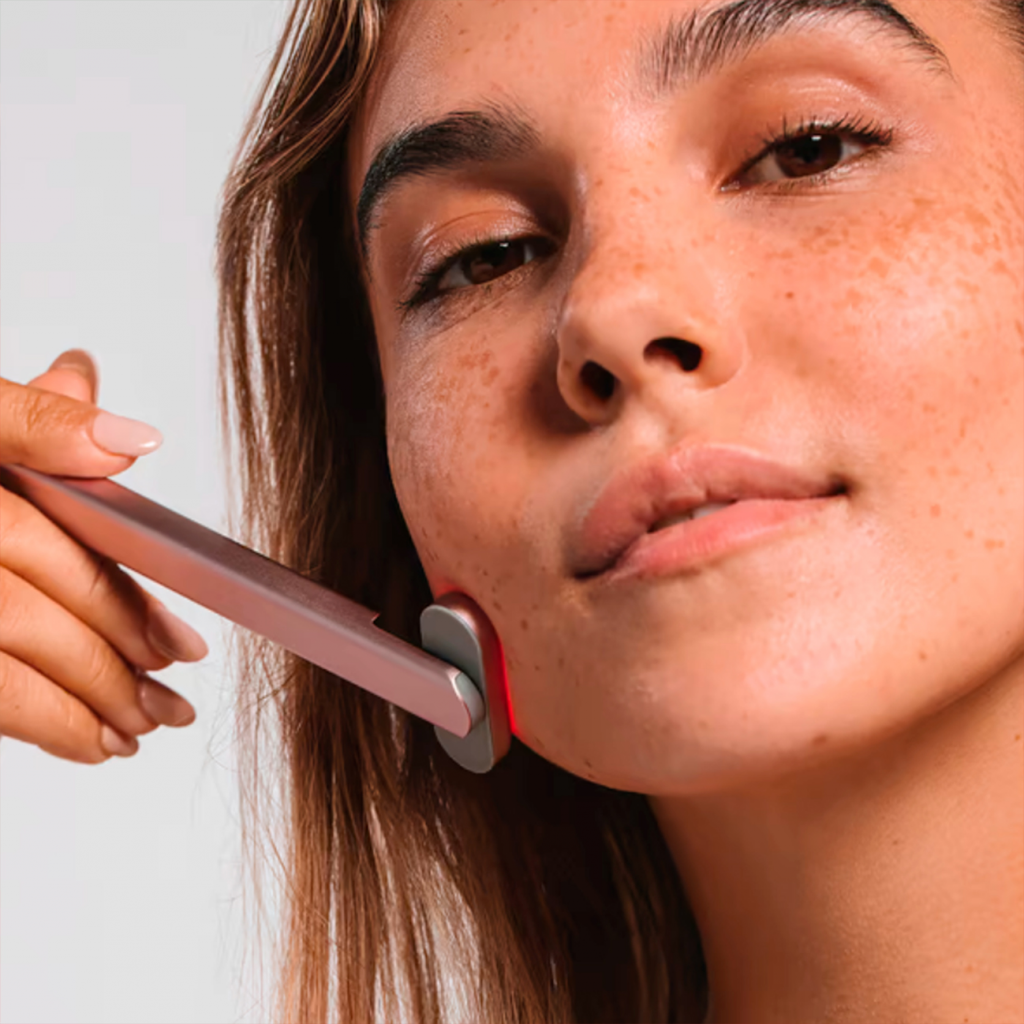 Side effects
The SolaWave Skincare Wands are very safe to use and you are not going to experience any side effects unless you have some specific issues with your health. What do we mean?
Any type of cancer
Pregnancy
Age under 18
If you have a pacemaker
Summary
How do you find the ideal device of the perfect brand to get your skin in shape? There is no such thing as perfect, but SolaWave comes pretty close to that level. Their red light therapy and blue light therapy wands almost work miracles, but it's just science and quality.
If you want to get rid of fine lines, reduce wrinkles, dark circles, and pigmentation, and make your skin softer and more radiant — choose SolaWave Wand with Red Light Therapy. And if your goal is to get rid of rashes, even out skin tone, and make your skin look healthier, SolaWave Wand with Blue Light Therapy is your choice. Spend a minimum of effort to achieve the desired result and get a high from your home routine.
FAQ
👧 Does SolaWave help with wrinkles?
One of the main functions of the SolaWave wand is to reduce fine lines and wrinkles, and it does that by 9.5/10.
🤨 Is SolaWave worth it?
The SolaWave wand is much more affordable than similar devices in the form of masks, but it is equal to them in effectiveness and sometimes even superior. So it's worth a try.
💧 Can you use SolaWave without serum?
In theory, you can use the wand without the serum, but just on wet skin, but the effect will be much lower.
👁️‍🗨️ Does SolaWave help with dark spots?
Yes, one of the benefits of SolaWave is that this wand helps reduce and even remove dark spots.
⏳ How long does it take to see results from SolaWave?
Some users see results almost immediately after they start using it. But on average, significant changes can be seen after about two-three weeks.