Hair loss is an unpleasant disorder that leads to a significant cosmetic defect — baldness. This can be due to many factors, among which diseases and impaired blood supply to the scalp, constant psycho-emotional stress, poor ecology, malnutrition, and bad habits. To date, there are several methods of treatment for this disease. One of the most effective is red light therapy caps.
Red light therapy is a treatment that has been used for a variety of purposes over the years. Recently, it has gained popularity as a means to stimulate hair growth. But does red light therapy really work? And if so, how effective is it?
In this article, we will explore the truth about red light therapy for hair growth. We will look at the process of the treatment, as well as reviews from people who have tried it.
How red light therapy helps treat hair loss
Red light therapy is a treatment that uses low-level laser therapy (LLLT) to stimulate hair growth. The red light is absorbed by the cells in the scalp and converted into energy that helps promote cell proliferation and collagen production.
Below are three types of hair loss and how red light therapy can help.
Red light therapy and androgenetic alopecia
Androgenetic alopecia is the most common type of hair loss affecting men and women. It is caused by a combination of genetic and hormonal factors. The main cause of androgenetic alopecia is an oversensitivity to the hormone dihydrotestosterone (DHT). DHT causes the hair follicles to shrink, leading to thinner and shorter hairs.
Red light therapy can help reduce DHT sensitivity in the hair follicles, allowing them to grow back thicker and stronger. Also, the increase in collagen production can help to improve the overall health of the scalp.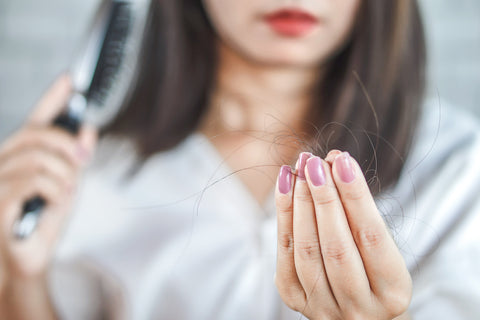 Red light therapy and alopecia areata
Alopecia areata is an autoimmune disease that causes patchy hair loss on the scalp and other body parts. The exact cause of alopecia areata is unknown, but it is thought to be related to a combination of genetic and environmental factors. For example, stress has been shown to trigger hair loss in people with the condition.
📌 The main difference between androgenetic alopecia and alopecia areata is that the second is induced by an autoimmune reaction, not by the heightened sensitivity of scalp follicles to dihydrotestosterone.
Red light therapy can help to decrease the activity of the immune system, which in turn helps to reduce inflammation and promote hair growth. In addition, red light therapy can help increase the production of collagen, which is important for hair growth.
Check out the
Capillus Laser Cap
— an effective hair loss treatment device. Here you will find reviews from real users and effectiveness based on scientific studies.
Red light therapy and chemotherapy-induced alopecia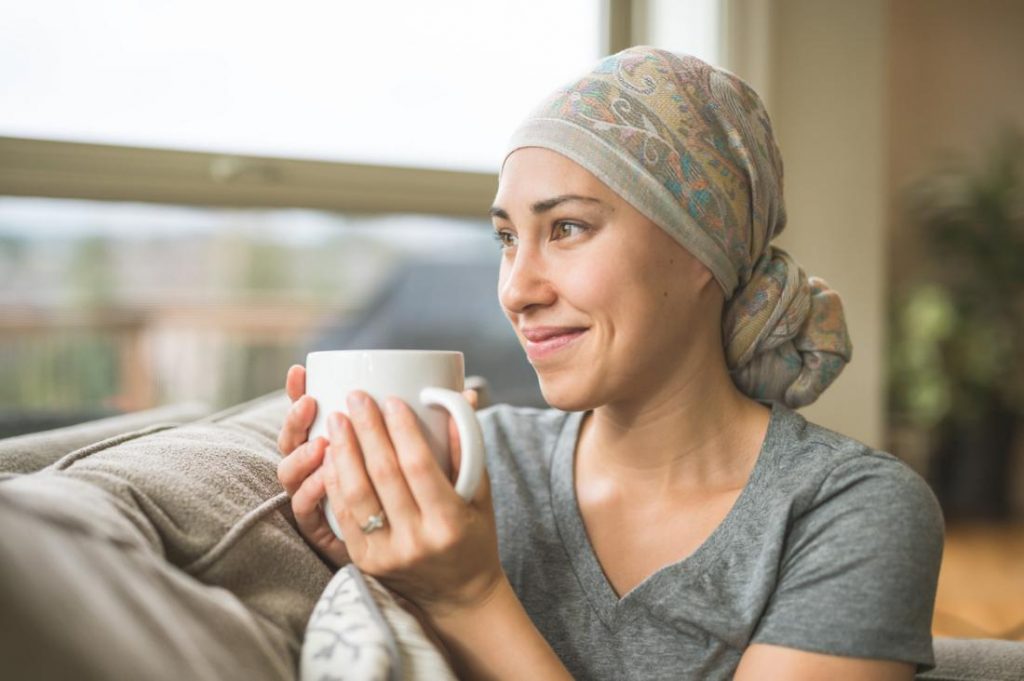 Chemotherapy-induced alopecia is hair loss that occurs as a side effect of chemotherapy. These drugs kill cancer cells, but they can also damage healthy ones, including the cells in the hair follicles. This can lead to hair loss. Also, the chemicals in chemotherapy can make the hair shafts brittle and more likely to break.
Red light therapy can help by stimulating the mitochondria in the cells of the hair follicles. This increases the production of ATPATP (Adenosine triphosphate) acts at the follicle to help maintain the growth phase of the hair., which helps to repair damaged cells and promote cell proliferation. Red light therapy can also help to increase blood flow to the scalp, which brings nutrients and oxygen to the hair follicles and helps to promote hair growth.
Effectiveness of red light hair loss treatment scientific studies
Hair loss is a condition that affects many people around the world. While there are many products on the market that claim to treat hair loss, red light therapy has shown promise in scientific studies.
Below, we will take a look at some of the scientific studies that have been conducted on red light therapy hair growth.
A double clinical study [1] involved 40 patients (20 women and 20 men). They were randomized to be treated with a laser helmet or a simulated helmet for 24 weeks. As a result, the laser helmet significantly outperformed the simulation device in increasing the density and diameter of the hair by 4.5 times and showed an improvement in the condition of the hair.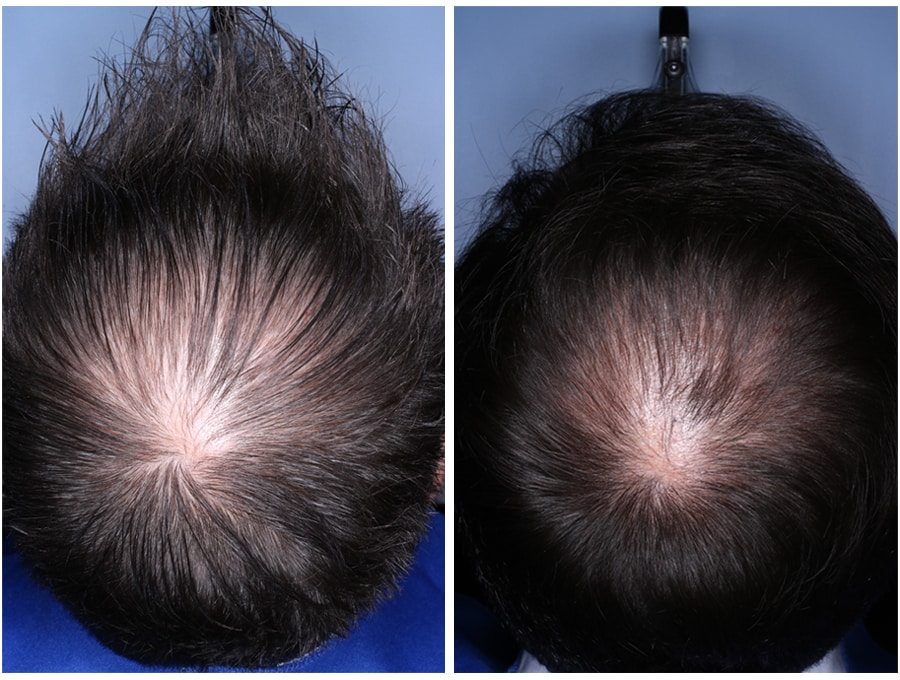 The following study [2] was conducted to determine the physiological effects that occur when exposed to laser light with red light (650 nm). The study demonstrates that low-level laser scalp treatment every other day for 17 weeks is a safe and effective treatment for androgenetic alopecia. As a result, in patients receiving LLLT, the number of hairs increased by 51% compared to control patients receiving sham therapy. It is also worth noting that the improvement in hair count for both women and men was similar.
The next study [3] was involving 100 patients with androgenetic alopecia. All participants were randomly assigned to receive LLLT on one side of the head and simulate light exposure on the other side 3 times a week for 30 minutes over 24 weeks. After the treatment period, significantly more hair coverage was observed on the LLLT-treated scalp than on the sham-treated side. Also, a greater improvement from baseline was observed in hair thickness.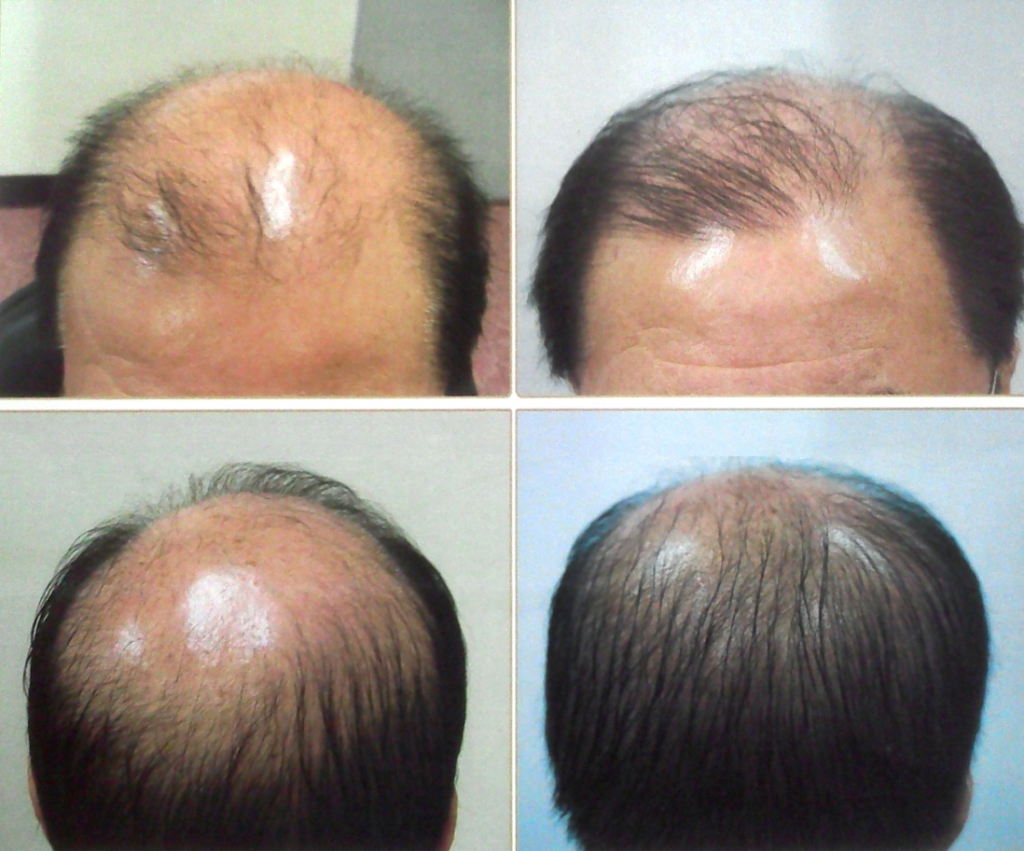 The last study [4] was involving 35 patients (28 men and 7 women) with androgenic alopecia (AGA). The course of treatment lasted six months. As a result, the amount of hair in the temporal region increased by an average of 55.2% in women and 74.1% in men, and 69.1% in all patients. In the crown area, the corresponding percentage was 64.9% for women and 120.1% for men.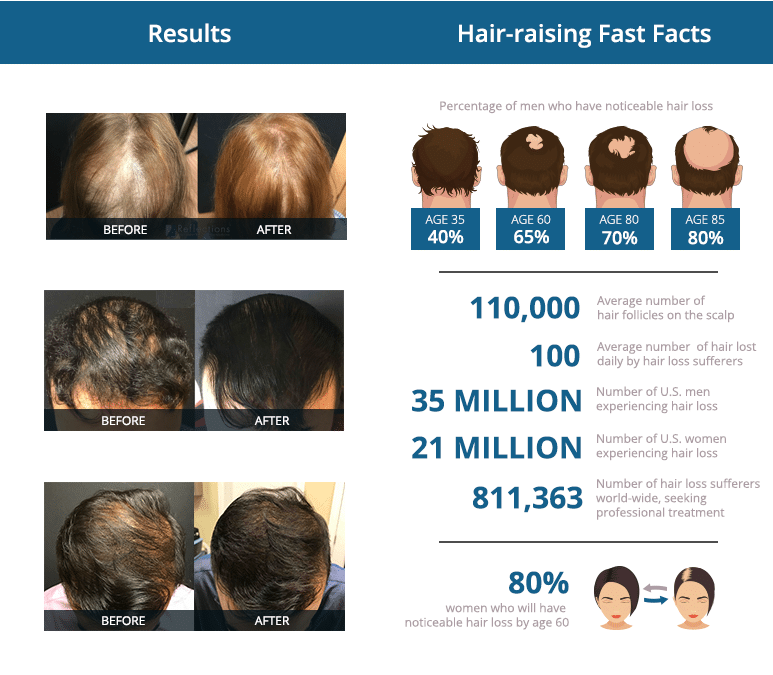 Red light therapy hair growth before and after
Red light therapy is a relatively new treatment for hair loss, but it has quickly become a popular option for those looking for an alternative to traditional treatments like Rogaine or Propecia. While there is no cure for hair loss, red light therapy has been shown to be an effective treatment for many people.
But what results can you expect from red light therapy for hair loss?
We've gathered some before and after photos from real people who have used red light therapy to treat their hair loss.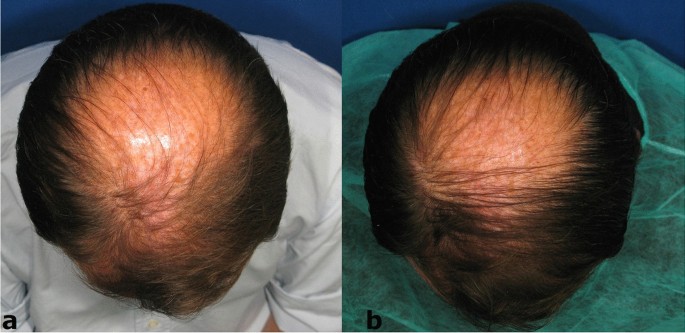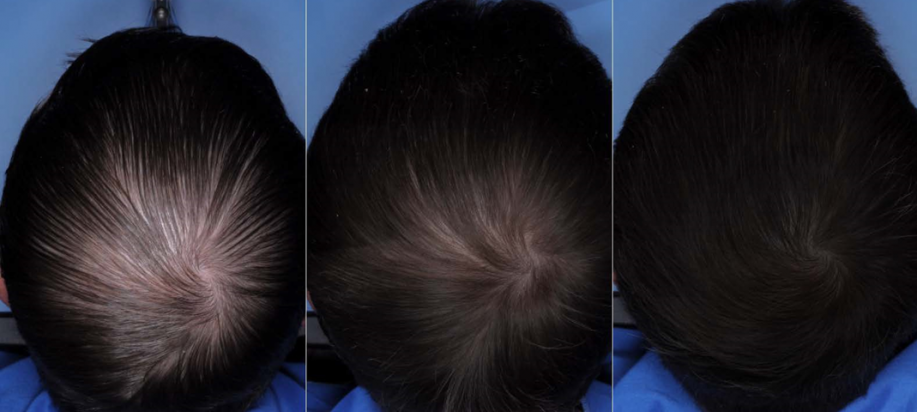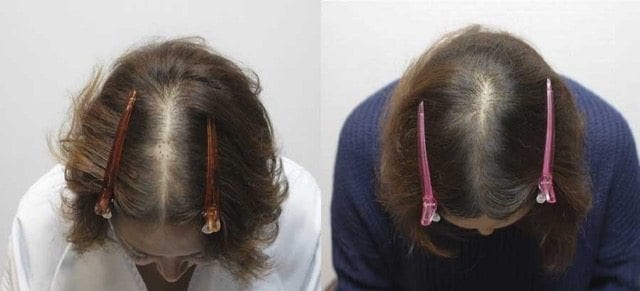 As you can see, red light therapy can be an effective treatment for hair loss. If you're looking for an alternative to traditional treatments, this may be worth considering.
If you are looking for a light therapy device, check out
laser caps
. Here you can find machines based on your condition, as well as for any budget.
Customer reviews
Nowadays, hair loss is a big problem for both men and women. To cope with this, medicine offers many ways, one of which is red light therapy. But is it effective as claimed? Below we will provide customer reviews of red light therapy for hair growth to find out the answer.
"I've always had a love-hate relationship with my hair. It's not just thinning, it has also been getting thinner and more brittle over the past few years as well! To combat this issue I decided that red light therapy would be worth giving a shot. After a few weeks, I noticed new growth on top of my head where it's been thinning out most for years. So far, I'm really liking the results and will continue using it!"
— Jess, AZ
I have alopecia areata. My medicinal treatments didn't work out well at all; in fact, they made things worse after a while so when heard about red light therapy, I decided to give it a try. So far, I am really happy with the results! My hair is slowly but surely growing back and it feels much healthier than before.
— Anna, CO
After a year of dealing with female pattern balding, I was desperate to find something that would help stop the loss. My dermatologist recommended red light therapy and it's been life-changing! The first few sessions were tough but now after just two months my hair has grown thicker than ever before and there are even more baby hairs. This product really does work as advertised. I'm absolutely happy with the results.
— Lisa, WI
Overall, red light therapy for hair growth is very helpful for people who want to deal with hair loss. However, it is not a magical cure and you need to be patient when using it. In addition, you should also consult your doctor before using this therapy to make sure that it is suitable for you.
How to use red light therapy for hair growth
Red light therapy is a relatively new treatment for hair loss, but it's becoming increasingly popular as more people learn about its potential benefits.
If you are considering using RLT for hair growth, there are a few things you should know.
You should start by finding a device that is powerful enough to penetrate your scalp.
For this reason, we recommend using a device that emits at least 630 nm wavelength light.
You will also want to make sure that the device has a large enough treatment area. 
The ideal size for hair loss treatments is about 4 inches in diameter.
You will also need to commit to using the device for at least 3-5 minutes per session, and you should use it 3-5 times per week.
When you first start using RLT, you may not see any results for several weeks or even months.
However, if you stick with it, you should start to see hair growth within 6-12 months.
Try using RLT in combination with other hair loss treatments, such as Minoxidil. It also slows down hair loss and stimulates new growth.
RLT is a safe and effective treatment for hair loss, but it does require some commitment. If you are willing to put in the time and effort, you should start to see results within 6-12 months.
The verdict
Many factors can contribute to hair loss due to genetics, stress levels, and disease. Regardless of the cause, hair loss is a serious problem, which is why millions of people are looking for treatments.
While prescription and surgical treatments are available for hair restoration, they are not always ideal options as they often come with a list of negative side effects or can cost thousands of dollars without guaranteeing hair will remain as thick as it originally was. Red light therapy has shown promising results for improving hair quality and growth without any side effects.
The key to getting the results of red light therapy is consistent use. Until recently, the only red light therapy devices available were those in clinics or spas, often at exorbitant prices. However, there are now a variety of treatment machines on the market that you can use at home and not spend a fortune on. With it, you will be able to focus on targeted areas and improve your health and well-being.
FAQ
👩 What is red light therapy for hair growth?
Red light therapy (RLT) is a treatment that uses low-level lasers or light-emitting diodes (LEDs). It is effective in a variety of dermatologic treatments, including hair loss.
🧐 How does red light therapy work for hair growth?
RLT has been shown to improve hair growth by increasing cellular activity, stimulating blood circulation, and reducing inflammation.
❓ Are there any side effects associated with red light therapy for hair growth?
RLT is generally well tolerated, with few reported side effects. The most common side effect is a temporary increase in skin redness.
🔍 How often should I use red light therapy for hair growth?
The frequency of treatments will vary depending on the condition being treated. For hair loss, treatments are typically done 3 times per week for 16-20 weeks.
⌛ How long does it take to see results from red light therapy for hair growth?
Some patients may see results as early as 8 weeks into treatment, though it may take longer for others to see significant results.
Sources
Poonkiat Suchonwanit, Noppanun Chalermroj, Saranya Khunkhet. Low-level laser therapy for the treatment of androgenetic alopecia in Thai men and women: a 24-week, randomized, double-blind, sham device-controlled trial. – Lasers Med Sci. 2019 Aug;34(6):1107-1114. DOI: 10.1007/s10103-018-02699-9. E-pub 2018 Dec 19.
Shelly Friedman, Patricia Schnoor. Novel Approach to Treating Androgenetic Alopecia in Females With Photobiomodulation (Low-Level Laser Therapy). – Dermatol Surg. 2017 Jun;43(6):856-867. DOI: 10.1097/DSS.0000000000001114.
Sabrina Mai-Yi Fan, Yu-Pin Cheng, Ming-Yung Lee, Sung-Jan Lin, Hsien-Yi Chiu. Efficacy and Safety of a Low-Level Light Therapy for Androgenetic Alopecia: A 24-Week, Randomized, Double-Blind, Self-Comparison, Sham Device-Controlled Trial. – Dermatol Surg. 2018 Nov;44(11):1411-1420. DOI: 10.1097/DSS.0000000000001577.
John L. Satino and Michael Markou, D.O. Hair Regrowth and Increased Hair Tensile Strength Using the HairMax Laser Comb for Low-Level Laser Therapy. – International Journal Of Cosmetics Surgery and Aesthetic Dermatology, Volume 5, Number 2, 2003.